Hopefully the snow is melting where you are and you are preparing to welcome Spring. Easter and Passover always seem to kick off the Spring season. Of course the weather is terribly unpredictable, but that doesn't stop us from bringing out the brighter flavors. These Carrot Cupcakes with Orange Cream Cheese frosting have the freshness of pineapple and orange with the warm seasoning of carrot cake. It's the perfect mix of freshness and comfort for this time of year.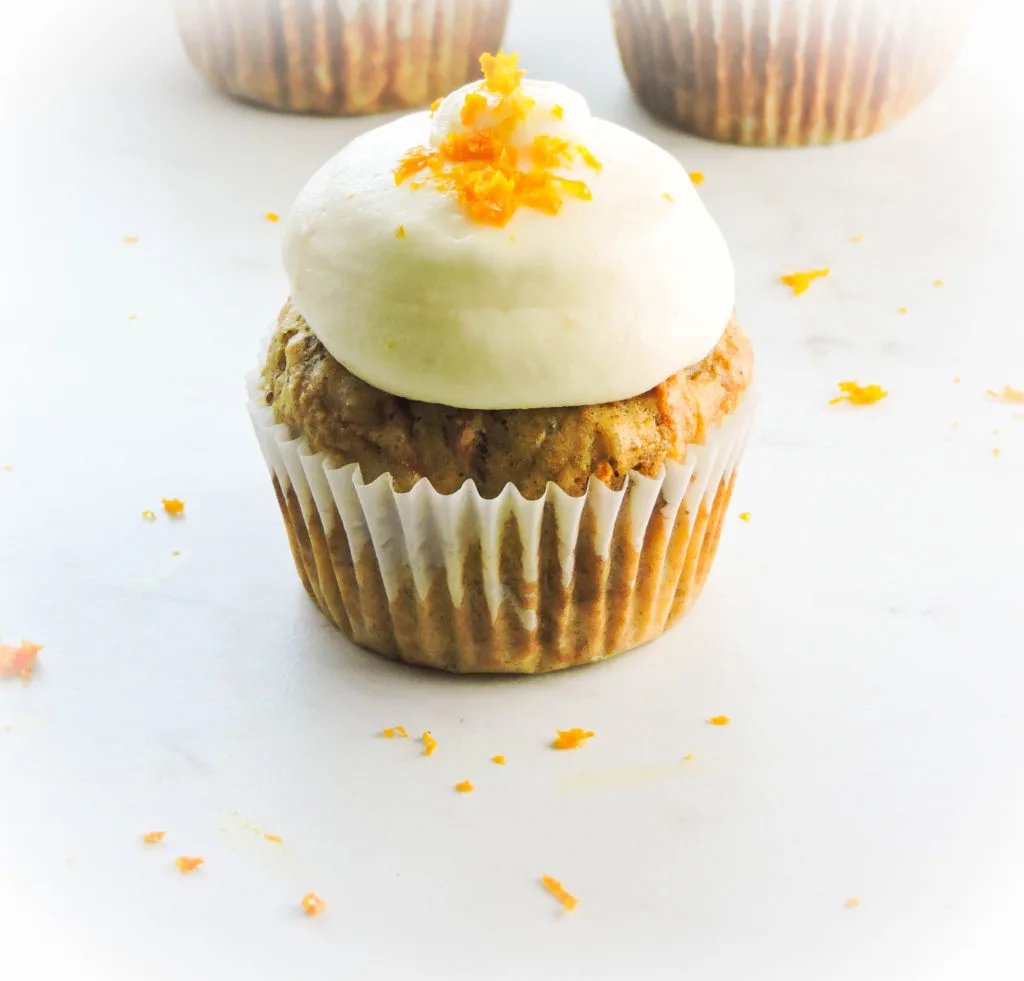 Because these are dairy and egg free those with allergies or those eating a Vegan diet are in luck. You know by now that when I take things out of a recipe, I try to ensure you don't sacrifice flavor. These Carrot Cupcakes with Orange Cream Cheese frosting deliver in that department. See the recipe notes below because I do tell you how to make these if you aren't trying to avoid eggs and dairy.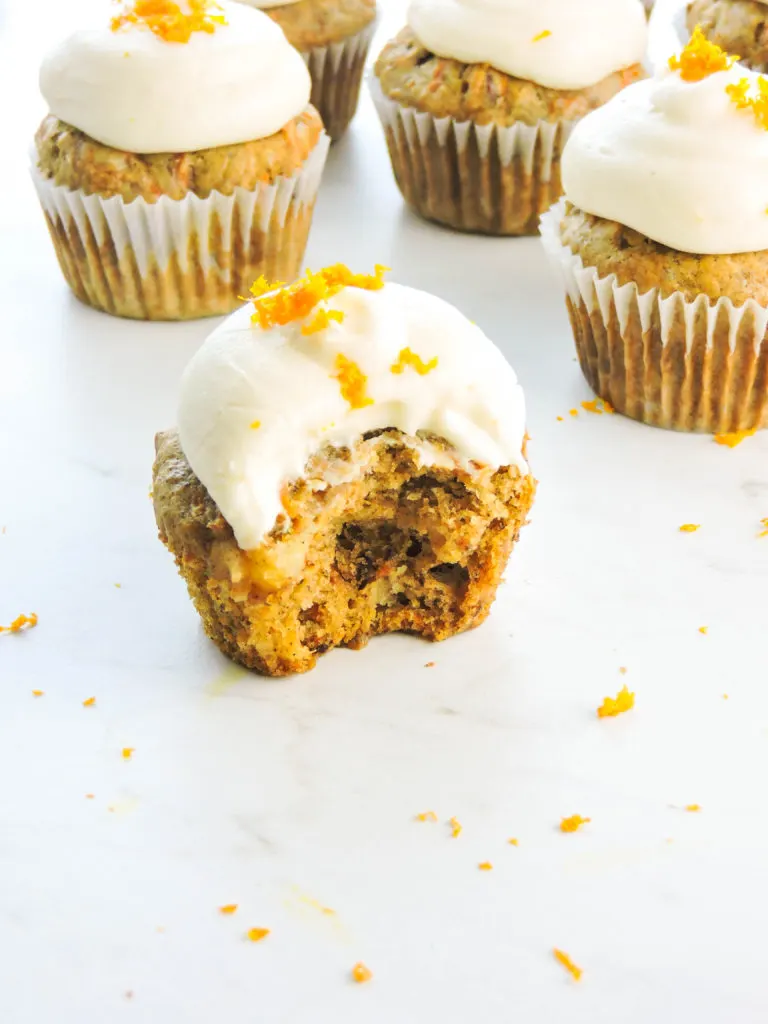 The pineapple in this recipe ensures that the cupcakes retain moisture. This also allowed me to reduce the oil content in the recipe. If you want to make these gluten free, I recommend a 1:1 flour replacement. I like Bob's Red Mill. You have to make sure the flour states that it's a 1:1 gluten free flour for best results. You should also note that these flours often contain a product called xanthan gum. You've probably seen this product on ingredient lists. In gluten free baking, it gives the stretchy texture that gluten often provides.
I really hope you make these Carrot Cupcakes with Orange Cream Cheese Frosting. I think your entire family will love them and you won't miss the dairy or eggs!
Pin for later and if you make them tag me in your photo @freshfitkitchen on Instagram for a chance to be featured.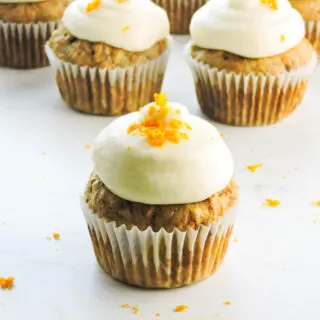 Carrot Cupcakes with Orange Cream Cheese Frosting
Carrot Cupcakes with Orange Cream Cheese Frosting are made without dairy, eggs, or raisins. The sweetness of pineapple helps cut the sugar and citrus adds fresh flavor.
Ingredients
2

cups

All Purpose Flour

1

tsp.

Baking Powder

1

tsp.

Baking Soda

1/4

tsp.

Kosher Salt

1/2

cup

brown sugar

1/4

cup

Sugar

2

tsp.

ground cinnamon

3/4

cup

Crushed Pineapple

without the juice

1/2

cup

olive oil

2

Flax Eggs

2 tbsp. ground flax seed mixed with 6 tbsp. of water. Let it sit for 5 minutes.

1/3

cup

Chopped Pecans

1.5

cups

Fine Shredded Carrots

1/4

cup

Almond Milk

Unsweetened Vanilla

8

ounces

Vegan Cream Cheese

I use Tofutti Brand.

1/4

cup

Vegan Butter

I use Earth Balance Sticks. Do not use spread.

5-6

cups

Powdered Sugar

1/2

tsp.

vanilla

Juice of 1 Orange

Zest of 1 Orange
Instructions
Preheat Oven to 350 degrees. In a large mixing bowl mix together the flour, baking powder, baking soda, cinnamon and salt.

In a medium size mixing bowl mix together the sugars, flax eggs, pineapple and olive oil. Slowly add the wet ingredients to the dry.

The batter will be thick. Add the 1/4 cup of unsweetened vanilla almond milk to loosen the batter a bit. Depending on the brand of flour used, it may soak in more liquid. Add another tablespoon or two as needed. I generally use close to the quarter cup. Fold in the carrots and pecans.

Scoop the cupcakes into muffin liners sprayed with coconut oil spray and bake at 350 degrees for 21-23 minutes. A cake tester or tooth pick should come out perfectly clean. Allow the cupcakes to cool.

FROSTING: This frosting recipe makes enough for 32 cupcakes. Leftovers can be refrigerated for 1 week. Make sure you soften the cream cheese and vegan butter to room temp. Add them to a stand mixer or use a bowl and a hand mixer. Whip the cream cheese and butter together. Add in the orange juice and vanilla.

Add the powdered sugar 1/2 cup at a time until the icing stands up well and is not pourable. Add 3/4 of the zest and mix together. Reserve some zest for garnish. Spread on the cooled cupcakes or add it to an icing bag and use a large tip to pipe it on.

Refrigerate the left over icing. Refrigerate the iced cupcakes as they do contain perishable items in the frosting.

The nutrition information is calculated using 2 tbsp. of frosting. Please note that how much you spread or pipe on will determine how many cupcakes it covers and nutrition information.
Notes
If you are not vegan you can replace the flax eggs with one regular large egg. You may also use regular cream cheese and butter. I have not tested this recipe with gluten free flour. If you try it , I recommend a 1:1 gluten free flour replacement like Bob's Red Mill.