This super easy Chicken Parmesan Baked Rigatoni is a super easy dinner recipe or a cozy dinner for a weekend with friends. Parmesan Cheese, Marinara Sauce, ground chicken, mozzarella cheese and a few other simple ingredients make this chicken parmesan pasta a recipe the whole family will love.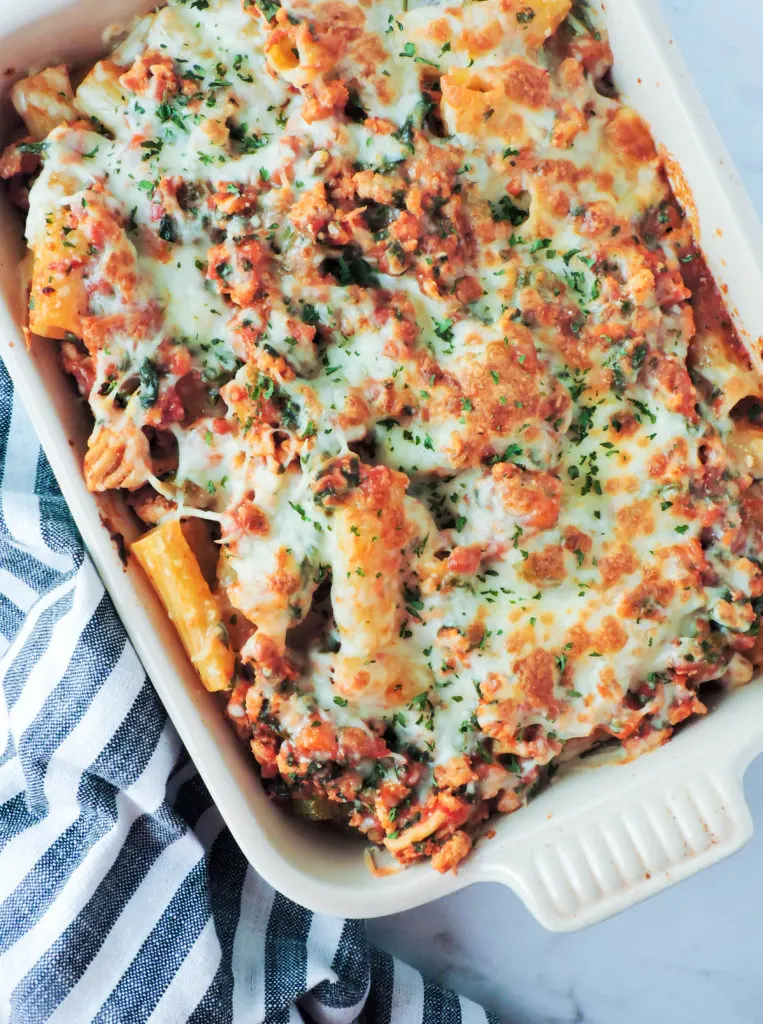 Chicken Parmesan Baked Rigatoni Tips
I like to use my favorite jarred marinara sauce, but if you'd like to use canned tomato puree, tomato sauce and Italian seasoning and make your own that's perfectly fine. Any spaghetti sauce that you make or buy will work just fine.
This recipe uses ground chicken for convenience, but you can simmer chicken thighs, skinless chicken breast or chicken tenders in the sauce and shred them instead if you prefer that.
You must cook the pasta just shy of al dente because this is going into the oven where it will continue to cook. If you'd like to make this a one pot recipe, I recommend using a dutch oven to boil the pasta in, drain it, then build your sauce and transfer to the oven. You'll save extra pots and not need the baking dish.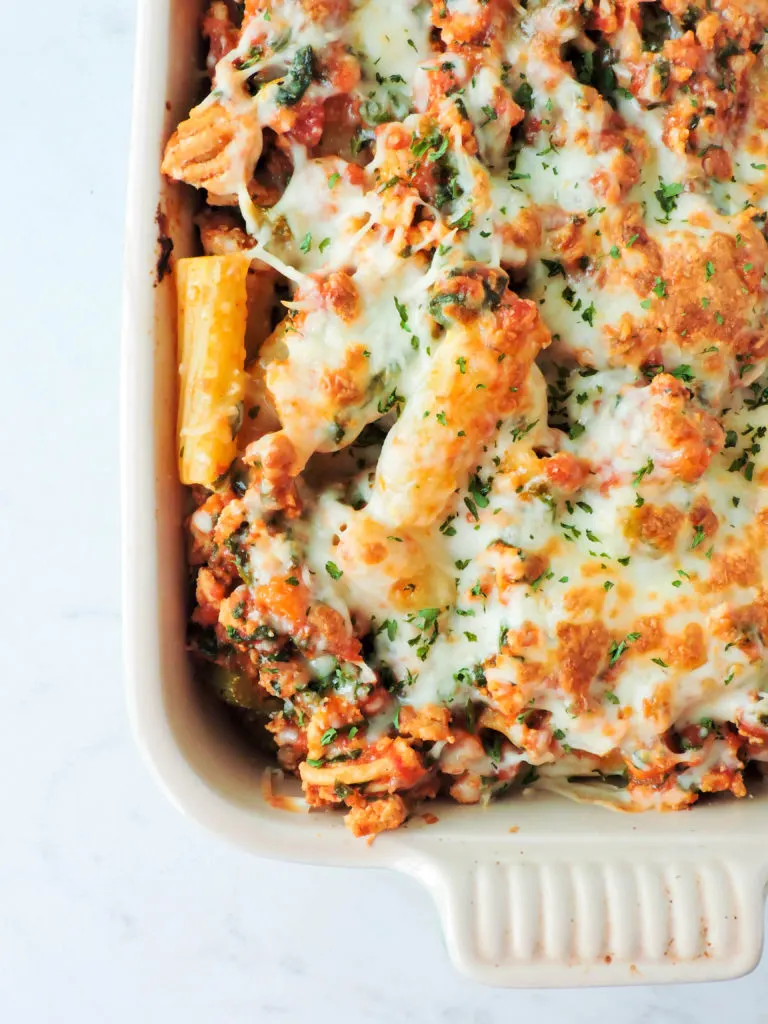 Baked Parmesan Chicken Pasta Substitutions and Additions
You can absolutely sub in different pasta shapes. I used rigatoni, ziti noodles, and penne pasta interchangeably. They all have similar cooking times so it's no big deal. Sometimes my store doesn't have rigatoni so I probably use penne more often.
As stated above, this uses ground chicken. You can use whatever chicken you want. if you really wanted to make this easier, you could even sub in rotisserie chicken. You are basically just marrying all the flavors of classic chicken parmesan without the breading and mess! Cheesy Pasta any way you can get it 😉
I season this very simply with store bought marinara, but if you wanted to, you could add additional garlic powder, fresh basil, red pepper flakes or a splash of heavy cream. This easy chicken pasta recipe is so versatile!
I would also recommend some Italian bread crumbs if you think you'll miss that crispy texture. There you go- crispy texture without much effort.
Affiliate Links- Items you'll find useful for this recipe
These are affiliate links. This means that when you purchase using the link, I receive a small commission. It's just a great way to support the blog at on additional cost!
Here is the dutch oven I love. It's super affordable. Yes, I love my Le Creuset items, but this is a more affordable option and I have a few of them!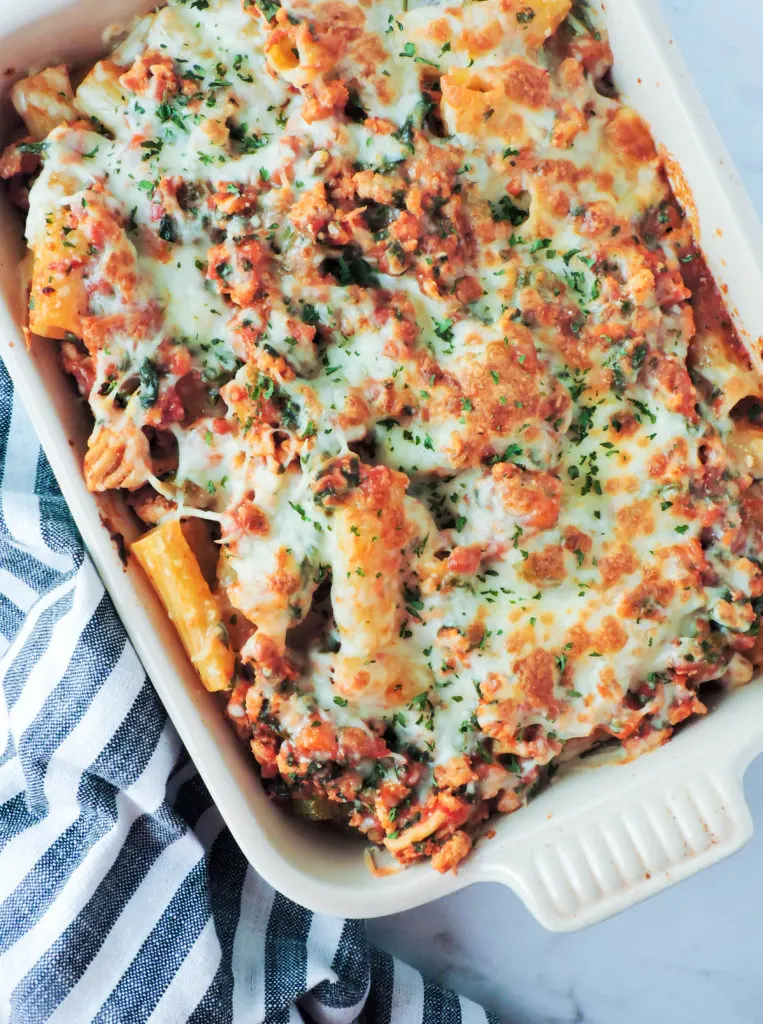 Storing Leftovers
Pastas are definitely my favorite leftovers. They can keep in an airtight container for 3-4 days. Reheating is a snap in the microwave. This is the perfect meal to plan for leftovers so you have lunch the next day!
What to Serve with Baked Pasta
This recipe is a complete meal all on its own, but a nice green salad and garlic bread are great additions! This delicious dinner doesn't need much to feel complete!
Leave a Star Rating and Review
If you came here because you're after yet another chicken recipe, I hope you fund what you're looking for. This is one of those easy meals I think you'll reach for over and over or for special occasions. This is a pasta dish that pleases the masses and it's the same old same old. Please leave a rating and review. It helps other readers and it helps me! Thank you!
Pin this one for later! If you make this tag me on Instagram @freshfitkitchen.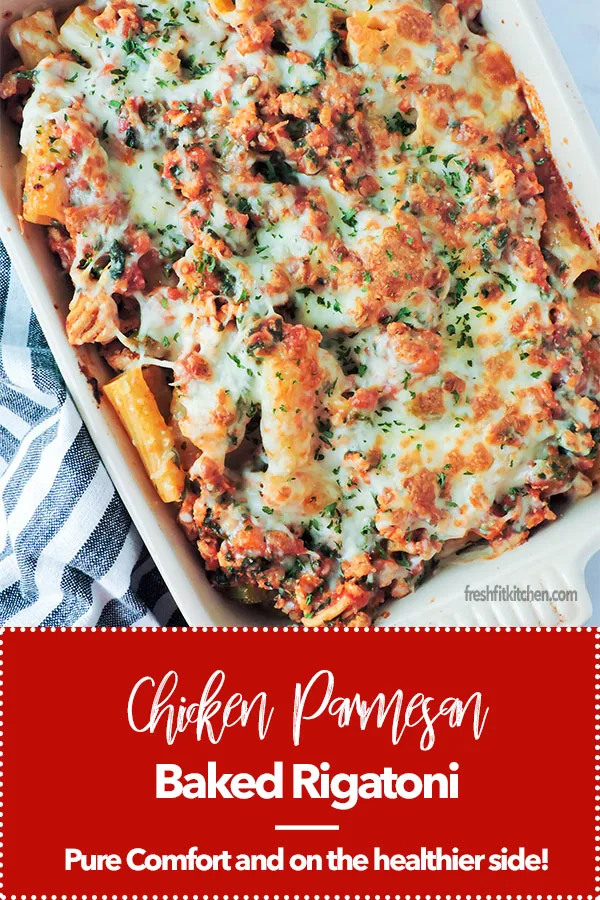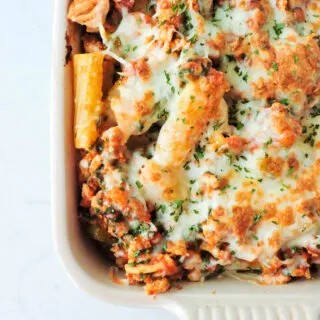 Chicken Parmesan Baked Rigatoni
Chicken Parmesan Baked Rigatoni is an easy healthy version of baked rigatoni. A baked pasta recipe your entire family will love. Super easy too!
Ingredients
1

lb

Ground Chicken

20

ounces

Marinara Sauce

1 regular size jar. These will be 18-20 ounces usually.

1/2

cup

Carrot

Finely Chopped

1/2

cup

Celery

Finely Chopped

1/2

cup

Onion

Finely Chopped

2

tbsp.

Garlic

Minced

1

Parmesan Rind

This is the rind of a fresh piece of parm. It can be any size. A couple of inches is plenty.

1/2

lb.

Rigatoni Noodles or Penne

1/2 of a 16 ounce box

1/2

cup

Parmesan Cheese

Grated

1

cup

Part Skim Mozzarella

Shredded
Instructions
Chicken Bolognese
Chop the carrot, celery, onion and garlic. Heat a skillet over medium heat and saute the veggies in a little olive oil (2 tbsp) for about 1 minute. Add in the chicken and chop it up using a spatula. Cook the chicken until no longer pink.

Transfer the chicken mixture to a slow cooker. Pour in the marinara sauce. Sink the parmesan rind down into the sauce and allow it to cook on low for 6-8 hours.
Baked Rigatoni
Cook the rigatoni 1 minutes shy of aldente. You don't want to cook it completely through because it will finish cooking in the oven.

I used an 8x11 casserole dish for this. An 11x13 would work just fine. Turn your broiler on. Make sure this is a casserole that's broiler safe.

Remove the parmesan rind from the sauce-discard it. Toss the rigatoni with the sauce and 1/2 cup of mozzarella cheese. Pour it into the casserole and top with the parmesan and remaining 1/2 cup of mozzarella. Broil the top for about 2-3 minutes. Watch it very closely. Broilers vary and you don't want this to burn.

Allow the dish to cool for 15 minutes before serving. Garnish with extra parm and parsley & Enjoy!
Nutrition
Serving:
1.5
cup
Calories:
359
kcal
Carbohydrates:
29
g
Protein:
34
g
Fat:
12
g