Signs of spring include asparagus popping up in the grocery store. You roast it, steam it, chop it up and toss it with risotto, but have you air fried it? Well, get out your air fryer basket, because these Air Fryer Parmesan Asparagus Fries are going to be your favorite air fryer asparagus recipe.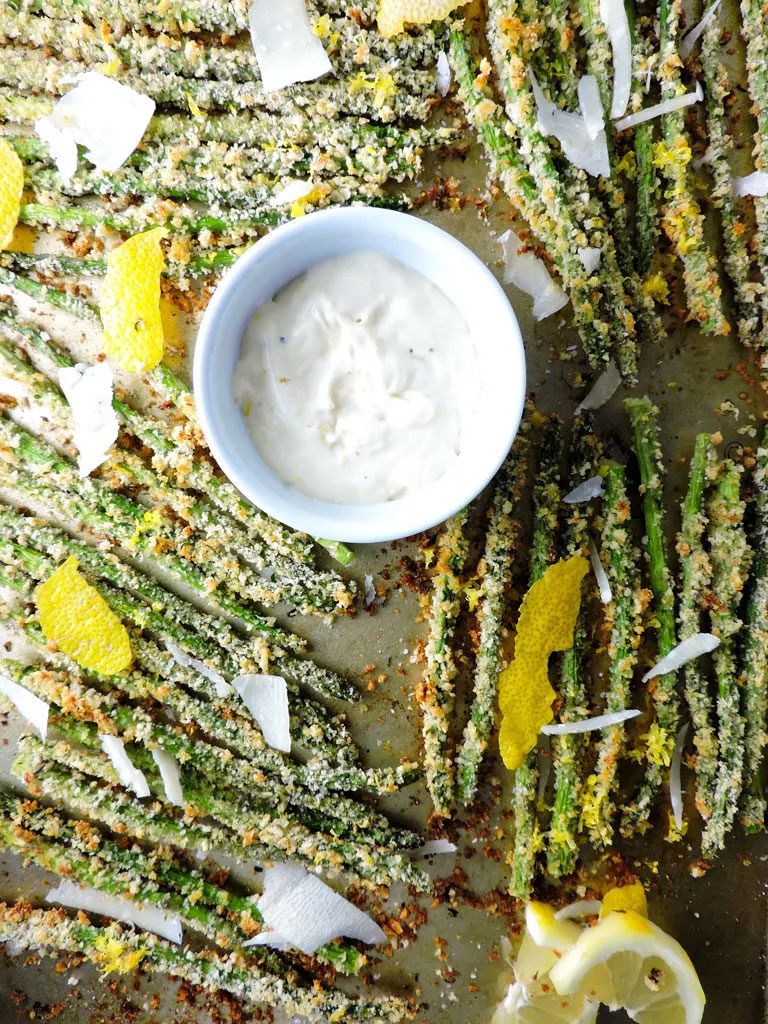 Air Fryer Parmesan Asparagus Fries Tips
You want to start with chopping off those woody stems. I usually bend one of the ends and then wherever the asparagus naturally breaks, I cut straight across the rest of the bunch with a sharp knife. I just find it is the best way to go.
Any good recipe starts with simple seasonings. This crispy asparagus is made by dredging the asparagus in all purpose flour, then rolling it into a beaten egg and finally into a combo of Parmesan cheese, panko bread crumbs.
I find this recipe works best with thick asparagus versus thin asparagus so be mindful of that. Thickness of your asparagus can also have an effect on cooking time so watch it.
The lemon zest is optional, but it's a nice touch. You could also just do a quick squeeze of lemon juice right before serving. Make sure that you cook the asparagus in a single layer for best results and adequate circulation of hot air. The best thing about the air fryer is that you only need a little bit of oil. I use an olive oil spray. We don't ever deep fry now that we have the air fryer.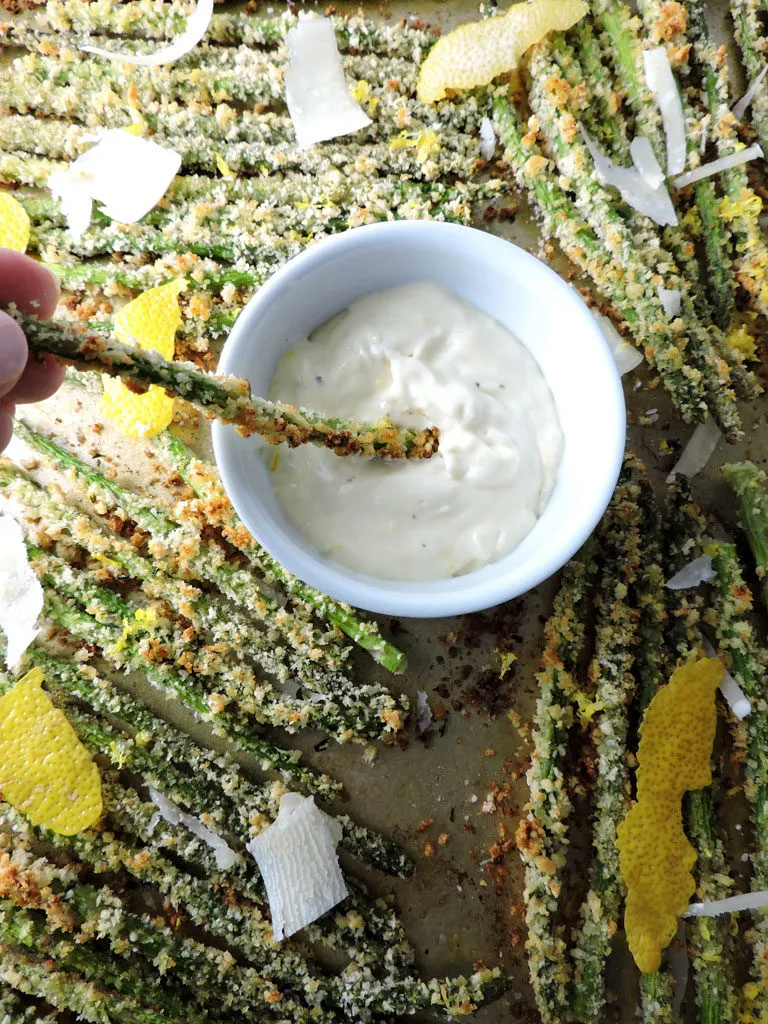 Air Fryer Asparagus Substitutions and Modifications
Gluten Free? Use gluten free breadcrumbs.
Don't like lemon? Season with red pepper flakes, garlic powder, or whatever your favorite seasonings are.
No air fryer? Don't worry! I've provided oven instructions below.
Storing Leftover Air Fryer Asparagus
You can keep the leftovers in an airtight container. You'll want to reheat them in the air fryer for best results. I find 3-4 minutes at 350 to be sufficient. Honestly, you'll love asparagus so much once you make this recipe, that I don't expect you'll have leftovers to speak of. But, in case you actually do… 😉
Affiliate Links
Please note that these are items I recommend for this recipe. When you purchase from an affiliate link, you get the same great price, but I earn a small commission. I really appreciate the support!
I love the Ninja Foodi Air Fryer and I've had mine for a couple of years. I highly recommend it.
This oil sprayer is perfect for controlling the amount of oil in your recipes and avoiding those cooking sprays that ruin non-stick finishes.
Leave a Star Rating and Review
I hope you enjoy this recipe and I'd love it if you left a rating and review. It helps other readers when they make the recipe. My hope is that this easy side dish with simple ingredients is something your family makes over and over again. The air fry method is one you'll probably use for a variety of vegetables once you realize how easy and delicious it is.
Pin it for Later!

Save
Save
Save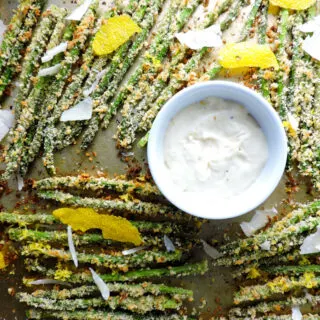 Panko Lemon Parmesan Asparagus Fries
Panko Lemon Parmesan Asparagus fries are a delicious crispy asparagus fry recipe you can make in the oven or air fryer.
Ingredients
24

Asparagus Stalks, ends trimmed

Thin to medium thickness is best

1/3

cup

All Purpose Flour

2

Eggwhites, beaten with 2 tsp. of water

1

cup

Panko Bread Crumbs

1/2

cup

Parmesan cheese, grated

4

tbsp.

Lemon Zest, divided

about 2 lemons

1/3

cup

Olive Oil Mayonnaise

1

tsp.

Large Garlic Clove, finely minced

salt and pepper to taste
Instructions
Preheat Air Fryer to 400 degrees. Trim the asparagus about 1 inch up from the bottom. The very bottom of asparagus is tough. You'll want to make sure to do this. Spray a baking sheet with cooking spray.

Set up a breading station with the flour on a plate, the egg whites in a shallow bowl or dish, and the Panko, Parmesan, and 1/2 of the lemon zest mixed together on the last plate.

Roll the asparagus into the flour, then the egg, and then the panko mixture. Do this will all of the spears. Spray the tops with cooking spray and bake for 7-8 minutes or until golden. You need to watch these as thinner spears will cook more quickly.

While the asparagus fries are baking mix together the mayo, rest of the lemon zest and garlic in a small bowl.

When the asparagus fries come out I like to decorate them with more lemon zest or shaved Parmesan. I also give them a nice shake of black pepper and a tiny sprinkle of kosher salt. Dip into the lemon garlic aioli sauce and enjoy!
IN THE OVEN
Preheat the oven to 425 - all other directions are the same, but bake on a greased baking sheet or parchment for 12-14 minutes.
Notes
PLEASE NOTE NUTRITION INFO DOES NOT INCLUDE THE AIOLI. I USED OLIVE OIL MAYO TO MAKE MINE.
The good news is this recipe is already vegetarian and relatively low carb.
Make it Vegan: Replace the Parmesan Cheese with nutritional yeast or this yummy "Parmesan" recipe from Minimalist Baker.
Make it Gluten Free: You could purchase gluten free bread crumbs, but I'll tell you I've not worked with them for this recipe. Of course you can also get gluten free flour. I would recommend you omit the breading and toss the asparagus with some olive oil, grated Parmesan and lemon zest. Bake it until it gets crispy on the edges (probably around the same baking time) and serve with the aioli.
Make it Low Carb: Although bread crumbs are minimal, if you really don't want to use them I'd recommend the suggestion I have for Gluten free eaters. This will give you all the flavor and no breading.
Nutrition
Calories:
220
kcal
Carbohydrates:
29
g
Protein:
10
g
Fat:
4
g