I know fish an be give some people a hard time, but I'm here to show you that with some simple ingredients and flavor boosts, you can make delicious, restaurant quality pan seared salmon right at home. Pan Seared Chili Lime Blackened Salmon with Pico De Gallo will easily become your go to easy weeknight dinner and recipe you use to entertain.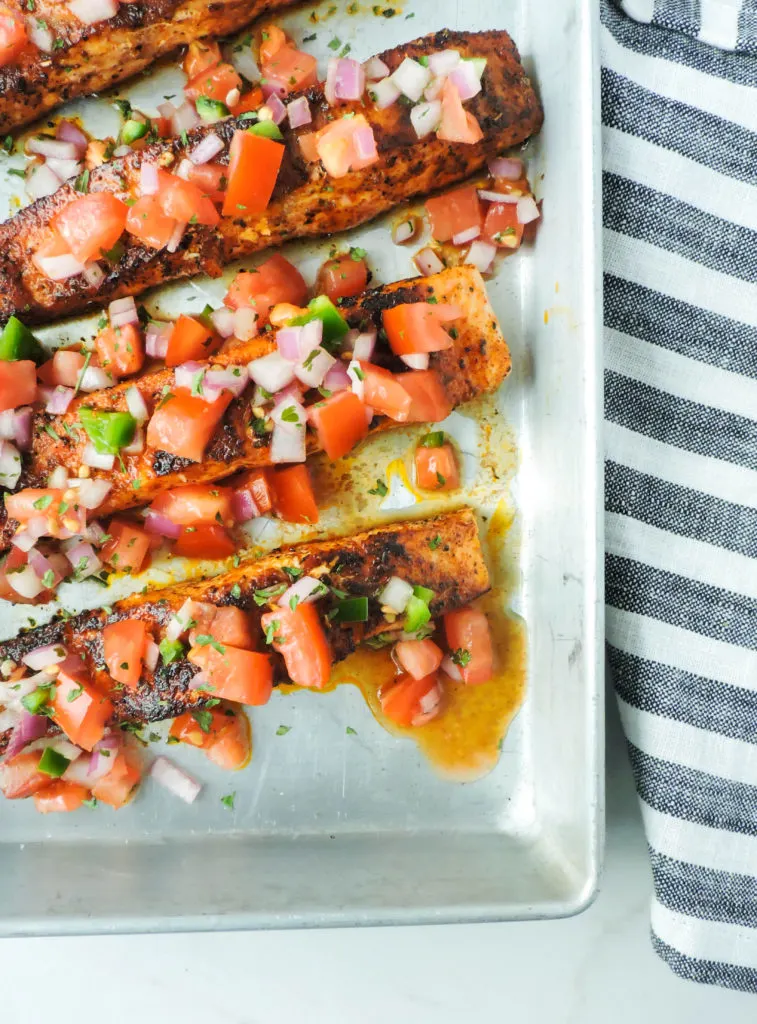 Healthy Pan Seared Salmon-Tips and Tricks
The big key tips here is olive oil, medium-high heat and drying your salmon with a paper towel. Hot oil is going to give you those crispy salmon edges.
I'll tell you the best way to be sure the salmon is done is using an instant read meat thermometer to make sure your salmon is at an internal temperature of 145 degrees. A meat thermometer is one of the easiest ways to cook meat perfectly. After a while you'll develop a sense for when it's done.
Pan searing salmon usually takes 4-5 minutes per side, but this is so dependent on the size of your salmon filets. Cooking time varies based on so many factors, so use your judgement and the tools in your kitchen.
The hot pan is going to be the key to this pan-seared salmon recipe. The best pan to make this happen is your trusty cast-iron skillet! The flat surface that retains heat is just leaps and bounds over any nonstick skillet.
I prefer to take the skin off of my salmon. This is just my personal preference. However, if you like a crispy skin, start with the salmon skin side down and don't move it until you see the flesh side starting to turn that light pink color. Make sure you use a fish spatula. Salmon can be delicate!
Pan Seared Chili Lime Blackened Salmon with Pico De Gallo
The wonderful flavors of this salmon recipe come courtesy of chili powder and lime zest. They are the stars of the show when it comes to flavoring this salmon. Garlic powder, onion powder and oregano play supporting roles.
One of my favorite things to do is get a good deal on a side of salmon and cut it into filets and freeze it. This is a great way to be prepared to make this recipe any time! It's such an easy healthy meal!
If you want to do this for meal prep, it should safely store leftover salmon in the fridge for 2 days. Just make sure to store it in an airtight container. Side note, I only recommend this meal prep if you won't be using the office microwave. I personally prefer this one freshly made or reheated in the air fryer.
I like to serve Chili Lime Blackened Salmon with brown rice and veggies. It's the perfect compliment with the Pico de gallo you're going to serve on top.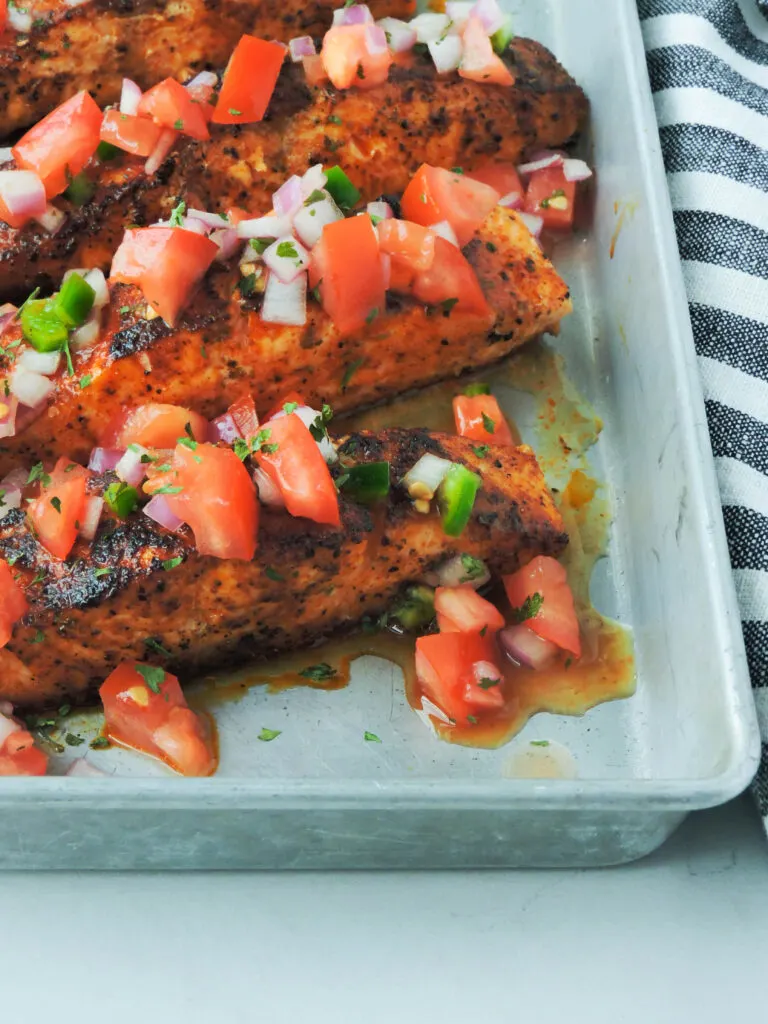 Affiliate Links
When you use these affiliate links to purchase you support the blog. You pay the same price, but I make a small commission. Every little bit helps, so thank you!
The cast iron skillet is your one and only workhorse for this recipe!
Make sure you pin the recipe and Leave a Star Rating
Star ratings and reviews, help this recipe to rank and helps other readers when they go to make it. Thank you for stopping by. This recipe is one of my personal favorites and the golden brown salmon with it's crispy edges makes me feel like I'm in a fine dining restaurant. It's such an easy way to make an impressive meal!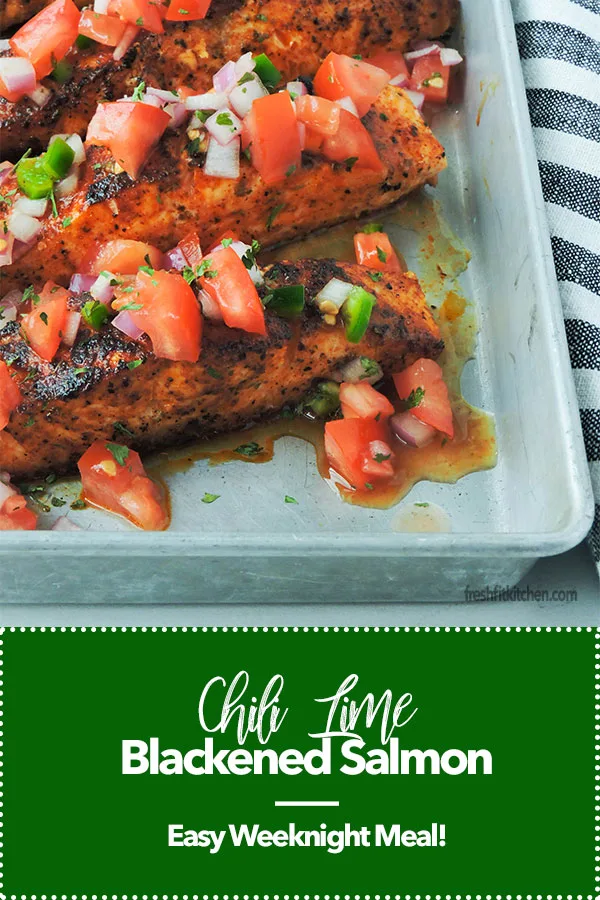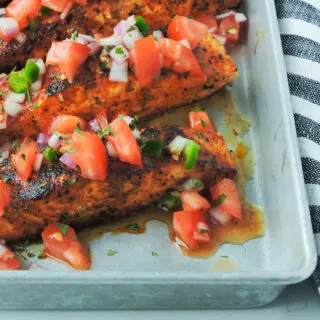 Chili Lime Blackened Salmon with Pico De Gallo
Chili Lime Blackened Salmon with Pico De Gallo is a fresh and zesty salmon dish your entire family will love. Don't shy away from cooking fish. It's really not complicated and it's so delicious.
Ingredients
For Chili Lime Blackening Seasoning
1

tsp.

Kosher Salt

It's important to use Kosher salt here. Fine salt will be too salty.

1/2

tsp.

Chili Powder

1/2

tsp.

Oregano

1/4

tsp.

Garlic Powder

1/4

tsp.

Onion Powder

1

tsp.

Lime Zest
Salmon
4

Salmon Filets

About 4 ounces each. Skin Removed.

2

tbsp.

Avocado Oil
Instructions
Mix together the Chili Lime Seasoning Ingredients. Set Aside.

Divide salmon into 4- 4 ounce portions. Make sure skin is removed.

Cover all sides of the salmon with the rub.

Heat a cast iron (or other heavy bottom skillet) over medium high heat. Add 2 tbsp. of avocado oil.

When the oil is shimmering and hot add in the salmon filets. Cook 3 minutes per side. Make sure to brown the salmon on all sides. The salmon flakes easily when it's cooked through.

Move the salmon off to a plate and cover with pico de gallo (see recipe in notes link). Enjoy!
Notes
I used this recipe for Pico De Gallo from my site. You could also buy a pico de gallo at the grocery store if you want to make this easier.