I really cannot get enough taco-y stuff. I think it's the toppings that keep me coming back. Salsa, sour cream, pico, and of course a little cheese. The flavors are just so good. My husband recently had a burger with a poblano pepper on it and he raved about how much he liked it. This surprised me since peppers usually aren't his thing. Remembering his love of the poblano I took our taco Tuesday next level with these Chili Stuffed Poblano Peppers.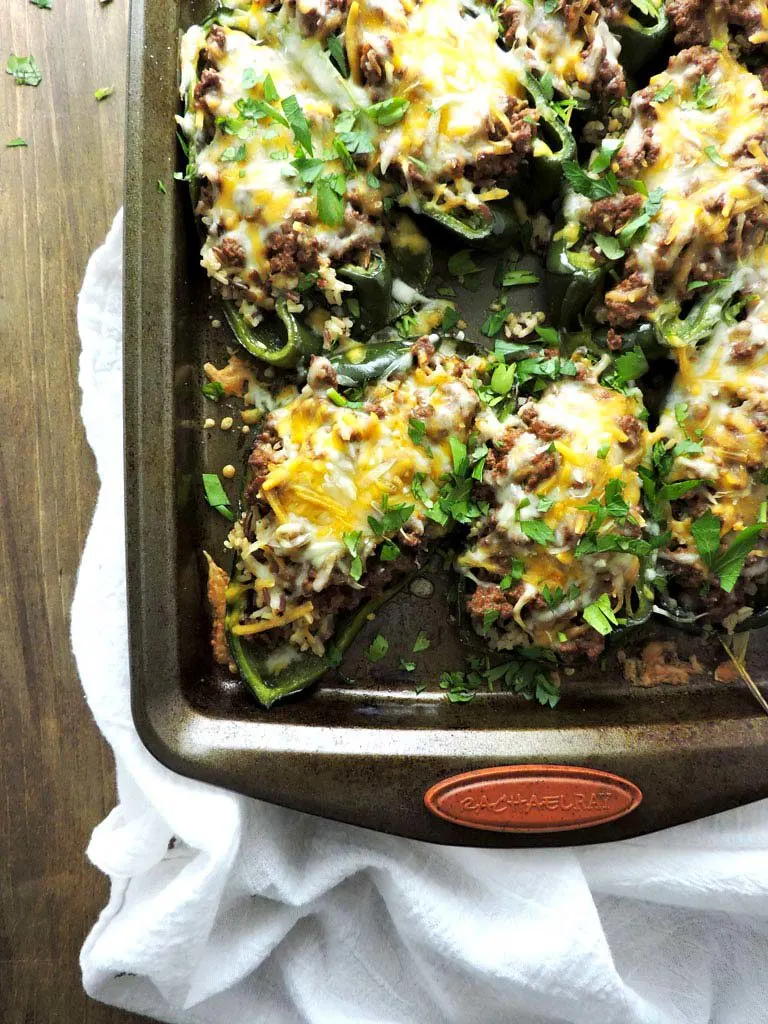 The chili for these is super versatile. I use this chili for nachos, on the occasional hot dog (remember balance people), and it's a great base recipe to throw some beans into and have as a basic chili. Once you have this recipe in your arsenal, the chili possibilities are endless.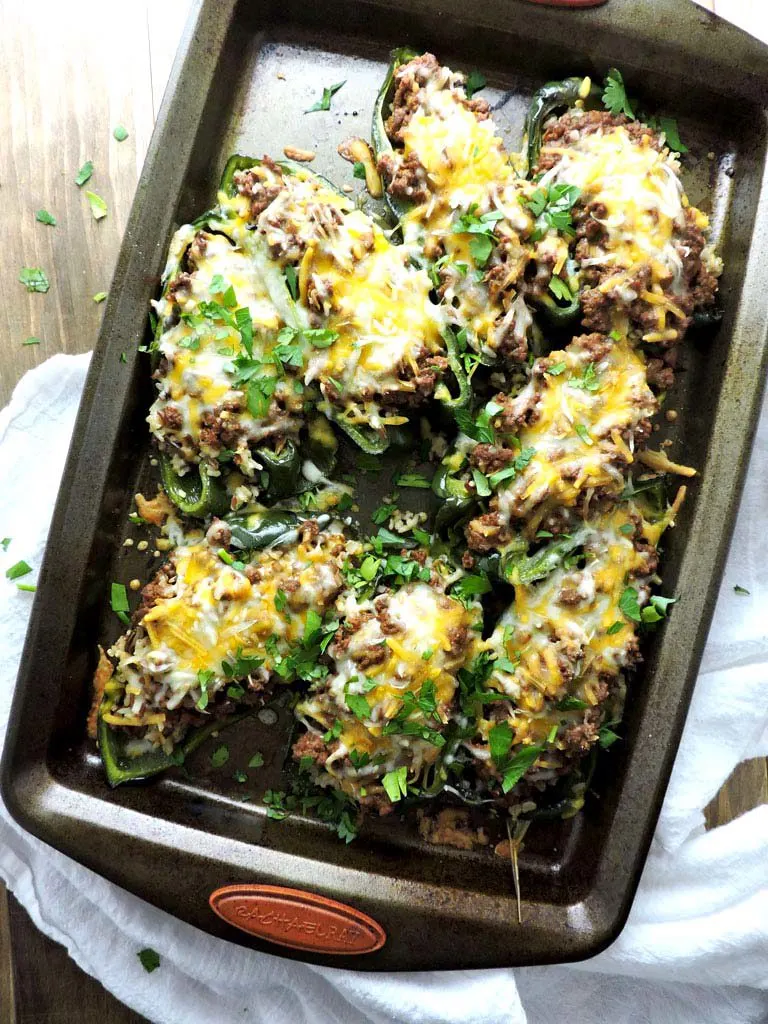 I am going to start putting some things the note section of my recipes to help you tailor the recipe to your dietary needs. I get a lot of questions regarding lowering carbs, gluten or taking the recipe in a vegetarian direction. I'll put these suggestions in the recipe notes. Obviously every recipe can't be completely tailored, but most of them can.
So, let's hop to it. Chili Stuffed Poblano Peppers, comin' at ya.
Pin It For Later- Trust Me!

Save
Save
Save
Save
Save
Save
Save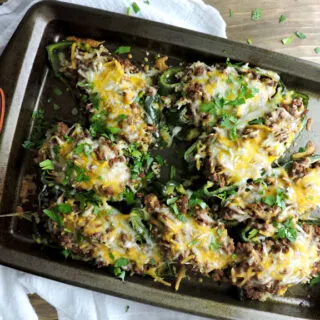 Chili Stuffed Poblano Peppers
Ingredients
4

large

poblano peppers

1

lb.

Lean Ground Beef

1

Medium Onion, finely chopped

2

tbsp.

chili powder

1

tbsp.

cumin

1/2

tsp.

Ground Coriander

2

tsp.

garlic

10

oz.

Tomato Sauce

1/4

cup

Vegetable or Beef Stock

1

tsp.

Honey,optional

salt and pepper to taste

1

cup

Reduced Fat Shredded Colby Jack Cheese

2

cups

Brown Rice, Quinoa or a Blend
Instructions
Drizzle about 2 tsp. of olive oil in a heavy bottomed pot. I like to use my dutch oven for this recipe. If you don't have one any large pot will do that you can simmer in.

When the oil is heated add in the ground beef and break it up with a wooden spoon. Add in the onion and cook until the ground beef is no longer pink.

When the ground beef is cooked, you can then add in the tomato sauce, chili powder, cumin, garlic, salt and pepper. I always recommend a teaspoon of honey with canned tomato product. If you're really cutting sugar though, this is not a necessity. It will just cut the acidic taste canned tomatoes can have.

Bring things to a boil then reduce to a low simmer. Cover and simmer for 1 hour or as long as you like really. You can even transfer this to a slow cooker on low if you want to make the peppers later in the day. You can add a 1/4 cup of vegetable or beef stock (as noted in the recipe) to the chili to thin it out if it gets too thick.

When you're ready to begin assembling and baking the peppers, slice them in half lengthwise and remove the ribs and seeds. Brush them lightly with olive oil. Prepare your rice or quinoa according to package instructions.

Turn on the broiler and broil them for 10-12 minutes skin side up. The skin will get charred and blistered. When there are quite a few charred spots and the peppers are steaming and soft remove them from the oven. Allow them to cool a bit so you can handle them.

When you can handle the peppers use the side of a butter knife to scrape at the charred pieces and remove that thin layer. You can leave a little of the char on if you like that. Flip the peppers over.

Turn your oven to 400 degrees. Fill each of the peppers with rice and then the chili mix. Top with cheese and bake for 10-15 minutes.

Serve the peppers with whatever toppings you like. We like to use sour cream and cilantro.
Notes
Lower the Carbs: Omit the grains and double the chili.
Vegetarian or Vegan: Make your chili vegetarian with a few cans of your favorite beans and veggies. I'd recommend adding a red pepper into the chili along with a can of black beans and kidney beans. If you are vegan, add avocado instead of cheese.
Good News! This recipe is Gluten Free no matter how you prepare it!