I won't lie. It's hard to be a healthy food blogger this time of year. All of my blogging friends are posting these beautiful decadent treats and I am over here telling you how to eat in the in between. Let's face it. We healthy eaters need dessert too! I'll be a baking fool just like everyone else, but this Chocolate Peanut Butter Bark with Sea Salt is the answer for the healthier eater and non-baker. It tastes like a peanut butter cup and you never have to turn the oven on! Sold yet?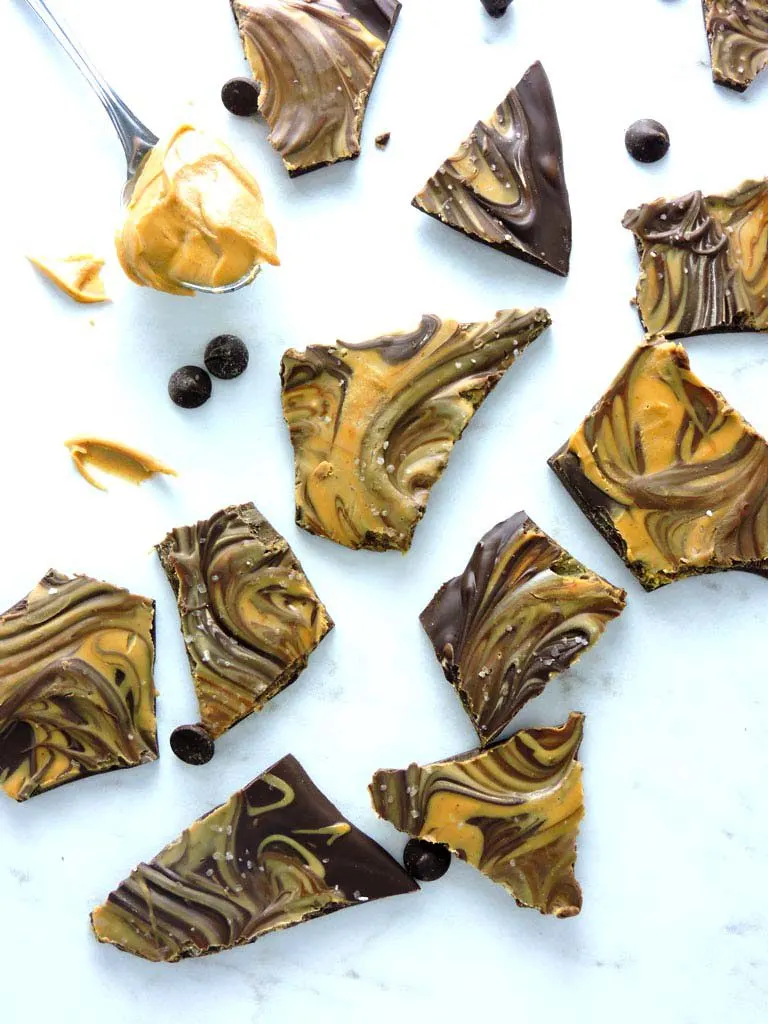 Perhaps this picture will convince you. I love the free form pieces in this bark. Bark always has a lovely presentation and makes a great holiday gift. This only needs to set in the fridge for about an hour so even if it's a last minute party, I have you covered. Recipes like this allow you to enjoy the holidays and not go completely overboard. In the interest of all things bark, I highly encourage you to check out one of my favorite bloggers, Hip Foodie Mom, Alice Choi. She has some great bark recipes on her site, and I'll just go ahead and tell you everything is good.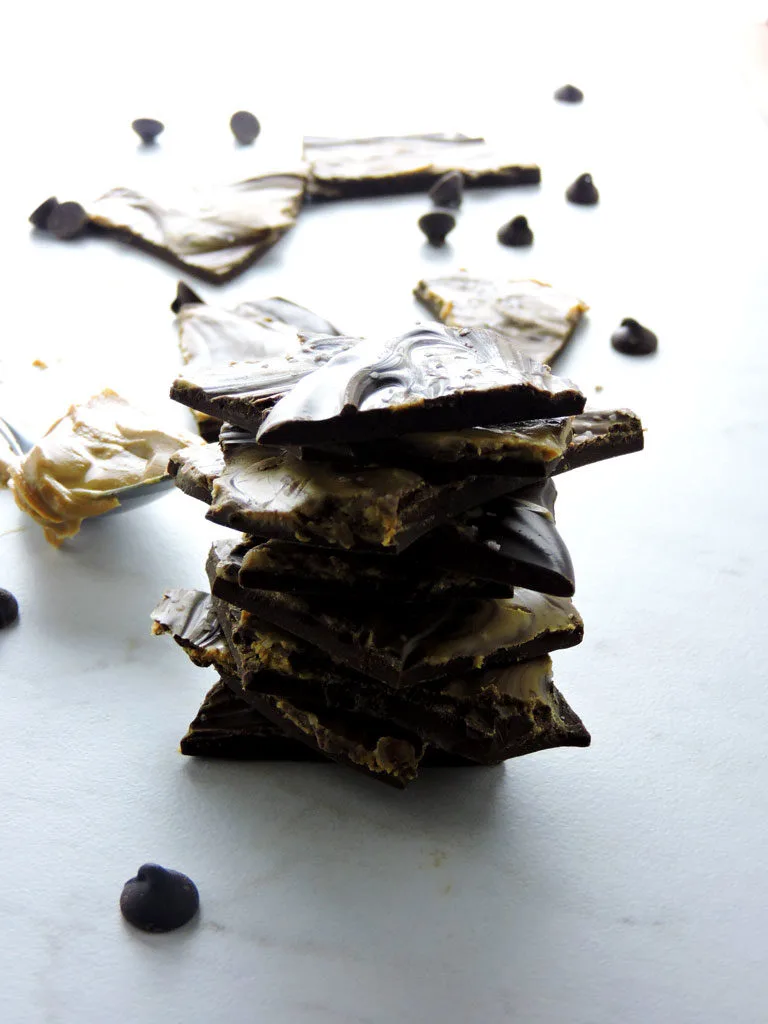 I really hope you make this recipe. Chocolate Peanut Butter Bark with Sea Salt yummy goodness to brighten your holiday season. Proof that indulgent recipes don't have to mean a truck load of butter and sugar. Happy Holidays my friends!
Save
Save
Save
Save
Save
Save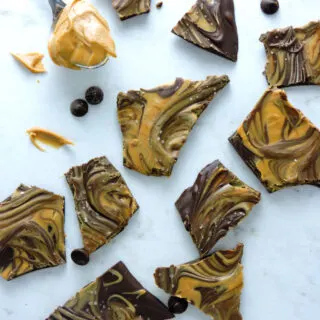 Chocolate Peanut Butter Bark With Sea Salt
Ingredients
12

ounces

Semi-Sweet Chocolate Chips

1/3

cup

Natural Peanut Butter

1/2

tsp.

sea salt
Instructions
Place a large bowl over a pot filled with water. Make sure the water doesn't touch the bottom of the bowl. Pour the chocolate chips into the bowl and bring the water to a simmer. You don't want a boil. This will slowly melt the chocolate chips.

While the chocolate chips are melting, in the microwave heat the peanut butter until it's more spreadable. You're going to need to be able to easily spoon the peanut butter.

When the chocolate is melted, remove it from the heat. Line a baking sheet with parchment and pour the chocolate over top. Spread it into a thin layer.

Drizzle your peanut butter on top and using a fork or toothpick swirl it into the chocolate mixture.

Sprinkle with sea salt and refrigerate for at least 1 hour.

When you're ready to serve, remove the parchment from bark and break it into free form pieces.

This bark is best stored in the fridge, but as long as it's in a cool dry place you can store it in a container and separate each layer with parchment or wax paper to prevent sticking. Bark is perfectly yummy up to 2 weeks.