Soups are easily one of my favorite meals. I make Minestrone style soups all the time. My White Bean and Kale Detox Soup is a good example. I am feeling a little indulgent these days with all of the colder weather, so I decided to replace the beans or pasta I would normally use, with tortellini. I've seen many versions of soup with tortellini. I think there is no better fit than minestrone for a good cheese tortellini. I call this Healthy Italian Minestrone with Tortellini because other than the tortellini, it's a really light soup.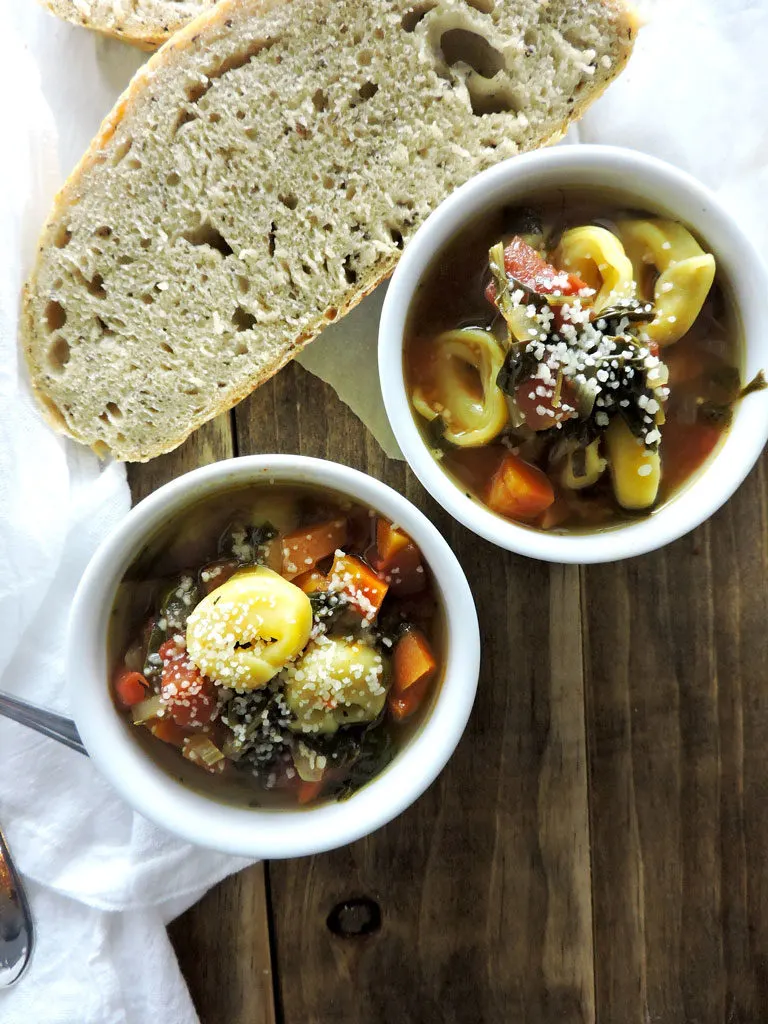 When you're using an ingredient like tortellini, you don't need a ton of them to add flavor. Just a few tortellini to the mountain of veggies in this soup, and you can still feel good about eating it. I highly recommend you cook the tortellini separately an just add them to the soup as needed. Pasta and rice tend to not survive sitting in broth for a long period of time. The tortellini could fall apart if you leave them in too long.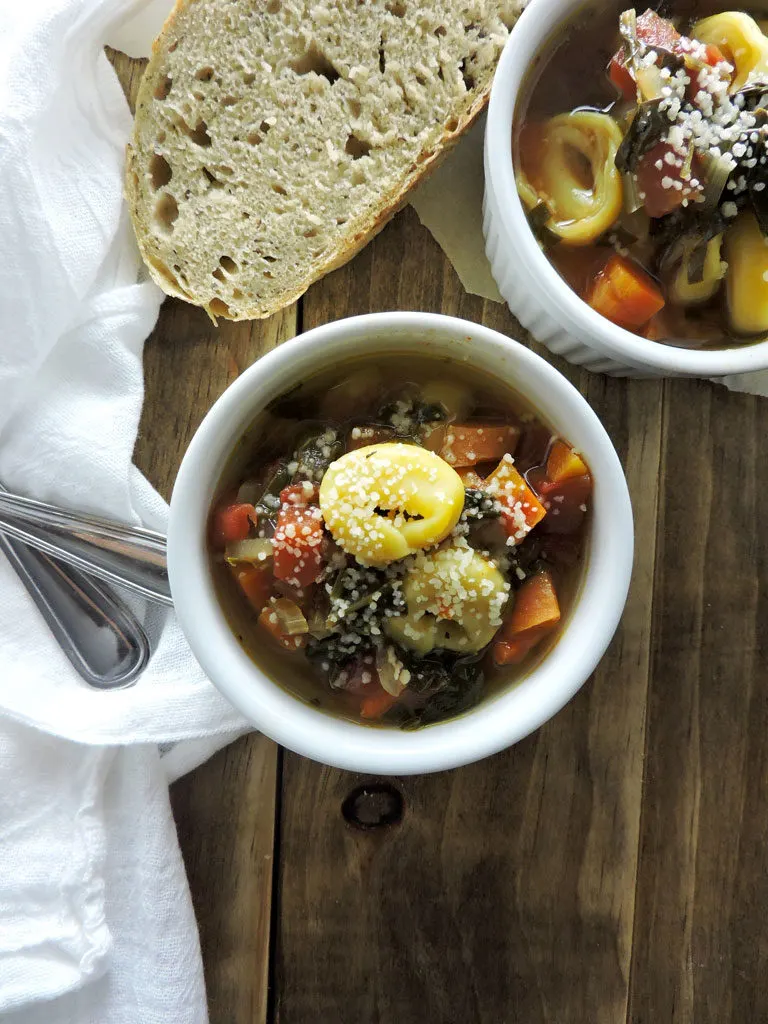 I love to serve this soup with a hearty bread. recently I discovered an easy peasy no knead bread recipe. One of my favorite fellow blogs, Pinch of Yum, has a recipe for this miracle no-knead bread. You guys this bread is so good and so easy. It's literally set it and forget it until you're ready to eat. Make it when you make this Healthy Minestrone with Tortellini Soup. Trust.
Save
Save
Save
Save
Save
Save
Save
Save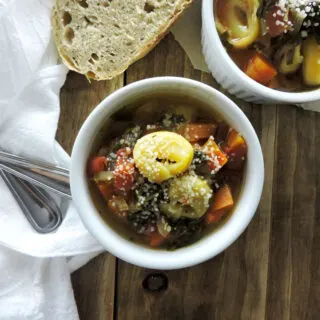 Healthy Italian Minestrone with Tortellini
Ingredients
4

cups

Vegetable Stock

4

Carrots, chopped

3

stalks

celery, chopped

1

small

onion, chopped

14

ounces

Canned Diced Tomatoes

2

tsp.

garlic, minced

3

tsp.

dried italian seasoning

salt and pepper to taste

3

cups

Baby Spinach, chopped

3

cups

Frozen Cheese Tortellini , cooked

1

parmesan rind, optional
Instructions
In a slow cooker, add the vegetable stock, carrots, celery, onion, tomatoes, garlic, Italian seasoning, salt and pepper. Add the rind of a Parmesan cheese wedge, if using. Cook on low for 6-7 hours.

When you're ready to serve, cook the tortellini according to package instructions. Drain and set aside.

Add the spinach to the crock pot and cook for a few minutes until wilted. Remove the Parmesan rind if using.

Put a few tortellini into a bowl and ladle the soup over top. Garnish with grated Parmesan cheese if desired.
Notes
I highly recommend the Parmesan Cheese Rind. If you're wondering what that is, it's the end of the Parmesan Cheese wedge that you'll typically throw away. It adds amazing flavors to soups and I highly recommend you try one next time you make spaghetti sauce.