Baking muffins with yogurt is such a great way to create soft and fluffy muffins without all the added butter and sugar. Yes, you'll still need those ingredients in this recipe, but they will be in slightly lighter quantities. Healthy Raspberry Lemon Greek Yogurt Muffins are made with fresh raspberries, a cup of Greek yogurt and they are sure to become a go-to recipe for a healthy breakfast.
I'm sad it's the end of summer, but let's put those juicy raspberries to good use.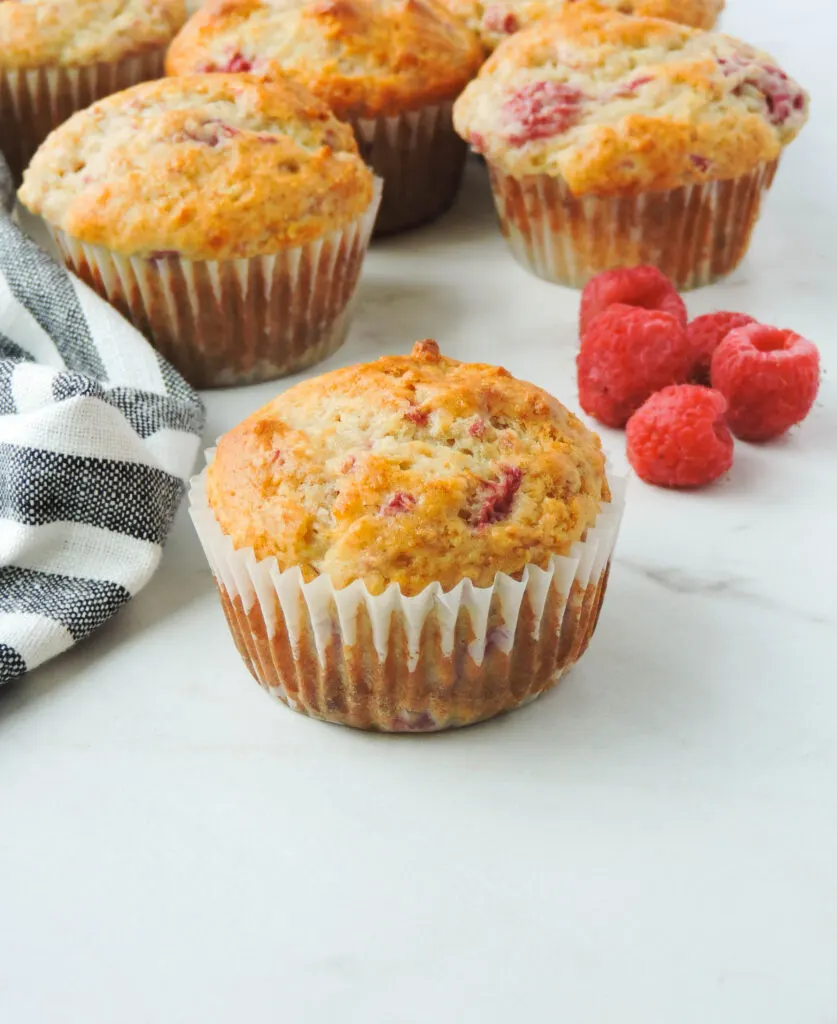 Tips for Perfect Healthy Raspberry Lemon Greek Yogurt Muffins
You'll need a large bowl and a medium bowl. You want to mix the dry ingredients in your medium bowl and your wet ingredients in the large bowl. You'll then slowly add those dry ingredients into the wet ingredients. It may not seem like it matters, but how you mix that muffin batter determines how tender your muffins are.
When you just throw everything into the bowl, you end up over mixing. You just want those ingredients to come together.
You also need to give your muffins room to expand. So be sure to fill your muffin cups about 3/4 of the way.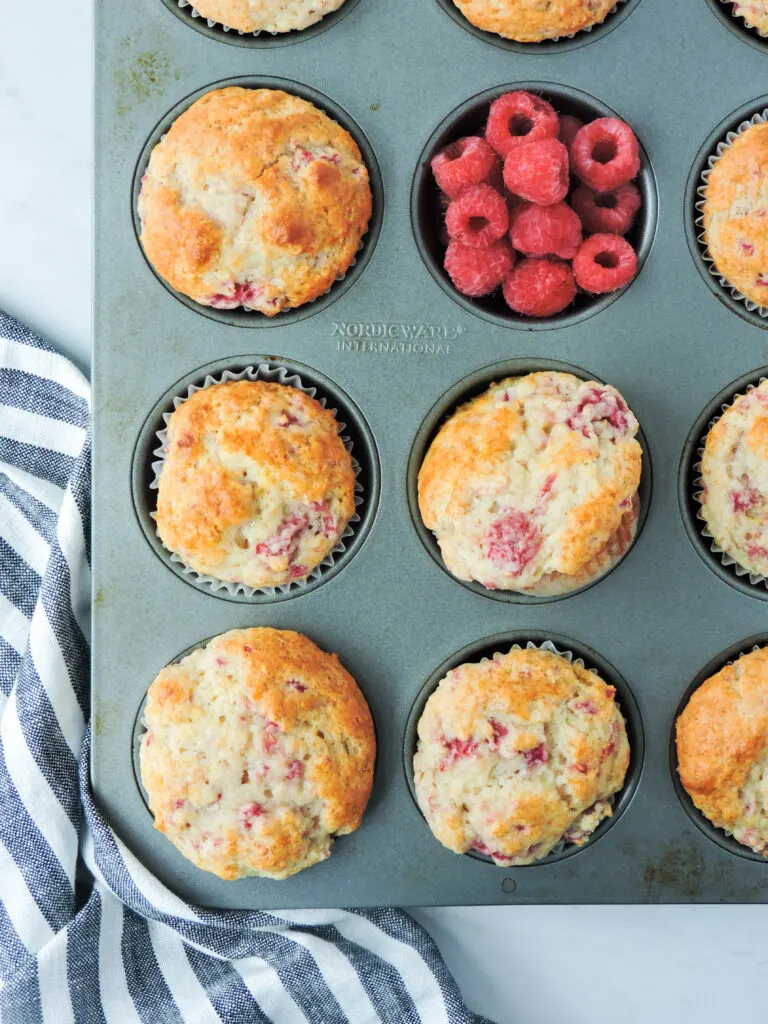 ​
Recipe Substitutions
I do not recommend replacing the fresh berries with frozen raspberries. They just release way too much moisture into the batter. This recipe was not tested with vegan yogurt so I can't say whether it will work or not if you have issues with dairy. I also didn't recipe test with gluten free flour.
If you'd like to replace half of the all purpose flour with whole wheat flour, I can say that will be just fine. While whole grains are great, using all whole wheat flour could create a dry muffin and we want moist raspberry muffins (I'll go ahead and apologize to those of you who hate that word.
If you don't have plain Greek yogurt, then sour cream is an awesome replacement! People always ask me about replacing the butter with coconut oil. The answer is yes, but I'm sorry they won't be as good. Canola oil or olive oil will also work.
I also just have to say from a nutritional standpoint, unless you have to be dairy free butter and coconut oil are pretty equal.
Another question I know I'll get is regarding the sweetener. I just prefer baking with real sugar. I cannot recommend replacing a granulated sweetener with maple syrup or honey.
Lemon Zest is optional , but you wont' have that lemon component if you leave it out. I don't recommend you add lemon juice. It would be too tart and would add additional liquid.
If you wanted to leave the lemon out, I would recommend you add in mini chocolate chips for a more dessert leaning muffin. Chocolate raspberry muffins? yes please!
Storing Leftover Muffins
Like any muffin recipe, these are best fresh out of the oven once they've had a short sit on a cooling rack. However, once cooled to room temperature get them into an airtight container. They will keep there for 2-3 days. If you have extras, freeze them up to 2 month. To thaw just sit on the counter then warm up in the toaster oven.
Homemade Muffins are so much better than store bought, but you can preserve them for a while longer by utilizing these storage tips.
​
Tools I used for this Recipe
Please note that these are affiliate links. When you purchase from these links, you're helping me continue to provide free content. I make a small commission when you purchase from these links so thank you! Here are the links for my favorite muffin pan and cooling rack.
​I didn't get to use them in this recipe, but I also love these tulip liners for my muffins and cupcakes.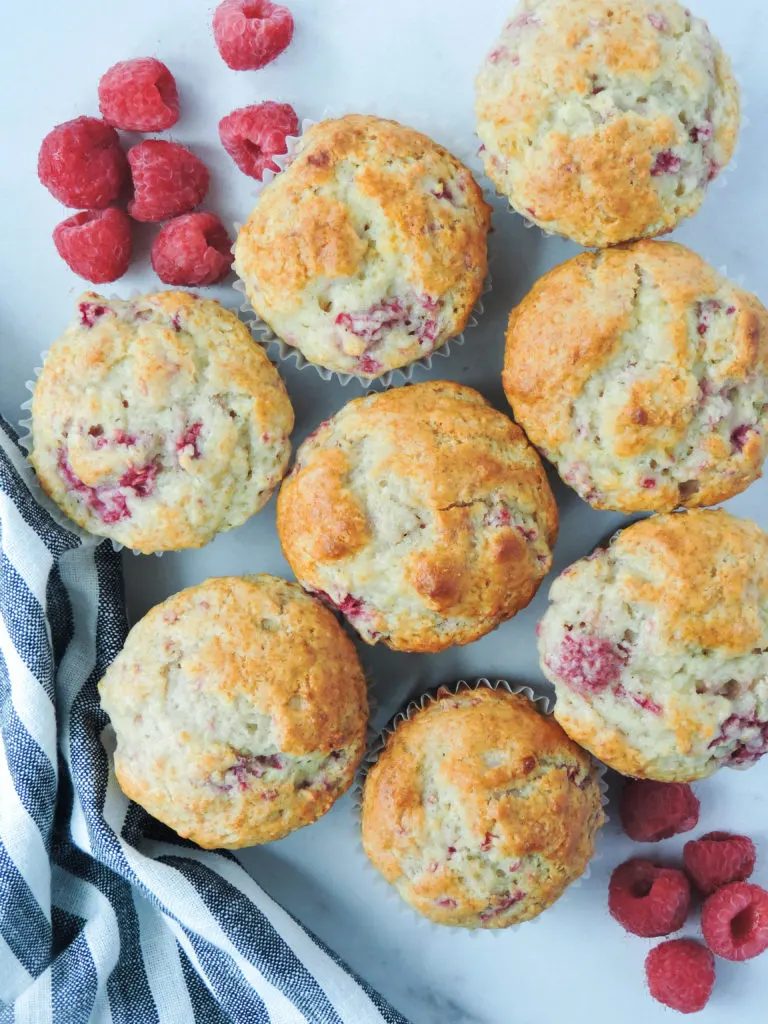 Leave a Star Rating and Review
If you make these easy raspberry yogurt muffins, please leave a rating and review. You really help others who are making the recipe and it's just another way you can support the my site. These Lemon Raspberry muffins combine some of my favorite flavors and it's my hope you'll enjoy them !
It is my belief that simple ingredients yield the best results and this recipe is a great example of that! So, here's to the perfect breakfast, a healthier take on dessert or just because you need a sweet treat- Raspberry Lemon Muffins are going to be a family favorite!
Pin for Later!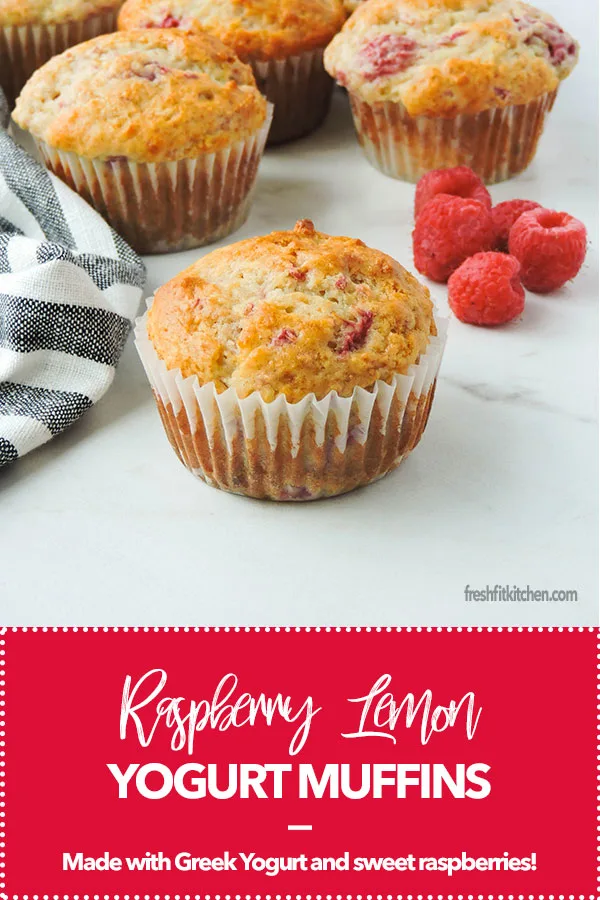 This post was updated on 8/20/23.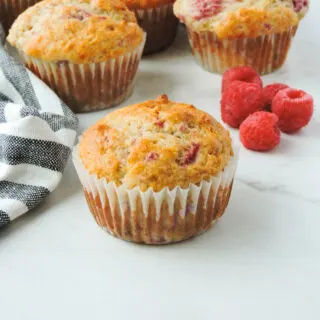 Raspberry Lemon Yogurt Muffins
Raspberry Lemon Yogurt Muffins are a delicious muffin recipe made with sweet summer raspberries and Greek Yogurt.
Ingredients
2.5

cups

All Purpose Flour

1

tbsp.

Baking Powder

1/2

tsp.

Baking Soda

1/2

tsp.

Salt

Zest of 1 Lemon

2

large

Eggs

1

cup

Non Fat Greek Yogurt

8

tbsp.

Butter

Melted

1

cup

Sugar

2

tsp.

Vanilla Extract

1

cup

Raspberries
Instructions
Preheat Oven to 400 degrees.

Mix the dry ingredients together in a large bowl- Flour, baking powder, baking soda, salt and lemon zest. Toss the raspberries in and gently stir to coat. Try not to break up the berries too much.

In another bowl whisk together the eggs, sugar, butter, yogurt, and vanilla.

Add the dry ingredients to the wet in 3 batches. Fold the dry into the wet ingredients until just combined. Do not overmix and mush up the raspberries. You'll break them up a little, but you don't want your muffins to turn pink.

Line 18 Muffin cups with paper liners. Spray with cooking spray. Fill each muffin cup 3/4 of the way.

Bake at 400 degrees for 18-20 minutes. Make sure a toothpick inserted in the center comes out with just a few moist crumbs. That means they are done.
Notes
Don't have raspberries? Try blueberries or blackberries!