You can find all kinds of methods on the internet for how to make crispy tofu in a pan, but I'm here to tell you that this is the last crispy pan fried tofu recipe you'll ever need. It's super easy, requires few ingredients and virtually no fussing. So grab some paper towels, soy sauce, tofu press , your largest non-stick pan, and some extra firm tofu and let's make tofu you'll find yourself craving. Yes, I said actually craving.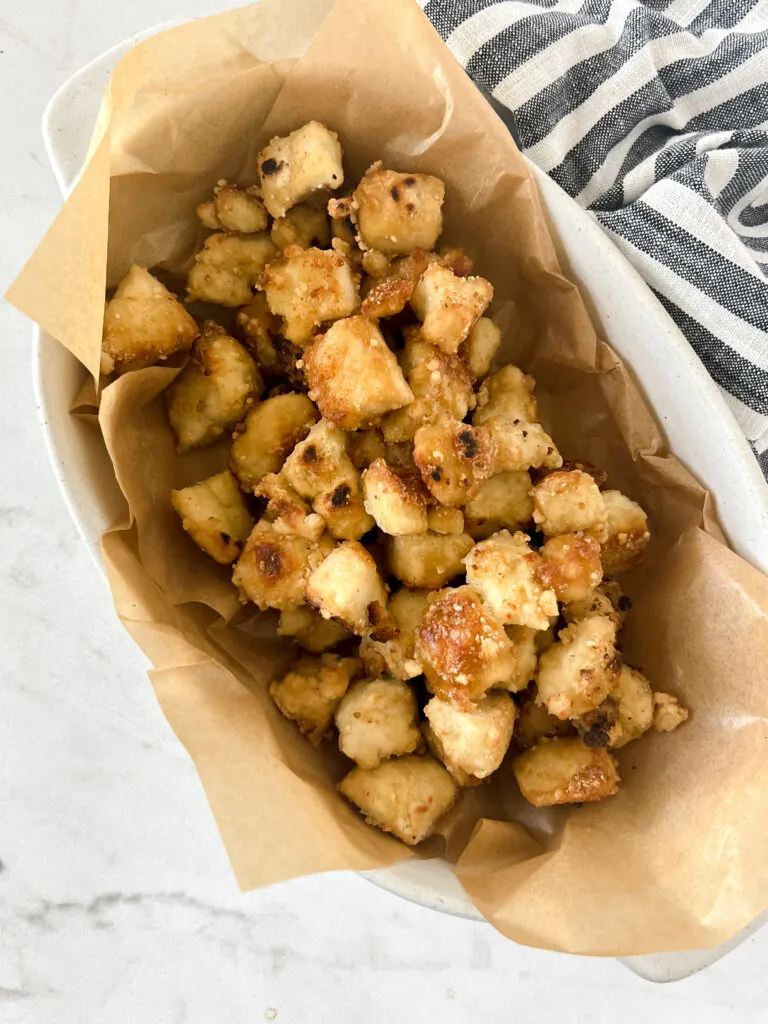 Crispy Pan Fried Tofu – Tips
The most important part of making crispy pan fried tofu is not to cut the tofu into cubes. Yes, I said no tofu cubes. This is generally how everyone does it and it is counter to a crispy tofu recipe. In this recipe we break the tofu apart with our hands. Those shaggy edges and just a little oil are the best way to achieve crispy perfection.
You want to start any good tofu recipe by squeezing out all of the excess liquid. This can be do done with a tofu press or by wrapping the tofu in paper towels ( or a clean kitchen towel) and weighing it down with a heavy object. I'll often wrap up my tofu and place it on a plate then weigh it down with my cast iron skillet. This will squeeze all the moisture out of the block of tofu.
The type of tofu is also important. You always want to use an extra-firm tofu. You can also find tofu labeled "super firm" that has all of the water already out of it. If you can find this, go for it. You just don't want soft silken tofu for this. We need firm tofu pieces to start with.
I know someone will ask, and yes you can use the air fryer for this, but I've tried this method and I feel it dries it out too quickly. The skillet over medium-high heat is something that I always come back to. It just creates that crispy exterior. Make sure as you cook the tofu, that you have it in a single layer no matter your method. Tofu will easily stick together and then not be as crispy.
Crispy Tofu Recipe Substitutions
Few ingredients mean few subs. I recommend seasoning the tofu with soy sauce before you add the corn starch. Feel free to add garlic powder, onion powder, or whatever seasoning you wish.
You can sub the soy sauce for tamari or coconut aminos. They have the same flavor profile.
I toss the tofu with corn starch, but feel free to use tapioca starch or arrowroot powder.
I like to pan fry this in a bit of olive oil (a light one ), but you could use sesame oil, vegetable oil or whatever frying oil you like to cook with.
How to Store Leftover Tofu
You can store your crispy tofu in an airtight container for 3-4 days. Reheat in a skillet over medium heat or this is a great time to use the air fryer. This is a great way to meal prep to make buddha bowls for throughout the week. Just prep your rice, some vegetables, and that crispy golden brown tofu and you've got the ultimate lunch prep.
Affiliate Links
You need to have a good non-stick skillet and a tofu press is a nice thing to have. After all you're going to be a major tofu fan after this and it will make it all easier 😉
Affiliate links pay me a small commission when you purchase products using these links. Thank you for your support!
How to Serve Crispy Tofu
This delicious recipe is what I call a base recipe. Now that you know how to make the best crispy tofu, the sky is the limit. You can use this tofu in a variety of different ways.
Use it in a stir fry, toss it with barbecue sauce, sesame seeds, green onions and your favorite teriyaki sauce make for a delicious meal. This easy tofu recipe is the base for so many delicious things!
Leave a Star Rating and Review
Please leave a rating review. Your comments, shares and ratings help others find my recipes. I sure do appreciate it!
Pin it for Later!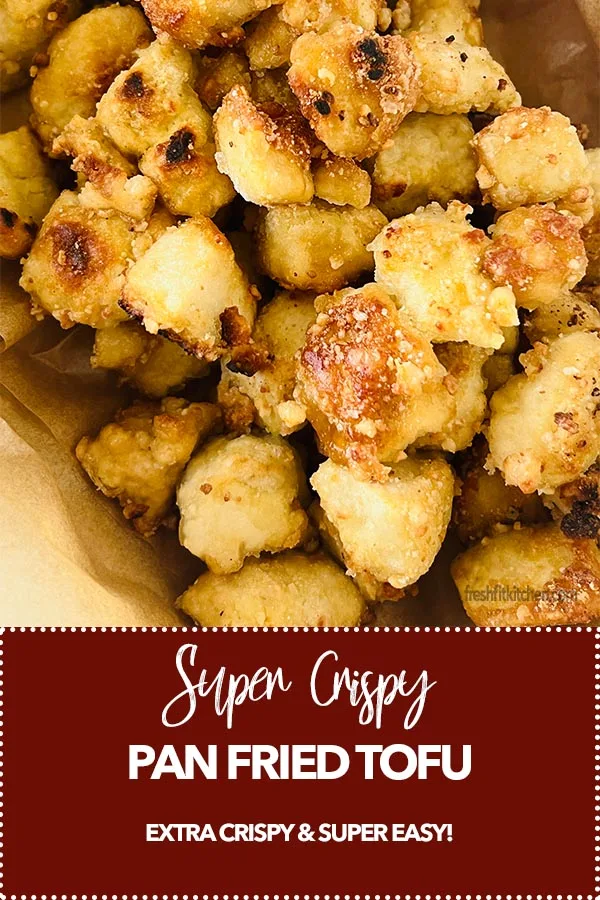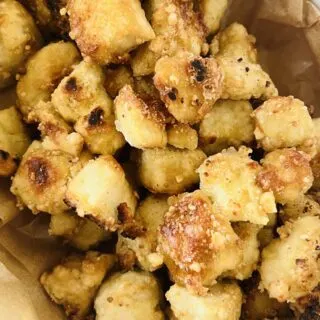 Crispy Pan Fried Tofu
This crispy pan fried tofu recipe is absolute perfection. Just follow these simple steps and have perfectly crispy tofu every time.
Ingredients
3

tbsp.

Light Olive Oil

Or any oil you like to fry with

3

tbsp.

Corn Starch

1

block

Extra Firm Tofu

2

tbsp.

Soy Sauce

Tamari or Coconut Aminos are fine too.
Instructions
If you are using extra firm tofu, it will need to be drained. Remove the tofu from the package and place it in your tofu press. Allow it to sit for 30 minutes. Alternatively, you can wrap it in paper towels and place it on a plate. Weigh it down with a have object to squeeze the water out.

After the water is squeezed out, break the tofu up with your hands into 1.5 inch pieces. You don't want to cut it with a knife. This will give you nice shaggy pieces so they crisp up easily.

Heat a pan over medium high heat. I like to use olive oil, but you can use any kind of oil you desire to pan fry with. Just coat the bottom of the pan. This is not a deep fry.

While your oil heats, put your tofu into a gallon zip bag and shake it up with the corn starch and soy sauce. You want all the pieces coated.

Add the tofu pieces to the hot pan and don't disturb them for 3-5 minutes. You want to see golden crispy edges before you flip. Flip until all pieces are crispy. Toss with your favorite sauce and enjoy.
Nutrition
Calories:
217
kcal
Carbohydrates:
7
g
Protein:
11
g
Fat:
15
g