Summer is winding down, so it means that the farm markets and our own gardens are over flowing with produce. If ever there was a time to do as the squirrels do and stock up, this is it. I love getting into the kitchen and cutting corn off the cob, freezing fruit, making jam, and one of my favorites is making this easy fresh tomato basil marinara sauce. Now, you might see this recipe and think, "yeah I am not peeling tomatoes and dealing with that." Good News! You don't have to. I subscribe to the New York Times Cooking newsletter and the issue I read most recently advised to grate the tomatoes. Grate the tomatoes? You mean , no peeling? I am in heaven!
As you can see, the result is beautiful tomato sauce and all that's left is the skin. I snagged some discount boxes of tomatoes that were at their peak ripeness and went to town. I loved the idea of saving all of those lonely unwanted tomatoes, and I was on a mission to help them live out their true tomato destiny. Additionally you should note that if you cannot get enough tomatoes to make this sauce, or you just have a few you're using up, it's okay! You can add crushed tomatoes to this sauce recipe and it will be just as delicious.
With the busy back to school season in full swing, you and your family need recipes you can count on when time is short. So, when you freeze this, do so in a large plastic bag. Then, you'll just cut the bag off and place the square of sauce into a sauce pan over medium low heat. In about 10 minutes you can make some pasta and serve your family a wholesome meal you can be proud of. Fresh tomatoes, basil, dried herbs, garlic, and some tomato paste are really all you will need to make a beautiful homemade easy fresh tomato basil marinara sauce . Don't be intimidated- I know you can do this. Once you see how easy it is, you'll be doing it every summer. So, get into the kitchen, turn the music up, pour some wine and start grating.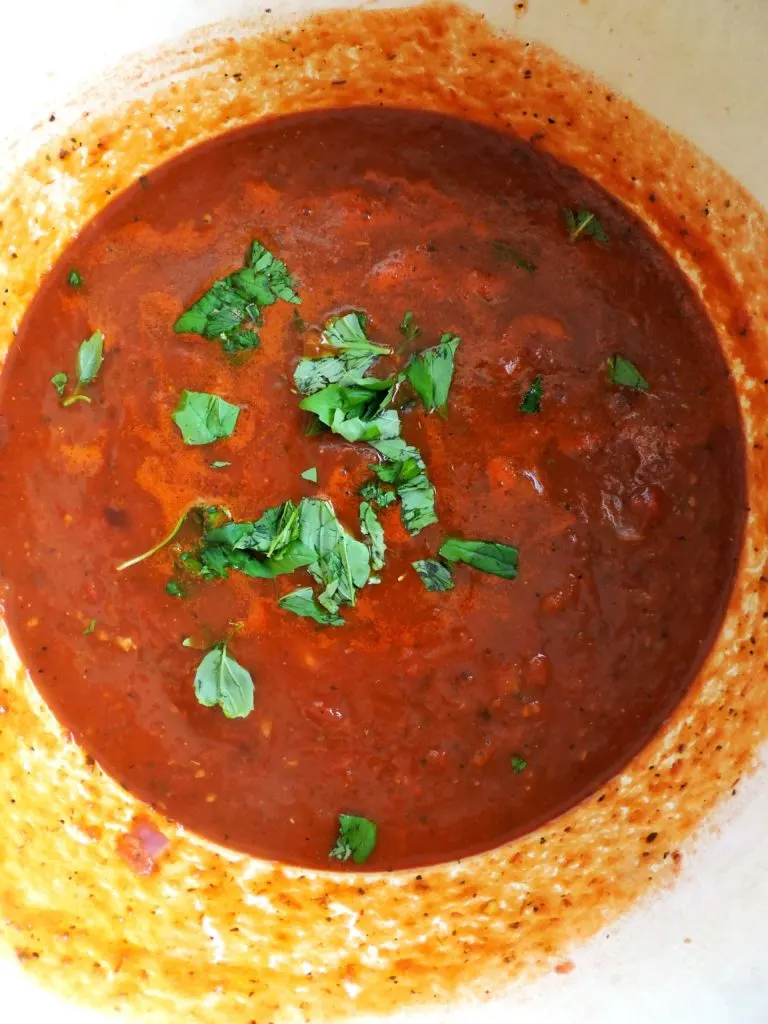 Save
Save
Save
Save
Save
Save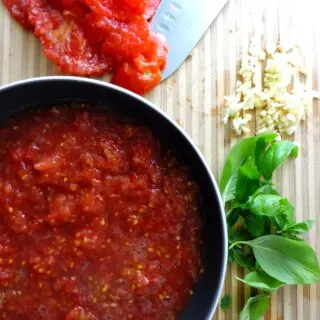 Easy Fresh Tomato Basil Marinara
Ingredients
10-12

whole

fresh tomatoes

5

cloves

garlic

1/2

large

onion

3

tsp.

dried italian seasoning

3

tbsp.

tomato paste

28

oz.

canned crushed tomatoes

1/2

cup

fresh basil

1

tsp.

honey

1

parmesan rind
Instructions
Cut fresh tomatoes in half and grate on the side of a box grater. This will take out all of the pulp and leave the skin. Mince up the onions and garlic. Drizzle enough olive oil to coat the bottom of a nice big heavy pot. I like using a dutch oven for this recipe.

Add the garlic, onions, fresh tomato, tomato paste and salt to the olive oil and saute until the onions and garlic are translucent. Add the dried herbs and stir for one minute. At this point, if you feel too much liquid has gone out of the sauce and you have no more fresh tomatoes , add the can of crushed tomatoes. This adds great flavor and texture and stretches the tomatoes from your garden. Add the honey to cut the acid in the tomatoes. If you're using a Parmesan rind to add flavor, you'll put this in at this time too. Just stick it in there and remove it when the sauce is finished.

Let the sauce simmer on low uncovered for 1-2 hours. This recipe is forgiving so just keep stirring and don't let it get to bubbling too much.

Remove from heat and add torn basil. Allow this sauce to cool and portion into gallon freezer bags and freeze, use it for pizza, or add meat and serve it over pasta.
Notes
The canned tomatoes are optional here , but are a great way to stretch the fresh tomatoes and add great flavor.