Potatoes are that super basic side dish you can always count on. These Easy Seasoned All Purpose Roasted Potatoes are the trusty back pocket potato recipe you need in your life. Crispy on the outside, soft on the inside and with plenty of flavor. You're going to want to read on here because you can make mistakes when you make these. If you find that even when you roast something, you don't get that beautiful brown color in the photo, you need my tips! Read on…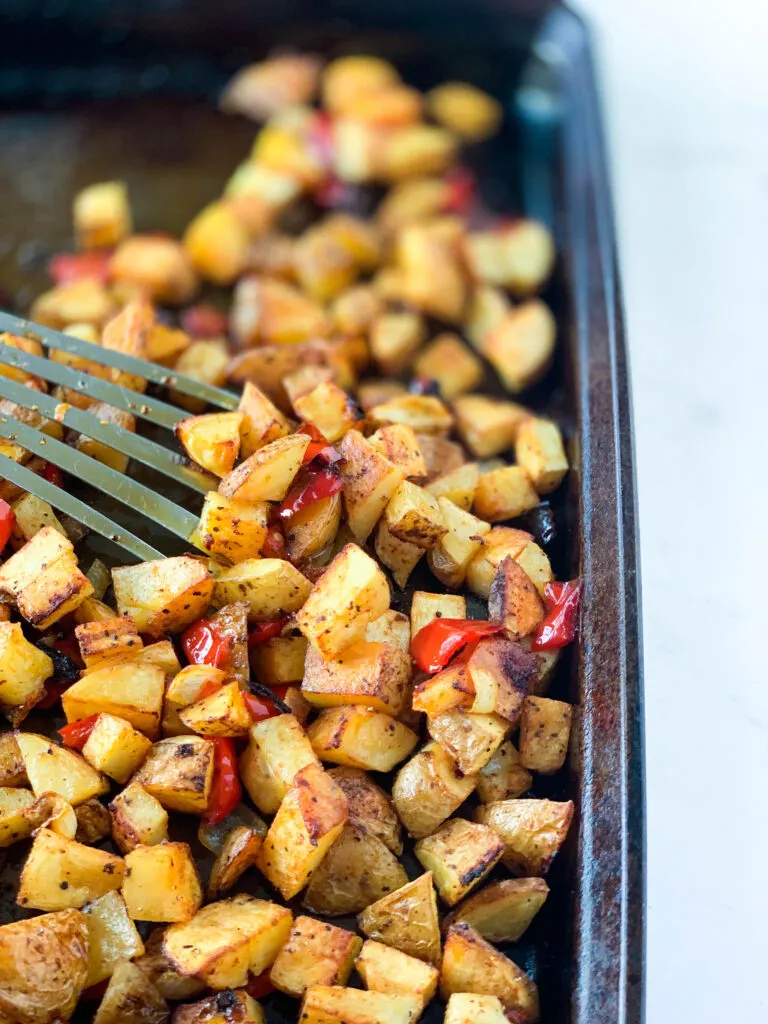 How to Get Roasted Potatoes Brown in the Oven
You'll notice my instructions for roasting potatoes include having you oil and season the pan itself. Yes, it's not enough to just toss everything onto the pan. The oil needs to make contact with the pan to avoid sticking and ensure everything browns. Make sure your potatoes fit into one single layer on the pan. When food is too close together it creates steam and it will not brown. Stop crowding the pan. Finally, these things take time. Yes, these potatoes need to roast for 40-45 minutes total. I know that seems like a while, but that's how you develop color and flavor.
I really hope you make these delicious Easy Seasoned All Purpose Roasted Potatoes. They are great for a variety of meals and the ingredients are easy to keep on hand!
PIN IT FOR LATER! Make sure you tag me on Instagram @freshfitkitchen if you make these!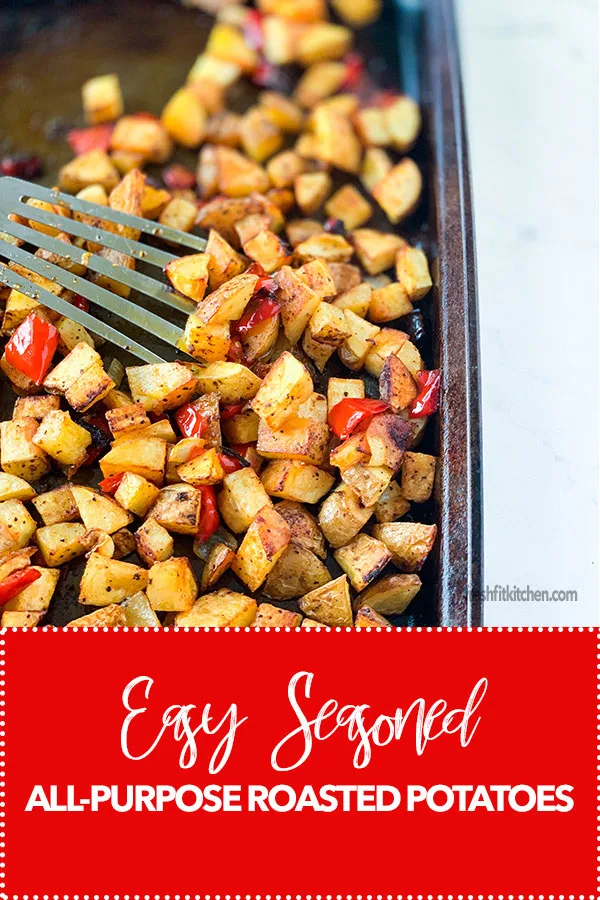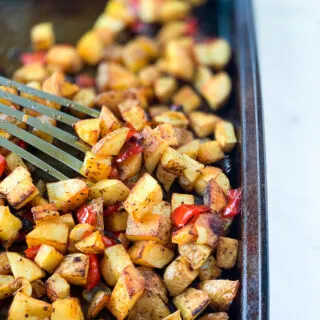 Easy Seasoned All Purpose Roasted Potatoes
Easy Seasoned All Purpose Roasted Potatoes are the perfect side dish for eggs in the morning or your steak at night. Flavorful and easy- these will definitely be in your recipe rotation.

Ingredients
4

medium

Yukon Gold Potatoes

Diced

1

large

Red Bell Pepper

Diced

1

medium

Onion

Diced

1/2

tbsp.

Salt

2

tsp.

Pepper

1

tsp.

Garlic Powder

1

tsp.

Paprika

1

tsp.

Onion Powder

4

tbsp.

Avocado Oil

Or other high heat oil
Instructions
Preheat Oven to 425 degrees.


Take a large sheet pan and drizzle half the oil onto the pan. You will also sprinkle half of all the seasonings. This helps you to evenly coat all of the potatoes as they get tossed around in cooking. It also ensures they don't stick to the pan.


Put your potatoes, onions and peppers onto the sheet pan and add the other half of the oil and seasonings. NOTE: The peppers and onions will get very soft. If you like a crispier texture, then add them about 15 minutes into the cooking time.


Bake at 425 for 25 minutes. Flip them over and allow them cook another 20 minutes. Watch them, because if your oven runs hot, things could get done sooner.