Why do salads always taste better out at a restaurant than they do at home? I'd venture to say because at home we skip some key things. Every good salad has all the elements. Something crunchy, something creamy, a good dressing and if it's a meal, it's a good idea to have protein. Honey Mustard Steak House Chicken Salad is the kind of salad you eat when you want a meal.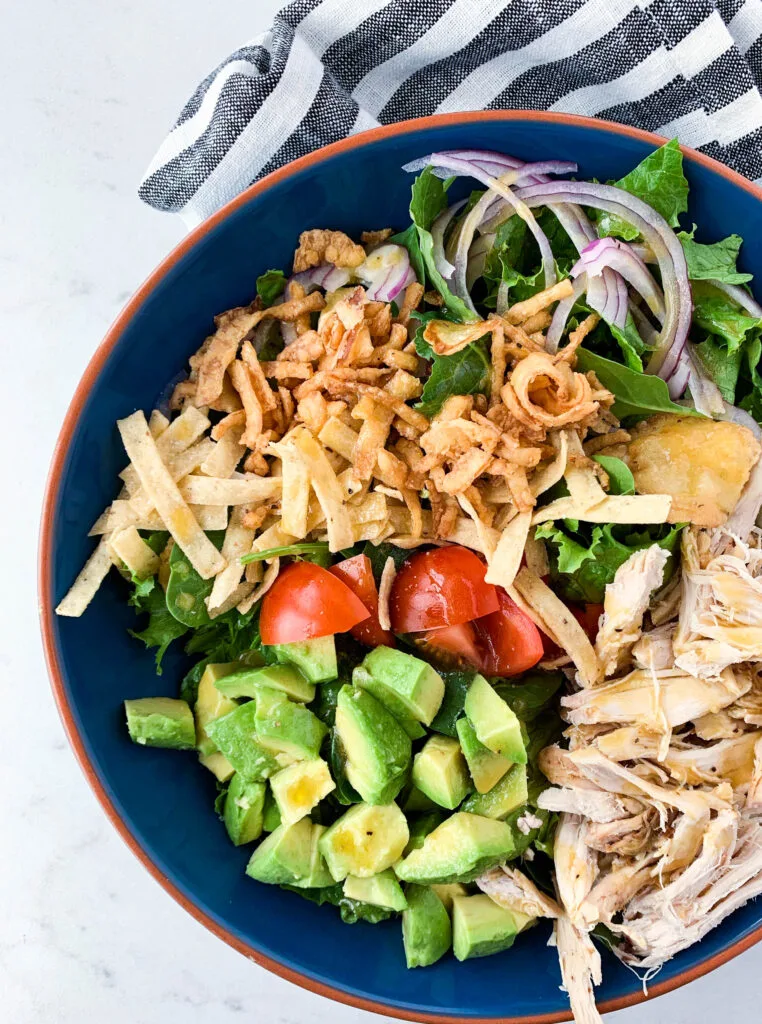 How to Make a Good Salad Dressing
You could buy salad dressing, but honestly I've come across very few I like more than the ones I make. The honey mustard dressing I made for this salad uses the basic principles you'd apply to making any salad dressing. Acid (Apple Cider Vinegar), emulsifier (Dijon mustard), Sweetness (Honey), Seasoning ( Salt and Pepper). Any dressing you make should have these flavors combined. Often grocery store honey mustard is ridiculous sweet and lacks the acidic punch you'll find in this one.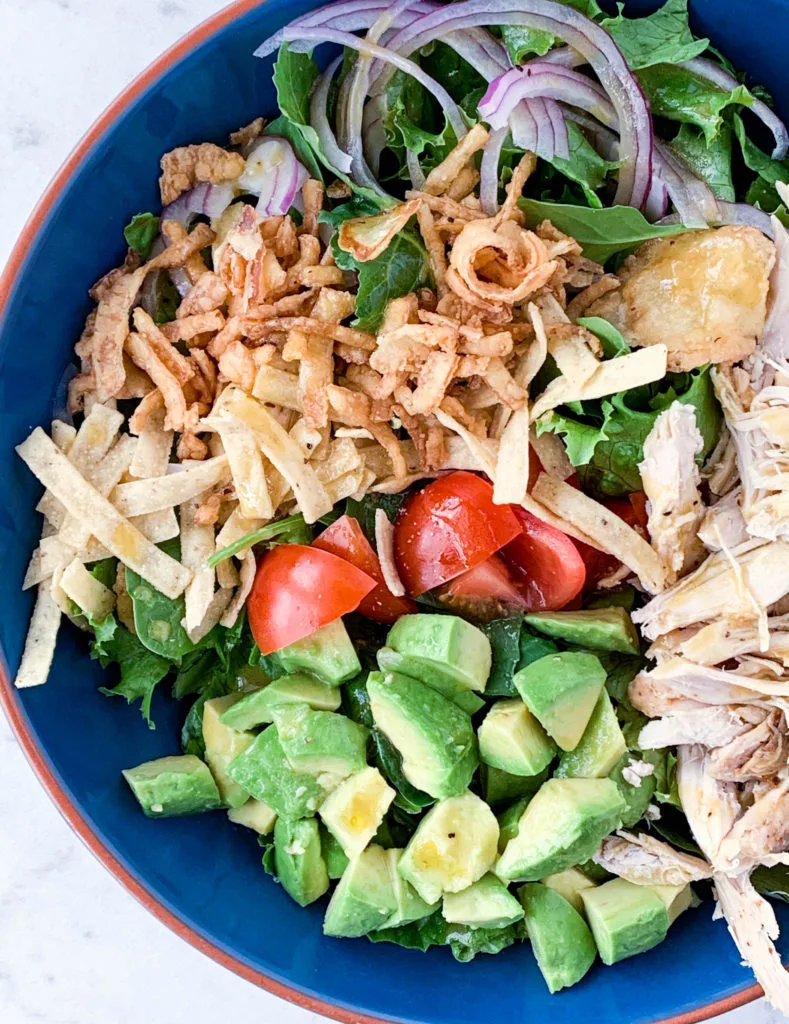 Take a close look at this Honey Mustard Steak House Chicken Salad and you'll find that texture is all around. Creamy avocado, crunchy onions and tortilla chips, crispy lettuce and juicy tomatoes. Textures are so important when it comes to building a delicious salad.
So, are you sold yet? You can do this. You can make a restaurant quality salad at home!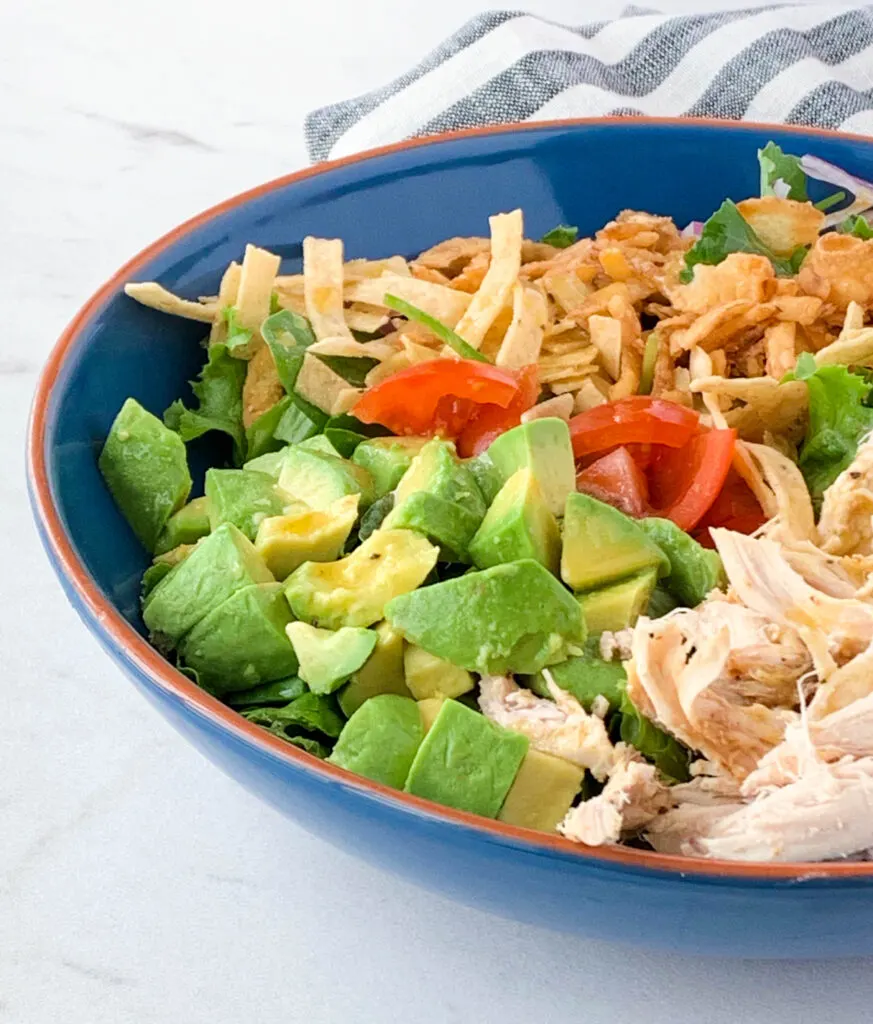 If you make this tag me on Instagram @freshfitkitchen. PIN it for later too!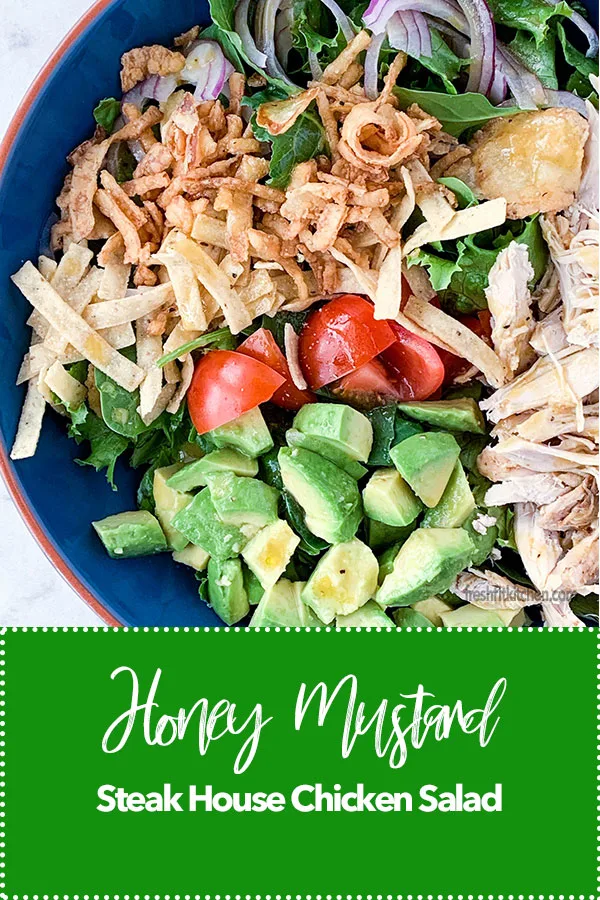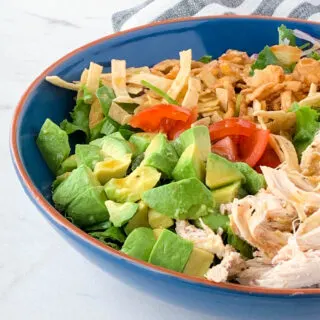 Honey Mustard Steak House Chicken Salad
Honey Mustard Steak House Chicken Salad is a meal size salad that's perfect for those warm summer nights. Lettuce, tomatoes, avocado, shredded rotisserie chicken and crispy onions come together with a zesty dressing. Easy and Delicious!

Ingredients
Dressing
1/4

cup

Dijon Mustard

1/4

cup

Honey

1

tbsp.

Whole Grain Mustard

1/4

cup

Extra Virgin Olive Oil

1/4

cup

Apple Cider Vinegar

1

tbsp.

Lemon Juice

Salt

to taste

Pepper

to taste
Salad
2

cups

Baby Spinach

2

cups

Green Leaf Lettuce

1/4

cup

Red Onion

Thinly Sliced

1/3

cup

Tomatoes

Chopped or use grape tomatoes and halve them.

1/3

cup

Cheddar Cheese

Grated - I like to use sharp cheddar cheese.

1

cup

Crispy Onions

I use Fresh Gourmet brand. They are found near the croutons in my store.

1

cup

Tortilla Strips

I also use Fresh Gourmet brand or you can make your own.

1

cup

Avocado

Cut into chunks. I like to use 2 mini avocados or one large.

2

cups

Rotisserie Chicken

Shredded. I get mine from the store. You can also use grilled chicken.
Instructions
Mix the dressing up in a mason jar. It will stay good in the fridge up to one week. Add salt and pepper to taste. If you don't like a zesty dressing add more honey. Like it zestier ? Add more vinegar. This is a very easy recipe to make to your tastes.


Wash and cut up all of your salad ingredients. When you're ready to serve arrange the avocado, chicken, crispy tortilla strips and crispy onions on top. Dress it with some dressing, toss and serve.