When I like something, I love trying to see how many ways I can infuse that flavor into new things. Start a Google search for buffalo chicken [insert anything here] and apparently a lot of people agree. I love eggplant Parmesan and these Eggplant Parmesan Meatballs were my way of simplifying and adding a more healthful element to my favorite dish. Instead of standing over a skillet and breading each piece of eggplant and frying it, I can easily whirl these up and have all that eggplant Parmesan flavor in "meatball" form. It's actually amazing how much these feel like meatballs.
The food processor is a handy tool for this job, but if you don't have one, a decent blender would do. You could also use a potato masher for the eggplant and then simply fold in the other ingredients. The key, whatever your method is not to end up with eggplant dip. By roasting the eggplant first with spices and garlic, a nutty flavor is developed and the texture is just right. A few quick pulses, emphasis on quick, will bring the right consistency.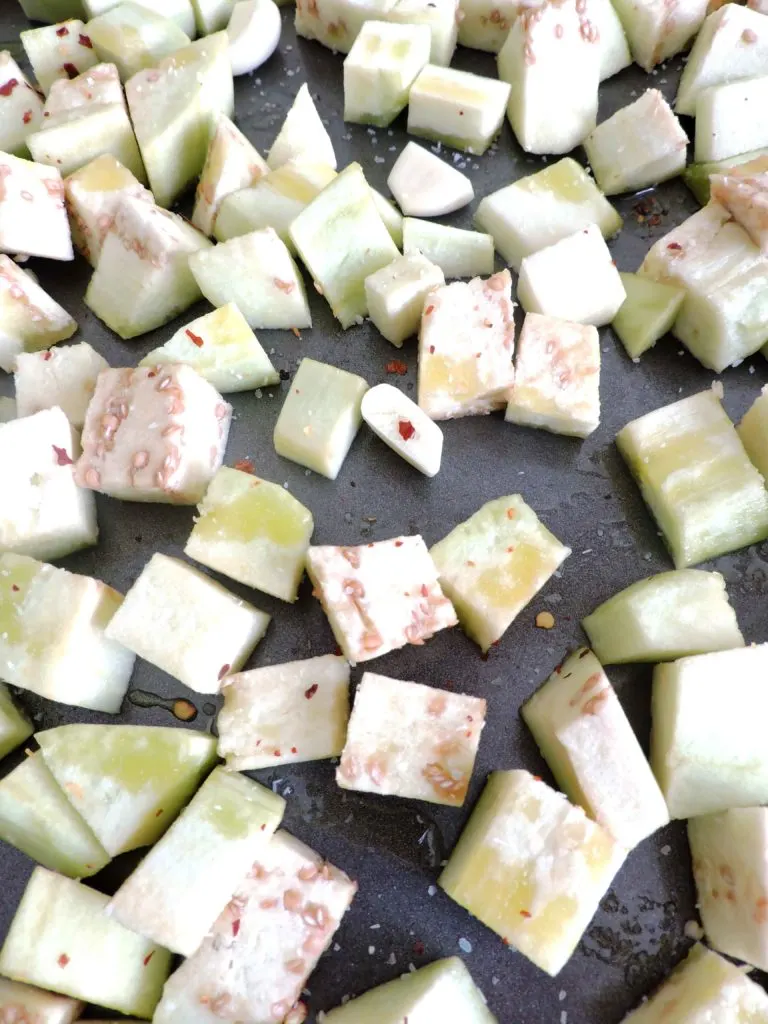 The "meatballs" come together pretty easily. A simple method of browning in some oil using a cast iron pan brings these to that perfect meatball texture. I love cast iron for this job. In fact if you've been a loyal reader, you know I like it for most jobs. Eggplant Parmesan "Meatballs" are no exception, because the browning on the outside really brings out the flavor and allows these to hold together. It's an important element in making them feel and look like meatballs.
I chose to use jarred marinara for this recipe. There are so many good ones on the shelves now that really are just tomatoes and spices. Look for those. The organic section is a good place to start. Choose your favorite sauce, warm it on the stove, and boil some pasta and you've got a delicious meatless Monday meal. I get the feeling Eggplant Parmesan "Meatballs" will be a favorite even among your toughest critics.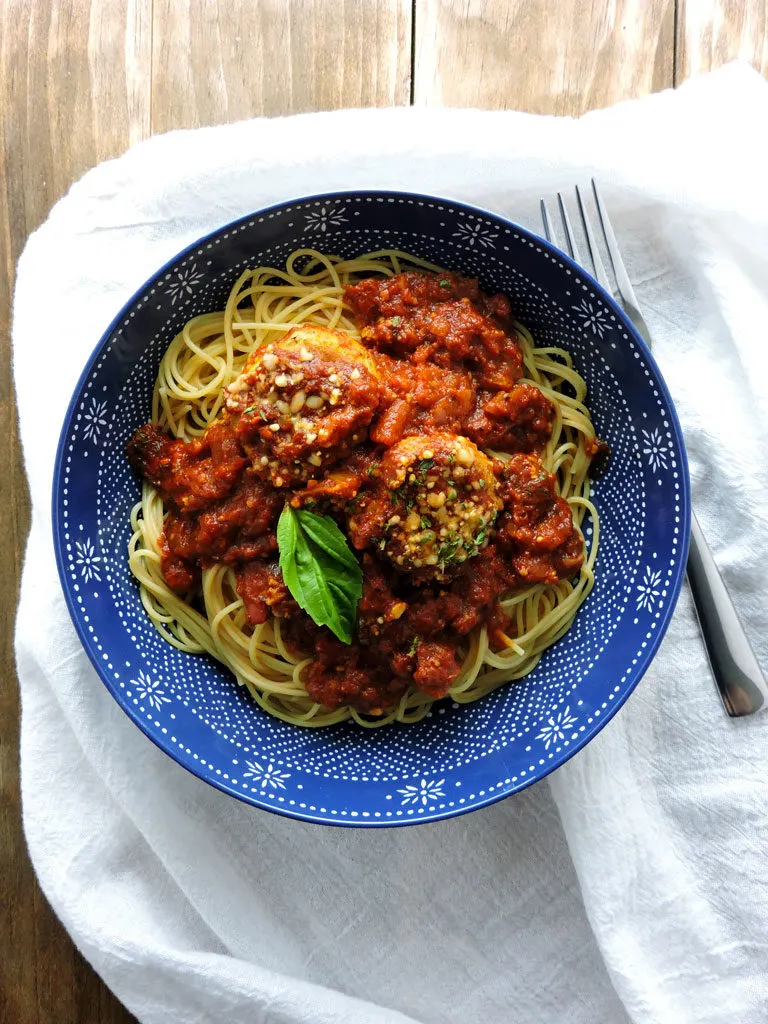 PIN IT for Later!

Save
Save
Save
Save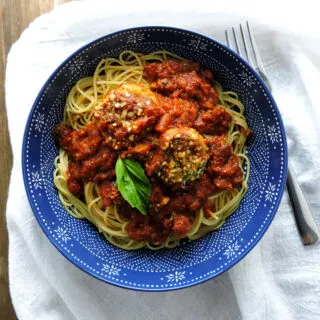 Eggplant Parmesan Meatballs
Ingredients
2

cups

Eggplant, peeled and cubed

3

tsp.

garlic, minced

1/4

tsp.

Crushed Red Pepper Flakes

2

tsp.

dried italian seasoning

1

large

egg

1/2

cup

Parmesan cheese, grated

1/2

cup

Italian Bread Crumbs
Instructions
Preheat Oven to 400 Degrees. Toss the Eggplant, garlic, crushed red pepper flakes and dried Italian seasoning on a sheet pan with a coating of olive oil. Bake for 15-17 minutes or until soft and golden turning it 1/2 way through baking.

Transfer the baked eggplant to a food processor. Add the egg and pulse until it's combined, but not completely broken down. Add the cheese and breadcrumbs slowly until the mixture sticks together when you press it .

Form the mixture into balls and brown in a small amount of olive oil. Pour the sauce over and garnish with Parmesan Cheese. Serve over pasta or zoodles.
Notes
You could attempt to make this recipe vegan. Use nutritional yeast in place of the Parmesan cheese and a flax egg instead of a real egg. You can make a flax egg by mixing one tablespoon of flaxseed meal with 2 tablespoons of water. Allow it to sit for 10 minutes.