Peanut Butter and Chocolate. Was there ever a better marriage? I don't think so. These gluten free peanut butter chocolate chip cookies prove you don't need a ton of refined sugar for something to taste decadent. This dessert has all the elements. It's sweet, crunchy, chewy and salty. If you're having one of those days where nothing seems to do, whip up these cookies. I also recommend an espresso.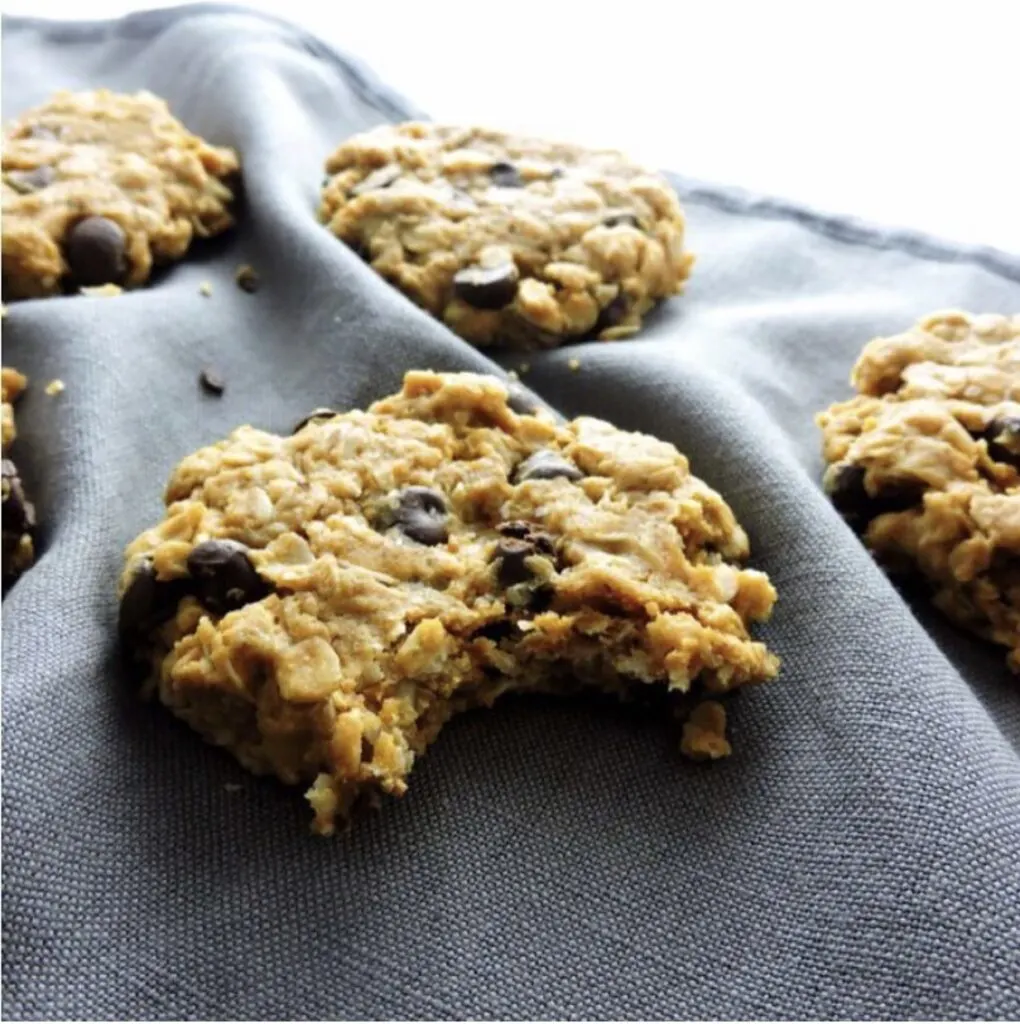 If you don't drink coffee, just don't tell me. I have a really strong love affair with coffee and it's hard for me to understand people who don't like it. We can still be friends. I also think you can still enjoy these cookies.
These grew out of necessity one evening. I was trying to stay away from large pieces of cake and ice cream, but I really had a sweet tooth. I started messing around in the kitchen, and voila gluten free peanut butter chocolate chip cookies. I added a little sea salt on top for my next batch and found them to be even better than the first batch. Isn't there something about sweet and salty? I just love it. These keep for a about 2 weeks in an airtight container. With only 1/4 cup of brown sugar for every 12 cookies, these are far better for you than the other options, so go ahead and dig in. One cookie is a nice big bakery size cookie, not those little bite sized things. In cookies and in life, go big or go home.
Check Out This Step by Step Video:
Pin For Later!

Save
Save
Save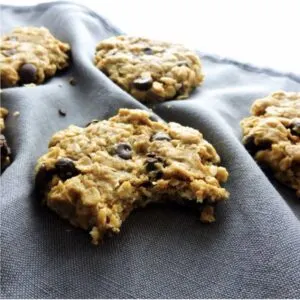 Gluten Free Peanut Butter Chocolate Chip Cookies
Ingredients
1

egg

1

cup

Smooth Natural Peanut Butter

1/4

cup

brown sugar

1

tsp.

vanilla

1

cup

Gluten Free Quick Cooking Oats

1

tsp.

Baking Powder

1/4

cup

Water, if needed

1/2

cup

Mini Chocolate Chips

Pinch of sea salt on top of each, optional
Instructions
Preheat Oven to 375 degrees.

With a mixer or whisk combine the peanut butter, egg, brown sugar and vanilla.

Add in the oats, baking powder and water if needed. Different oats soak up more water than others. If your dough isn't holding together just slowly add in a little water until it holds together nicely.

Roll into balls about the size of a golf ball and place on a parchment lined cookie sheet.

Smash the cookies down to proper size as they will not spread. Sprinkle with sea salt if using.

Bake for 10-12 minutes or until the edges are starting to look golden. Store in an airtight container for up to 2 weeks.
Notes
To make these gluten free, you need to use gluten free oats. I recommend Bob's Red Mill. If you're not gluten free, use regular quick cooking oats. If you only have old fashioned oats, zip those up in the food processor to break them down a bit before using in the cookies.