Are you that chicken nugget lover? Do you have a child who wishes to subsist on nothing more than nuggets and fries? I can help you. There is hope. You don't have to open that bag of frozen fare. These Italian Herb and Cheese Chicken Bites are a treat your entire family will love.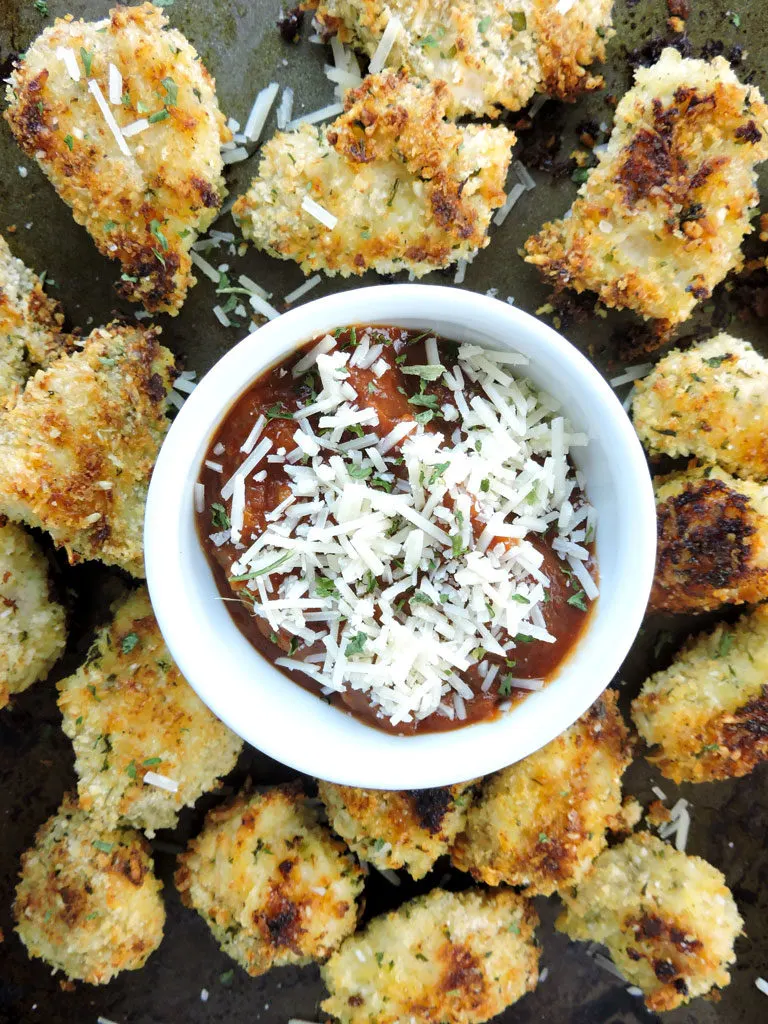 I like the word chicken bites versus chicken nuggets. I don't know. There's just something about the word nuggets that immediately puts something in that category of kid food. So, if you're trying to get your kids to eat these, call them nuggets. If you're putting them out with some marinara as an appetizer with cocktails, they are chicken bites. See what I did there?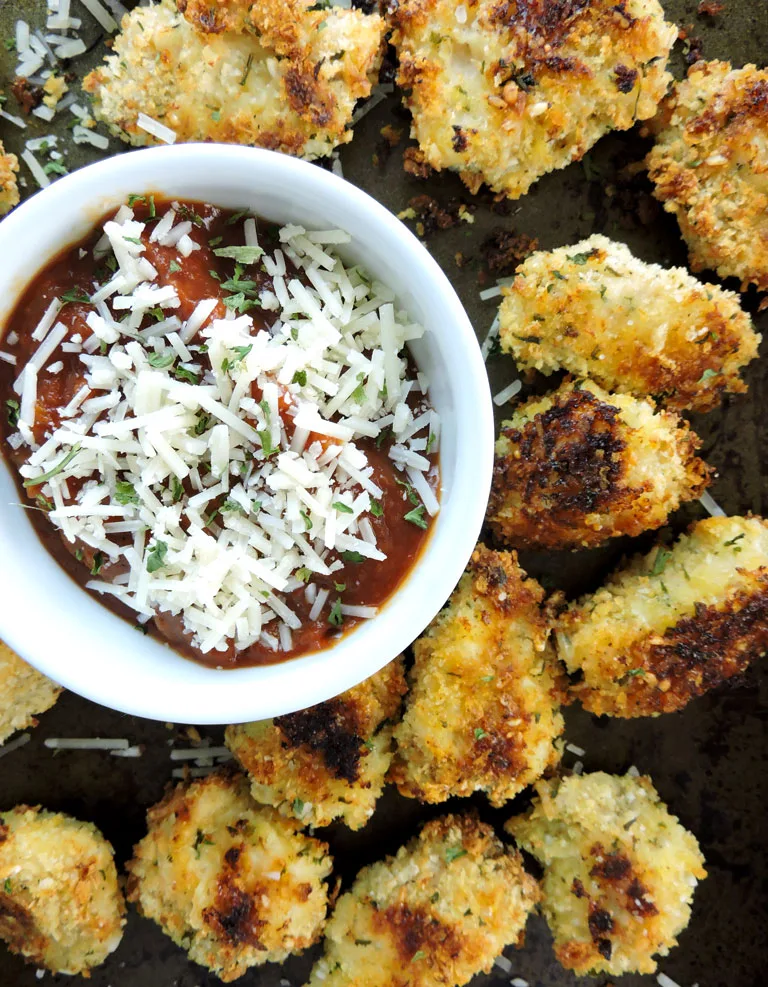 In the amount of time it would take you to hit a drive through, you can have these on the table. Breading always feels a little tedious to me. I won't lie. I've tried methods that cut a step out. I am sorry, it's just not worth the sacrifice in quality. My advice is to put some music on and see it as one of those calming repetitive things. To my mom friends out there, just put on some soothing music and pretend you're at the spa. It just might work.
Either way, whether you're a mother who is ashamed of the number of times you cave to fast food requests, or you're an adult that just can't shake that craving, these Italian Herb and Cheese Chicken bites will redeem you. They are baked, protein packed, and truly delicious.
If you make these Italian Herb and Cheese Chicken Bites, please tag me on Instagram @FreshFitKitchen.
Pin It!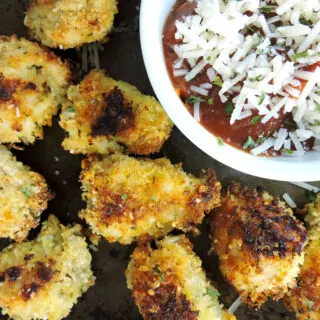 Italian Herb and Cheese Chicken Bites
Italian Herb and Cheese Chicken Bites are a healthy baked chicken nugget recipe your entire family will enjoy. Dip in Marinara for extra deliciousness.
Ingredients
2

large

Chicken Breasts

cut into 1 inch cubes

1

large

egg

whisk with 1 tbsp. of water.

1

cup

All Purpose Flour

1.5

cups

Panko Bread Crumbs

1/2

cup

Parmesan cheese

Grated

Cooking Spray
Instructions
Preheat oven to 425 degrees. Spray a large non-stick baking sheet with cooking spray.

Cut the chicken breasts into 1 inch cubes. You'll want to use 9-10 ounce size breasts for this to get enough for 4 people. Thicker chicken works best. Feel free to use 3-4 small breasts if that's what you have. I got about 15 bites from one quite large chicken breast.

Set up a breading station. In the first bowl you want the flour. The second bowl is for the egg. The third bowl should be the bread crumbs and cheese mixed together.

Dredge each chicken bite in the flour, then the egg, and then the bread crumbs. Place on the baking sheet.

When you have all the chicken breaded, spray the tops with more cooking spray. Bake at 425 degrees for 10 minutes, flip, then cook another 10 minutes. Check throughout as ovens and the thickness of your bites will affect the cooking time.

Sprinkle the bites with some sea salt and fresh parsley before serving. Jarred marinara is recommended for dipping.
Notes
Make it Gluten Free/Lower Carb: I have not tried this recipe with gluten free bread crumbs. They are sold in stores and you could try them. I have used almond meal in place of the bread crumbs and had good results. You could also finely grate the Parmesan and skip any bread crumb replacement. The cheese will form a nice crust. Obviously you'd use a gluten free flower for step 1 of the dredging versus all purpose as directed in the recipe. As with any gluten free breading, do not expect it to stick quite as well as the regular bread crumbs.