I got a popsicle mold and I am on a roll my friends. Since I made these 3 Ingredient Dreamsicles , I knew I needed to add in something peanut butter chocolatey. If I am making a choice of frozen treats, I often waffle back and forth between the peanut butter or chocolate items and the fruity goodness. I sometimes choose both! You can choose both too because these Peanut Butter Yogurt Pops are full of the good stuff.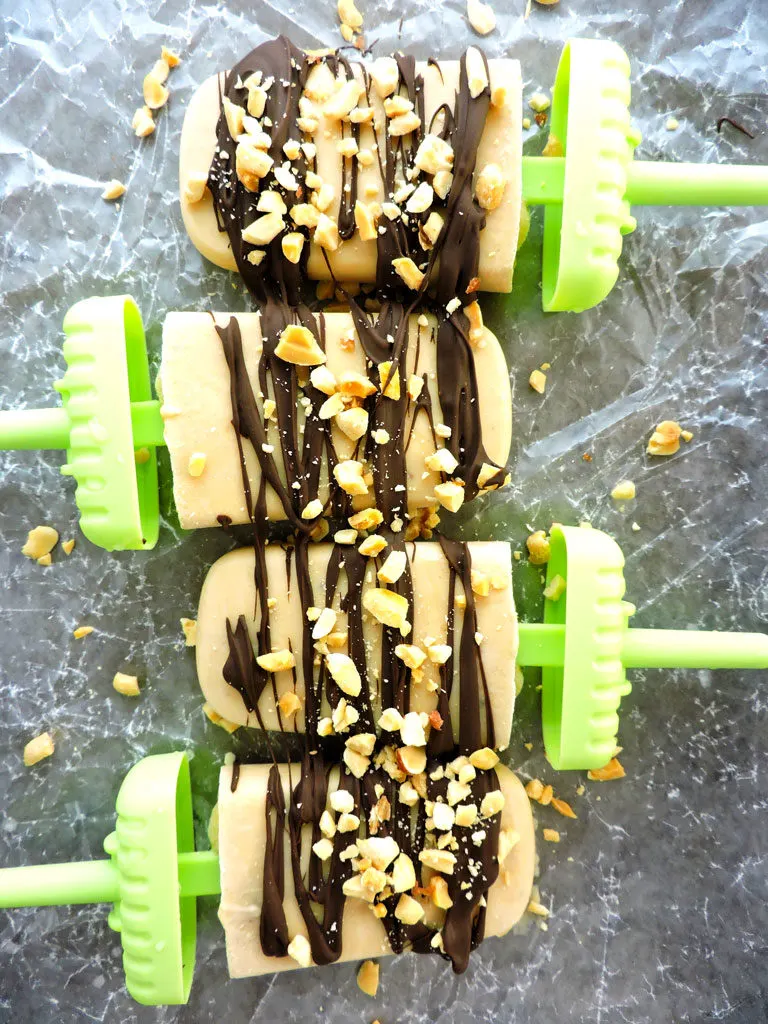 I admit the chocolate drizzle and dry roasted peanuts in the photo are for added dramatic effect, but they are also delicious. So , if you want to add a few ingredients, I'll give you the instructions for that part in the recipe notes. I am all about that dramatic effect. I mean before I add the garnish, it's just a peanut butter pop. Sure you're excited to try it, because you're like me and you love peanut butter. Add the drizzle and the peanuts, and suddenly this healthy-ish dessert looks irresistible. I will also say I love the way the salty peanuts play against the sweetness.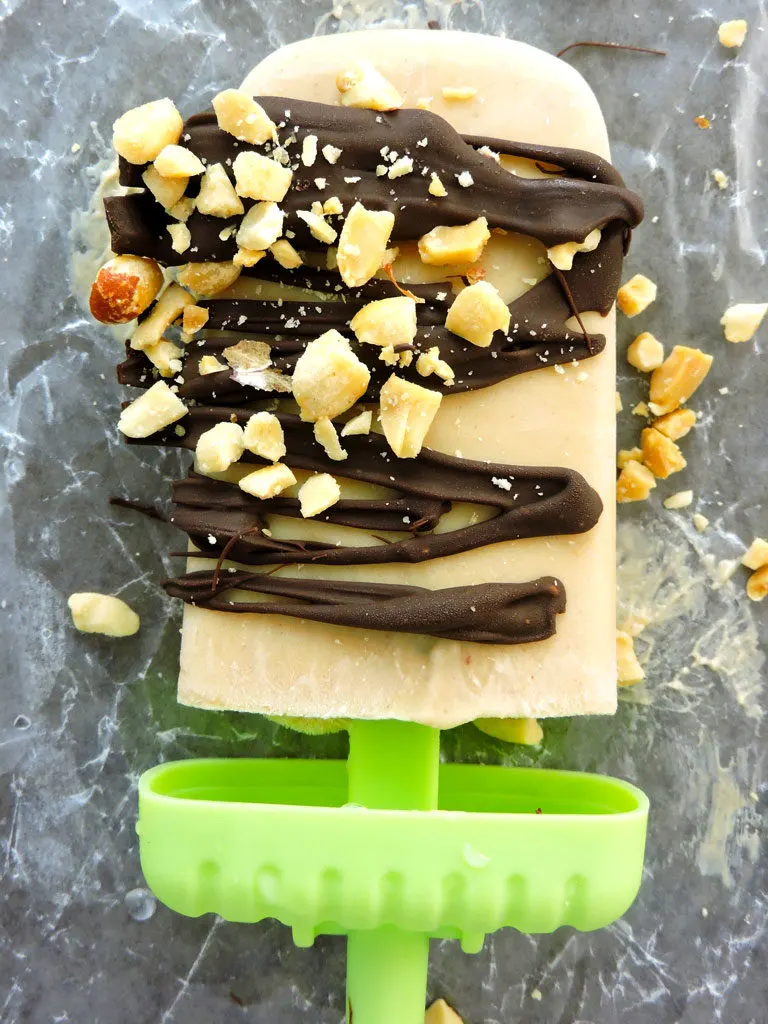 I use Greek yogurt in these because it's such a magical ingredient. The pops are super creamy without adding any cream. I recommend smooth peanut butter here. If you like crunch, you can stir in some of your favorite crunchy peanut butter.
I really hope you make these Peanut Butter Yogurt Pops. They are a healthy and cool treat you can enjoy with zero guilt. If you make these, please tag me on Instagram @FreshFitKitchen. I love to see your creations.
Pin for Later!

Save
Save
Save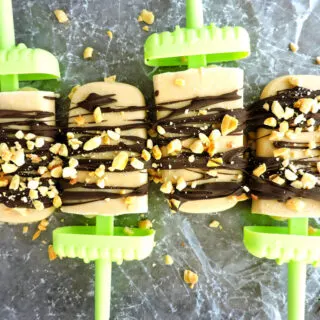 Peanut Butter Yogurt Pops
Peanut Butter Yogurt Pops have less than 5 ingredients. Sweetened naturally with a little honey, peanut butter and probiotic rich yogurt.
Ingredients
1

cup

Vanilla Greek Nonfat Yogurt

1/3

cup

Smooth Peanut Butter

1/2

cup

unsweetened vanilla almond milk

3

tbsp.

Honey,optional
Instructions
In a blender add the Greek yogurt, peanut butter, almond milk and honey (if using). Blend until well incorporated.

You want this to be pourable so if it's a bit thick, just add a touch more almond milk. The mixture will vary depending on the peanut butter you use. I like to use a natural peanut butter that is no stir. That is you don't have that layer of oil on top. Extra oil will not be good for the pops.

Pour the mixture into the popsicle molds and freeze for 2-3 hours. Make sure you leave 1/2 inch of headway in the molds. This allows the popsicles to expand when frozen. To remove them from the molds, run a little warm water over the mold for about 30 seconds.
Notes
To Add a Chocolate Drizzle and Peanuts- Melt 1/4 cup of dark chocolate chips in the microwave. You want to melt the chocolate chips at 30 second intervals stirring between each one. This is how you temper chocolate in the microwave and avoid burning it. Make sure the popsicles are on wax or parchment where they won't stick.
Using a spoon just get a good bit on there and drag the spoon back and forth over top the pops creating a drizzle. Add the crushed dry roasted peanuts on super quick before it dries. Place the sheet pan into the freezer to be sure the chocolate and peanuts have set.