What's one thing I didn't consider when I decided to be a food blogger? Technology. I had no idea what I didn't know. I just love to cook. Then, words like recipe plug in, SEO, indexing and code entered my life and I realized that cooking would be about 20% of the job. Turns out even when you choose to work for yourself there are a whole lot of jobs that all under "other duties as assigned." Now that we've finished that rant, let's welcome back Layered Roasted Vegetable Enchiladas!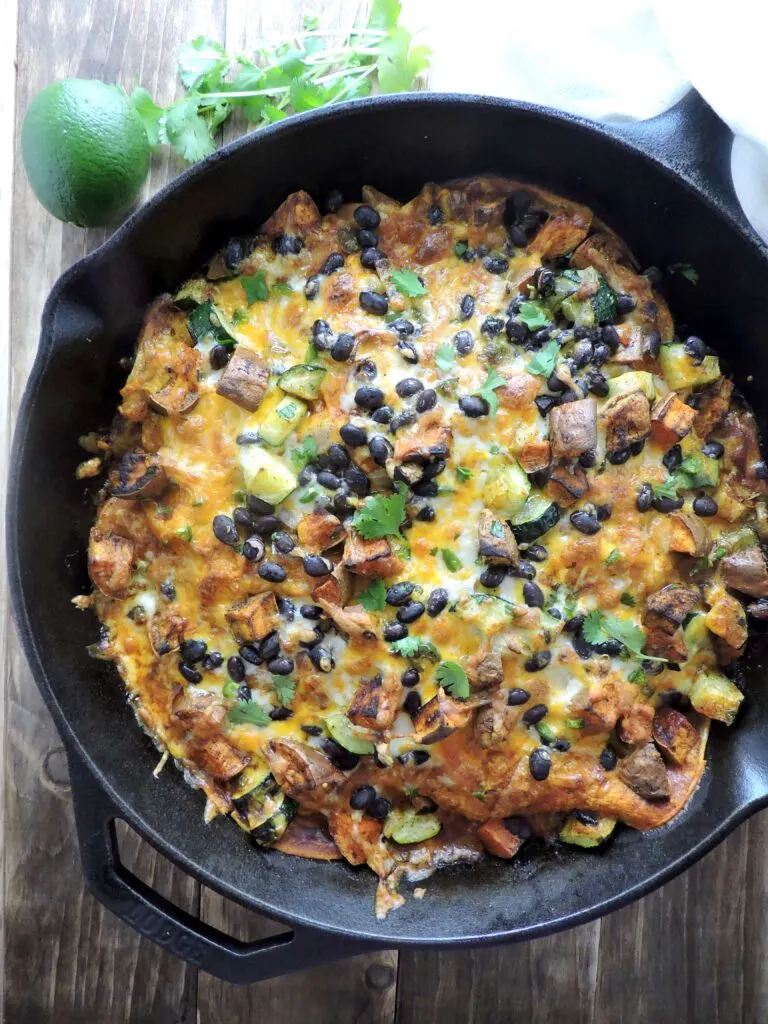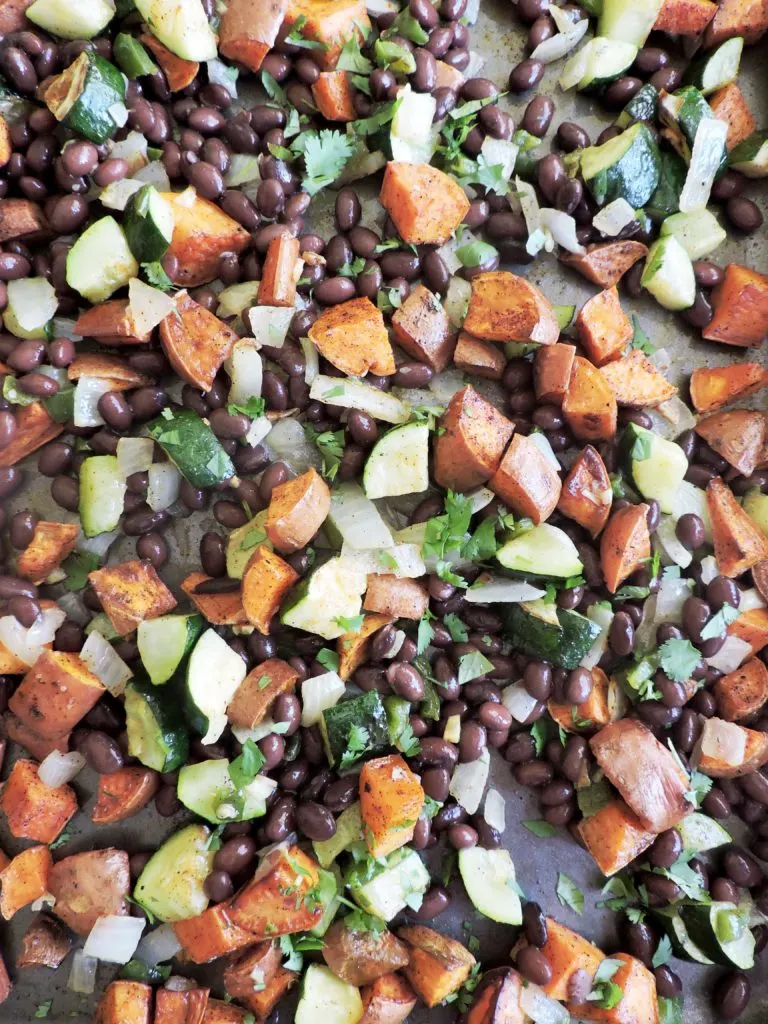 I received an Instagram comment from a reader who is super bummed this recipe left my site. If you come here often ( and I hope you do) you will notice I've updated a lot of things this year. One of those things is the way recipes display on my site. Basically Google moves at the speed of light and as soon as you're all set up and pushing recipes out like the Martha Stewart you always knew you were, they decide to change the game. Enter the new recipe plugin. Which is great, but unfortunately a select few of my super early recipes were lost to that shuffle. I was so happy when someone missed this one because it's a "family favorite" that I went right to reposting it ASAP. Here I thought nobody cared.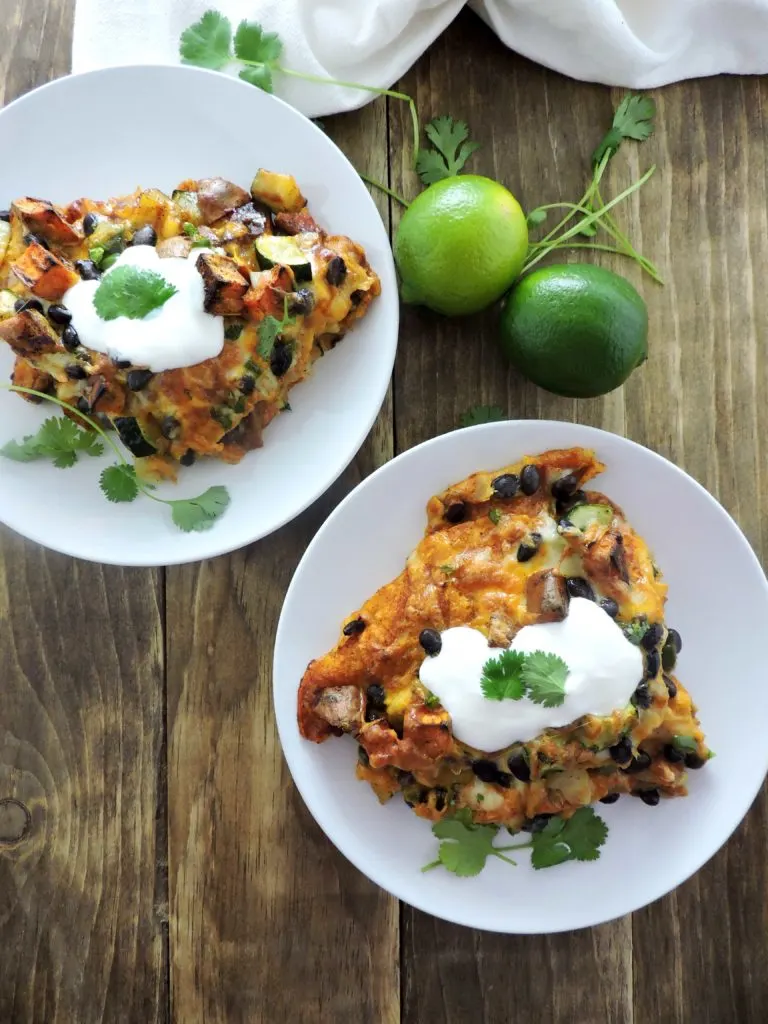 As it turns out, someone cares and they love this recipe as much as I do. This is such a happy moment for me. A happy moment for you would be making these Layered Roasted Vegetable Enchiladas because let me tell you… they are BOMB. You can make them anytime of the year, but I definitely recommend you stow this away for summer when the vegetables are extra delicious.
So Many Variations
I love corn tortillas, but you can use flour if you want to. I think corn, regular potatoes, squash, and even cauliflower would be fine substitutes. Use what you love or what you have on hand. Recipes like this are wonderful for cleaning out that crisper drawer.
Here's to Layered Roasted Vegetable Enchiladas and my happy little heart today. It's nice to know when people notice your earlier work and appreciate it. 😉
PIN FOR LATER!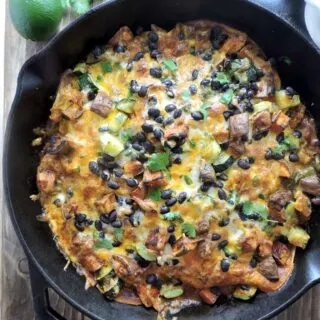 Layered Roasted Vegetable Enchiladas
Layered Roasted Vegetable Enchiladas are the perfect way to enjoy Enchiladas without the fuss of rolling them one by one. Vegetarian and Gluten Free.
Ingredients
1

large

Sweet Potato

cut into 1 inch cubes

2

medium

Zucchini

Cut into 1 inch cubes

1/2

large

onion

chopped

1

large

Red Bell Pepper

chopped

15

ounces

Black Beans

Drained and Rinsed

6-8

Corn Tortillas

20

ounces

Enchilada Sauce

Your favorite brand- watch ingredient list. Get the cleanest possible.

2

cups

Cheddar Jack Cheese

Shredded

salt and pepper

chili powder

Optional
Instructions
Preheat Oven to 425 degrees. On a large sheet tray toss the Sweet Potato, Zucchini, Onion, Bell Pepper together in a single layer. Drizzle some olive oil and evenly sprinkle with salt and pepper. Chili Powder if desired.

Roast for 15-20 minutes or until vegetables are softened and starting to get golden.

Add the drained black beans to the sheet tray. Mix everything up.

In a 10 inch cast iron skillet or an 8x8 pan add some enchilada sauce to evenly cover the bottom. Layer 2 tortillas to cover the sauce, add some vegetable mix, cheese and then repeat these layers 3-4 times until you have used all the veggies up.

Reduce oven heat to 400 and bake for 20 minutes or until golden and bubbly.
Notes
I prefer corn tortillas, but if you don't like them, feel free to use flour. This is a versatile recipe. Change the vegetables or the cheese if you wish. You'll just evenly spread your ingredients throughout the 3-4 layers. Feel free to use more or less enchilada sauce to your liking.