Do you hit that fast food drive through? Driving to work each day, I can admit that I end up at Starbucks getting my beloved turkey bacon and egg white sandwich. Add the coffee, and I have a nice Starbucks tab each month. Needless to say, working from home has been a money saver. These make ahead healthy breakfast sandwiches will save you the expense. In my opinion, they also taste better!
How to Make Breakfast Sandwiches Ahead
Now, before you run off like, "Krysten, I've tried those frozen breakfast sandwiches and the cheese sticks to the paper towel and the egg is always still frozen. I nearly broke my teeth eating the English muffin."
That's why I created my own. I do not recommend you freeze these. Taking ANYTHING from a completely frozen state to piping hot is always recipe for shoe leather not actual food you'd like to eat.
You can prep these make ahead healthy breakfast sandwiches at the beginning of the week. So, you have breakfast all week long. They take about 20 minutes to prep 6 sandwiches.
Sandwiches will keep in the fridge for 5 days. This means you get through your week with a hot, protein rich breakfast every single work day. Sound good?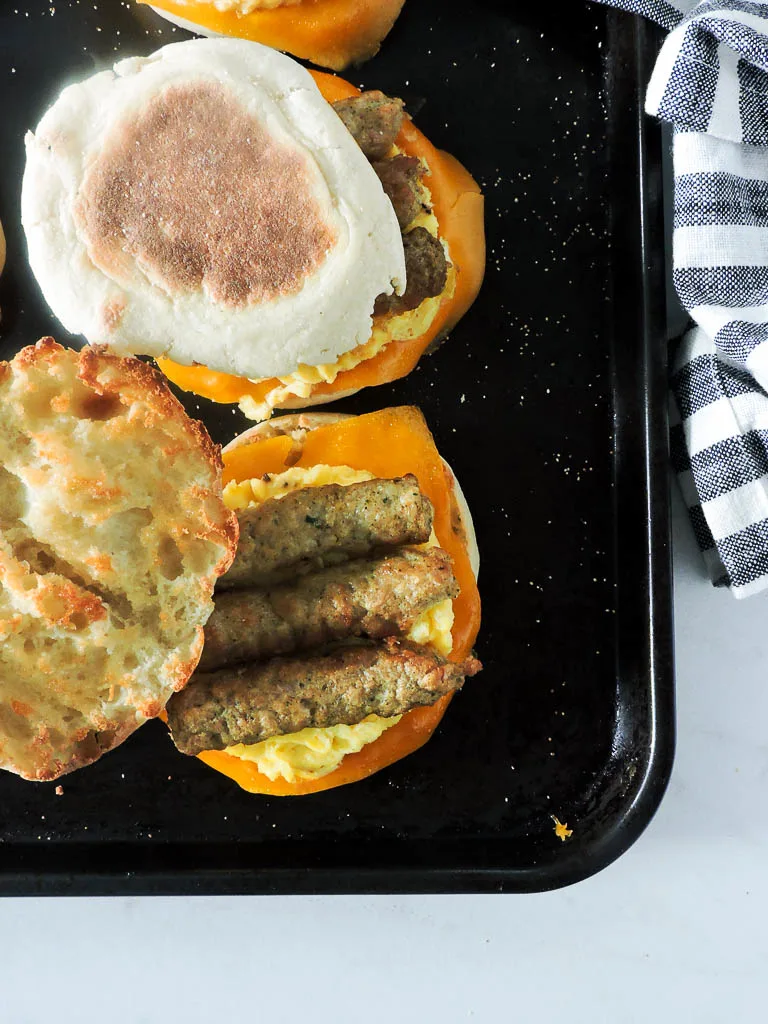 Breakfast Sandwich Options- Low Carb or Vegetarian
There are a ton of healthy combos you can put together. While I added chicken sausage to these, turkey sausage, Canadian bacon or turkey bacon would work. You could also do veggie egg whites.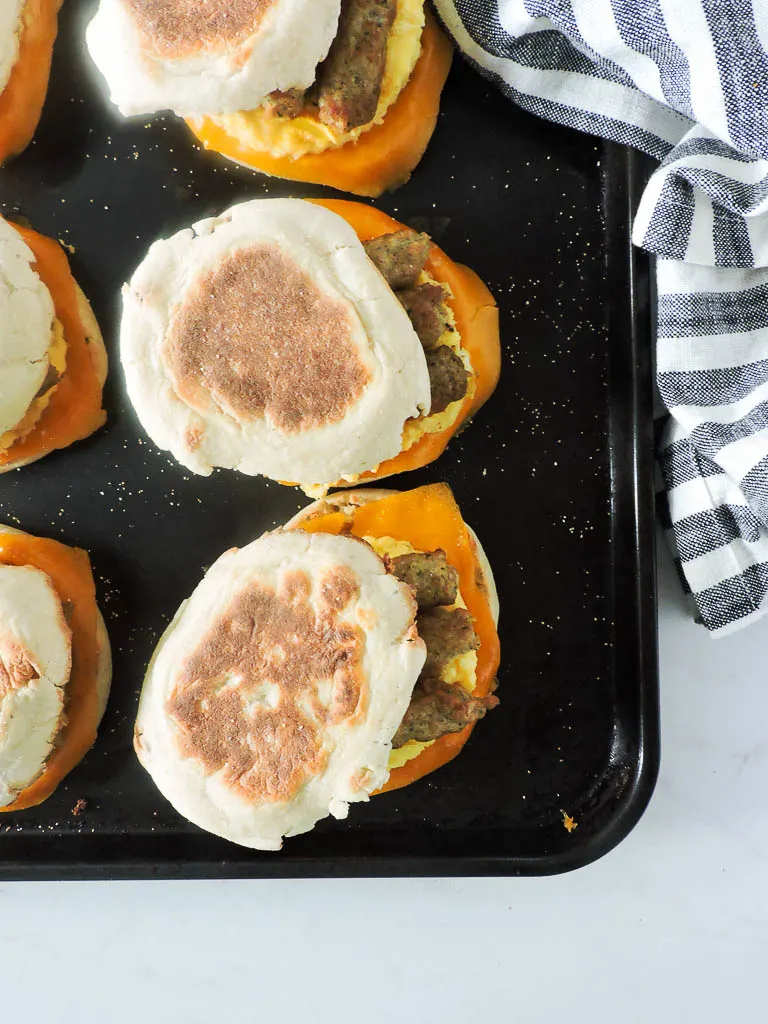 Make it Low Carb: Use a low carb muffin or bagel in place of a traditional one.
Make it Vegetarian: Add veggies to the eggs and don't use any meat.
If you use more eggs or a different protein just be aware of the reheating time. I recommend you start with 30 seconds in the microwave and then continue heating in 15 second intervals until the sandwich is warm.
PIN IT ! Pin for later and when you make it leave a comment on the blog below or tag me on Instagram @freshfitkitchen. Share a photo on pinterest with me also @freshfitkitchen.
**NUTRITION NOTE- Information will Vary Depending ingredients used.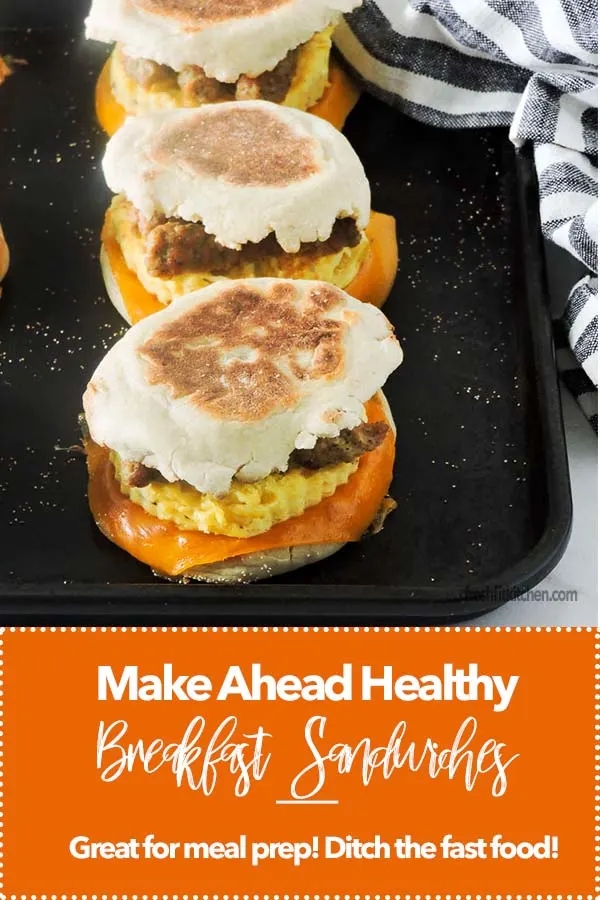 Save
Save
Save
Save
Save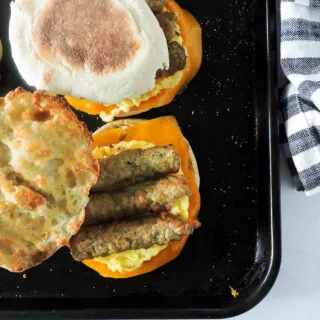 Make Ahead Healthy Breakfast Sandwiches
Make Ahead Healthy Breakfast Sandwiches are a high protein breakfast with chicken sausage, eggs and cheese on an English Muffin.
Ingredients
9

Chicken Sausage Links

I like Jones Dairy Farm Chicken Sausage because it's sugar free and nitrate free.

6

Slices

Reduced Fat Cheddar Cheese

I like thinly sliced Sargento Brand

6

English Muffins

7

large

eggs
Instructions
Cook the chicken sausage links in a pan according to package instructions.

Whisk eggs with a splash of half and half , salt and pepper. Spray a 10 inch skillet with cooking spray. Heat to medium and then pour the eggs in. Allow the bottom to set as you would for an omelet. Flip and cook the other side. Be careful not to over cook the eggs. You'll be reheating them when you reheat your sandwich. If you need to, divide the egg into 2 to make it easier to flip.

Toast your english muffins. I like to add a small bit of butter to mine, but this is not a required step. Move the egg out of pan and onto a cutting board. Using a biscuit cutter, cut out circles to fit your sandwiches.

Cut the Sausage Links in half vertically. This makes them lay on the sandwich better. If you use patties, you won't have to do this. Lay a piece of cheese on the bottom of the muffin, add egg, then sausage and add the top of the muffin.

These can be stored in the fridge for 5 days. I really recommend reheating them from a fridge state. Do not attempt to freeze them. When you're ready to reheat your sandwich, leave the paper towel wrapped around it and put it in the microwave for 30 seconds. Flip it over ( leaving it in the paper towel) and cook another 20-25 seconds.

The first time you reheat your sandwich , watch it, stop the microwave and check it. You want it heated through not steaming. This will create a chewy texture and ruin your eggs.

To heat in convection style toaster oven or air fryer- preheat to 350 degrees. Heat for 6-8 minutes until the sandwich is warmed through.
Notes
Make it Vegetarian- Put some veggies in your eggs and omit the turkey bacon. Lower the Carbs- Purchase a high protein English muffin or bagel. You could also omit it entirely. Doing the bacon in the oven means you can batch cook it. Simply cut the egg into squares and store in containers to grab through the week.
Nutrition
Calories:
368
kcal
Carbohydrates:
29
g
Protein:
28
g
Fat:
15
g