Do you ever just feel heavy and dream of heading off to a spa for a total reboot? You know the kind. The kind of place that offers the perfect amount of exercise, rest and delicious yet healthy food. Well, your budget might not allow for that kind of experience, but this salmon quinoa broccoli spa bowl will have you feeling light and refreshed.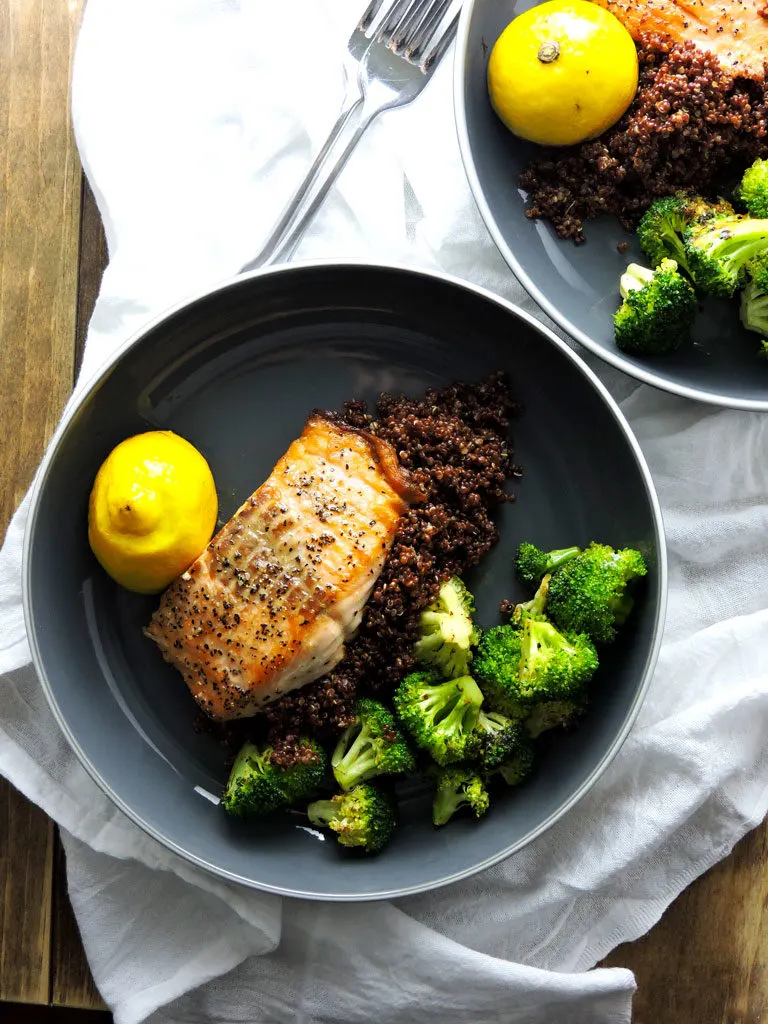 I use red quinoa all the time. I don't like the white quinoa as much as I enjoy the red. If you find quinoa to be bitter, I recommend using red and giving it a good rinse. Cutting the quinoa with brown rice would also add extra flavor and texture easing you into quinoa if this is your first time. I didn't do that for this recipe and I liked it just as well.
Seasoning doesn't have to be crazy complicated when you're eating well. The salmon is simply seasoned with salt and pepper and seared in a cast iron pan. I cook lemons cut side down along side the salmon. When the salmon is done, just squeeze the charred lemon over top. It's delicious! Lemon has such a clean and fresh flavor, so you really don't need to be bold with the other seasonings. With this recipe, it's the technique you use to cook it that develops the flavor. Using a nice hot cast iron pan will properly develop the sugars in the salmon bringing out the best flavor.
I highly recommend this salmon quinoa broccoli spa bowl the next time you have that bloated or run down feeling. There is nothing like the fresh taste of lemon to wake up your taste buds. Perhaps add a little yoga session and you'll bring the spa right to your home. If you make this recipe, please tag me on instagram @freshfitkitchen and I will regram my favorites!
Save
Save
Save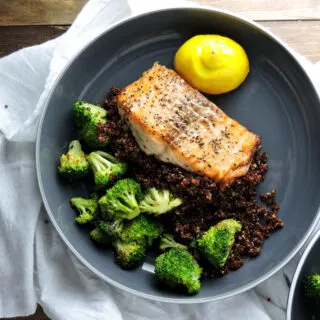 Salmon Quinoa Broccoli Spa Bowl
Ingredients
8

oz.

Skinless Salmon Filet

1

lemon

2

cups

Broccoli Florets, fresh

1/2

cup

Red Quinoa

salt and pepper to taste
Instructions
Rinse the quinoa well and cook according to package instructions.

Heat a very light coating of olive oil in a cast iron pan. Season both sides of the salmon with salt and pepper.

When the pan is super hot, put the salmon in. Cut a lemon in half and cook it cut side down along side the salmon.

Watch the salmon closely. It is done once you cannot see any raw looking part from the side. Don't cook it past that point. If the salmon starts to produce a white liquid you're over cooking it.

Remove the salmon from the skillet and place it onto a plate with the lemon. Add a bit more olive oil and the fresh broccoli florets. Salt and pepper the broccoli and stir fry for just a few minutes.

Plate a bed of the quinoa. Then, the salmon and broccoli. Squeeze the charred lemon half over everything and serve.