Regular alfredo sauces are notoriously known for being high fat. It's basically a solid mix of butter and heavy cream with a smidge of parmesan cheese. Definitely not on your weight loss plan, but now you can enjoy this delicious creamy sauce because this Skinny Broccoli Alfredo Bake is low fat alfredo sauce recipe paired with broccoli and pasta. You won't miss all that butter and heavy cream. I promise.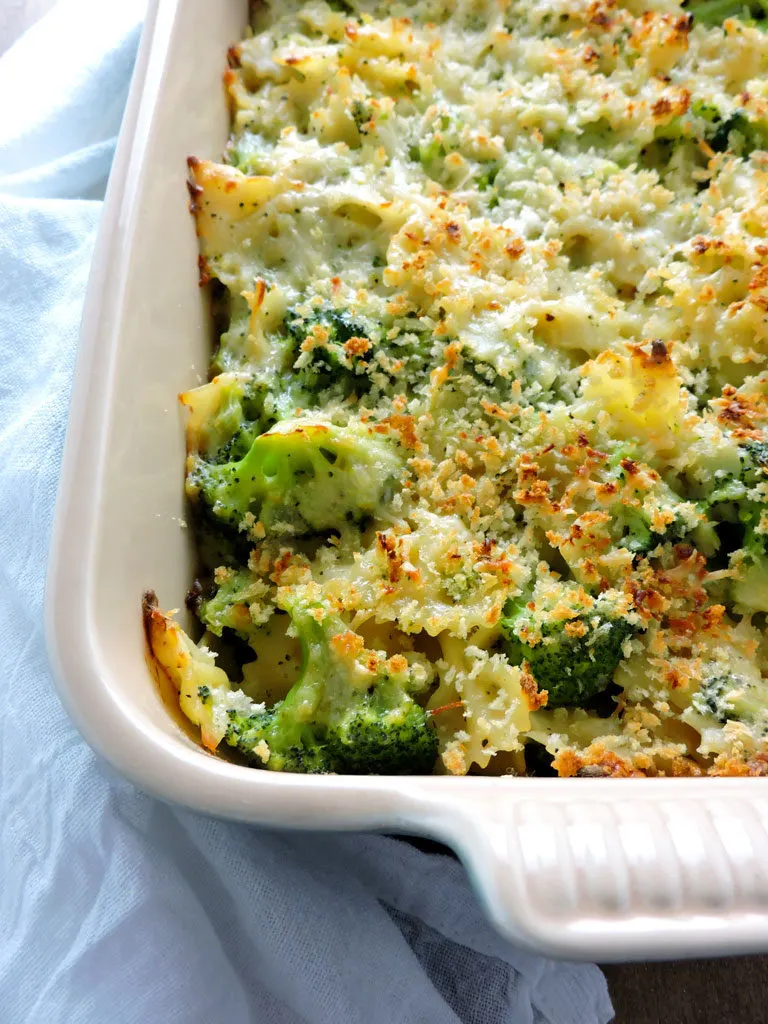 How to Make Low-Fat Alfredo Sauce
In place of heavy cream we use a combo of non fat Greek yogurt, low fat milk (not skim milk), and parmesan cheese. The flavor profile and creaminess is very close to a traditional alfredo sauce recipe. Minced garlic, a little dijon, and plenty of black pepper round out the flavor. I'm telling you this healthy alfredo sauce recipe is going to make you a believer.
The sauce starts at any would with a roux. A roux is just equal parts flour and butter. Just 2 tbsp. of flour and 2 tbsp. of butter to get this party started. You'll keep that over medium heat and as you add your milk it will thicken. Make sure you add the milk slowly as you stir constantly. You want to avoid lumps in your skinny alfredo sauce.
It's so simple to make this homemade alfredo sauce recipe, so if this is one of your favorite comfort foods, you'll want to bookmark this recipe.
Skinny Broccoli Alfredo Bake Substitutions
The ingredient list is pretty simple here , but if you need subs, I have just a few.
Fresh Garlic Clove- you can sub in garlic powder (1 teaspoon)
Milk: Whole Milk or 2% milk only. Skim milk just won't thicken your sauce the same. The extra creaminess comes from the fat.
Parmesan Cheese: Really no sub here and make sure you get the good stuff off the block. Bagged cheese has stabilizers that make your sauce chunky. Look for parmesan reggiano. You gotta use real cheese
Dijon Mustard- I like the acidic punch it gives, but if you are mustard averse, just leave it out entirely.
I know someone will ask about making this dairy free and since alfredo sauce is rooted in dairy, I just can't make a recommendation here. Almond milk would not work well in this recipe.
This recipe uses very basic ingredients so you shouldn't need to make very many substitutions.

Ways to use Light Alfredo Sauce
This skinny broccoli alfredo bake incorporates a bread crumb topping and serves up casserole style. If you like creamy pasta right off the stove top, just skip the baking part! Whole wheat pasta is a great addition if you can't find a high protein pasta you like.
Turn this into skinny chicken alfredo by adding in chicken. You can add in any number of extra veggies as well. You could even make this sauce and serve veggies for dipping. Kids love cheese sauces and this might be a way to get those extra veggies in. Add some chicken breast and you have a complete meal for those hungry kids.
You could also just serve it with fettuccine for a healthy fettuccine alfredo.
There are endless ways to add nutritional value.
Storing Leftovers Skinny Broccoli Alfredo Bake
Simply store leftovers in an airtight container. They will keep for 3-4 days. I cannot recommend freezing this recipe because milk based sauces do not freeze well.
Affiliate Links
Here are the items I consider necessary for this recipe. These are affiliate links and when you purchase from them, you help support the blog.
Leave a Rating and Star Review
I hope you enjoyed this alfredo recipe without the extra fat and if you did, please leaving a rating, review and let us know any tweaks you made. It's so helpful to everyone in the comments and your ratings and reviews help others find my recipes. My joy is creating healthy recipes for all the things you love and this low fat alfredo sauce recipe is a good one! I hope it is a huge hit for your family like it is mine!
Pin it for Later!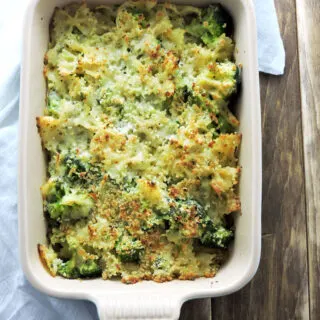 Skinny Broccoli Alfredo Bake
Ingredients
1/2

lb.

Bowtie Pasta

1

small head

Broccoli Florets, fresh

1

tsp.

garlic

1

tsp.

Dijon Mustard

2

tbsp.

Flour

2

tbsp.

Butter

2

cups

Lowfat Milk

1/2

cup

Greek Yogurt, non-fat

1/3

cup

Parmesan cheese, grated

salt and pepper to taste

crushed red pepper, to taste

Bread Crumbs and extra Parmesan for topping
Instructions
Preheat oven to 375 degrees. Bring pasta to a boil and cook just under fully cooked. For example, my package instructions were for 10 minutes so I cooked only 8. You have to allow for the pasta to finish cooking while it's baking in the oven.

In the last 2 minutes of the pasta cooking time- throw the broccoli in with the pasta. Drain and set aside.

In the same pan over a low heat put the butter, garlic, and Dijon mustard in. Stir for a few seconds until the garlic becomes fragrant. Add in the flour and cook until the flour and butter mixture are well combined.

Pour a 1/2 cup of milk in and stir the sauce constantly to combine everything. The sauce will thicken quickly. Add the rest of the milk in slowly until the sauce just coats the back of the spoon. You may not need the full 2 cups so add slowly. You can keep the milk there if your sauce becomes too thick after adding the yogurt.

Remove the sauce from the heat and add in the yogurt, Parmesan Cheese, salt, pepper, and crushed red pepper (optional). Taste the sauce for the proper amount of salt and spice.

Spray a medium casserole dish (I used 8 x 10 inch) with olive oil cooking spray. Mix the pasta and broccoli with the sauce and dump into the casserole dish. Sprinkle bread crumbs and a little more Parmesan for a crisp topping. Bake at 375 degrees for 30-35 minutes or until the top is golden and bubbly.
Notes
To bump the protein in this recipe, I recommend a high protein pasta blend.