There are days I am in the mood for a long ingredient list. I admit that most days I am not. This Spinach Goat Cheese Stuffed Chicken is just 5 ingredients. Some ingredients give you a big bang for your flavor buck and goat cheese is on of them. It's tangy, creamy, and plays well with flavors like garlic and sun dried tomato. If Mediterranean flavors are your jam, this recipe is for you.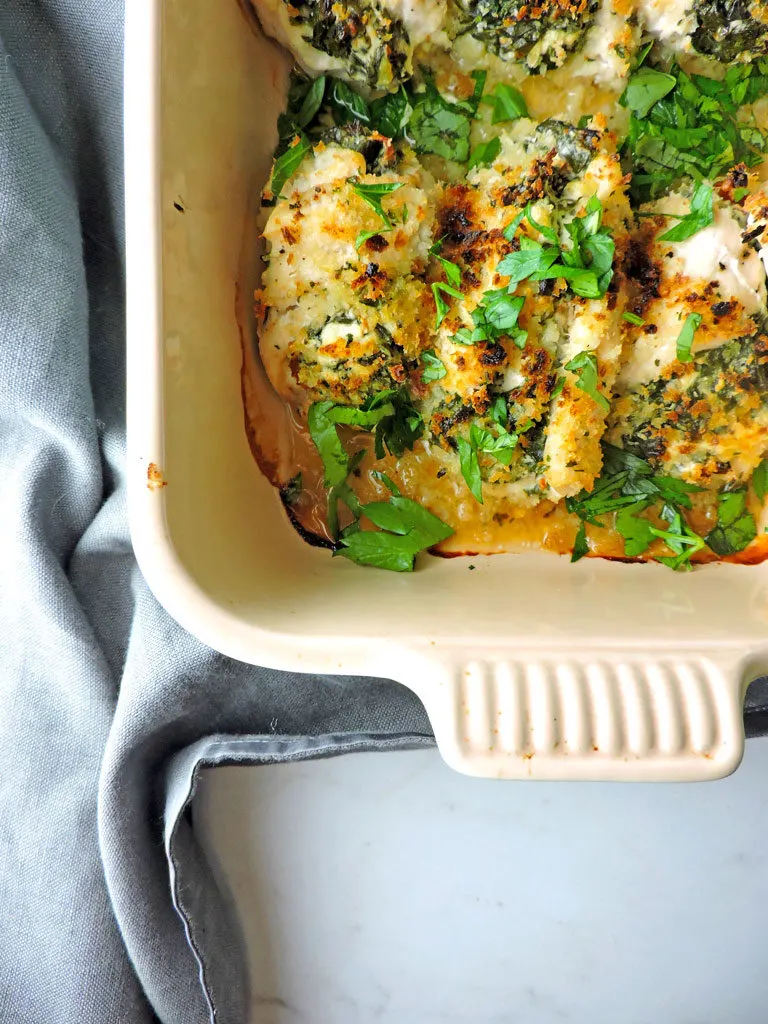 Many stuffed chicken recipes rely on making a pocket and using toothpicks to hold everything together. My recipe only requires you to fill and fold. Just repeat that to yourself as you go. Fill and Fold. Fill and Fold. Not only does it look pretty, you won't feel like you're sewing your poor little chicken. You also don't risk one of your guests will take a toothpick to the cheek. Safety first my friends.
I used fresh spinach in this Spinach Goat Cheese Stuffed Chicken, but you can use frozen too. Just make sure you squeeze all of the water out. I also love to take the spinach in my fridge and transfer it to the freezer. I use the spinach in smoothies, pasta sauce, and this chicken recipe.
Since the goat cheese is so flavorful, you don't need a ton. This makes for a very healthy chicken recipe that's full of wholesome veggies. The bread crumbs and parsley on top are optional. If you are gluten free or low carb, you'll notice I recommend you remove the bread crumbs in the recipe notes. I like a little crunch to my baked chicken so I added a few before baking.
If you make this, please tag me on Instagram @freshfitkitchen! I love seeing you enjoy these recipes;)
Pin for Later!

Save
Save
Save
Save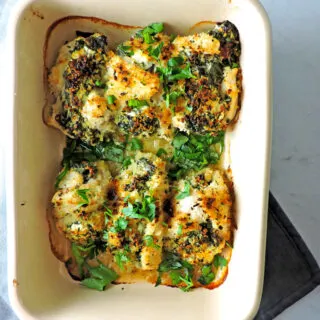 Spinach Goat Cheese Stuffed Chicken
Ingredients
6

small

Chicken Breasts

pound between plastic wrap to 1/2 inch thick

3

cups

Baby Spinach, chopped

fresh or frozen

4

oz.

Goat Cheese, crumbled

3

tbsp.

Sundried Tomatoes, chopped

Dried not oil packed

1

clove

garlic, minced

Bread Crumbs

optional for topping chicken

Fresh Parsley, chopped

for garnish
Instructions
Preheat Oven to 400 degrees. In a small skillet saute the spinach, garlic, and sundried tomatoes until the spinach starts to wilt. Remove from heat and stir in the crumbled goat cheese. Set aside.

Between 2 pieces of plastic wrap pound the chicken breasts (they should be 4-5 ounces each) to a 1/2 inch thickness. Salt and pepper each side.

Take a heaping tablespoon of the filling and place in the middle of each pounded chicken breast. Fold each side over the filling like a like a little package and place in a baking dish with the folds facing up. Don't face them down or your filling will run out.

If you choose, use the bread crumbs (I like Panko.) to just sprinkle over top. Bake at 400 degrees for 20-25 minutes. I like to use an instant read meat thermometer to ensure the middle of the chicken is 165 degrees.

When the chicken is finished, garnish with parsley if desired and serve.
Notes
Make it Gluten Free- Simply omit the breadcrumbs or use gluten free breadcrumbs. Be sure that there are no gluten containing additives in the sun dried tomatoes.
Make it Low Carb- Omit the bread crumbs and sundried tomatoes if you're following a super low carb plan.
Make it Vegetarian- The filling is awesome with pasta. I would recommend cooking some whole wheat Penne and tossing the filling with that instead. Yum!