Sweet potato pizza crust? It sounds crazy, but believe me when I tell you it's delicious! I first saw this recipe on Food Network's The Kitchen. I watch the show every Saturday morning. Chef GZ made this sweet potato crust pizza and topped it with sausage and goat cheese. While his version looks delicious, I think Barbecue Chicken is perfectly delivered with this gluten free sweet potato crust. Thus I give you Sweet Potato Crust Barbecue Chicken Pizza.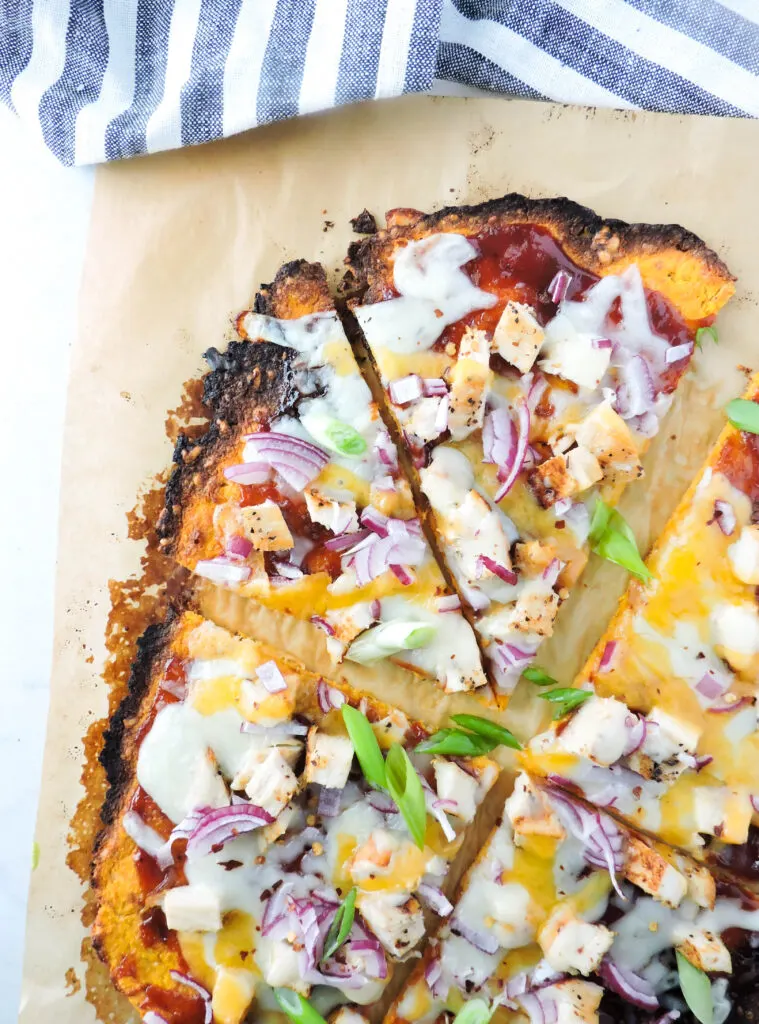 The method for this is quite similar to my Low Carb Zucchini Crust Pizza. Finely ground sweet potato gets pulled together with egg, a little, cheese and some almond flour to create a nice sturdy backdrop for pizza toppings. I especially like this application because the sweet potato compliments the barbecue sauce and chicken so well. The crust is more than a vehicle for pizza toppings. It really brings the dish together.
The sweet potato crust pizza may not stretch like a gluten containing crust, but the extra flavor makes up for what it lacks in that department. We don't eat a gluten free diet, but my husband and I both liked this and said we would definitely add it to the rotation. I linked you to GZ's version in the recipe notes. I think sausage would also be delicious here, so get creative!
If you make this one tag me on Instagram at FreshFitKitchen. I'd love to see your pizza 😉
PIN FOR LATER!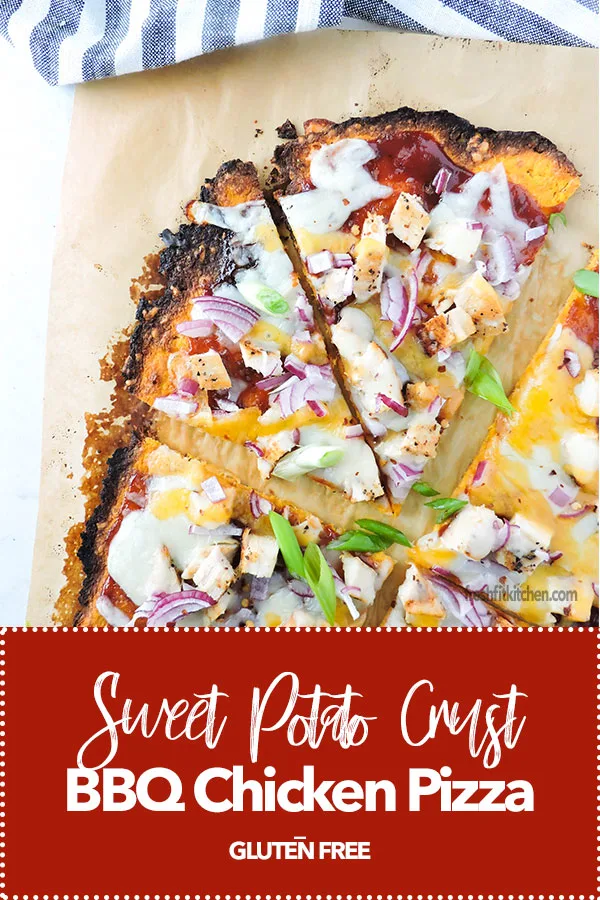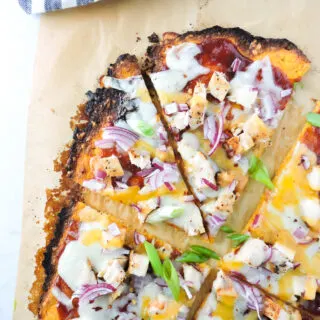 Sweet Potato Crust Barbecue Chicken Pizza
Sweet Potato Crust Barbecue Chicken Pizza is a gluten free sweet potato crust topped with everything you love about a summer barbecue. The sweet potato really compliments the spice in the barbecue sauce.

Ingredients
1

medium

Sweet Potato

Grinded to a rice like texture in the food processor.

1

large

egg

1/2

cup

Almond Flour

2

tbsp.

Olive Oil

Divided, one will mix into the dough and one will be drizzled on top.

1/4

tsp.

Garlic Powder

1/2

tsp.

salt

1/4

tsp.

Black Pepper

1/3

cup

Parmesan Cheese

6

ounces

Chicken Breast

Grilled and sliced or from a rotisseree chicken.

1/4

cup

Barbecue Sauce

1/4

cup

Cheddar Cheese

Shredded

1/4

cup

Mozzarella Cheese

Shredded

1/3

cup

Onion

Finely Chopped

1/4

cup

Scallions

Green and white parts- finely sliced.
Instructions
Preheat Oven to 450 Degrees
In a food processor grind the sweet potato down to a rice like texture. In a large bowl stir the sweet potato together with egg, almond flour, 1 tbsp. of olive oil, garlic powder, salt and black pepper. This will form a pretty firm mixture. You should be able to patty a little between your hands and it will stick together.


Lay a piece of parchment paper on a pizza pan with holes in it. Scrape the mixture from the bowl onto the middle of the parchment paper. Take another piece of parchment and lay it over the dough mixture. Press the mixture out into a circle using your hands. It will be about 1/8 inch thickness for a thin crust pizza. Peel the top parchment off. This is just to help you press it out without it sticking to your fingers.


Put the pizza crust on the middle oven rack and back at 450 for 20-26 minutes. The pizza crust should be firm and crisp around the edges when it's done.


Top with barbecue sauce, chicken, cheese and red onion. Bake another 5-6 minutes or until the cheese is melted. Garnish with scallions and crushed red pepper if desired.