It's grilling season! With Father's day just around the corner and the summer season in full swing, I decided it was time to share this Easy Bone in Grilled BBQ Chicken Thighs Recipe. All you'll need is your gas grill or charcoal grill, bone in chicken thighs (feel free to add chicken drumsticks too) and a few ingredients and I promise you that you'll love this fool proof easy recipe.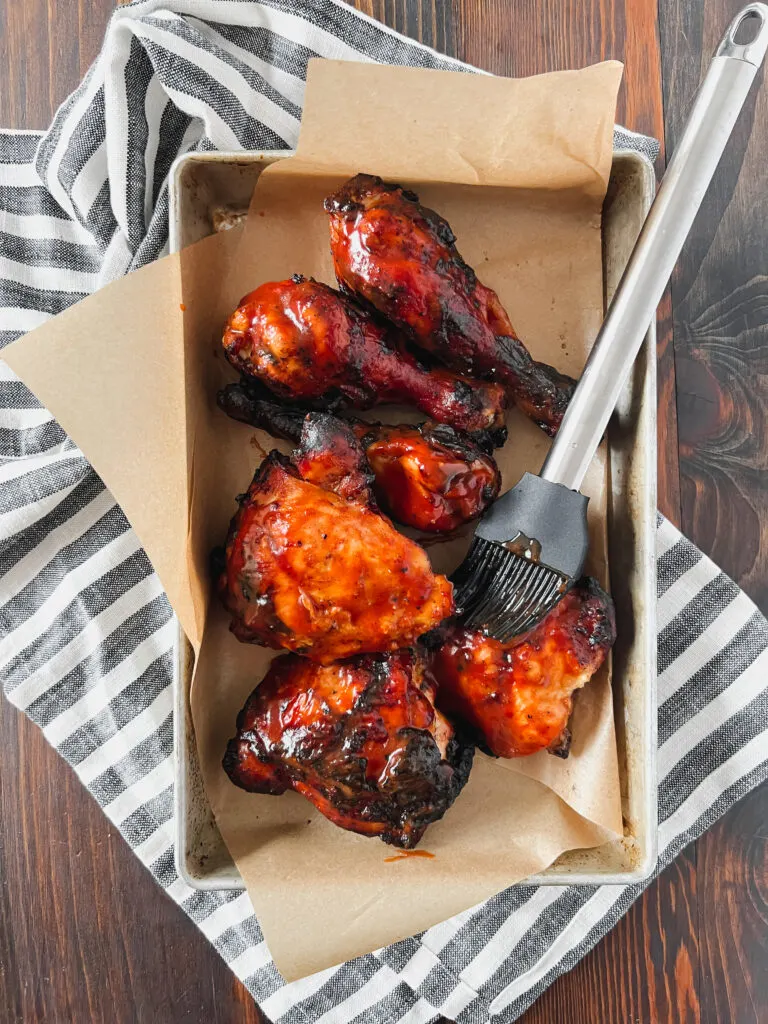 Best Chicken for BBQ Chicken
I like to use bone-in chicken thighs and drumsticks for this recipe. Boneless chicken thighs will work, but chicken breasts will just dry out too much. You want to get a good sear on that skin side so that it essentially bastes the meat. So, skin-on thighs are recommended. Grilling chicken thighs especially is so forgiving.
I'll be honest and say i do not like smoked food, so this recipe was born out of wanting to enjoy this classic summer dish without that smoke flavor that I just can't tolerate. This bbq chicken recipe without a smoker will likely win over even your biggest bbq fans!
You'll find that if you go for leaner cuts of meat, you'll not get the fall of the bone texture and that's what we are after with this recipe. They also just really dry out on the grill since it's such a dry cooking method.
Easy Bone in Grilled BBQ Chicken Thighs Recipe Tips
When we talk tips for this recipe, the most important thing is how you heat your grill and the cooking time. Chicken pieces come in all shapes and sizes so a meat thermometer is your best friend here.
You are going to want one side of the grill on medium-high heat. This is the side that you will sear on. On a gas grill it is as simple as turning the knob. Charcoal grills will require you to build your fire to the one side of the grill. The other side is the indirect heat side and this is where your chicken will do the bulk of its cooking.
Make sure your grill grates are nice and clean. The chicken has sticky sauce so you need to start with clean grates. The goal is to get juicy tender chicken on the inside and perfectly crispy, but not overly charred chicken on the outside.
Your chicken is done when an instant-read thermometer reads 165 degrees in the thickest part of the thigh.
Should I use a rub or marinade for BBQ chicken?
Some will swear by a dry rub but I like to marinate my chicken in a mix of my favorite bbq sauce (favorite is Stubbs Original), 1/2 cup of Zesty Italian dressing and brown sugar. That's it. Yes, it's that simple. The dressing gives a tangy kick while the brown sugar ensures a caramelize skin and a slightly sweet flavor.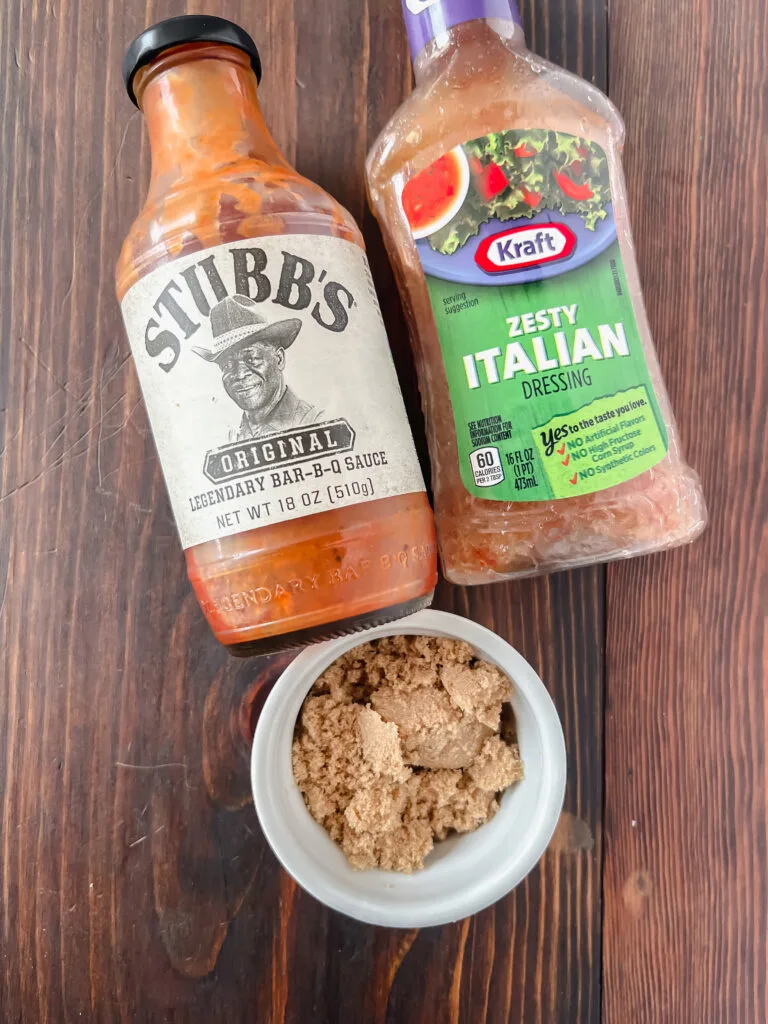 Simply add some kosher salt and black pepper to your chicken and toss it with the marinade into an airtight container. Let it marinate for a few hours or overnight. For best results make sure you have at least 3-4 hours to marinate.
After your chicken marinates, you'll dry it off a bit with a paper towel and proceed to place it on the grill. You'll use your barbecue sauce to baste it with at the end of cooking. I have found that when I grill chicken thighs, this is the best way to get tender juicy chicken without a lot of fuss.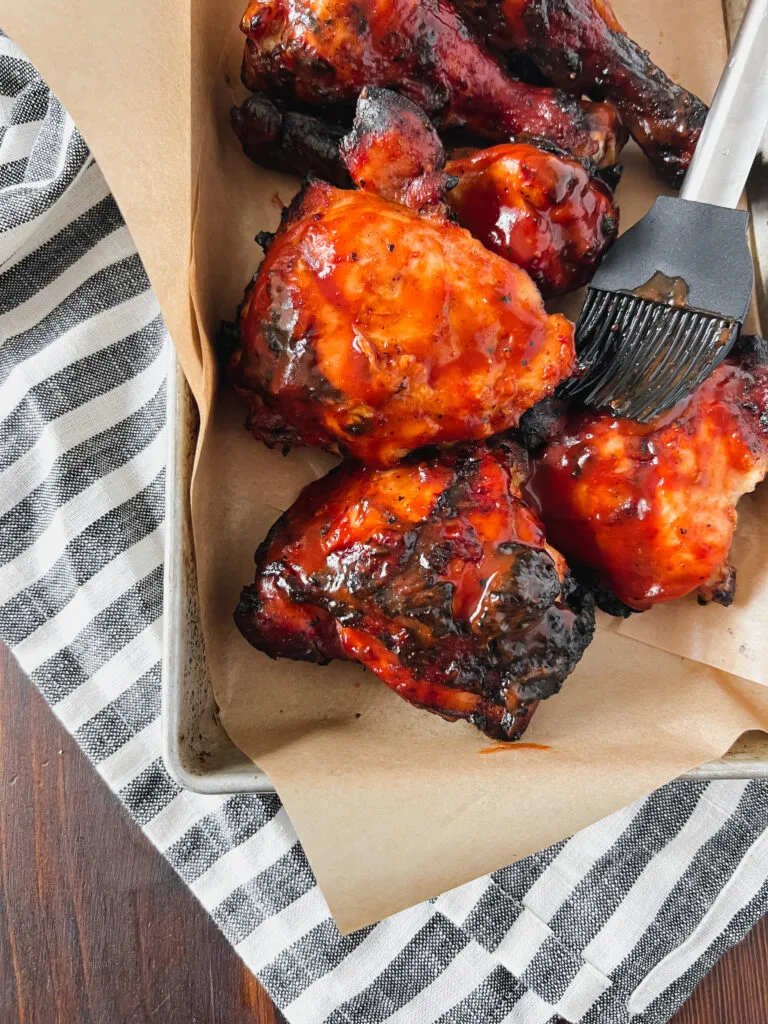 How long should I rest my BBQ Chicken
So the great thing about barbecue chicken for a picnic is that it is just as great fresh off the grill as it is room temperature. I like to rest my chicken for 15-30 minutes under a tent of aluminum foil. This will allow those juices to redistribute and no one will burn themselves when picking up a piece. I just pile it all right onto a baking sheet for this.
Your chicken skin should stay plenty crisp after resting because the chicken is cooked low and slow and all that fat will be rendered out. Trust me we don't want to sacrifice crispy skin here.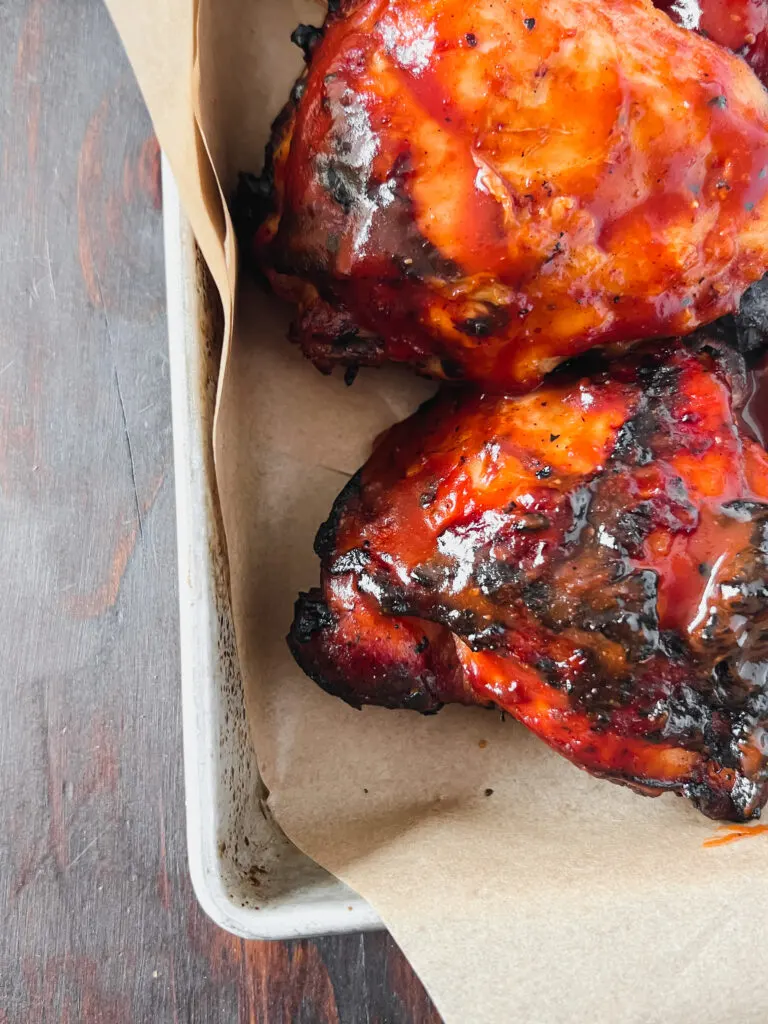 Best Side Dishes to Serve with BBQ Chicken Thighs
Potato salad is always a popular option when it comes to bbq chicken. Macaroni salad or macaroni and cheese are also popular options. Your favorite baked beans will also round out this meal!
Tools Needed for the Perfect BBQ Chicken
These are affiliate links. Your purchase through these links helps support the blog. You get the same great price!
Affordable and Reliable Gas Grill
These are all very affordable options. You don't need expensive fancy equipment ! Trust me!
Leave a Rating and Review
I really hope you enjoy this recipe for its simplicity and that you see that you don't need fancy smokers or hours long processes to make bbq chicken thighs your entire family will love. This is a very budget friendly meal and its just perfect for summer get togethers.
I hope you'll leaving a rating and review if you make this recipe. It really helps others when they make it and it helps bring others to the blog. Your support means the world to me and I truly appreciate you trusting me.
If you have any questions, please leave them in the comments. I love getting the chance to chat!
If you like this recipe, but want something that is truly set it and forget it- check out my Chicken Barbecue Sandwiches with Pineapple Slaw.
Pin for Later!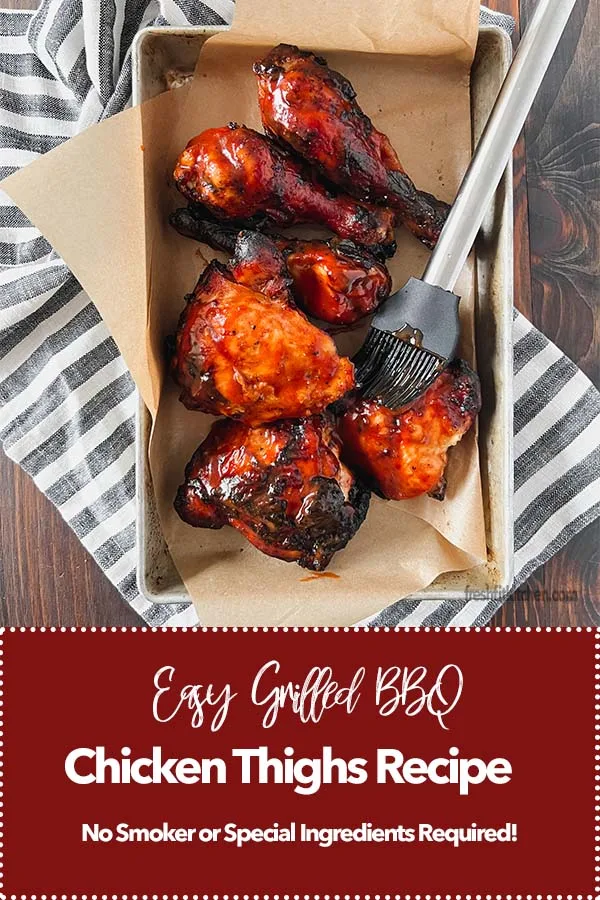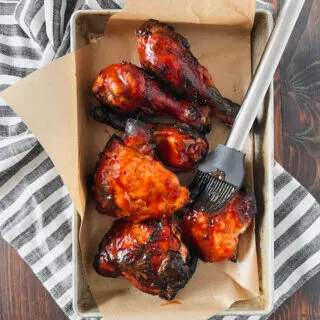 Easy Bone in Grilled BBQ Chicken Thighs Recipe
This easy Easy Bone in Grilled BBQ Chicken Thighs Recipe requires no special ingredients or a smoker. It's super easy and can be done on any gas or charcoal grill.
Ingredients
1/2

cup

Zesty Italian Dressing

1

cup

Barbecue Sauce

Plus more for basting

1/4

cup

Brown Sugar

6

Chicken Thighs

Can add Drumsticks too
Instructions
Mix together the 1/2 cup of Italian dressing, barbecue sauce and brown sugar.

1/2 cup Zesty Italian Dressing,

1/4 cup Brown Sugar,

1 cup Barbecue Sauce

Put your chicken pieces into a 1 gallon zip top bag.

Pour the marinade over the chicken. Marinate 3 hours or up to overnight.

Preheat your gas or charcoal grill. On a gas grill preheat to low. You want your grill no more than 350 degrees. For a charcoal grill, set up a side for indirect heat so build your hot coals all to one side. Cook chicken over low/indirect heat for 1 hour or until an internal thermometer reaches 165 degrees. Make sure it's skin side up so that the fat from the skin can baste the meat.

Keep an eye on your chicken as all grills can vary. If it's getting to dark before the inside is done reduce your heat further or move it up to a top rack (if using gas). Gas will be easier to control here so I honestly recommend that. Charcoal works, but you'll have less control.

When your chicken has reached 165, turn up the heat and sear the skin side if it's not quite brown enough for you . This is preference. We like really crisp skin. Baste it with some extra barbecue sauce and that's it!

If you use charcoal just move the chicken to the hot side before you baste and remove it.

It's important to know your grill here. Mine cooks hot even at low so I had to move my chicken up to my top rack and away from direct heat to finish up. I did not have to let it sear too long. Maybe 30 seconds.

The marinade should give you great flavor all the way through the chicken and the final baste gives that sweet and sticky outside. Enjoy!
Notes
I use Stubbs brand original barbecue sauce. We just really like the flavor and it's lower in sugar than many barbecue sauces. Kraft Zesty Italian is my dressing of choice. It just adds a zip. Use what you like!
Nutrition info was calculated using 3 thighs and 3 drumsticks. I always do thighs and drumsticks. They are similar nutrition value. It was also calculated using the brands I use for the recipe. Brand changes etc will change the nutrition facts.
Nutrition
Serving:
1
Piece
Calories:
296
kcal
Carbohydrates:
12
g
Protein:
19
g
Fat:
17
g