Quick Easy Chili on the Stovetop? Yes you can! You know those evenings. It's been a long day and you really wish you had something comforting to eat, enter my super easy 5 ingredient chili recipe. You can make it on the stove top and have it on the table in 30 minutes, or if you're thinking ahead, you can put it in your slow cooker to greet you after a long day.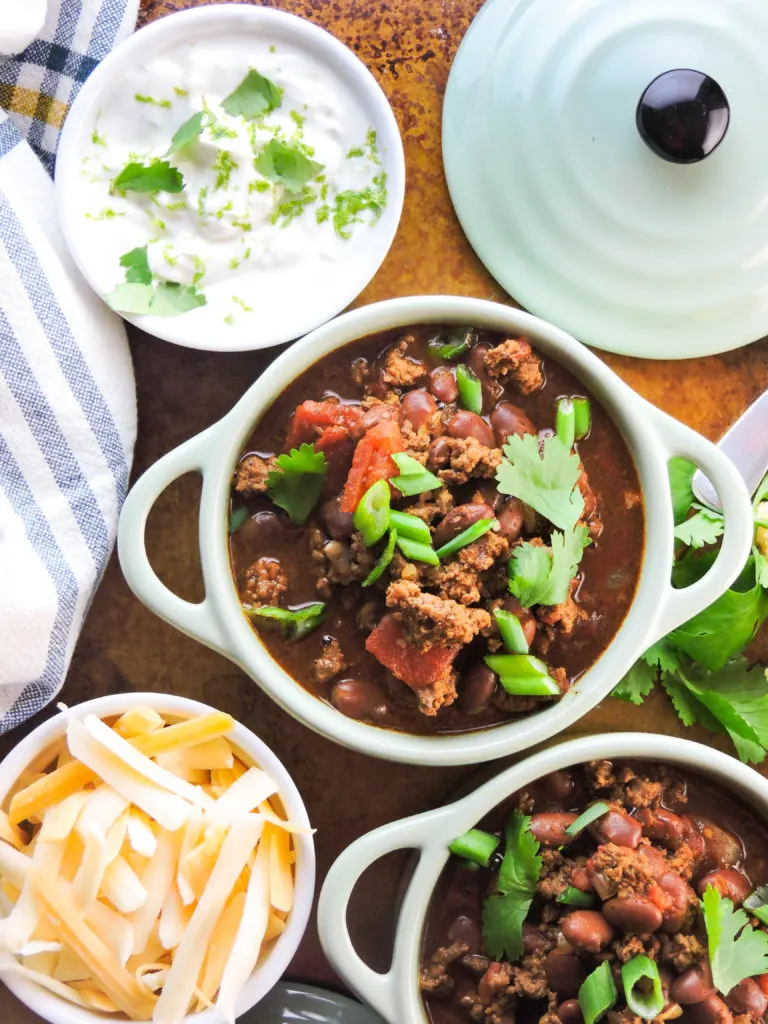 Super Easy 5 Ingredient Chili Recipe Tips
Because this is an easy chili recipe, it has the essentials. Chili seasoning, ground beef, beans , yellow onion and tomatoes. That's it. Well, I do use salt and black pepper on the ground beef, but I don't count those. It is literally a dump and go recipe, but don't be afraid to make it your own and use what you have.
Part of cooking on a budget is using what you have. So, throw in some bell peppers. No tomatoes? Use tomato sauce if you have that. Green onions make a great garnish or a stand in for standard onions. I like to use the chili beans with sauce for this for added flavor, but you can use all different types of beans. Pinto Beans, red kidney beans, black beans, and jalapeno pepper (if you like spicy chili) will all work great in this recipe.
Don't have the seasoning packet? Raid your spice cabinet for chili powder, cumin, onion powder, and garlic powder to make your own chili spice. When I do this, I start with a tablespoon of the chili powder and a teaspoon of all the others and I adjust until I'm happy. I also add a little cayenne pepper for extra heat because I like spicy chili. Just be careful and don't overdo it.
I like to use lean ground beef (no excess fat to deal with), but if you ground chicken, ground turkey or if you'd like to add more veggies and beans and keep this vegetarian.
Best Ways to Cook Chili
Like this is an easy stove top recipe, but the pressure cooker and slow cooker work too! I love to use a dutch oven for this. If you use the slow cooker you will need to brown the pound of ground beef first. I like to make sure I get a good crisp on the ground beef because that is extra flavor. Break it up with a wooden spoon or see below for the tool I have and love for breaking up ground meat.
After you brown the ground beef and onions over medium-high heat you'll just dump in the remaining ingredients. I love that it is this easy to get a large pot of chili going! I promise it is such an easy recipe.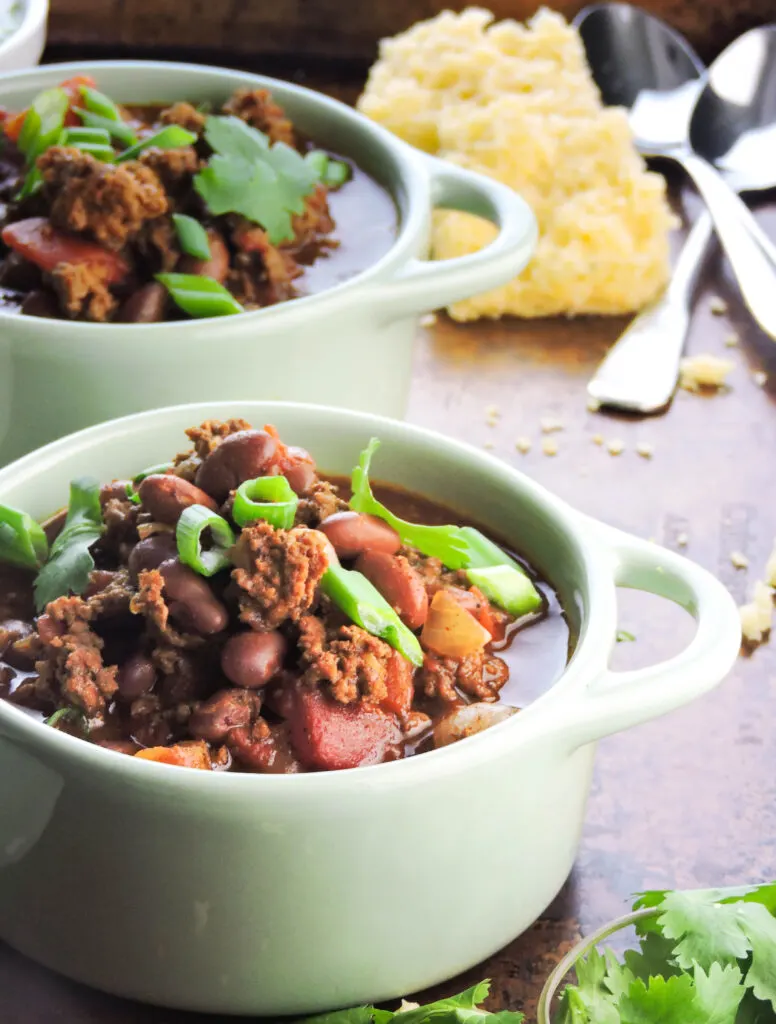 What to Serve with Easy Beef Chili
When I serve this chili, I like to make corn bread to go along side it. If you don't have time for that a nice cheese quesadilla or grilled cheese works too.
If you want to keep it really simple, I just my favorite toppings: the sour cream, cheddar cheese, tortilla chips, hot sauce, lime juice, avocado and finely diced onion.
Affiliate Links-Things You Need for This Recipe
Here are the things you need to make this recipe. These are affiliate links and they really help me out because each time you buy using one, I get a small commission. It's one way you support freshfitkitchen.com.
Storing Leftover Chili
This is a great recipe for meal prep because chili can be stored in the fridge for 3-4 days and you can even freeze it individual portions. This homemade chili recipe is the best make ahead meal.
Simply store it in an airtight container in the fridge or in a zip top bag in the freezer. Make sure it's a freezer bag otherwise it will gather ice and not be as tasty. If you have a food saver even better. Make sure if you use a container that it is freezer safe. Mason jars work great too!
Leave a rating and Review
If you make this recipe please leave a rating and review. This is so helpful to other readers. Let us know any fun things you added or substitutes that worked and those that didn't work. It's a community here and it's such a great way to share. Ratings also help others find my recipes on Google. So, your time in leaving a review is much appreciated.
I hope you'll Pin the recipe to save for later and it becomes a regular in your rotation. Easy, budget friendly recipes like this are what we all need right now. It's a busy time of year and prices are of course higher than ever. Stovetop Chili recipe to the rescue!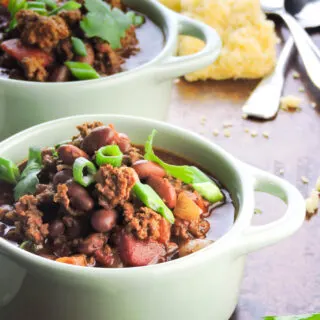 Super Easy 5 Ingredient Chili
Super Easy 5 Ingredient Chili is a recipe for chili where you can enjoy big flavor without a lot of individual spices and chopping. By using some help from the grocery store, you get a flavorful chili on the table fast.

Ingredients
1

Packet

Chili Mix

I like Stonemill from Aldi. McCormick brand also makes a good one.

14

ounces

Diced Tomatoes

Replace with Rotel or Tomatoes with green chilis for extra spice.

1/2

cup

Water

14

ounces

Chili Beans

These are beans that are flavored for chili. I use Dakota brand from Aldi . Bush brand also makes them.

1

pound

Lean Ground Beef

1

medium

Onion

Finely Chopped
Instructions
Instant Pot Instructions (Or other Electric Pressure Cooker)
Brown the ground beef and onions on the saute setting. Salt and pepper generously.


When the beef is brown and the onions are translucent, pour in the tomatoes, water, chili beans and seasoning packet.


Stir everything together and set the vent to sealing.


Cook on High Pressure for 8 minutes. Allow the pot to natural release for 5 minutes. Release the rest of the steam and serve.

Slow Cooker Instructions
Brown the beef and onions on the stove. Generously season with salt and pepper.


In the insert of a slow cooker add in the beef, onions, tomatoes, water, and seasoning packet. Cook on low for 4-6 hours.

Stove Top Instructions
Brown the ground beef and onion in large dutch oven. Generously season with salt and pepper.


Pour in the tomatoes, water and seasoning packet. Cook on low for 1-2 hours to allow the flavors to concentrate and come together.

Notes
The base of this recipe is 5 ingredients (I don't count water, salt or pepper as an ingredient). The garnishes are of course extra. Here are some suggested garnishes:
Sour cream, Greek Yogurt mixed with cilantro and the zest and juice of a lime for a yummy crema, cheese, avocado, scallions and tortilla chips.
Nutrition
Calories:
262
kcal
Carbohydrates:
10
g
Protein:
27
g
Fat:
10
g
If you love Chili- check out my other Chili Recipes!
White Bean Chicken Quinoa Chili
Butternut Squash Black Bean Chili
Spicy Southwest Lentil Chickpea Chili
If you make this one tag me on Instagram @FreshFitKitchen. PIN IT FOR LATER TOO!