I love macaroni and cheese. I recently celebrated my 34th birthday (no shame in my age game) and my husband took me to a restaurant called The Wine Kitchen. Wine of course and the most amazing macaroni and cheese was on the menu. The blend of cheese made it the perfect adult mac and cheese. I mean I pop open a box of Annie's just like anyone else, but this was date night perfect mac and cheese. This is precisely what I was going for when I made this Cauliflower Mushroom Mac and Cheese. The use of vegetables cuts the pasta ratios allowing you to indulge a bit more. The earthy mushroom flavor plays well with the Parmesan cheese sauce.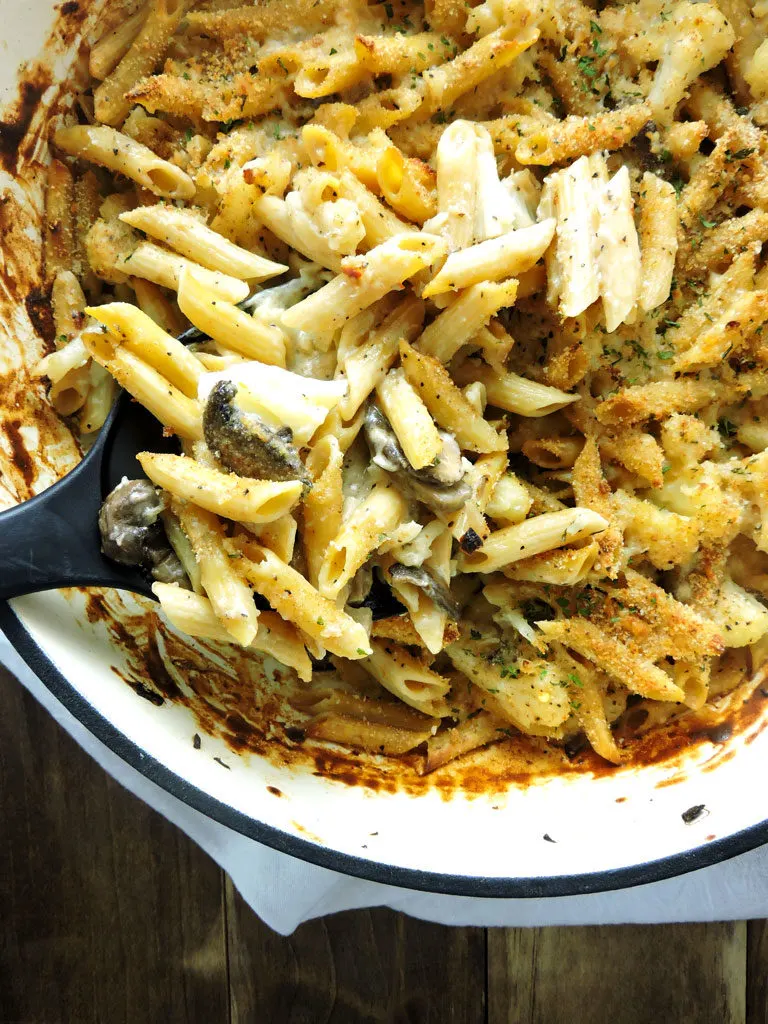 While this is an easy dish by all accounts, there are some tips you should follow when preparing it. Developing the flavor in the mushrooms requires that you cook them long enough and do not salt them until the end. Salt draws moisture, and mushrooms are mostly water. This means that when you draw all that water out with salting too early, you make those gray sad mushrooms with no color. No one wants sad mushrooms. So give it some time and while it will feel like you're cooking them forever, let the liquid evaporate and they will brown.
I definitely say this is "big kid" Cauliflower Mushroom Mac and Cheese, but hey if your kids are adventurous with vegetables, the cheese sauce is mild enough, they may go for it. Other variations you could do are peas and carrots. I think this would be lovely with shell pasta , peas and carrots. These are milder vegetables for your picky eaters. You could use this as a base recipe for whatever your family likes.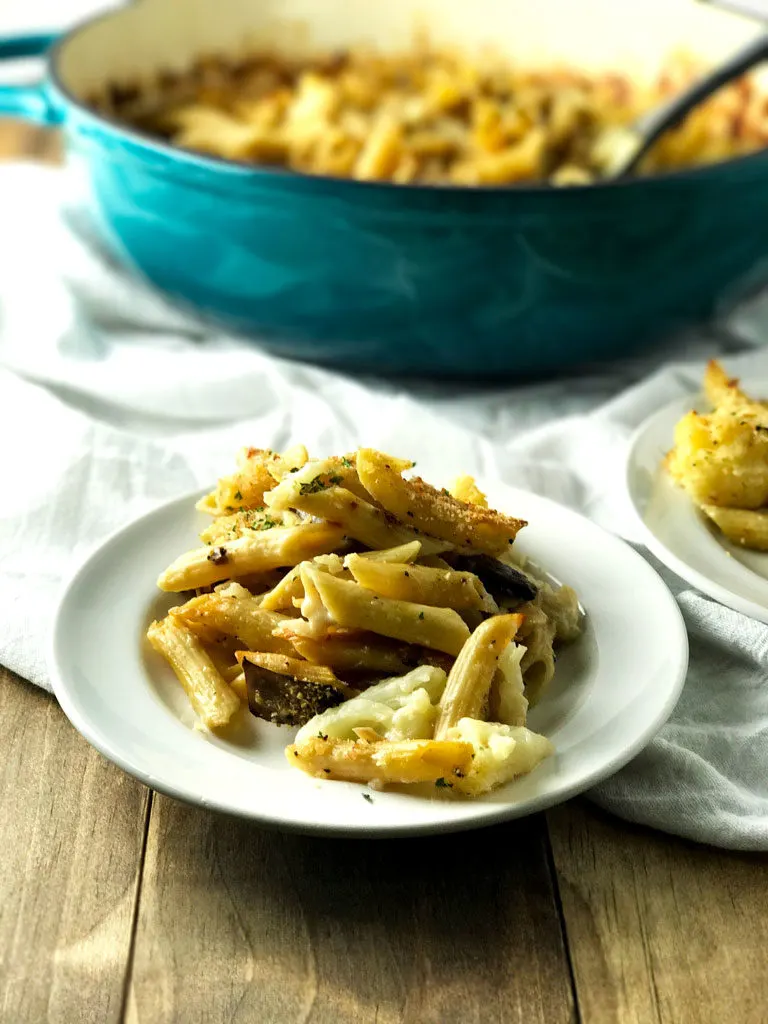 I hope you enjoy and if you make this Cauliflower Mushroom Mac and Cheese deliciousness tag me on Instagram @freshfitkitchen and I'll regram my favorites on my page!
PIN IT to save for Later! Find me on Pinterest @freshfitkitchen!

Save
Save
Save
Save
Save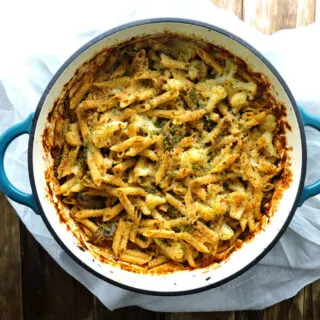 Cauliflower Mushroom Mac and Cheese
Ingredients
1/2

lb.

Penne Pasta

1

head

Cauliflower, cut into small florets

8

oz.

Baby Bella Mushrooms

2

tsp.

garlic, minced

1/3

cup

onion, finely chopped

2

tbsp.

Flour

2

tbsp.

Butter

1

cup

2% milk

1/2

cup

Parmesan cheese, grated

salt and pepper to taste
Instructions
Preheat oven to 375 degrees. If you have a dutch oven that can go from stove to oven, I recommend that. If not, plan to transfer this to a 13x9 baking dish. Boil the pasta according to package instructions. In the last 2 minutes of cooking, drop in the cauliflower.

Drain the pasta and cauliflower and return the pan to the heat.

Add some olive oil to the pan and saute the garlic and onion until translucent and fragrant. Add in your mushrooms. Make sure to cook the mushrooms until they start to get golden brown. Do not salt the mushrooms until they are almost done, or they will not brown the way you need them to.

When the mushrooms are almost done add the butter. Toss around the butter and mushroom mixture until melted and then add the flour.

Cook the flour mix for about 1 minute and then add the milk while slowly stirring. The mixture will begin to thicken. If it becomes too thick add more milk. This is a great time to add salt and pepper. Shy away from salt until you've added the 1/3 cup of Parmesan cheese.

After you add the cheese, toss the pasta and cauliflower with the sauce mix. Sprinkle the top with breadcrumbs and more cheese if you like a crunchy topping. Transfer to the oven and bake at 375 degrees for 15 minutes or until the top is bubbling and brown.
Notes
I recommend a high protein pasta or whole wheat pasta for this dish.