With meat prices on the rise, it's time to make a meal out of more affordable plant-based proteins. Crispy tofu is bound to convert any harsh critic and this Crispy Tofu Superfood Fried rice recipe is sure to be a hit with the family and your wallet.
How to make sure fried rice isn't mushy
I'm going to address the question I get the most when I talk about fried rice. How do you make sure your fried rice isn't mushy? The best advice I can give is to use leftover rice.
You can use brown rice, white rice, jasmine rice, basmati rice or a combo of rice and quinoa, but make sure it gets some time in the fridge before it hits that hot pan. Traditional Fried rice would normally use white rice or better yet leftover sushi rice.
If you don't have leftover rice, then just follow my instructions below for freshly cooked rice and giving it a little time in the freezer prior to frying. The problem is when the rice cooks then the hot rice cooks more in the pan when you fry it. By letting those starches firm up, you've solved that issue. You want sticky rice.
Bottom line this is a great way to use up leftover rice so just make extra next time. Cold rice is the best rice for the job!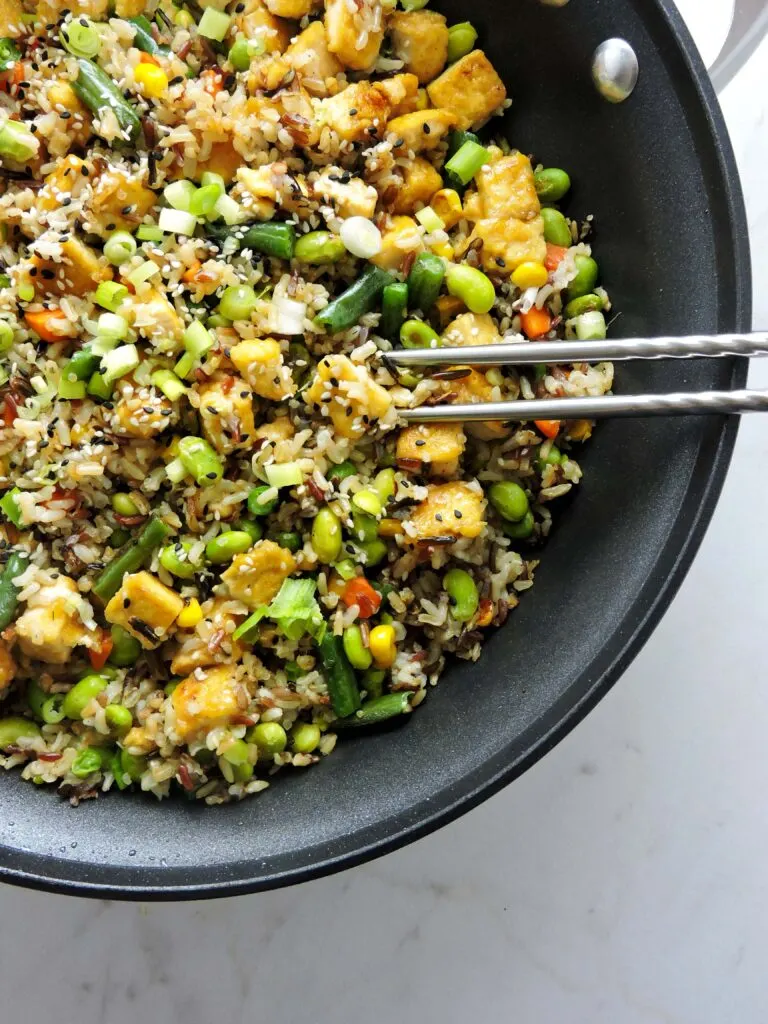 What seasonings and vegetables are best for Crispy Tofu Superfood Fried Rice?
This tofu fried rice recipe is very simply seasoned with soy sauce, green onion, teriyaki sauce and toasted sesame oil. You could also add in some fresh ginger, oyster sauce, garlic, hoisin sauce, or sriracha if you like heat.
I keep this super simply by using frozen veggies. I like to be sure there's a combo of corn, green peas and carrots. You could also add some baby bok choy, cabbage, bell peppers or snow peas. All would be delicious. This recipe is also great for cleaning out that veggie drawer.
How to get Tofu Crispy
The first thing is to remember this is a job for extra-firm tofu. Do not buy silken tofu for this. Make sure you press the tofu. I wrap mine in layers of paper towel and I weigh it down with my cast iron skillet. A tofu press also works.
When the liquid is pressed out you'll then want to cut or break the tofu into chunks. You're not shooting for scrambled tofu here. You want tofu chunks that you can toss with corn starch.
Your next step is to heat a large nonstick skillet with oil that has a high smoke point. This would be avocado oil, canola oil or vegetable oil. Put enough oil to just cover the bottom of the pan. Make sure it's over medium-high heat and when the oil is just shimmering . Add the tofu and turn it to get the sides totally golden brown.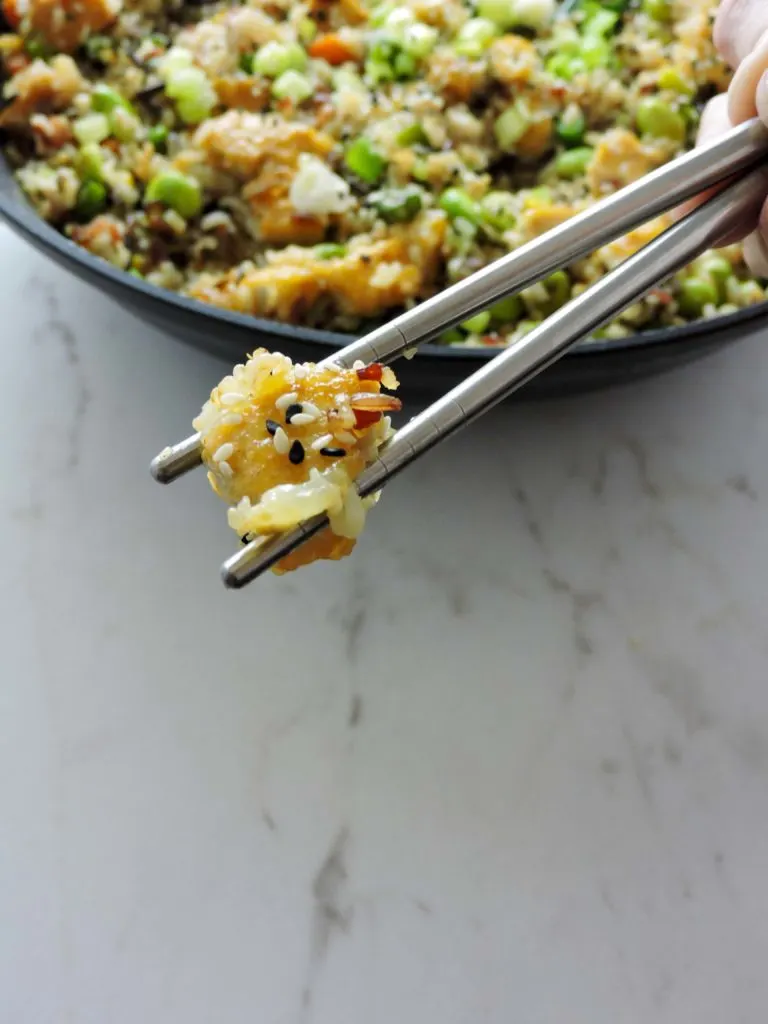 Storing Leftover Rice
This recipe is great for a meal prep because leftover fried rice will keep in an airtight container for 3-4 days. It reheats beautifully in the microwave!
Things I use to make this recipe
These are affiliate links. Affiliate links just mean I make a small commission when you purchase using the link.
Leave a Rating and Review
If you make this recipe, please leave a rating and review! I'd love to know how it went for you and what you thought! It's super helpful to other readers as well. Thank you for stopping by!
This recipe was last updated 2/26/2023.
Pin it for Later!
Save
Save
Save
Save
Save
Save
Sa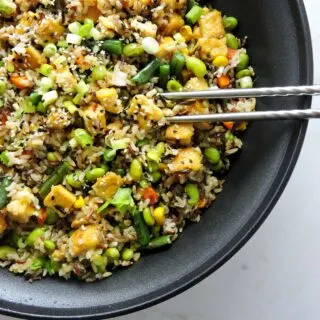 Crispy Tofu Super Food Fried Rice
Ingredients
4

cups

brown rice and quinoa blend

1

cup

Edamame, shelled and frozen

1

cup

Mixed vegetables, frozen

2

tbsp.

Teriyaki sauce, organic

2

tbsp.

Tamari or Soy Sauce

3

tsp.

Sesame oil

1

tbsp

Avocado Oil, divided

Sesame Seeds, garnish

Scallions, garnish

14

oz.

Extra Firm Tofu, cubed and drained

4

tbsp.

corn starch
Instructions
Cook Rice blend according to package instructions. I like to use a brown rice and quinoa blend by Minute Rice brand. While the rice is cooking , heat a large non stick skillet with 1/2 tbsp. of avocado oil. Make sure it's nice and hot. Make sure your tofu has been drained, cubed, and press it between paper towels. You want as much moisture as possible out of the tofu.

When the rice is finished cooking, transfer it to a bowl and put it into the freezer. This will firm up the starch on the rice and keep things from getting mushy.

In a large zip top bag, shake the tofu with the corn starch until it's evenly coated. Put it into the super hot pan. Make sure it's in a single layer.

Allow the tofu to brown on both sides. Don't over stir it. You want to make sure it has as much contact with the pan as possible so it can brown.

When the tofu is crisp, remove the pan from the heat. Pour the Teriyaki sauce over the tofu and toss until it adheres to the tofu.

Put the tofu on a plate and return the pan to the heat with the other 1/2 tbsp. of avocado oil. Add the frozen vegetables and toss those until they aren't frozen. Then remove the rice from the freezer and put it into the pan with the vegetables.

Toss things together and make a well in the center and add the 3 tbsp. of sesame oil. Push the rice over the hole with the oil and press it into an even layer in the pan and press it down. The idea with this step is that the rice will make good contact with the pan and brown up on the bottom. The crispy rice bits are the best. Don't skip this step. Add a lid to the pan to push things along.

When the rice begins to brown, toss it with the tofu. Add sesame seeds, green onions, and a drizzle of sriracha mayo if you're feeling spicy.
Notes
If you don't want to use tofu, you can use chicken. Use Tamari if you are eating a gluten free diet. Also be sure your teriyaki sauce is gluten free. I use an organic store brand and it is gluten free.
Nutrition
Calories:
442
kcal
Carbohydrates:
57
g
Protein:
20
g
Fat:
14
g