I've used this 2 Ingredient pizza dough a few times on the blog. My Cast Iron Barbecue Chicken Pizza and my Garlic Herb and Cheese Bread Sticks use this method. While it's great that it's a bit on the healthy side, the real win is how convenient it is. I almost always have flour and Greek Yogurt in the house so it's a great back pocket recipe. These Easy Healthy Pizza Roll Ups are a fun way to serve pizza for dinner or bring them to a party.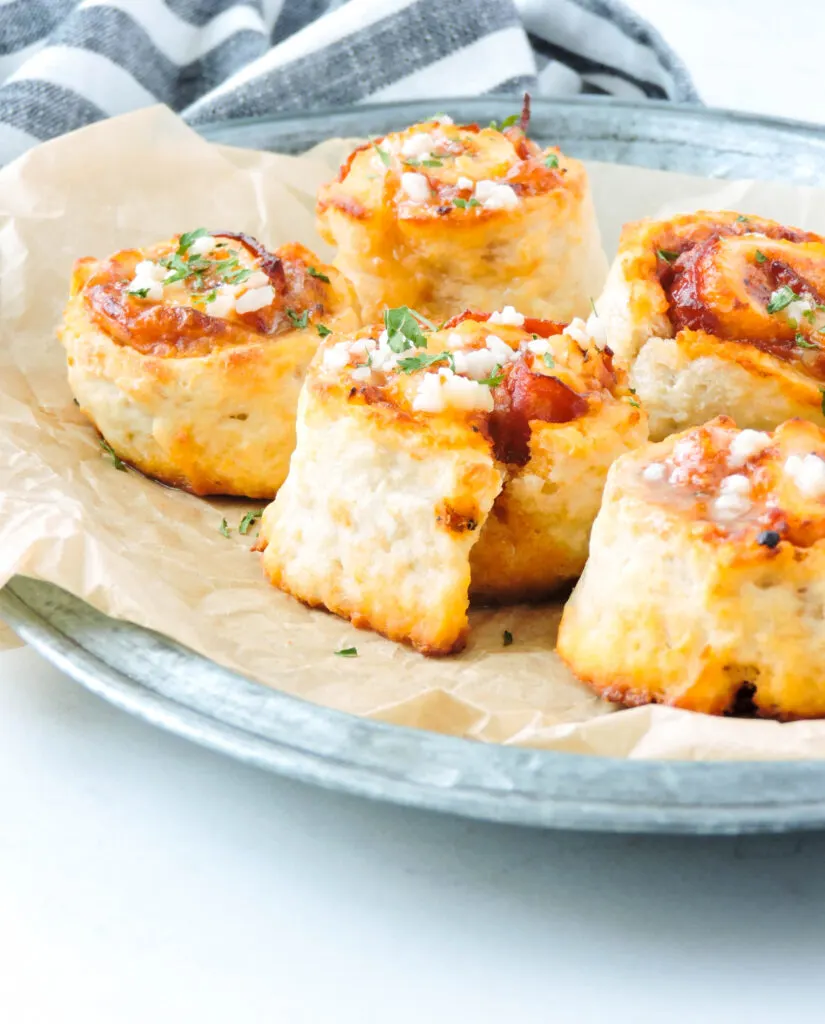 2 Ingredient Pizza Dough-Easy Healthy Pizza Roll Ups
The 2 ingredient Pizza Dough has been floating around the internet for a while. It's really a versatile dough. It can be a little temperamental to roll out, but make sure you flour your rolling pin and your counter really well. You'll be fine.
Should you choose to double the recipe- I recommend you work with one 12×14 rectangle at a time. If you make the rectangle longer, it will be harder to roll it up. You can double the recipe if needed, but make one roll at a time.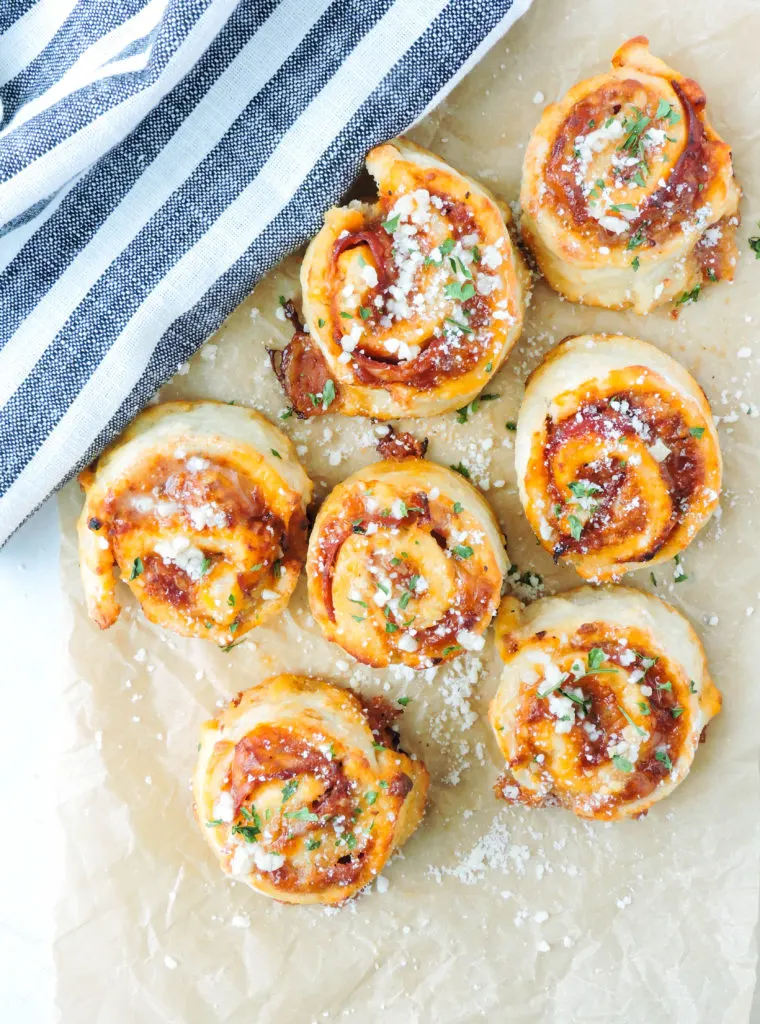 You can get creative with the ingredients, but be sure that you cut them small so they don't poke through the dough. These are also great with extra pizza sauce for dipping.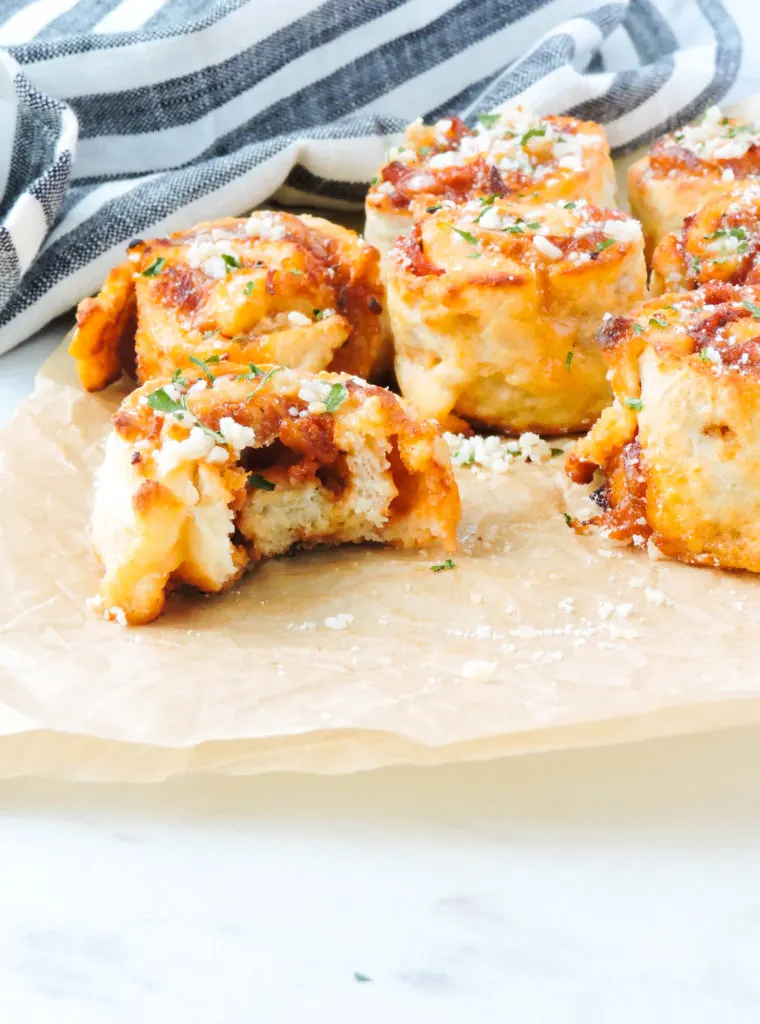 I really hope you make these pizza pinwheels soon and when you do comment below to tell me how it went. Snap a pic and tag me on Instagram @freshfitkitchen.
PIN FOR LATER!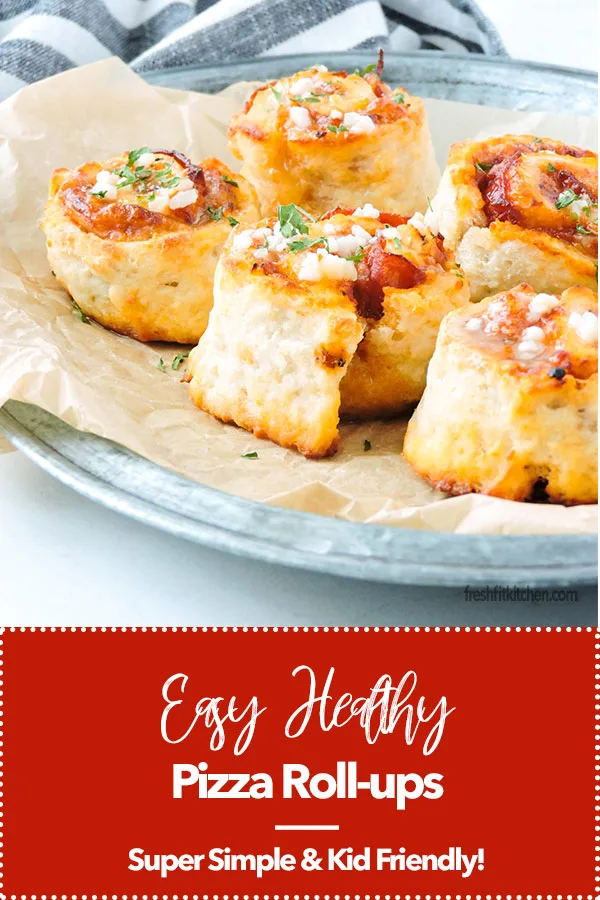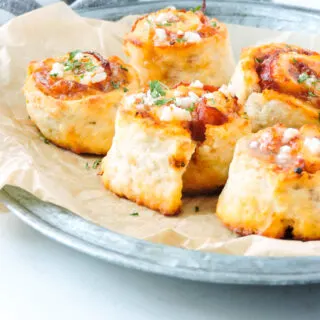 Easy Healthy Pizza Roll Ups
Easy Healthy Pizza Roll Ups are a fun way to have pizza night or serve them as a snack for the big game. An easy 2 ingredient pizza dough makes these a cinch!
Ingredients
1

cup

Non-Fat Greek Yogurt

1

cup

Self- Rising Flour

If you don't have self rising flour see notes for how to make it with all purpose.

1/4

cup

Pizza Sauce

I use Muir Glen Organic. Just use your favorite.

1/4

cup

Mozzarella Cheese

1/4

cup

Parmesan Cheese

10

Pepperoni Slices

Cut in half

3

tbsp.

Butter

2

tsp.

Garlic

Minced
Instructions
Preheat Oven to 425 Degrees

Mix together the Greek Yogurt and Self Rising Flour. It will seem like it won't come together, but just keep stirring and use your hands to bring it together if you need to.

When the dough comes together turn it out onto a floured counter. Make sure you flour the counter really well. Using a floured rolling pin roll it out into a 12 x 14 rectangle. You might have some shaggy looking edges, but cut it off square.

Spread your sauce onto the rectangle then add cheese and pepperoni.

Use a bench scraper or a thin spatula to help you get the dough off the counter if need be. This is a rather sticky dough, but be careful and don't rush. Begin rolling it into a log shape. Just as you would a cinnamon roll.

Pinch it shut and now you'll have a log shape. Cut the log shape into 8 equal pinwheels.

Place the pinwheels onto a baking sheet lined with parchment paper.

Melt the butter together with the garlic. Brush it on the tops of your pinwheels.

Bake at 425 degrees for 13-15 minutes or until the pinwheels are firm and golden. Serve garnished with extra parmesan.
Notes
Self-rising flour is all-purpose flour with baking powder and salt added. To make your own, all you have to do is combine 1 cup of all-purpose flour with 1 1/2 teaspoons of baking powder and 1/2 teaspoon of salt.
You must use Greek Yogurt. Regular will be too watery.
I've not tested this with other flours. If you try it with other flour, just note the recipe may not come out.
The recipe can be doubled to feed a crowd, but work with one 12x14 rectangle at a time. Trying to roll out something longer, will make the dough difficult to roll. Just make a double batch of dough and divide it.