Easy Overnight Cinnamon Rolls will be a game changer for your weekends. I know that when the temperatures get lower, I crave the warm cinnamon sweetness of a cinnamon roll. While I don't have a problem with those pop and fresh ones, I live for a fluffy homemade cinnamon roll. Baking with yeast can be tricky, but follow my tips below, go to bed and wake up to the ease of scratch made cinnamon rolls.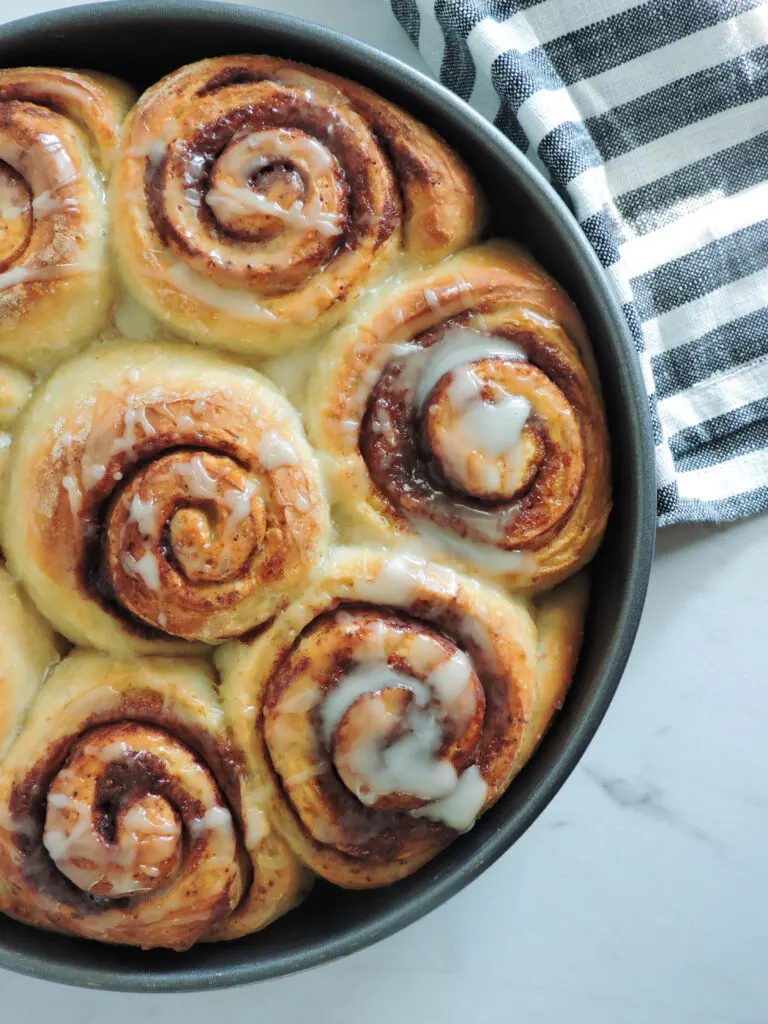 Tips for Baking with Yeast
I was notorious for killing my yeast until a friend taught me the trick. You want the water as close to your own body temperature as possible or slightly higher. I never take my liquids over 115 degrees when working with yeast. Quite simply, you will kill it and then the recipe will not rise. If you're new to baking with yeast, I suggest investing in a cheap thermometer. There will be far less disappointments in the kitchen, I promise.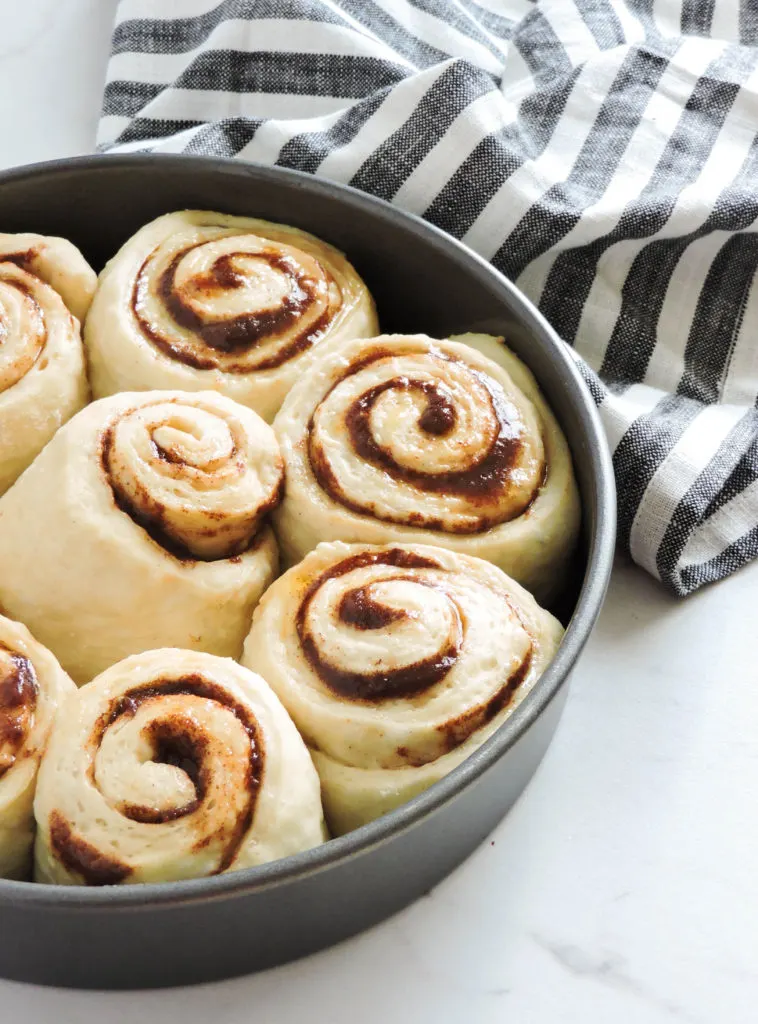 When baking with yeast you also don't want to overwork the dough. Glutens develop as you mix the dough, so it's important to not over mix at high speeds or over knead. The reason this dough rests for 10 minutes is so that those glutens relax. This makes for a more tender result.
Lastly, when you're baking with yeast, just relax. Yes it seems like a lot of steps, but when you get down to it the ingredients are so simple. Water, flour, yeast, butter or milk often come together in a variety of different methods to make your favorite baked goods. It's patience you might lack in this department, not skill. The hardest part is the wait, but it's so worth it.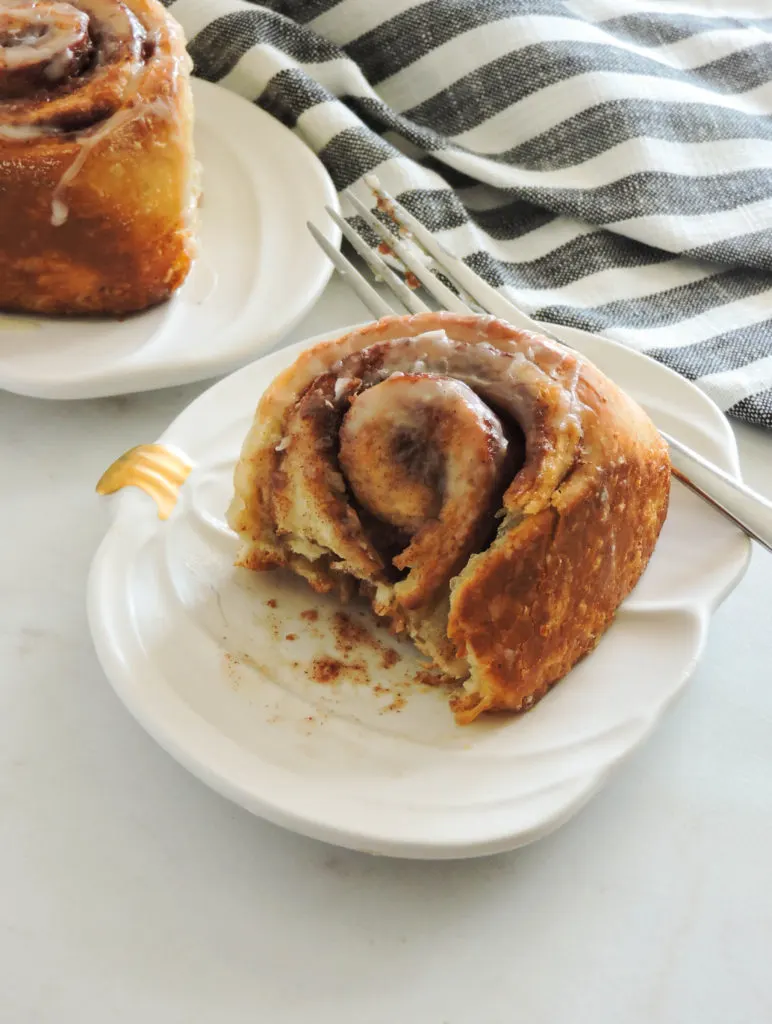 Tag your Easy Overnight Cinnamon Rolls on Instagram @freshfitkitchen. I love seeing what you do in the kitchen.
PIN FOR LATER!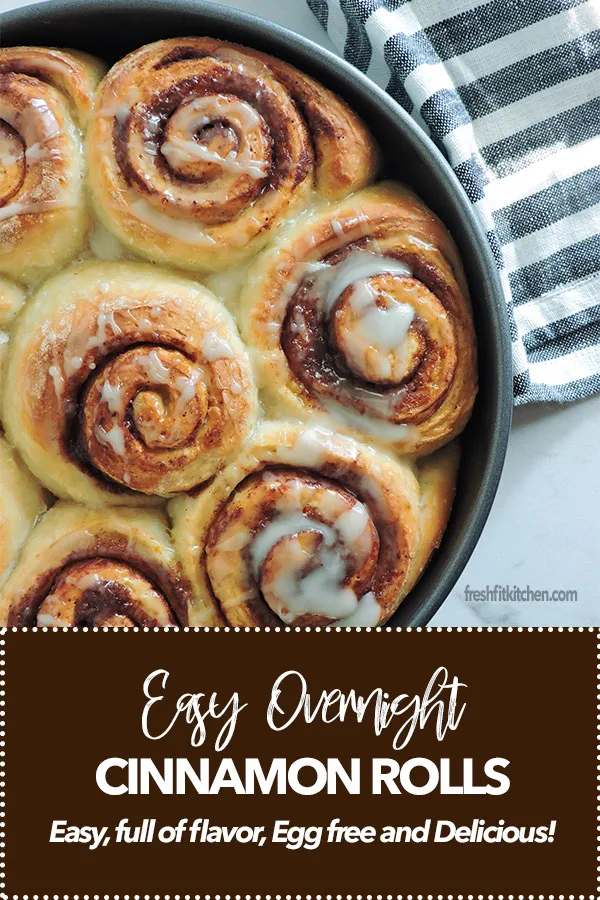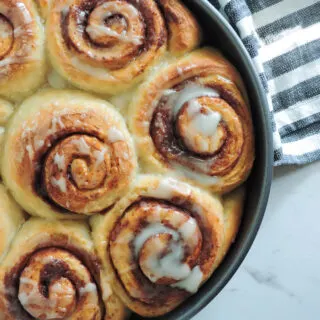 Easy Overnight Cinnamon Rolls
Easy Overnight Cinnamon Rolls are a set and forget it approach to cinnamon rolls. Make the dough and set it in the fridge overnight. Wake up to goodness the next day!
Ingredients
For the Dough
2 3/4

cups

All Purpose Flour

3

tbsp.

Sugar

1

tsp.

Salt

1

package

Instant Yeast

1/2

cup

Water

1/4

cup

Unsweetened Vanilla Cashew Milk

1

tbsp.

Unsweetened Apple Sauce

1 1/2

tbsp.

Unsalted Butter
For the Filling
3

tbsp.

Unsalted Butter

Softened to room temperature.

1

tbsp.

Ground Cinnamon

1/4

cup

Brown Sugar
For the Glaze
1

cup

Powdered Sugar

1

tsp.

Vanilla Extract

2-3

tbsp.

Water
Instructions
Dough
In the bowl of a stand mixer fitted with a dough hook combine the flour, salt, yeast and sugar.


Heat the Water, milk, butter and apple sauce to 110 degrees. I do this in the microwave. Use a thermometer to test the water temp. You want it to feel like a warm bath. Get it too hot and you'll kill the yeast. I don't recommend going over 115 degrees.


Slowly pour the water mixture into the flour mixture with the dough hook running at medium speed. Allow things to just combine. The dough is ready when it pulls away gently from the sides of the bowl and begins to form a ball.


When the ball is formed, pull the dough out and knead it by hand on a lightly floured surface for 3-4 minutes. Use some of your reserved flour as you knead it. You want a nice and smooth, but non-sticky dough. Form it into a ball and place into a greased bowl for 10 minutes. This will allow the dough to rest.

Filling
While the dough is resting, mix up the filling. Mix together the softened butter, brown sugar and cinnamon. This will be a thick spreadable mixture. Set it aside.

Assembling the Rolls
Roll your dough out into a 14x8 inch rectangle. Spread the butter sugar mixture onto the dough. From the long end roll it up evenly into a roll shape.


Using a very sharp knife, cut the roll into 8 even pieces.


Grease a 9 inch cake pan and place the rolls into the pan. Cover with plastic wrap and allow them to rise in the fridge overnight. The morning you want to bake them, put your oven on it's lowest setting. For me that is 150 degrees. Pull the plastic wrap off and replace it with a kitchen towel and place the rolls in the low heat oven for 1 hour.


Once the rolls have risen for the hour and come to temp, remove them while you preheat the oven to 375 and bake them for 25-28 minutes. Make sure you watch them as things might get too brown. If you don't want them too brown, you can cover them with foil after the first 10 minutes.

SAME DAY INSTRUCTIONS
If you want to make the rolls the same day- cover them with a kitchen towel and allow them to rise in a warm draft free area for 90 minutes. I have good luck with turning my oven on and setting it for 200 degrees. I then shut the oven off and put the covered rolls in. They will rise perfectly.

Glaze
Mix the water, powdered sugar, and vanilla together. Drizzle over the hot rolls.

Notes
Cinnamon Rolls will keep in the fridge or at room temperature for up to 5 days. You can freeze the prepared cinnamon rolls (without the glaze), thaw and reheat in the oven or microwave. Nutrition facts calculated using My Fitness Pal. Different brands will vary nutrition info.
The calories and fat in this recipe were cut by replacing half the butter of the dough with unsweetened applesauce and using unsweetened dairy free milk. This recipe is also egg free.
Vegans can swap in vegan baking sticks. Earth balance would be recommended.
I have not made this recipe with gluten free flours so I cannot speak to using them.
Proper Measuring is key. To measure flour, scoop it into the cup and level it off. Do not pack flour. Pay attention to the temperature of your water. Dead yeast is often the reason rolls won't rise. Make sure your yeast is not expired.
Adapted from Life is But a Dish Cinnamon Rolls
Nutrition
Calories:
276
kcal
Carbohydrates:
47
g
Protein:
4
g
Fat:
7
g