With football and entertaining season upon us, you need some good back pocket appetizer recipes. These are the recipes that you pull out when an impromptu gathering comes up and you haven't any time to shop and plan. Today I'll show you how to make crispy mini wontons in the air fryer. There's no need to mess with wonton wrappers or the tedious task of making your own. All you need is to put these in a single layer in your air fryer basket and get them golden brown.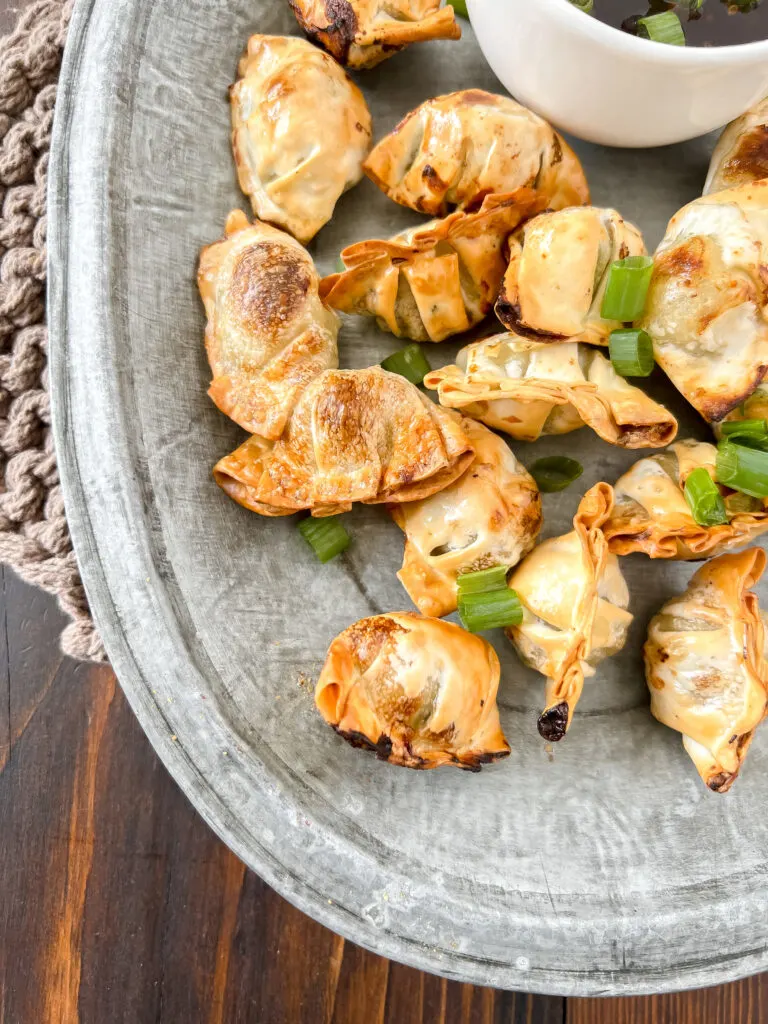 Tips for How to Make Crispy Mini Wontons in the Air Fryer
As with any air fryer recipe, it's important that your wontons are in a single layer. This promotes even cooking and allows the hot air to circulate. Crowding them will have them sticking together. The cooking time is determined by your air fryer, but you should be able to get these air fryer wontons done in about 8-10 minutes. That's super fast right?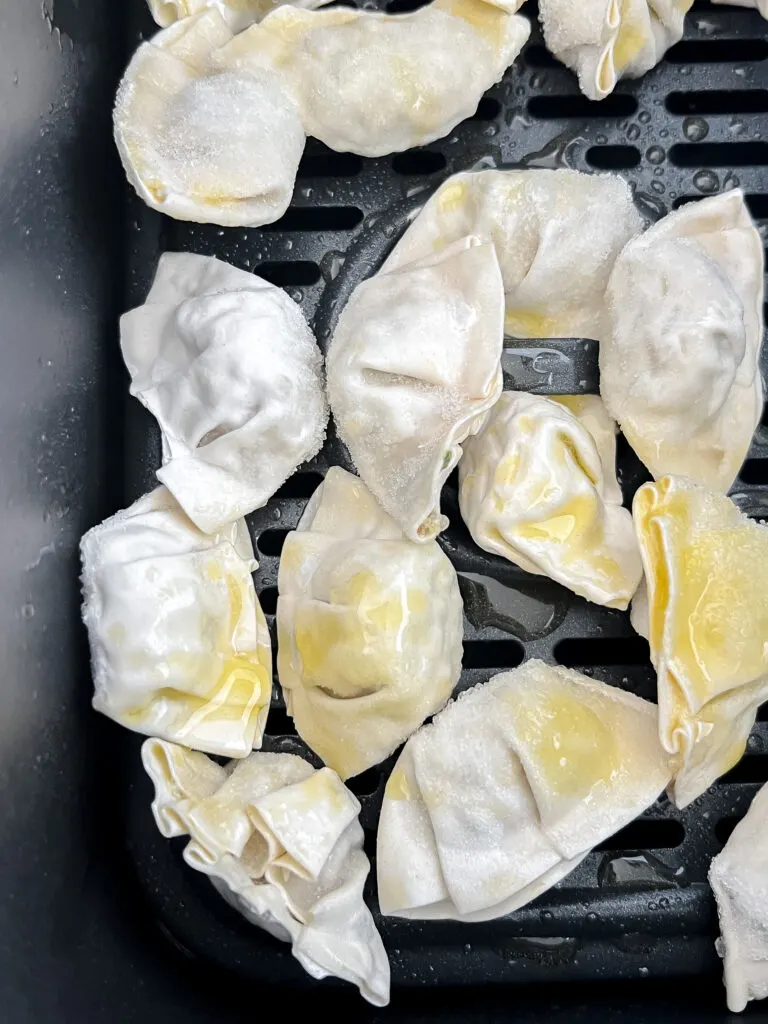 The best way to ensure crispy golden brown wontons is to spray them with a little bit of oil. I use my olive oil sprayer, but you could also brush with vegetable oil or use canola oil spray. Whatever you have is just fine. The wontons need the moisture from the oil to get brown and not stay chewy.
Make sure you're always using frozen mini wontons for this recipe. You could use traditional wontons , potstickers or gyoza from the freezer section, but their cooking time will vary from this recipe. No need to thaw, you'll always want to start with frozen wontons.
What Wontons to use for this Mini Wonton Air Fryer Recipe
You can find mini wontons at most major grocery stores. the Trader joe's chicken cilantro mini wontons are one of my favorites. Bibigo mini wontons are often found at Costco stores and really Bibigo products can be found at a variety of grocery store chains too.
I also like the Fusia brand wonton's from Aldi. That's what I used when I wrote this recipe as I had just been to Aldi. I prefer chicken wontons, but if you find vegetable wontons feel free to use those. There are also a variety of wontons that use ground pork or shrimp. Use what you like.
Dipping Sauce for Mini Wontons
My favorite dipping sauce for these air fryer wontons is sweet chili sauce. You can find it on your Asian foods aisle and it's a nice combo of sweet and heat. Other great options include teriyaki sauce with some green onion and sesame seeds or a few tablespoons of soy sauce mixed with a few drops of sesame oil and green onion.
Spicy mayo is also a great option for these crispy wontons. Simply mix some mayonnaise with sriracha (add to your spice level) and use as a dipping sauce. Sweet and Sour Sauce is another favorite. Really whatever dipping sauces you'd enjoy with egg rolls, spring rolls or any other type of Asian appetizer are recommended. Get creative!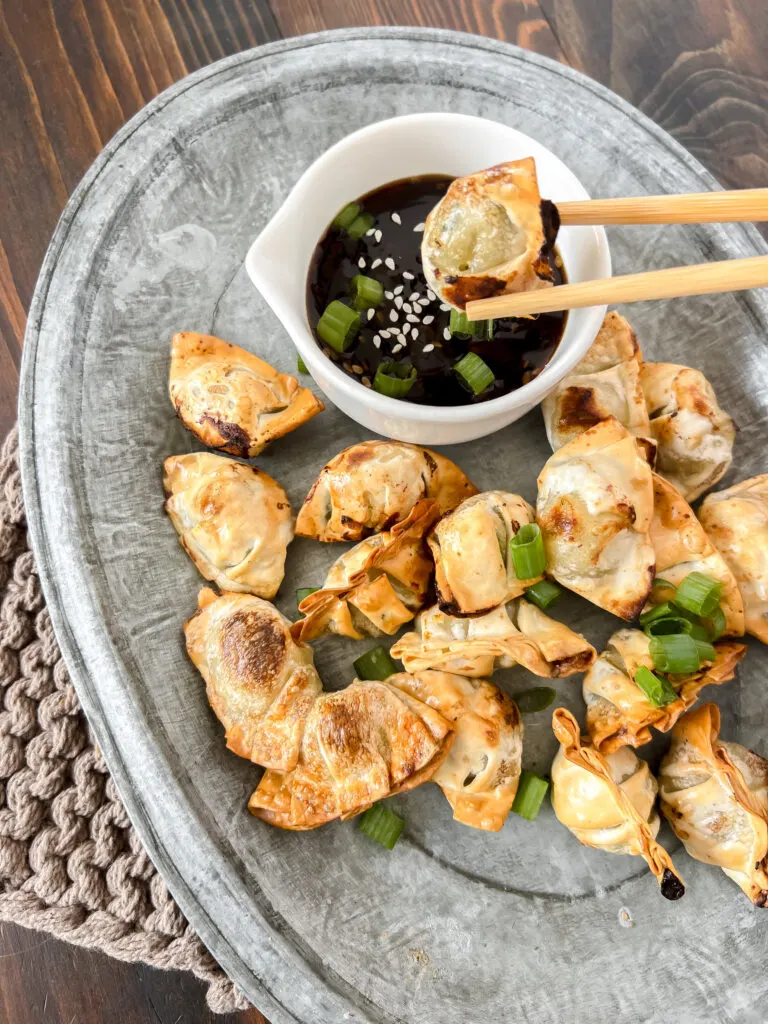 Can I freeze Cooked Wontons?
Once the wontons are cooked you can keep them in a airtight container for 3-4 days. If you have leftover cooked wontons you can freeze those for up to three months and just revive them in the air fryer from frozen. I can't say you'll have the same quality as when they were fresh, but they are certainly still good and who wants to waste?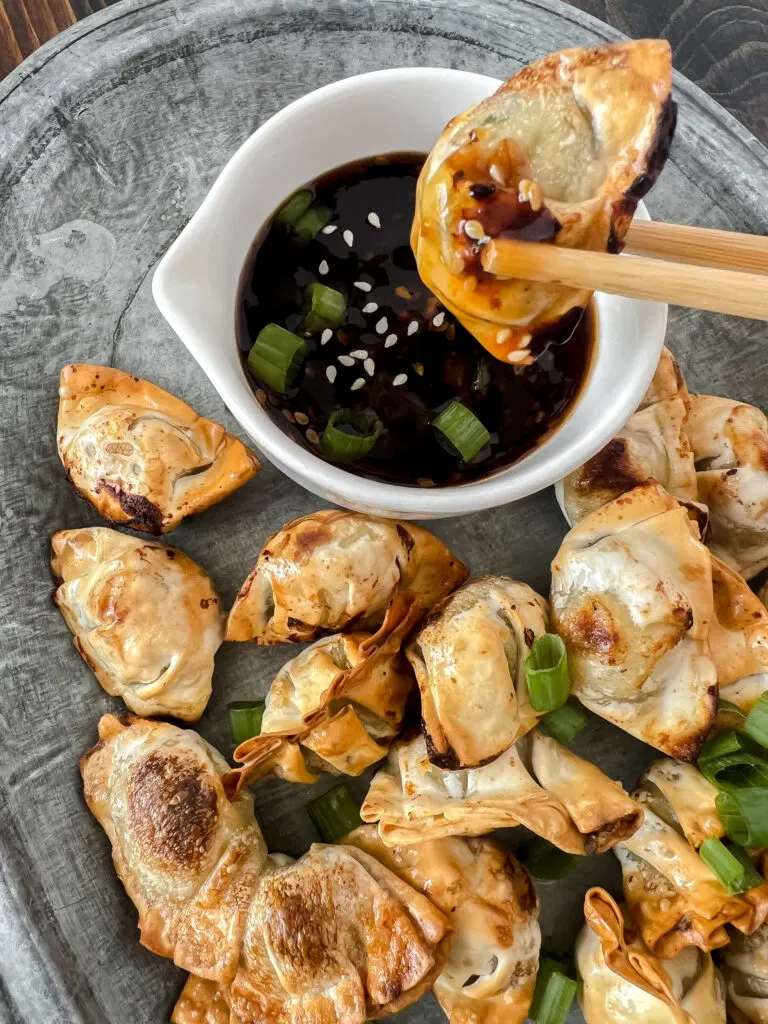 What is the best air fryer for cooking frozen mini wontons?
I have both an oven style air fryer from Ninja and a Basket style. I love my double basket air fryer because I can cook more than one item at a time. For these wontons, I prefer the basket style. While the oven style ones are nice for some things, my experience is they aren't the same for things like this. I prefer those for roasting vegetables or cooking meat.
For french fries, wontons, mozzarella sticks or any other frozen treat, I love my Ninja double basket air fryer.
Please note that the link to my air fryer is an affiliate link. These links give you a great price, but they send me a small commission for referring you. Thank you for choosing to buy via these links.
Leave a Star Rating and Review
This recipe is a great way to serve a crowd a yummy treat without a lot of fuss. It's truly one of my favorite air fryer recipes. This is a great football snack and you can be ready for the entire plate to disappear fast! There's no need to get out the deep fryer or have the added calories with snacks like this!
If you try this recipe please leave a rating and review. Often readers will leave helpful tips and share how they got best results. I appreciate your feedback! Enjoy this easy no fuss recipe!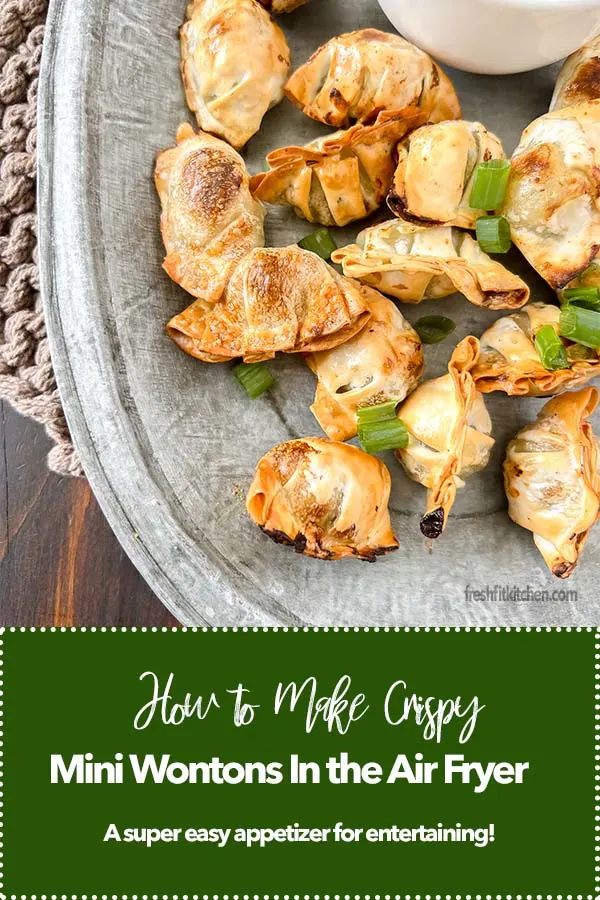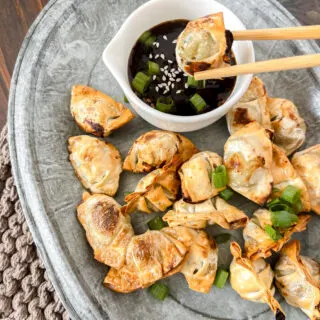 How to Make Crispy Mini Wontons in the Air Fryer
How to make extra crispy and delicious frozen mini wontons in the air fryer. These take 10 minutes or less and are sure to be a crowd pleaser!
Equipment
1 Air Fryer

I like the Ninja Double Basket Air Fryer- see post for link.
Ingredients
20

Frozen Mini Wontons

See recommended brands in post.

Dipping Sauce

See recommended Sauces in post.

Cooking Spray

For spraying wontons and basket to avoid sticking
Instructions
Set air fryer to 375 degrees.

Spray air fryer with cooking spray or olive oil spray. Add wontons in a single layer.

Spray tops of wontons to ensure crispness.

Allow to cook for 8-10 minutes. Shake basket halfway through cooking.

Serve with your favorite dipping sauce.
Notes
Please note that the nutritional info is for 4 wontons and doesn't account for your sauce of choice.
Nutrition
Serving:
4
wontons
Calories:
50
kcal
Protein:
3
g
Fat:
0.5
g