Olive oil, fresh tomatoes, fresh herbs, a little bit of time roasting in the oven and no heavy cream in sight. That's the magic of this Healthy Homemade Creamy Tomato Basil Soup Recipe. You won't believe the secret ingredient that makes this dairy-free tomato soup creamy and delicious! This is by far the best tomato soup recipe that I've ever made and I hope it ends up being a favorite of yours too!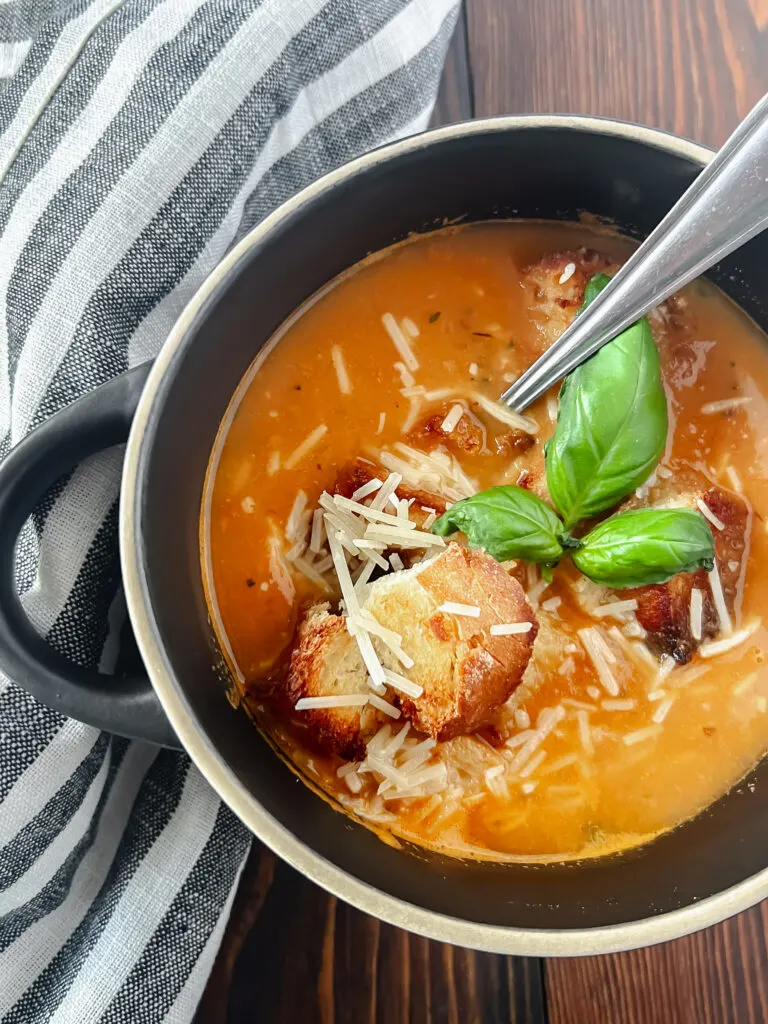 Healthy Homemade Creamy Tomato Basil Soup Secrets
There are a ton of recipes that will recommend canned tomatoes, but this one utilizes fresh. This recipe works with sweet summer ripe tomatoes of all varieties, but year round cherry tomatoes or cocktail tomatoes work great. I find that the acidity of the tomatoes in a canned variety requires that you add sugar or something.
Through roasting we bring out the natural sugars and therefore we don't need to counter balance the acidity like we do with canned.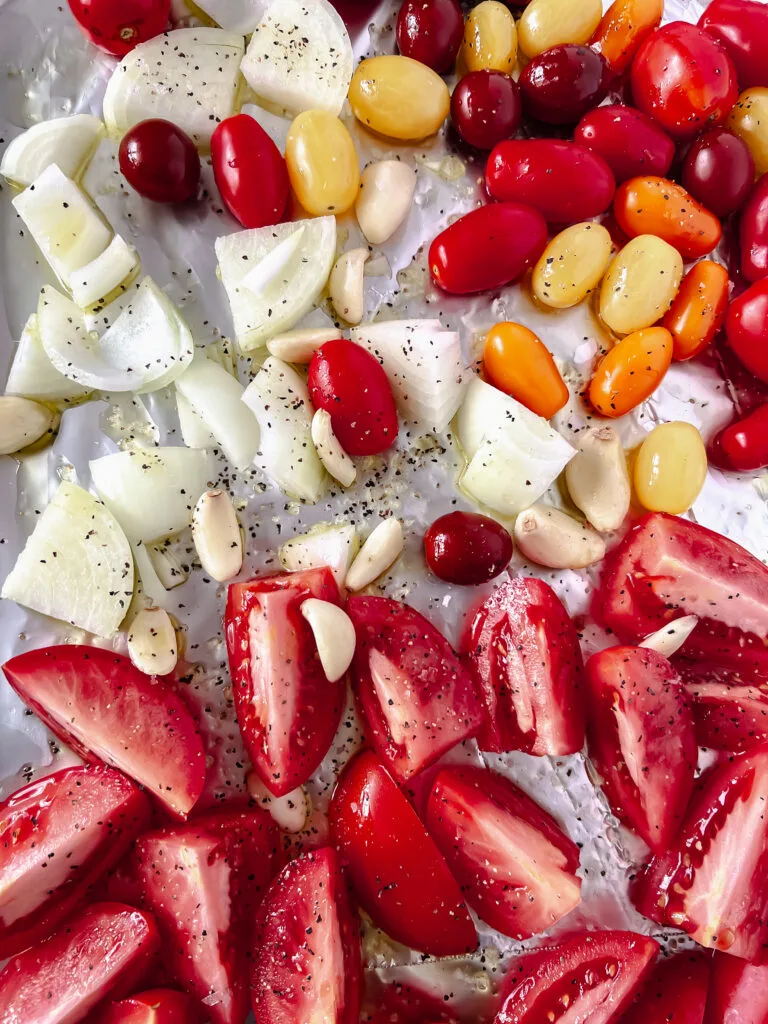 While a lot of creamy tomato soup recipes use actual cream or coconut milk, this recipe uses white beans. Canned white beans add body and texture. They also add FIBER which is a major nutrition powerhouse. This is super healthy tomato soup. Even if you don't like beans, I promise you won't taste them once you blend them up.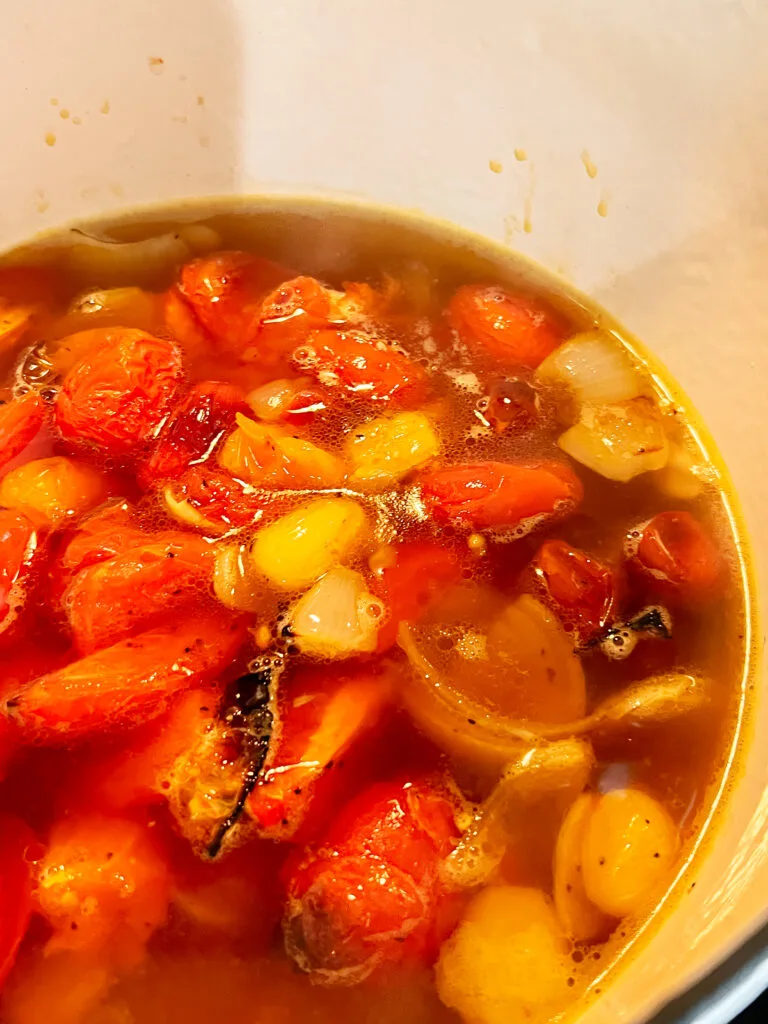 I love an immersion blender for soups because I don't have to transfer it to a blender. They are an affordable kitchen tool you'll love for all sorts of things, but soups especially!
Tomato Soup Substitutions/Additions
I use vegetable broth in this recipe because I wanted to keep it plant based. I also just think it plays nice with the tomatoes, but if you only have chicken broth, go for it because it works just fine!
I also like using onion, garlic and basil in this tomato basil soup, but if you want more sweetness try roasting a few carrots along with the tomatoes. They are a great nutritious addition! I used white canellini beans too, but any bean will do like navy beans. Just make sure they are a white bean because that way they will blend perfectly into the soup. You won't even know they are there!
I didn't set out to make vegan tomato soup, but I wanted to add things that would enhance the nutrition value . The beans are not only a vegan option, but they provide fiber which is really important! Most American adults are deficient in fiber, so add it where you can!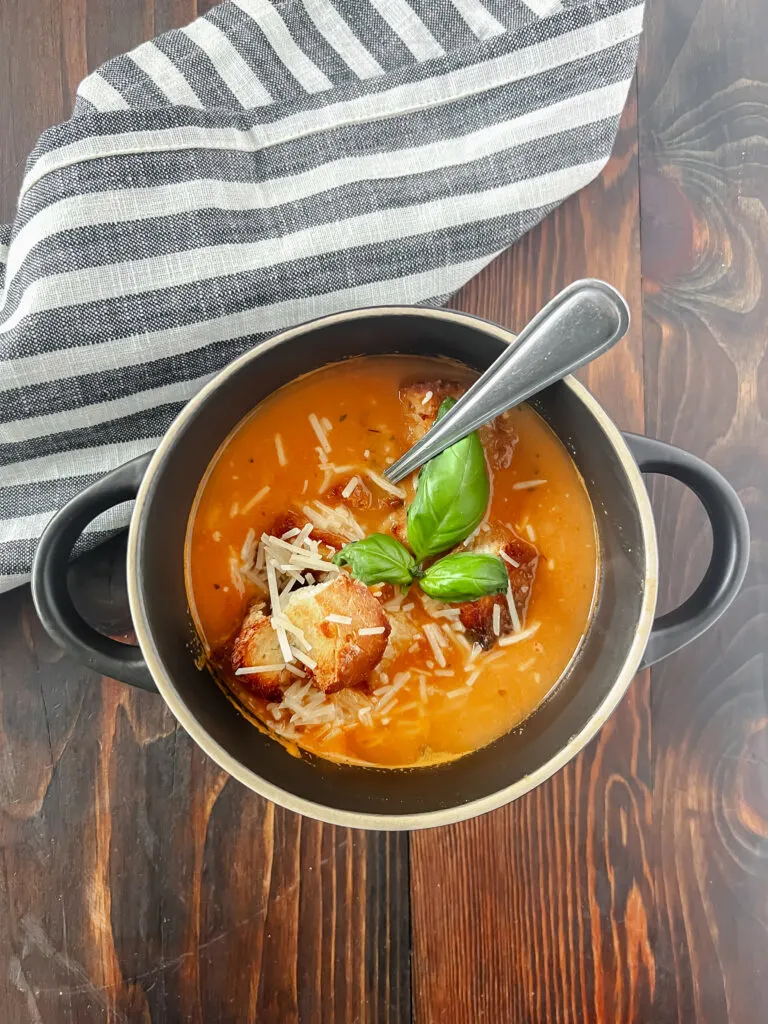 What can I add to tomato soup for more flavor?
This Healthy Homemade Creamy Tomato Basil Soup is very flavorful, but you can add even more flavor to this healthy tomato soup recipe with:
Parmesan Cheese
Crushed Red Pepper
Drizzle of Balsamic Vinegar
Any Fresh herbs you like
Feel free to get creative. These are just a few of the ideas.
What to serve with tomato soup?
The obvious choice is grilled cheese sandwich, but a beautiful green salad or really any kind of sandwich pairs perfectly. The homemade croutons in this recipe are a fabulous addition to a salad as well as this soup!
Soup and sandwich is one of the easiest lunches/dinners you could make!
How to store leftover tomato soup
Store leftovers in an airtight container for 3-4 days. If you'd like to freeze the leftovers, they do freeze perfectly. Just place them in a freezer-safe container. I got these amazing freezer safe containers from Amazon. You can freeze one cup portions and simply pop them out into a ziplock bag for easy reheating! Leftover soup is the perfect meal prep and you'll be glad you have this delicious tomato basil soup on hand!
Please note this is an affiliate link. When you purchase using my link, I make a small commission. Thanks for your support!
Can I make this recipe in the Crock Pot or Instant Pot?
There's really no need. You are roasting the vegetables for ultimate flavor. This just isn't the place for the crock pot or instant pot. You want to have that color and developed flavor from the oven. One of my favorite things about this soup is the flavor that is developed from roasting, so don't skip that.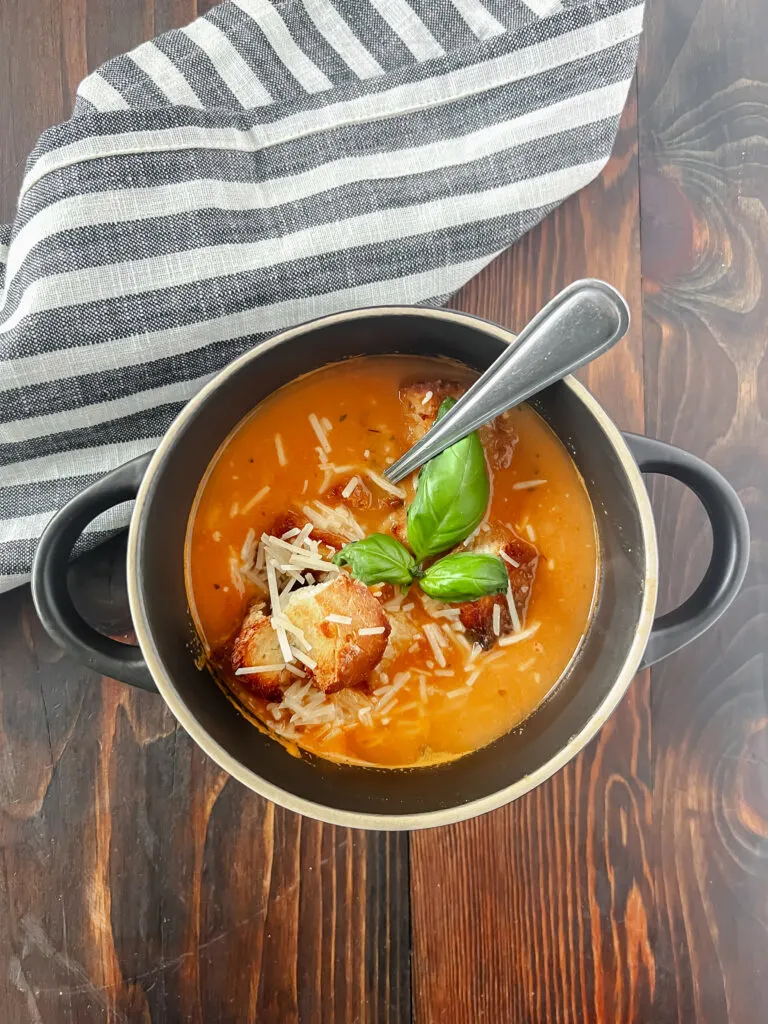 Leave a Star Rating and Review
The best part about this easy tomato basil soup recipe is that it's quick and easy and requires no pre-planning. It's almost as easy as cracking open a can of soup, but far more flavorful and delicious. Winter is the perfect time to share this one because we are all wanting to warm up this time of year. At the same time, when summer tomatoes are at their peak, you'll be able to enjoy it too. I hope it becomes a go to for you and your family.
Good Tomato soup, good ingredients and a flavor profile that can't be beat! Leave a star rating and review below and thank you for stopping by!
Pin for Later!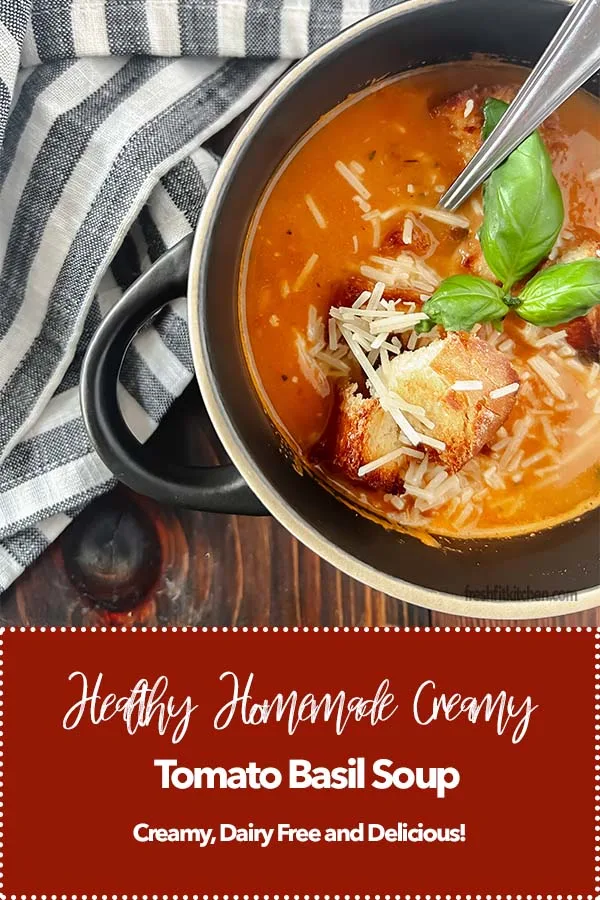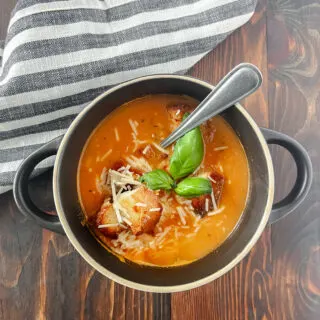 Healthy Homemade Creamy Tomato Basil Soup Recipe
A delicious tomato basil soup recipe that is dairy free and packed with fiber. A secret ingredient in this tomato basil soup makes it a nutrition power house and adds creamy texture we all love!
Ingredients
16

ounces

Tomatoes

Cherry, cocktail and plum tomatoes all work well.

1

medium

Onion

Quartered

5

cloves

Garlic

leave whole

2

tsp.

Salt

1/2

tsp.

Pepper

15

ounces

Cannelini Beans

Navy beans are also ok- drain them

1/2

cup

Basil Leaves

I prefer fresh- dried is okay in a pinch, but be careful as it's stronger than dried. Add to taste.

1/2

tsp.

Crushed Pepper

Optional

4

cups

Vegetable Broth
Croutons
6-8

slices

Sourdough or Italian Bread

2

tbsp.

Olive Oil

1

tsp.

Salt

1/4

tsp.

Pepper
Instructions
Preheat Oven to 400 degrees- Add tomatoes, onion, and garlic to a sheet pan. Drizzle with olive oil. Add salt and pepper and toss together. Roast for 20 minutes or until the edges are golden. Do not burn the garlic.

16 ounces Tomatoes,

1 medium Onion,

2 tsp. Salt,

1/2 tsp. Pepper,

5 cloves Garlic

Meanwhile add the 4 cups of vegetable broth and the Cannelini beans to a large pot. Place it over medium heat. Allow to heat up while vegetables roast.

4 cups Vegetable Broth,

15 ounces Cannelini Beans

When vegetables are roasted, transfer them to the pot and add in basil leaves, crushed red pepper (if using). Blend with an immersion blender until smooth or transfer to a regular blender. Be careful to vent the lid and do not fill the blender entirely if you must do this. Hot liquids in a blender can explode.

1/2 cup Basil Leaves,

1/2 tsp. Crushed Pepper
Croutons
Toss 2 tbsp. of olive oil, bread (sliced into one inch cubes) , salt and pepper onto a sheet tray.

6-8 slices Sourdough or Italian Bread,

2 tbsp. Olive Oil,

1 tsp. Salt,

1/4 tsp. Pepper

Roast at 400 for 10-11 minutes or until golden.
Notes
Please note that soup nutrition info doesn't include croutons. Type of bread used will have a major influence on calories etc.
Also note- some have said they had a hard time blending the beans in. You will surely not have this problem if you are using an immersion or high powered blender (think ninja pro, vitamix, nutribullet.) The beans should be soft and very easy to blend right into the soup. Traditional blenders that aren't of high quality will struggle with this recipe or any requiring a true puree.
Nutrition
Calories:
109
kcal
Carbohydrates:
15
g
Protein:
6
g
Fat:
1
g