This easy lasagna casserole recipe is the perfect recipe for a weeknight or the weekend! Busy nights don't have to mean you can't get good nutritious comfort food on the table! My Easy Healthy Lazy Lasagna Casserole Recipe will fill in all the nutrition with carbs, protein, fats and it's like a big hug! A one pan plan when you get home on those chilly winter nights and just want to relax!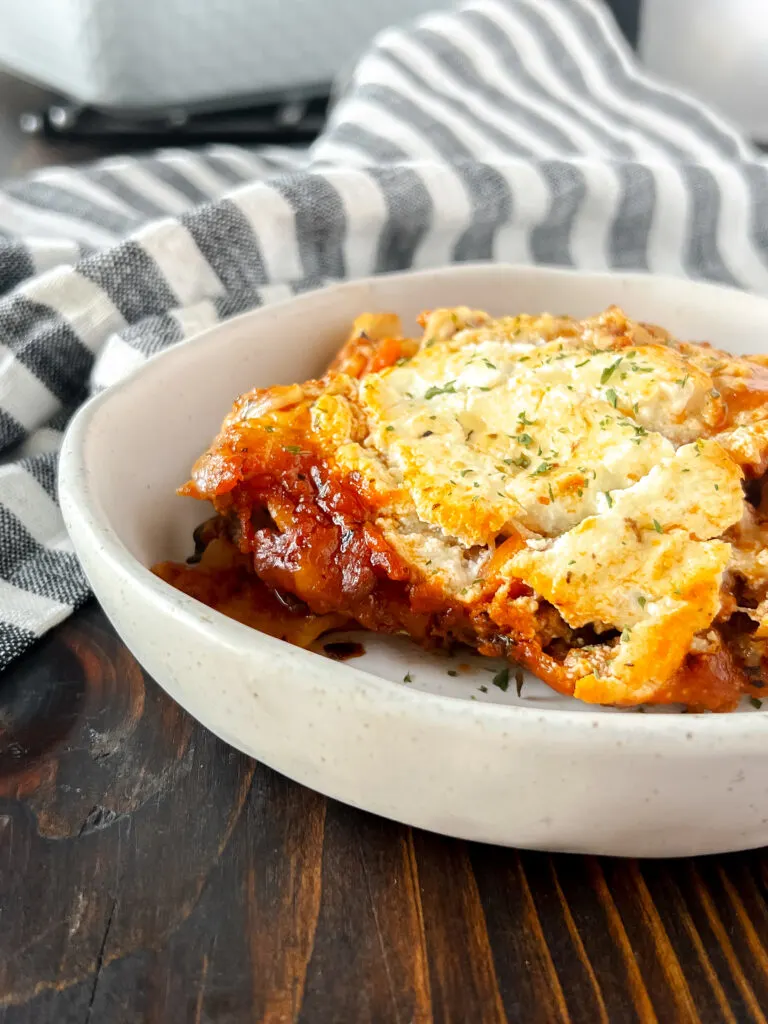 Easy Healthy Lazy Lasagna Casserole Recipe
We lighted up this recipe using part skim mozzarella cheese, parmesan cheese, part skim ricotta cheese, ground turkey and with only one layer of cheese, you're really cutting down the fat. Regular lasagna has ltos of cheese!
The pasta sauce is up to you. Use anything that you use as spaghetti sauce! I love Rao's brand, marinara sauce but there are so many good ones!
I make this in a 9×13 casserole dish, but any large casserole dish will work. The size doesn't matter so much as long as it fits nicely in the dish. A really large skillet that you can transfer to the oven works too. The main them of this recipe is NO STRESS! It's a use what you have, don't worry about it kinda thing! A truly easy recipe.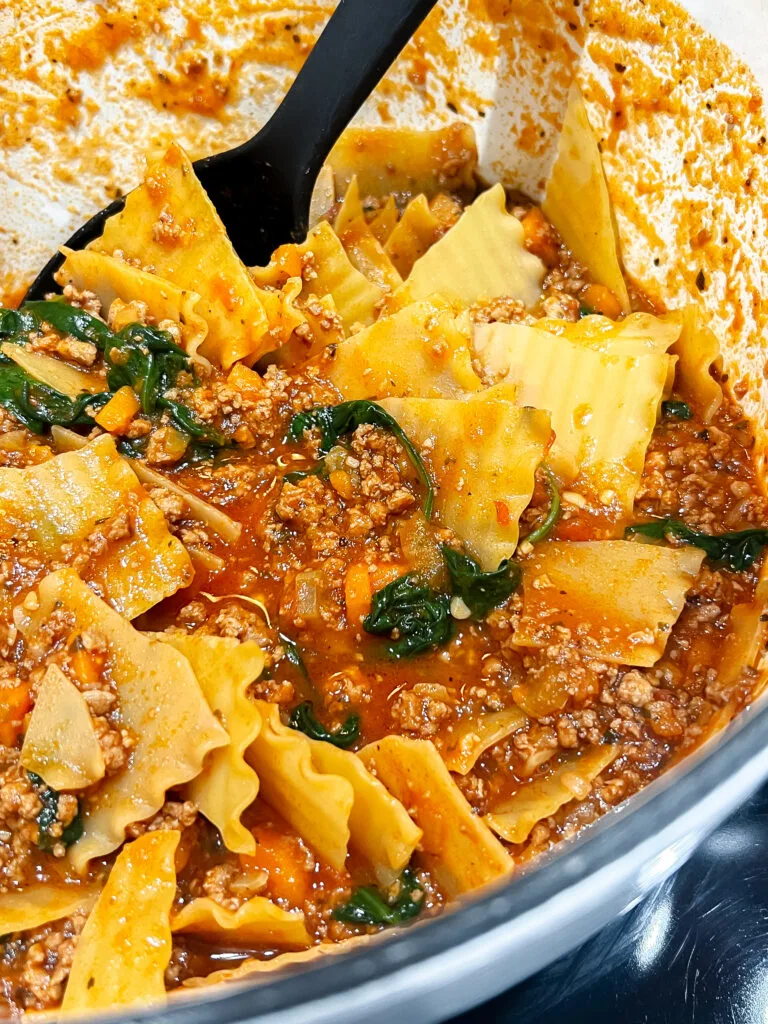 Easy Healthy Lazy Lasagna Casserole Recipe Substitutions
I used ground turkey in this recipe, but Italian sausage, lean ground beef, ground pork or ground chicken are all acceptable choices. Ground turkey , chicken or lean ground beef of course are lighter options.
You can also make this recipe vegetarian by just not putting meat in your sauce. Zucchini, eggplant, bell peppers and mushrooms are great choices to bulk things up!
Italian seasoning can stand in for the Oregano so if you don't have it, no worries! I used both garlic powder and garlic cloves, but feel free to sub in garlic powder if you don't have any fresh.
For the noodles you can really use anything, but for lasagna noodle casserole, I like to stick with lasagna noodles.
Even when you don't layer them, they tend to stick together nicely and create that same ability to take a slice. If you use rigatoni noodles or medium shells, it's just more like baked pasta. However, feel free to use what you have! I just wouldn't use something small like elbow noodles.
Those won't cook to al dente the way lasagna noodles or thicker noodles will. You can use boil or no boil noodles for this recipe. The best part. You won't need to worry about a large pot or water!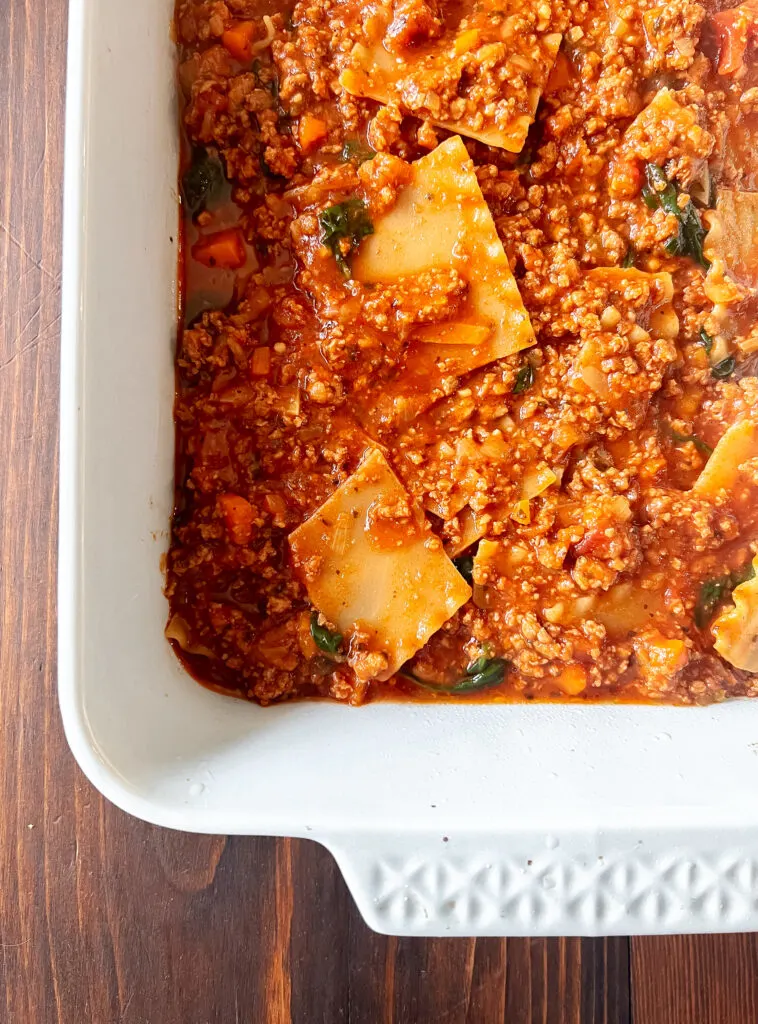 Is lasagna better with ricotta cheese or cottage cheese?
I prefer my lasagna with ricotta cheese. It's a bit drier than cottage cheese so it just works better. If you are going to use cottage cheese for the protein hit it brings, I'd go with a brand that's drier. Good Culture is one of my favorites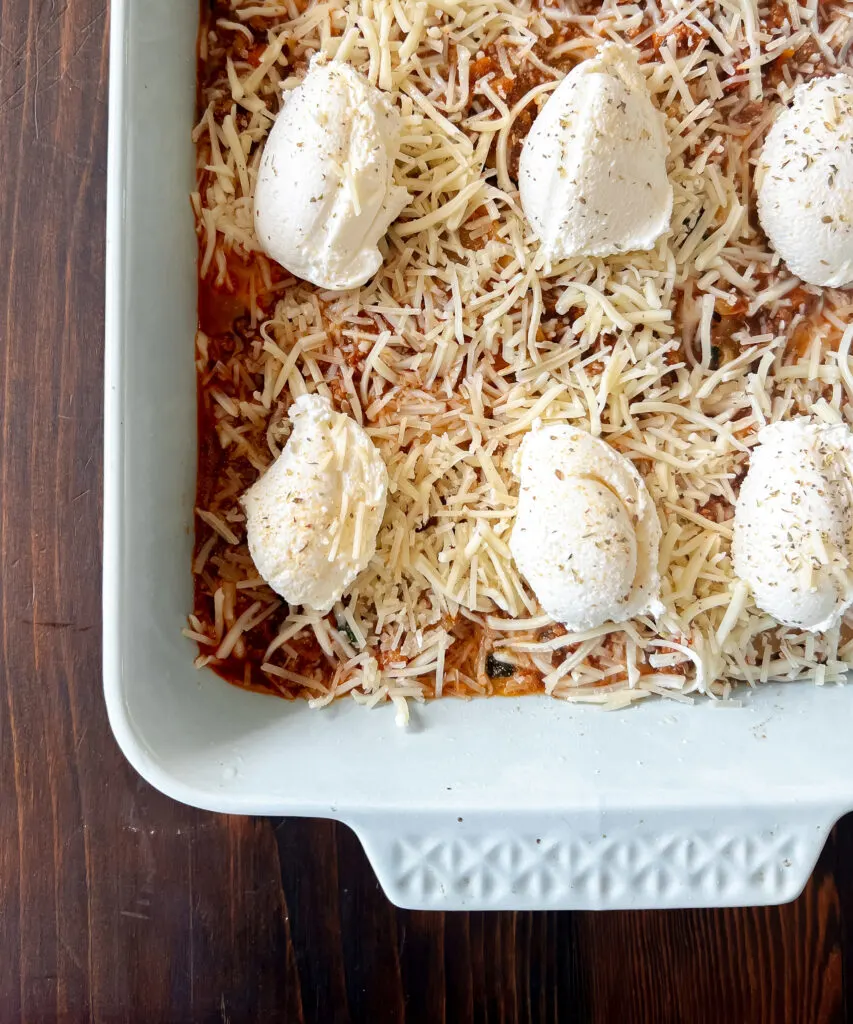 What is the difference between a casserole and regular lasagna?
Honestly? Nothing. In this case I'm calling it a casserole because you aren't doing the neatly layered thing. You are really just doing a dump and go thing as casseroles go. If you think about it though, a lasagna is just a very neat casserole!
This dish has all the makings of a traditional lasagna recipe, it's just easier!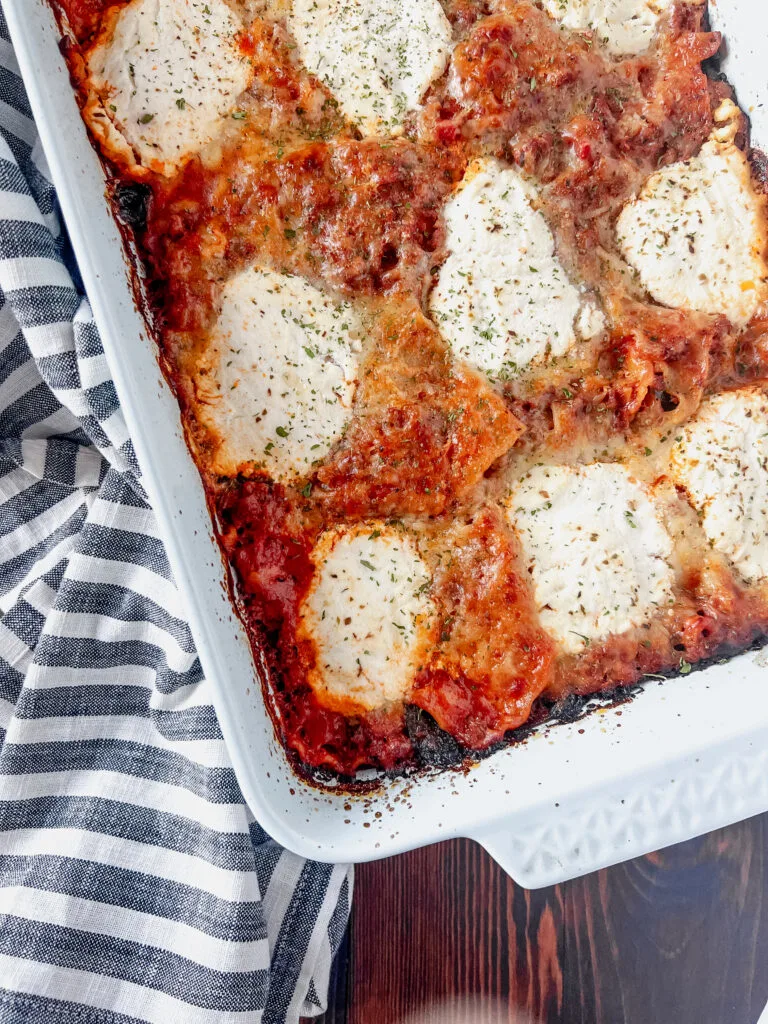 Can I make this casserole ahead of time?
You can definitely put together Easy Healthy Lazy Lasagna Casserole Recipe ahead of time. It's the perfect meal prep or dish to take to a friend! It reheats perfectly the next day! You can easily throw this together and leave the unbaked casserole in your fridge until you're ready to bake it!
Can I freeze lasagna casserole?
Lasagna in general is the perfect freezer meal. You can freeze the casserole unbaked. Just wrap it tightly in foil so no air can get to it. Take it out of the freezer 24 hours before you want to enjoy it. Bake for 1 hour covered with aluminum foil and then remove the foil and bake another 15-20 minutes until heated through. Taking it from frozen may mean you need to bake a little longer.
What herbs work in lasagna casserole?
To keep this super simple, I used dried herbs. I truly prefer dried oregano over fresh. Fresh basil is the perfect garnish. Fresh parsley works great too! The cheese mixture is nicely complimented by herbs, so use what you have and use what you like! Herbs add tons of flavor and that's why I love them!
What to Serve with Lasagna Casserole
Homemade lasagna is always best served with garlic bread, a nice fresh green salad or bread sticks. If you're looking for some easy healthy bread sticks, check out my Garlic Herb and Cheese breadsticks. They are super easy and phenomenal!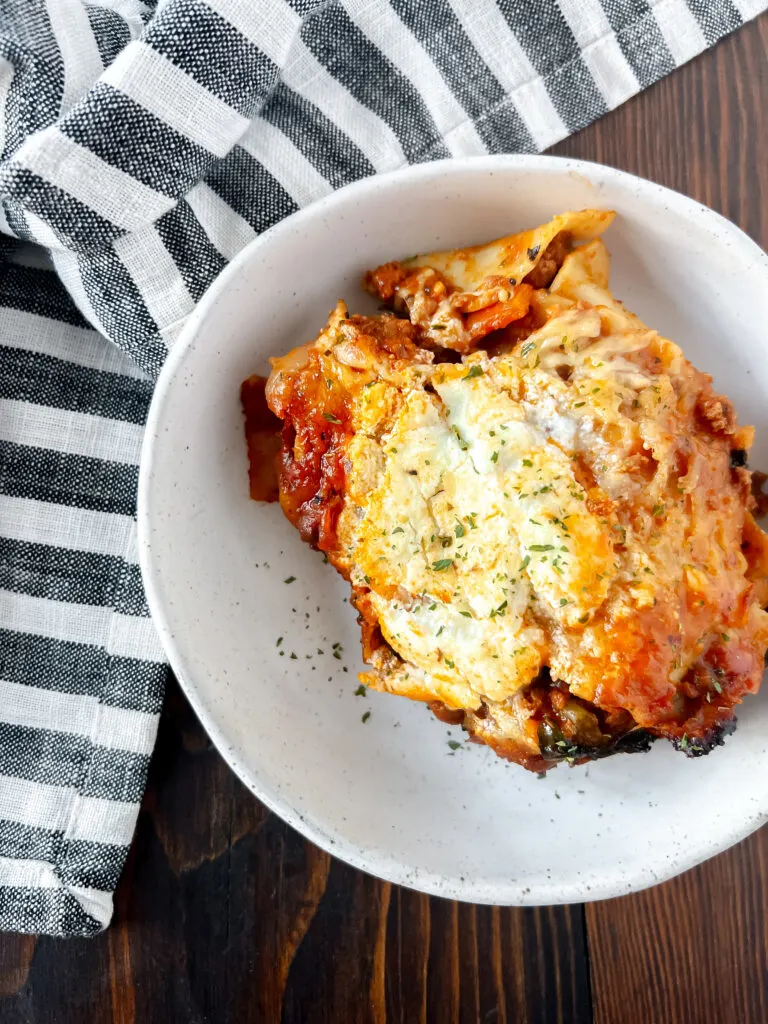 Leave a Rating and Review
I am confident your whole family will love this recipe. It's kid friendly, macro friendly and just so versatile that you can replace a lot of the ingredients with whatever you have on hand. This easy lasagna recipe will become a go to meal! If you make this please leave a comment and review below. I love hearing how the recipe went and other readers love to see your reviews. It means a lot .
Pin for Later!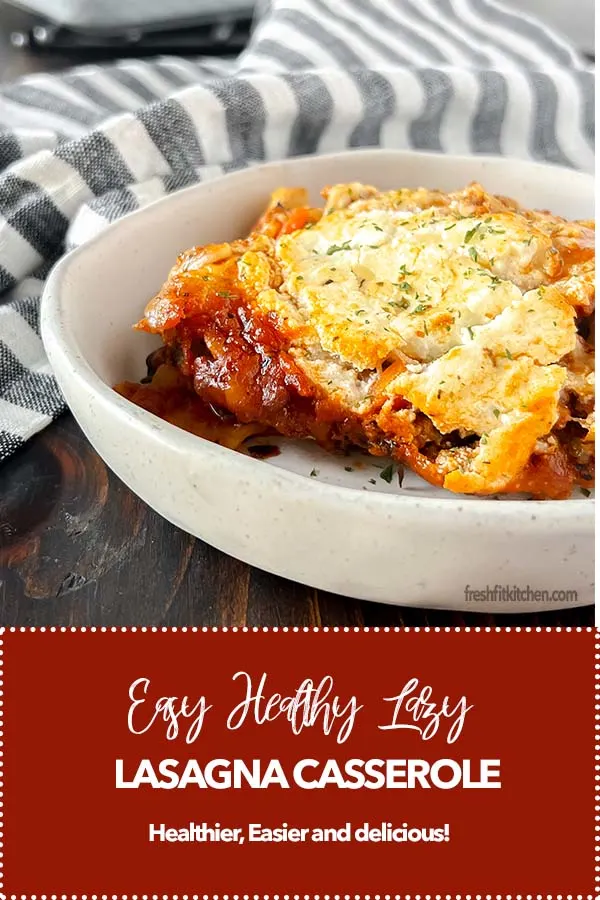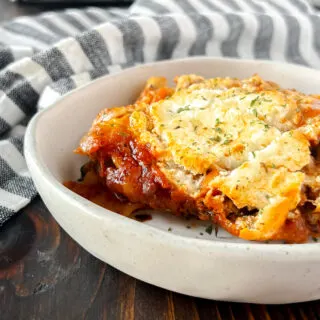 Easy Healthy Lazy Lasagna Casserole Recipe
This Easy Healthy Lazy Lasagna Casserole Recipe has all the flavors of traditional lasagna without boiling the noodles or layering anything.
Ingredients
10

Lasagna Noodles

Oven ready or regular are fine.

24

ounces

Pasta Sauce

I like Rao's- 22-26 ounces is fine. Jars vary.

1/2

cup

Water

1

lb.

93/7 Ground Turkey

or Extra Lean Ground Beef

1

tbsp.

Extra Virgin Olive Oil

1/2

cup

Onion

Finely chopped

1/2

cup

Carrot

Finely Chopped

1

tbsp.

Garlic

Minced

1/2

tbsp.

Garlic Powder

1/2

tbsp.

Onion Powder

1

tsp.

Salt

1/2

tsp.

Black Pepper

1/2

tsp.

Crushed Red Pepper Flakes

3

cups

Baby Spinach

1

cup

Part Skim Mozzarella Cheese

1/4

cup

Parmesan Cheese

shredded

10

ounces

Part Skim Ricotta Cheese

1/2

tsp.

Dried Oregano
Instructions
In a large dutch oven drizzle 1 tbsp. Olive Oil and heat pan under medium heat. When the oil is hot add the carrots, onions, garlic and turkey (or beef). Sprinkle garlic powder, onion powder, salt, pepper and crushed red pepper over turkey.

1 lb. 93/7 Ground Turkey,

1 tbsp. Extra Virgin Olive Oil,

1/2 cup Onion,

1/2 cup Carrot,

1 tbsp. Garlic,

1/2 tbsp. Garlic Powder,

1/2 tbsp. Onion Powder,

1 tsp. Salt,

1/2 tsp. Black Pepper,

1/2 tsp. Crushed Red Pepper Flakes

Chop the turkey and mix together with the vegetables and seasonings until the turkey is browned and cooked through. Add in Pasta Sauce and add a half cup of water to the pasta sauce jar. Shake the jar and pour it in. Simmer your sauce for 30 minutes. You could also simmer it on low for couple of hours. It will only get better!

24 ounces Pasta Sauce,

1/2 cup Water

Break your lasagna noodles into 2 inch pieces. This does not have to be perfect. Stir your spinach into your sauce and allow it to wilt. Add lasagna pieces and stir.

10 Lasagna Noodles,

3 cups Baby Spinach

Preheat Oven to 375 Degrees. Spray a 9x13 baking dish with cooking spray or olive oil spray. Pour the pasta mixture in. Sprinkle on mozzarella cheese and Parmesan cheese. Dollop the ricotta cheese on top in 9 dollops evenly spaced over the lasagna. Sprinkle with oregano. Cover and bake for 40 minutes covered. Remove the cover and bake another 15 minutes. Allow to rest 15 minutes and serve!

1 cup Part Skim Mozzarella Cheese,

10 ounces Part Skim Ricotta Cheese,

1/2 tsp. Dried Oregano,

1/4 cup Parmesan Cheese
Nutrition
Calories:
442
kcal
Carbohydrates:
41
g
Protein:
30
g
Fat:
16
g