It's one of those weekends where I am ashamed to admit that I had more carbs than protein. Far too many sweets were consumed. I am literally craving healthy food. White Bean and Kale Detox Soup is just a giant bowl of yummy good for you food. White beans provide fiber and protein, and the greens just elevate the health factor to level 10. I mean I love Kale. That is why you'll find all kinds of Kale recipes on the blog. It holds up well for anything and especially in slowly simmered soups and stews.
This soup gets better the longer it cooks, but realistically you can have it done and on the table in about 30 minutes. If you can stand it, you should probably let it slowly simmer up to an hour or two. One of the secrets to the amazing flavor is a Parmesan cheese rind. Yes, do not throw these away. They are perfect for slowly simmered pasta sauces and soups. It adds a delicious creamy flavor to the broth. If you're Vegan, you can leave it out. It's not absolutely necessary, but it is incredibly tasty.
I like to think of this recipe as a reset meal. It's a way to bring your body off the sugar and into a place where healthy foods are enjoyable again. Everyone has a weekend or a vacation that results in a few too many sweets. The important thing is that you get back on track with your healthy habits as quickly as possible. Sugar is a powerful thing, and if you let it go too long your body will crave it.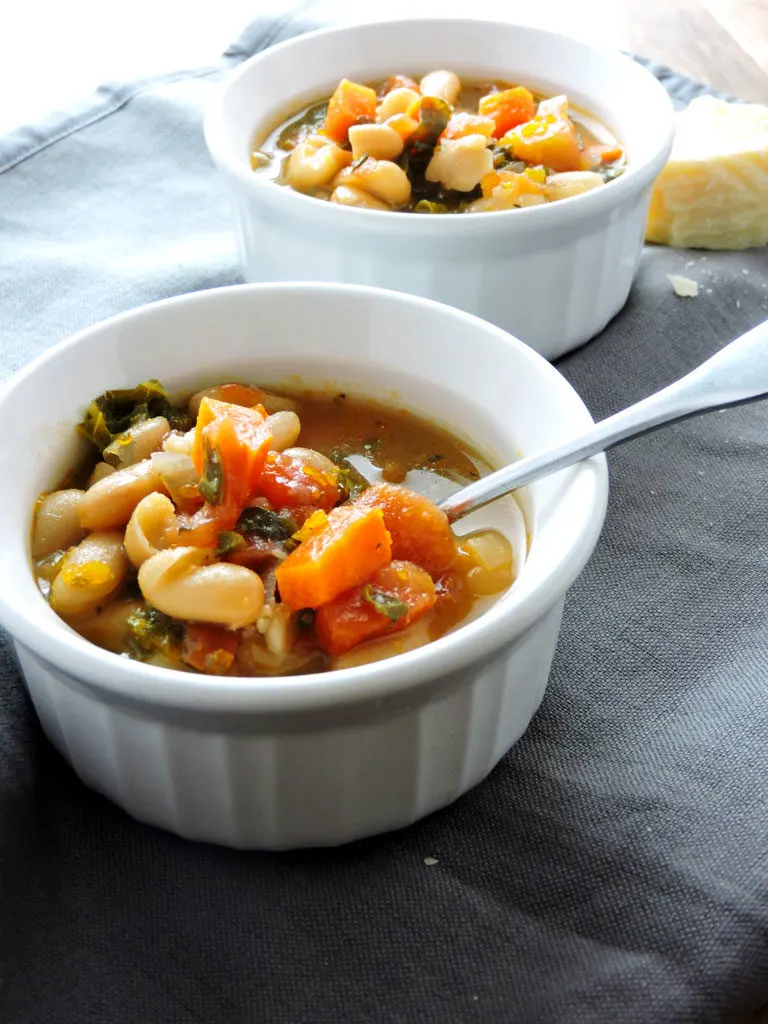 So- reset, reboot, and curl up with a bowl of this White Bean and Kale Detox Soup so you can remind your body how amazing healthy feels.
Save
Save
Save
Save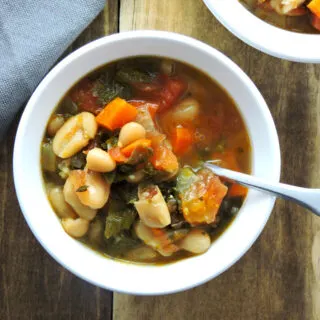 White Bean and Kale Detox Soup
Ingredients
1

Carrot, finely diced

1

Medium Onion, finely chopped

1

Large Garlic Clove, finely minced

2

tsp.

dried italian seasoning

1/2

tsp.

Crushed Red Pepper (optional)

14.5 oz.

Diced Tomatoes, canned

14.5 oz.

Cannellini Beans, canned

4

cups

Vegetable Stock

2

cups

Kale, finely shredded

salt, to taste

1

parmesan rind
Instructions
Drizzle an even layer of olive oil in a heavy bottomed soup pot or dutch oven. Heat over medium heat.

Add the onion, garlic, carrot, Italian Seasoning, and crushed red pepper (if using). Stir and cook for a few minutes until vegetables begin to soften.

Add the diced tomatoes, drain and add the cannellini beans. Then, add the 4 cups of vegetable stock and kale.

Season with salt to taste. Sink the Parmesan Rind (if using) down into the broth and bring the soup to a boil. Reduce to a low simmer, cover, and cook for 20 minutes or up to 1 hour. The longer you are able to allow the soup to simmer, the more flavorful it becomes.
Notes
A light sprinkle of Parmesan Cheese is delicious. If you're vegan, you can leave this out.