Pretty soon those fall temps will hit and you'll want to put a big pot of something on the stove and just stay cozy. Lazy Sunday mode engaged. I have the Best Beef Stew Recipe (Stove Top or Instant Pot) and believe me you'll be making it during all of these chillier months. It's made with simple ingredients and it's perfect every time.
The Best Beef Stew Recipe (Stove Top or Instant Pot) Tips
I know people love these dump and go recipes, but trust me when I say that browning your stew meat is crucial to this recipe. When you brown the meat you end up with flavor on the bottom of the pan. You also render the fat. Stew meat is often made from chuck roast. These cuts of meat are tough and need to render down to be tender. The browning and then the braising that this recipe uses will yield very tender meat.
Make sure you don't over use the olive oil. To get a sear on your meat, you need space between each piece of meat and just a light coating of oil on the pan. You'll need to work in batches.
A large dutch oven is a great tool for browning your meat because when you add your liquids all that flavor will come up off the bottom of the pot. Even if you opt to make this recipe in the Instant Pot (or pressure cooker) don't skip this important step. Those browned bits are flavor.
This easy beef stew recipe is served over mashed potatoes or polenta. This is how I love to make it, but if you want it to be truly one pot, you could cut up some russet potatoes, yukon gold potatoes or red potatoes and add them right into the stew. i just prefer the stew over creamy potatoes or polenta. it's a texture thing.
I have an awesome mashed potato recipe and a good cauliflower mashed potato recipe if you want to shave some carbs off.
I wanted this recipe to just be easy and include basic ingredients, but if you want to fancy it up, after you brown your meat, you could deglaze your pan with a nice red wine like Cabernet Sauvignon. Any dry red wine will do. If you like a saltier bite and unami flavor, then add in a splash (go easy) of Worcestershire sauce. This recipe is meant to provide a basic road map. Adjust to your tastes.
With one of these additions you can level up this classic beef stew recipe.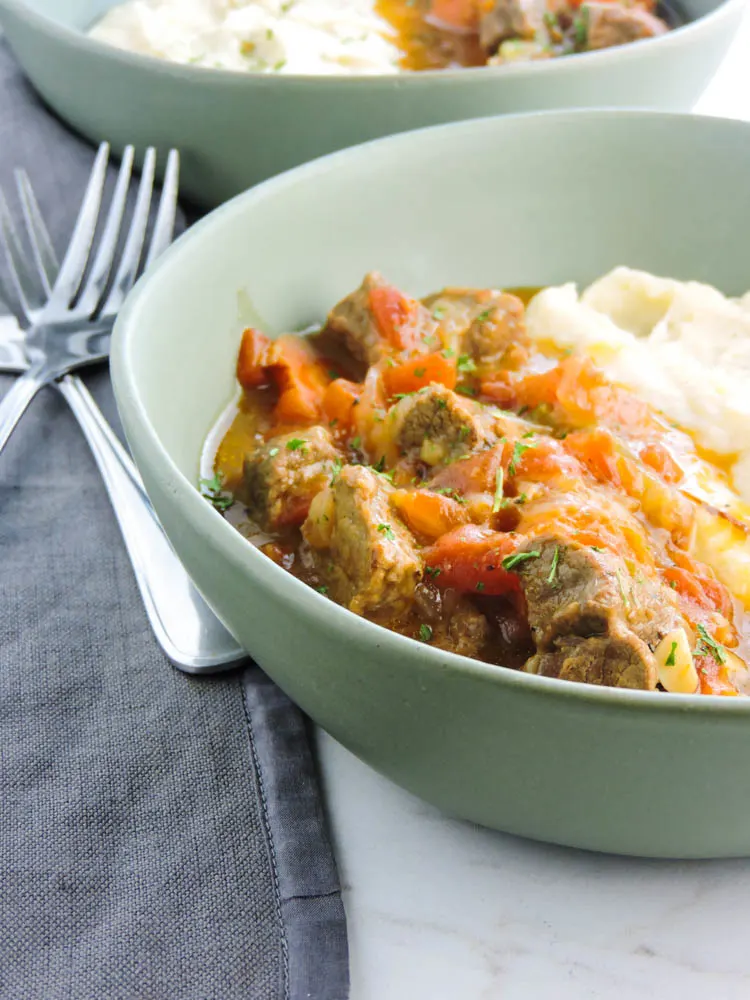 Recipe Substitutions
There really aren't a lot of subs you can make here. Beef stock or beef broth is fine. Feel free to add other root vegetables so you can use what you have. A different cut of beef can be used, but stick to something like chuck roast, bottom round or the already cut stew meat in your grocery store. This is not the recipe for a super lean piece of beef.
I like actual tomatoes in this recipe, but you could use tomato paste if that's all you have. simply use about 3 tbsp. of tomato paste to add that tomato flavor to the broth.
Green beans or peas would also be a nice addition. Instead of polenta or mashed potatoes, you could serve this over egg noodles. Any fresh herbs you have could easily enhance the flavor and help brighten things up at the end. There are so many different ways to change this up, that it would be hard to cover them all here. Hopefully I gave you some good ideas!
Items I used for this recipe
Here are the items I recommend for this recipe. These are affiliate links. I make a small commission when you purchase using the links. You get the same great price you'd normally get.
I love this affordable dutch oven and of course the instant pot for this recipe.
Storing Leftover Beef Stew
​This is a great recipe to make and freeze for later. You can also store it in an airtight container for up to 3-4 days. If you decide to freeze it, be sure to use a vacuum sealer or a very airtight container because freezer burn is the worst!
Leave a Rating and Review
If you make this flavorful beef stew recipe please leave a star rating and review. Your feedback helps me create other recipes and it helps other readers. I really am proud of this recipe. It's by far the best beef stew recipe in my recipe book and I hope it becomes a family favorite!
When you want comfort food, this is the recipe for sure!
PIN IT FOR LATER!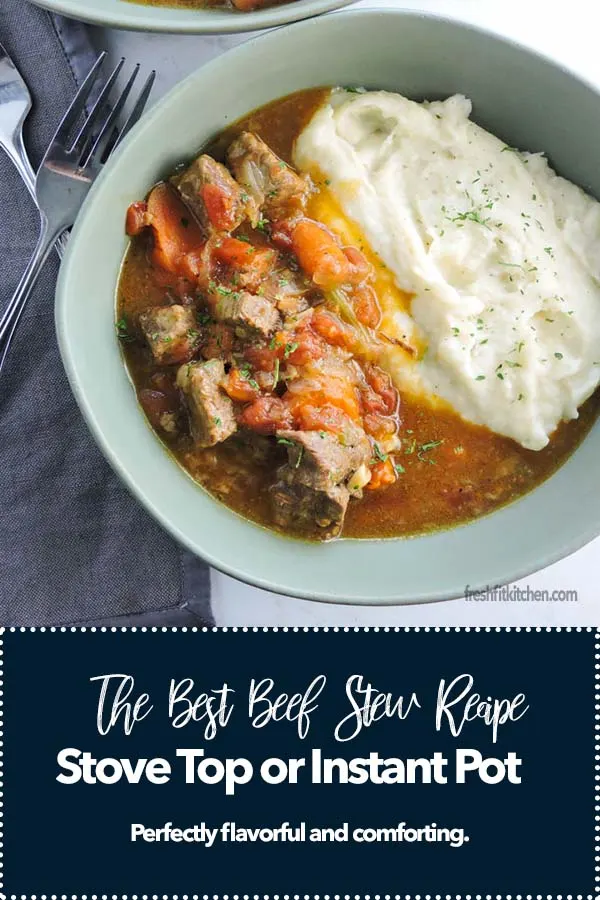 *This post contains affiliate links. I make a commission from items purchased through the links on my website. At no cost to you, it proves a way for me to continue to pay the costs associated with running this website and providing you easy yummy recipes!
This recipe was last updated on 9/3/2023.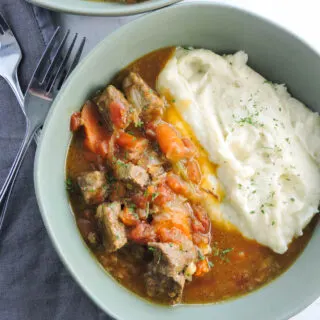 The Best Beef Stew Recipe (Stove Top or Instant Pot)
A beef stew recipe comprised of simple ingredients that can simmer low and slow all day or be made a little speedier in your instant pot.
Ingredients
1.5

lbs.

Stew Meat

cut into cubes; chuck roast or sirloin work best

2

tbsp.

Flour

4

large

Carrots

chopped into 2 inch pieces

1

cup

onion

chopped into 1 inch pieces

3

Stalks

Celery

chopped into 1 inch pieces

3

cloves

garlic

minced

1

tsp.

Dried Oregano

1

tsp.

Dried Basil

2

cups

Beef Broth

low sodium

15

ounces

Canned Fire Roasted Tomatoes

You can use regular, but flavored ones work best.

2

tbsp.

corn starch

mixed with 1/4 cup water

salt

pepper

Olive Oil

for browning the meat

1

Bay Leaf

Remove before serving
Instructions
Toss your stew meat with the tbsp of flour as well as some salt and pepper.

1.5 lbs. Stew Meat,

2 tbsp. Flour,

salt,

pepper,

Olive Oil

Heat a large heavy pot or dutch oven over medium heat. Drizzle with some olive oil. Just enough to cover the pan. When the oil is nice and hot. Add the meat. You will probably have to do this in batches. Your meat needs space so it will brown.

Do not flip your meat until you notice golden edges. Flip to the other side. When all the meat is browned, set it aside. Add your carrots, onion, celery and garlic to the pan.

4 large Carrots,

3 Stalks Celery,

3 cloves garlic,

1 cup onion

Just saute the vegetables a little bit. 2-3 minutes is plenty. Add your meat back in along with the oregano, dried basil, another tsp of salt and 1/2 tsp. of pepper.

1 tsp. Dried Oregano,

1 tsp. Dried Basil

Pour in the beef broth and tomatoes. Add in your Bay leaf. Reduce heat to low and allow to simmer for 2.5 to 3 hours or until the meat is fall apart tender.

2 cups Beef Broth,

15 ounces Canned Fire Roasted Tomatoes,

1 Bay Leaf

When the meat is tender and vegetables are cooked through, mix together your corn starch and water. Increase heat to a gentle boil and add in the corn starch slurry. This will thicken your sauce.

Serve on its own or over mashed potatoes, mashed cauliflower or polenta.
Instant Pot Instructions (for when you don't have time for the stove)
Brown the meat on your saute function.

When the meat is browned, pour in the vegetables, tomatoes, and seasonings.

Cook on high pressure for 40 minutes. I use the stew/meat function on mine. This is just regular high pressure, but it's a preset they provide. Either works fine. No stress!

Quick release and then turn the saute function back on and allow the stew to come to a slow boil. Add in the corn starch slurry to thicken and serve
Notes
Please note that nutrition information is very approximate and only calculates beef stew. This doesn't include if you serve it over mashed potatoes or cauliflower mash etc.
Nutrition
Calories:
394
kcal
Protein:
23
g
Fat:
25
g