When the cooler temps hit, it's time for the root veggies of fall. Those root veggies include one of my favorites, butternut squash. It's sweet, buttery, and it just exudes autumn. This Kale and Roasted Butternut Squash Salad is perfect for a light lunch or as a side on the Thanksgiving table. One of the most important things to do when you're eating healthfully is to eat in season. It's not only cheaper, but tastier.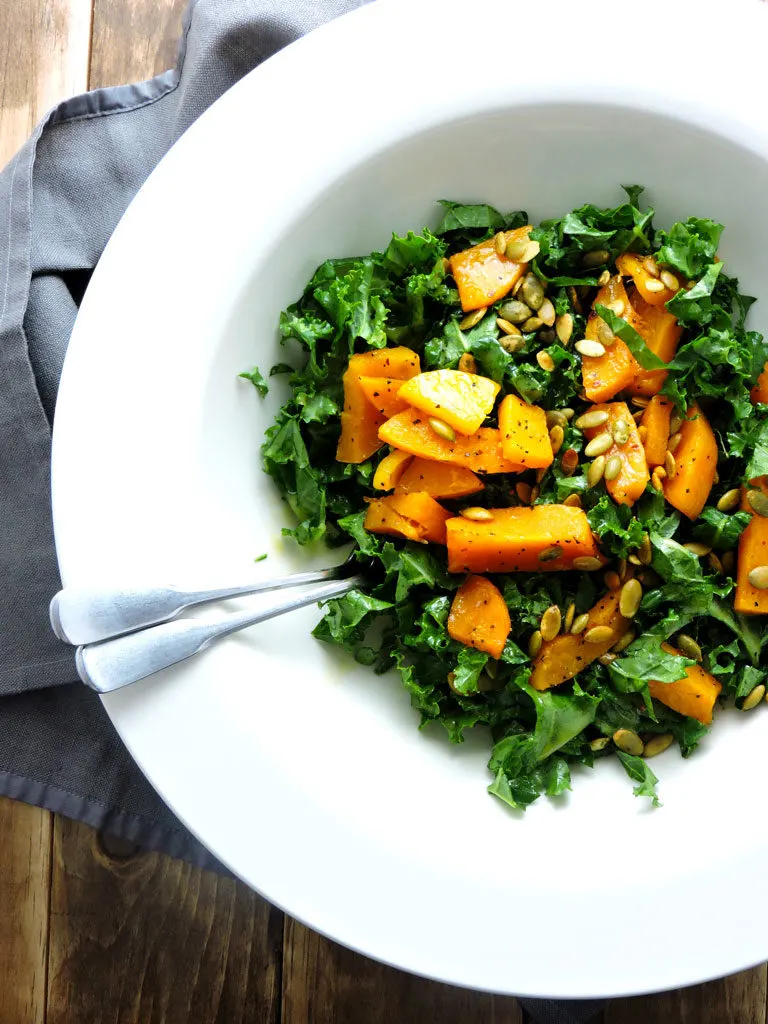 Feel free to get creative with this salad as a base. You could use this same preparation and instead of butternut squash, you could use acorn squash, apples, or sweet potatoes. The hearty kale can take the dressing and the heat from the roasted vegetables without becoming wilted. That's the beauty of kale. It stands up to being dressed before the party, and even the leftovers are delish right out of the fridge.
A perfect salad is all about texture. You need something soft, something crunchy, and the right balance of sweet to tart. Sometimes a salad just marries together perfectly and Kale and Roasted Butternut Squash Salad is a perfect example of that. You want to think through these things when you create a salad on your own. So, I guess you could say what I gave you today is the perfect "practice salad."
Enjoy and Happy Fall my friends!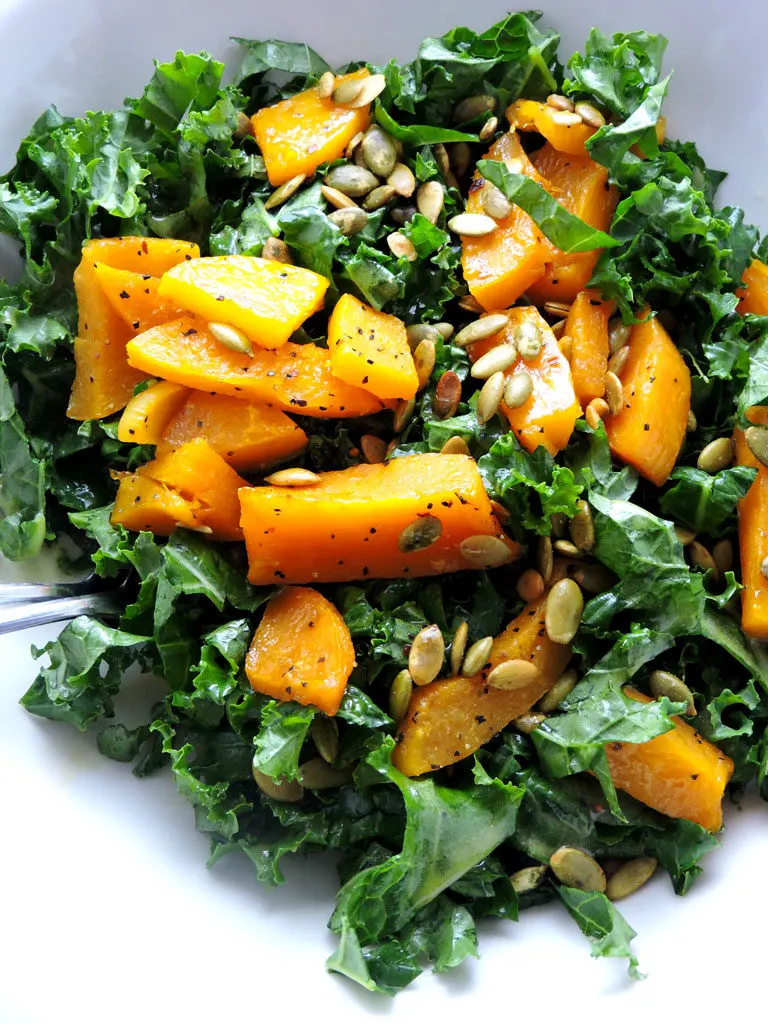 Save
Save
Save
Save
Save
Save
Save
Save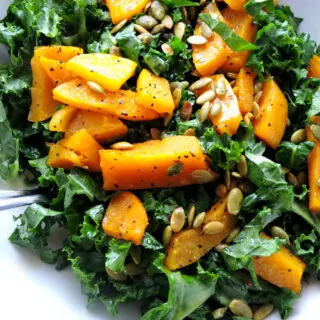 Kale and Roasted Butternut Squash Salad
Ingredients
4

cups

Kale, shredded

2

cups

Butternut Squash

1/4

cup

Roasted Pumpkin Seeds

1/3

cup

Extra Virgin Olive Oil

2

tbsp.

Dijon Mustard

2

tbsp.

honey or maple syrup

1

tbsp.

Lemon Juice

Salt & Pepper to taste
Instructions
Cut the butternut squash into 1 inch cubes. Toss it with olive oil, salt, and pepper. Roast at 425 degrees until golden and soft. Make sure to flip it about half way through.

Wash and dry the kale. Remove the large stems so you just have the leaves.

Roll the kale up and finely shred it. Place it into a large bowl and massage for 30 seconds to 1 minute. Salt and pepper the kale and add just a drizzle of olive oil.

Mix the Dijon, olive oil, honey, salt, pepper, and lemon juice in a mason jar. Shake it up until emulsified.

Add the warm butternut squash to the salad bowl. Toss with the dressing and then garnish with the roasted pumpkin seeds. I purchase my pumpkin seeds already roasted, but you can roast your own if you want.
Notes
Want to keep this recipe vegan? Replace the honey with maple syrup instead. You could also replace the butternut squash with sweet potato.