Broccoli soup is often full of cream and butter. For a soup that has vegetables as a base, it can be very heavy and rich. This Lightened Up Broccoli Soup will leave you feeling light and it's very easy to adapt to a non-dairy diet. The croutons on top are such a nice treat and a little cheese as garnish provides that broccoli cheese flavor without going over board.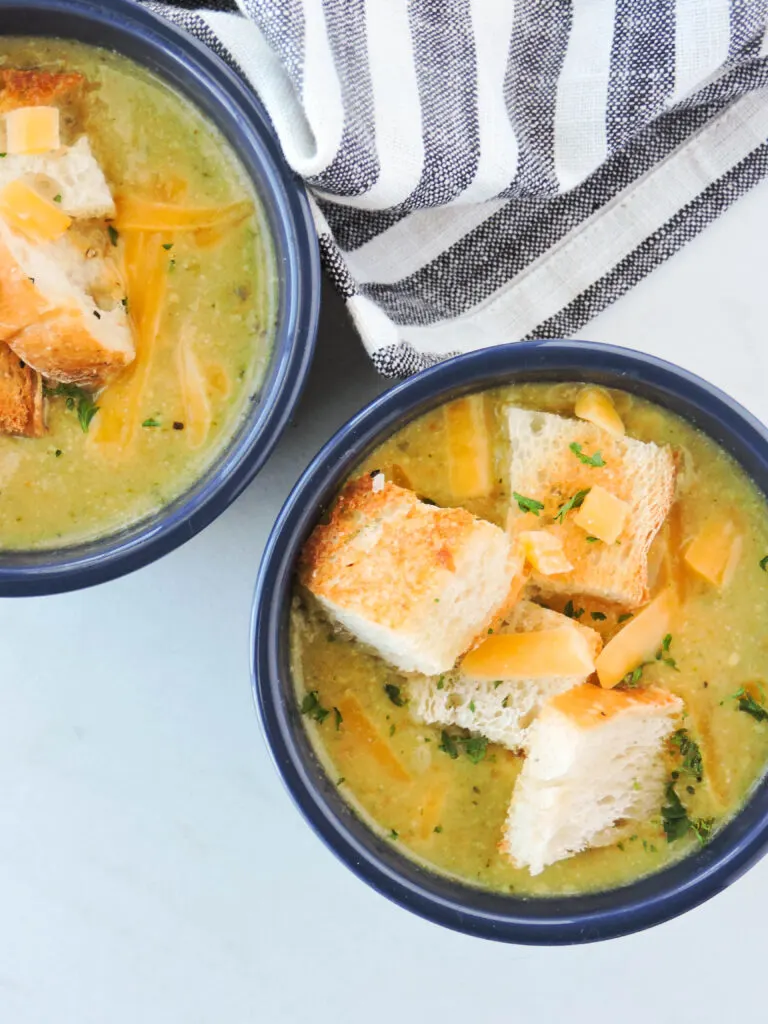 I love broccoli soup, but lactose and heavy amounts of cream are a problem for me. I make this soup using lactose free milk and cheese. If you suffer lactose issues, don't assume anything is off limits. Plenty of dairy companies have lactose free versions. Additionally hard cheeses like cheddar often agree better than soft ones. There are plenty of broccoli soup recipes floating around the internet that use processed cheese product. My digestive system just doesn't like the stuff, so I had to find a way to get that flavor without upsetting my tummy. I think I nailed it. This was a total hit at our house.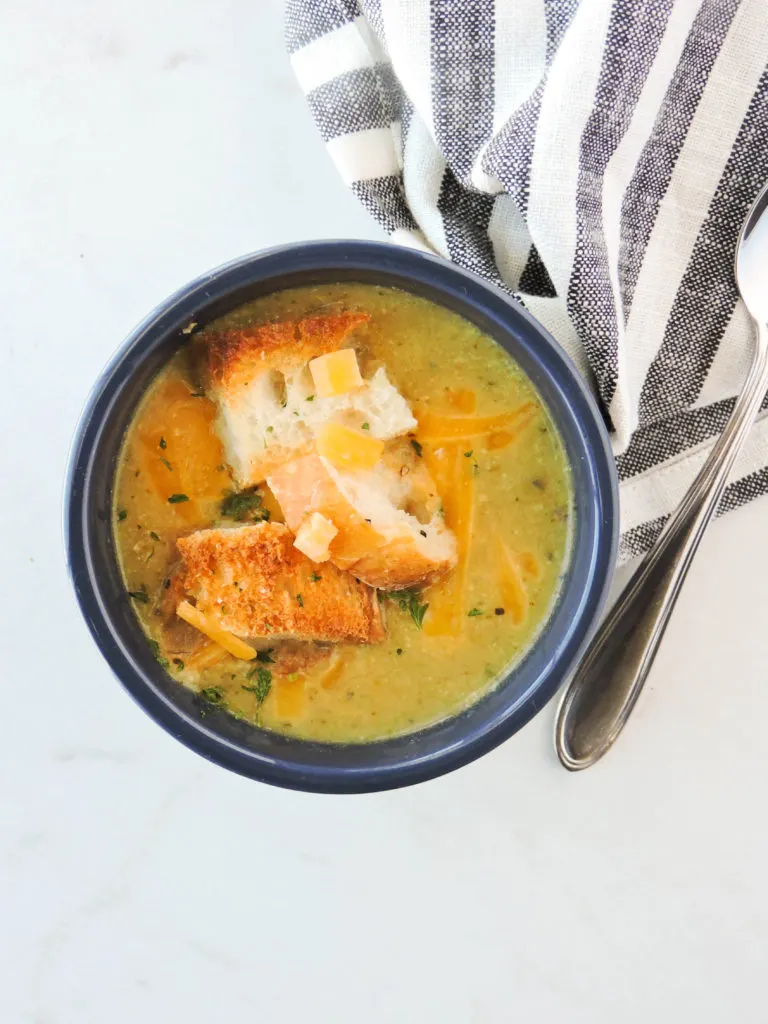 I tackled potato soup last year so it was only fitting that I got this Lightened Up Broccoli Soup on the blog this year. I continue to try and prove that you can enjoy those richer foods with a little tweaking here and there. If an ingredient is an issue for you, don't be afraid to experiment. See the recipe notes on this recipe for advice on taking the dairy out entirely.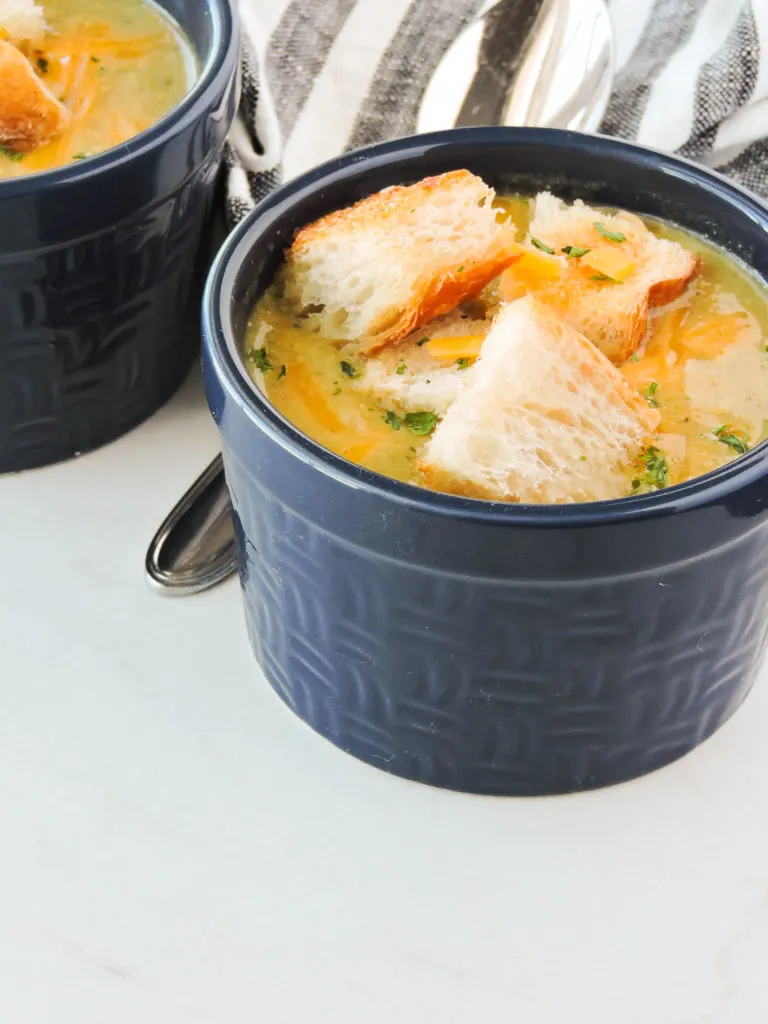 If you make this Lightened Up Broccoli Soup tag me on Instagram @freshfitkitchen. Let me know what you think in the comments!
PIN FOR LATER!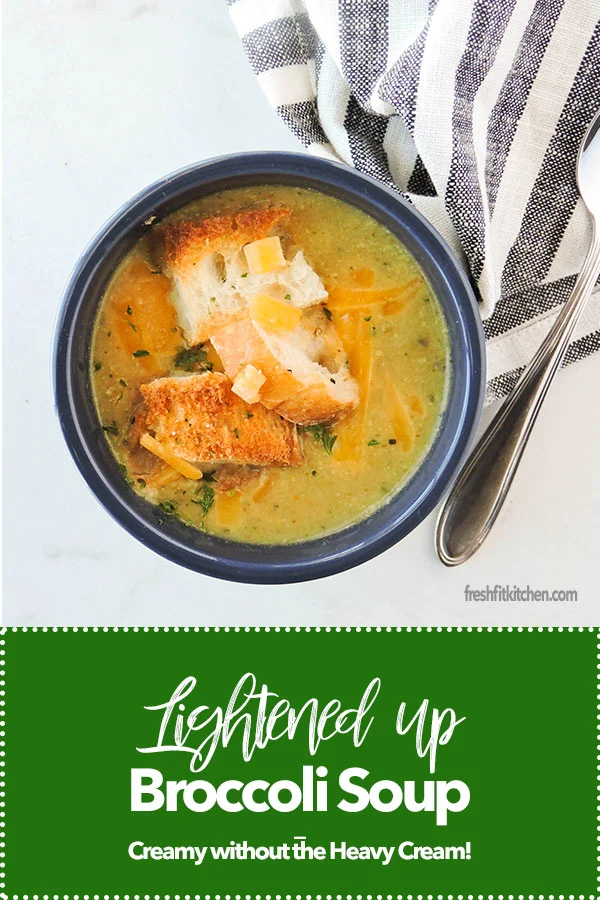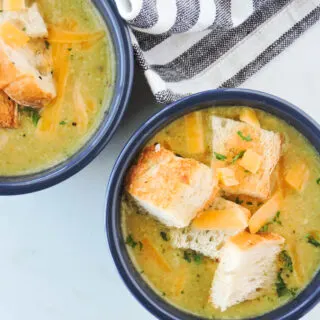 Lightened Up Broccoli Soup
This easy recipe for Lightened Up Broccoli Soup can be whipped up in no time. Broccoli Soup that's creamy and delicious without heavy cream.

Ingredients
1

large

Bunch of Broccoli

Use broccoli with nice stems as the stems will be used in the soup.

1

small

Onion

chopped

1

large

Carrot

chopped

2

stalks

Celery

chopped

2

large

Garlic Cloves

minced

3.5

cups

Water

1

tbsp.

Vegetable Base

I use Better than Boullion Brand. You can sub this and the water for vegetable stock.

1

Parmesan Rind

Optional. This is the rind of the parmesan cheese. You'll cook the vegetables with this sunk in the broth for extra flavor.

1

cup

2% Milk

Optional See Notes

1

tbsp.

Flour

Optional See Notes

Salt and Pepper

to taste

3

cups

Bread Cubes

(Optional) I used sourdough. You can use whatever you have.
Instructions
Chop all your vegetables. Make sure to cut the woody ends off the broccoli stalk and cube those up. Broccoli Stalks are perfect in this recipe. It's a great way to use something you might otherwise throw away.


Heat a heavy bottomed pot or dutch oven over medium heat. Drizzle a nice coat of olive oil on the bottom of the pan. Dump all the vegetables in there and saute until the onions become translucent and the garlic is fragrant. Season liberally with salt and pepper.


Pour the broth or the 3.5 cups of water (add vegetable base as directed if you don't use broth) over the veggies and turn the heat to low. Allow the vegetables to simmer until everything is fork tender. This will take about 15 minutes.


To puree the soup you can either use an immersion blender or transfer it to a blend or food processor. How much you puree it is up to you. If you like more texture feel free to leave it more textured. If you used the Parmesan Rind for flavor, this is the time to remove it and throw it away.


Pour the soup back into the hot pot. Mix together the 1 cup of milk and the 1 tbsp. of flour in a separate bowl. Whisk it thoroughly. Slowly stream it into the soup and increase the heat to medium. Allow the soup to thicken slightly.


To serve add croutons (if using) and cheddar cheese.

To Make Croutons
Toss the bread cubes with olive oil, salt and pepper onto a baking sheet. Bake for 10 minutes at 400 degrees to dry the bread out then turn the oven to broil to toast them up. Watch them closely as they can burn. This is a great use up for stale bread. You can also save the ends of bread when you buy it and freeze them to make croutons with later.

Notes
You can make this soup completely dairy free by not thickening it with milk and flour or adding the Parmesan Rind. Note it will be thinner. I have not used non-dairy milks in this recipe and would opt not to as I find them to be odd tasting when heated. You can try that at your own risk or to your tastes.
You can use any bread you like or omit any bread or cheese entirely for a light lunch or first course.