If I go out to breakfast and there are burritos on the menu, you can go ahead and place my order without me. These Sausage, Egg and Cheese Breakfast Burritos have been tested over and over and they are a family favorite around here. So, if breakfast Burritos are your thing, read on!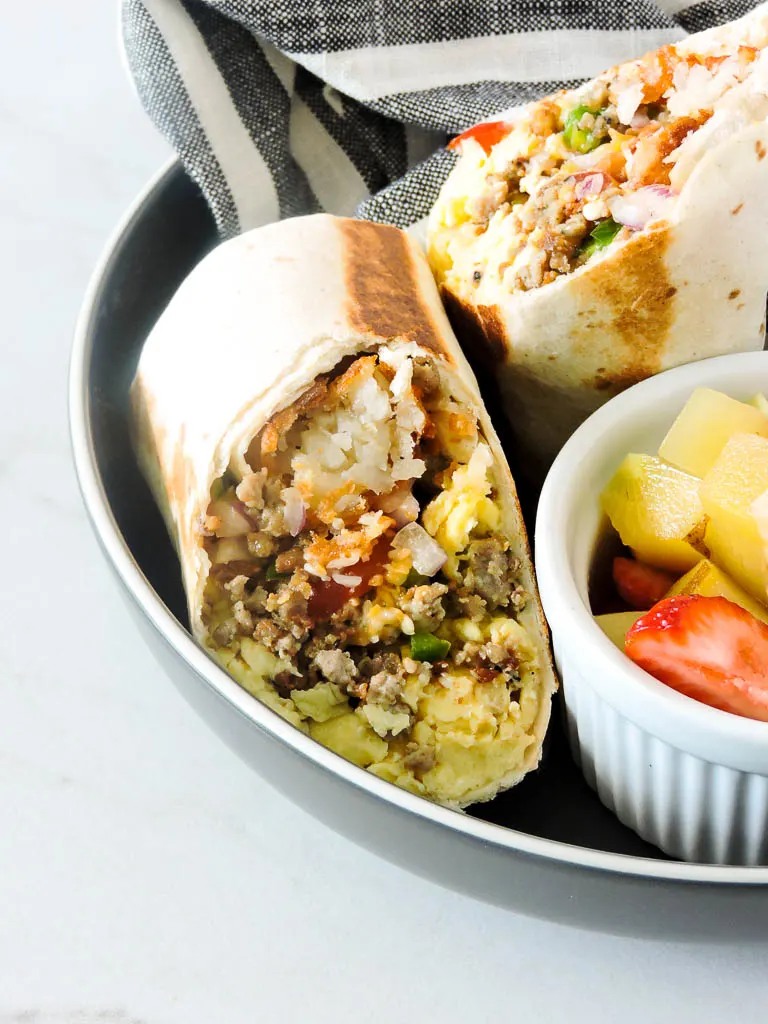 Sausage Egg and Cheese Breakfast Burritos
I like a mix of textures in my burrito. The fresh zingy flavor of the pico, fluffy scrambled eggs, crispy tots and sausage along with the soft yet crisp burrito is perfect! We love Butcher Box Sausage. It is not overly greasy or full of fat. It's such high quality.
You can use whatever sausage you like, but I can't recommend the Butcher Box Sausage enough. I order it specifically to make these burritos.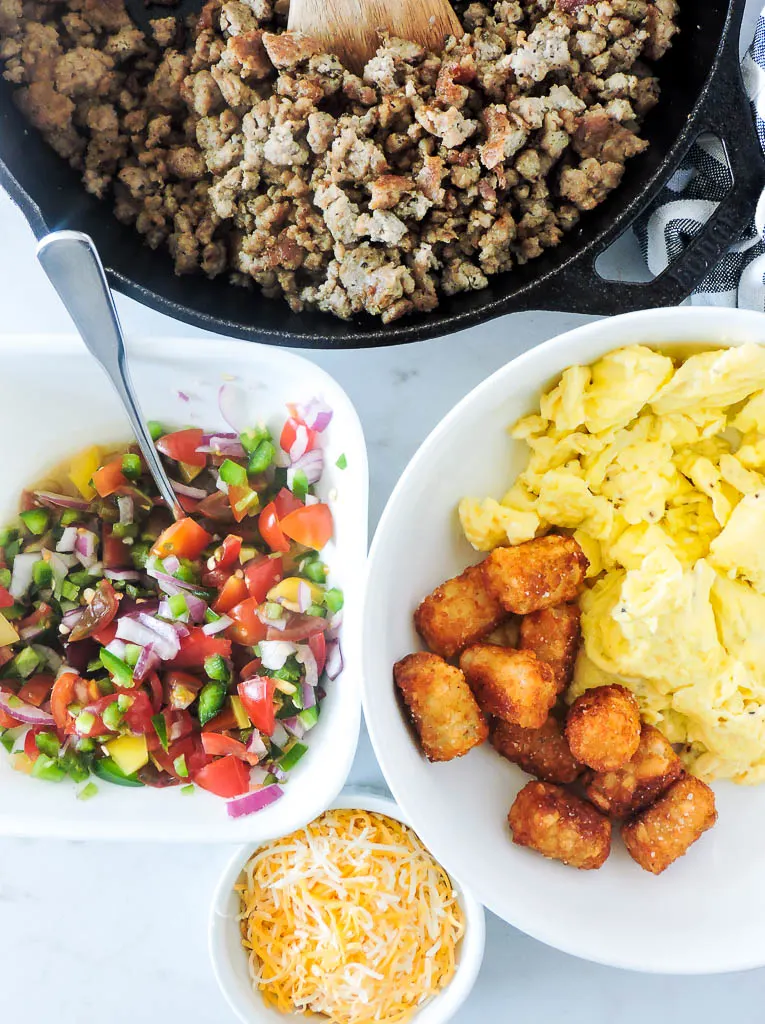 Breakfast Burrito Fillings
While Sausage, Egg and Cheese is my favorite combo- here are some others that you could use too!
Turkey Sausage
Bacon
Tofu Scramble for a vegan option
Add black beans
Peppers and Onions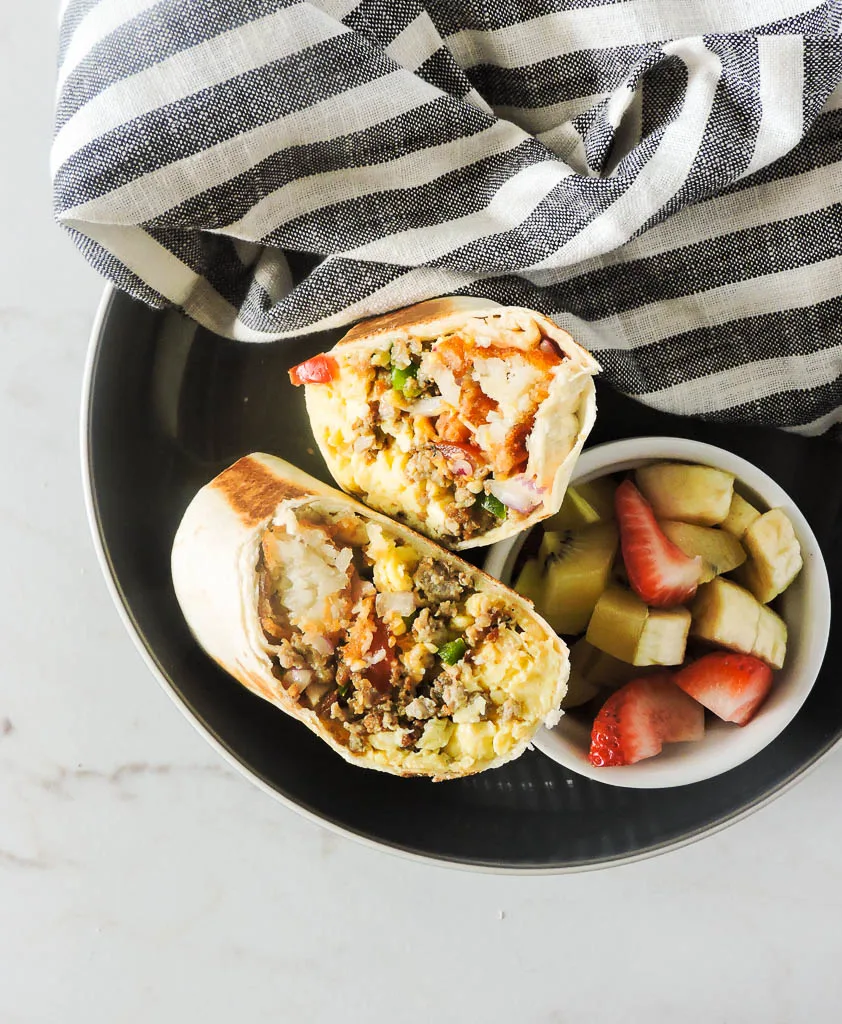 How to fold a burrito
The most important things about folding a burrito are:
Use a very soft tortilla.
Heat the tortilla in the microwave under a damp paper towel for 15-30 seconds to make it extra pliable.
Do not over fill it.
Start with your filling in the center of the burrito. Roll the sides in toward the middle FIRST. Then, as you roll up the bottom use your other fingers to continue rolling the sides in. Here is a video to help if you need it 😉
How to Fold a Burrito – YouTube Video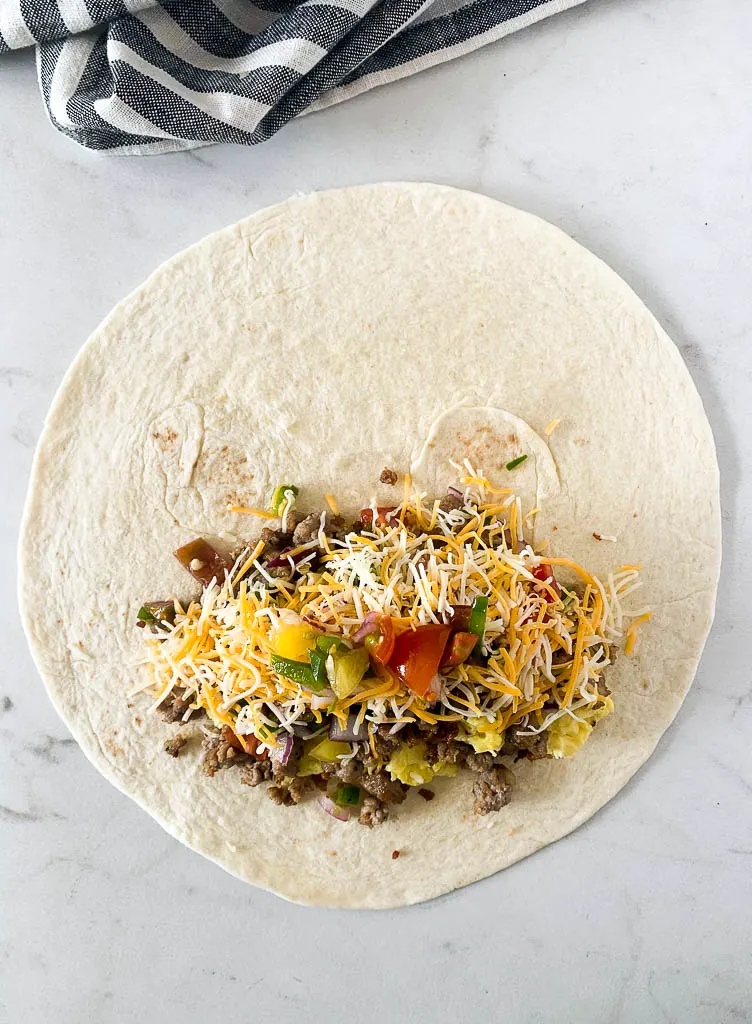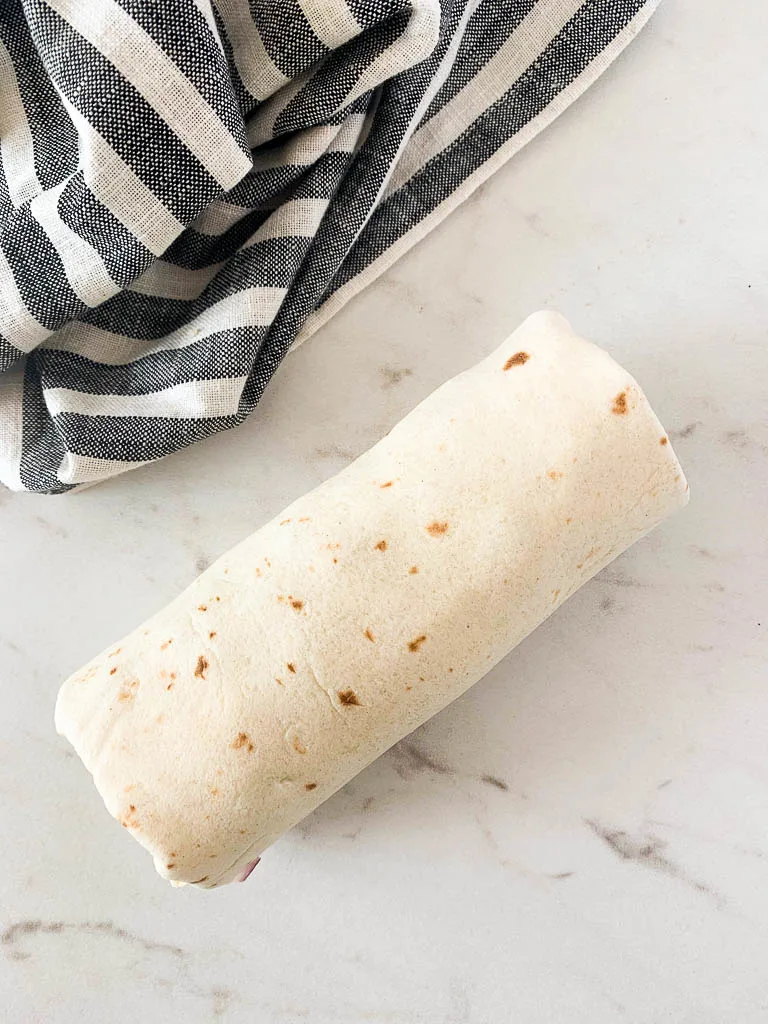 Can I freeze these Breakfast Burritos?
I'll be the first to tell you that I prefer fresh food over frozen, but if you are preparing food so you don't have to cook on demand, you can freeze these.
You will want to prepare them without the fresh pico de gallo if you choose to do this. The tomatoes just won't hold up to freezing and things will get soggy.
Make them and then put them on a sheet tray lined with parchment and freeze for about 2 hours. Then individually wrap each burrito in foil and add to a zip top bag.
To enjoy them later- I recommend pulling them out of the freezer the night before to thaw. Reheat in a toaster oven at 375 degrees (or regular oven). This will probably take 35-40 minutes especially if they aren't completely thawed.
If they are thawed completely through it will take more like 20-30. Just keep and eye and perhaps use an instant read thermometer to be sure they are up to temp internally before serving. 165 degrees is the safe zone.
Pin it for Later! If you make this recipe take a pic and comment on my Instagram or Pinterest @freshfitkitchen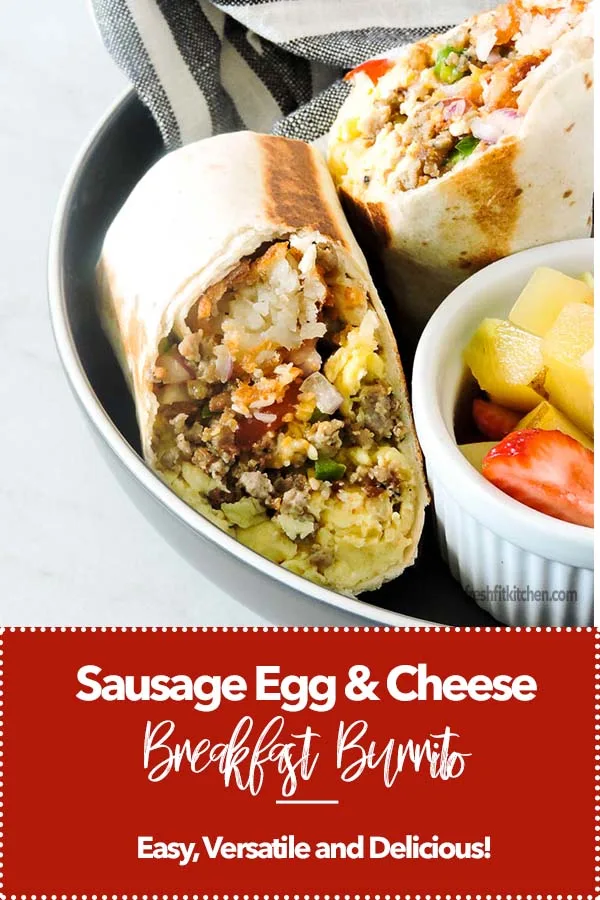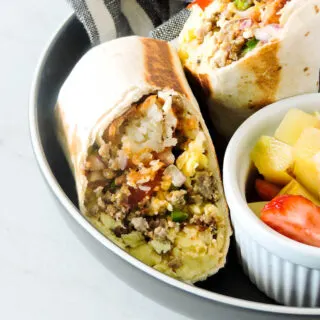 Sausage Egg and Cheese Breakfast Burritos
Sausage Egg and Cheese Breakfast Burritos your entire family will go crazy for. A mix of sausage, egg, cheese and crispy hashbrowns are mixed with fresh and zingy Pico De Gallo. You cannot go wrong with this delicious breakfast!
Ingredients
1/2

lb.

Breakfast Sausage

Ground variety, I like Butcher Box Brand.

6

large

Eggs

Scrambled

12

Tater Tots

Air Fried or Baked

1/2

cup

Pico De Gallo

Storebought or my recipe (linked in notes)

1

cup

Mexican Shredded Cheese

4

Large

Burrito Wraps

Use what you like, but be sure they can be folded easily. The softer the better.
Instructions
You want to cook your sausage first because it will take the longest. you can use any sausage you like here, but I recommend you stick with ground. Links just won't cooperate with the rolling process. Just cook over medium heat until it's browned and cooked through.

After you start the sausage get started on the tots. I like to use frozen tater tots for this recipe. You only need 3 per burrito. Air Fry or bake them according to package instructions. Be sure to season with salt. I also recommend getting them nice and crispy.

Scramble your eggs . This is not the space for a soft scrambled egg. You want them fluffy and cooked the entire way through. I cook mine in a combo of a little olive oil and butter.

To assemble the burritos soften them in the microwave for 30 seconds under a damp papertowel. They need to be nice and pliable. Put your filling just a few inches from the bottom of the burrito- layer the tots, eggs, sausage, cheese then pico. Fold the sides in then roll and tuck the sides as you roll.

You could skip this step, but I don't recommend it. This ensures all the filling is heated through and most importantly it seals your burrito shut! The crispy outside shell is a real treat. Simply heat a dry skillet over medium heat and toast all sides. Slice and Serve!
Notes
For the pico de gallo in this recipe you can use store bought or I highly recommend making your own. It's so easy and I have a pico de gallo recipe right here on the blog.
Please note the nutrition information is calculated using Butcher Box brand sausage, regular large eggs, mexican shredded cheese (not reduced fat), and Aldi Brand Burrito Size Tortillas. You could cut the nutrition information back a bit by using a low carb tortilla, turkey sausage or simply reducing the size of the burrito. Brands, varieties and sizes will effect the nutrition information and this is only an estimate using most common ingredients.
Nutrition
Calories:
533
kcal
Carbohydrates:
43
g
Protein:
24
g
Fat:
30
g