I know we've all seen those zucchini "noodle" recipes floating around the internet. While I enjoy a zoodle as much as the next person, in lasagna, I need the noodle. My husband needs the meat, and neither of us is a fan of ricotta. As you can imagine this Zucchini Stuffed Lasagna pretty much answers our pasta prayers. There is no ricotta, no watery zucchini noodles, and it's full of lean protein from ground turkey breast.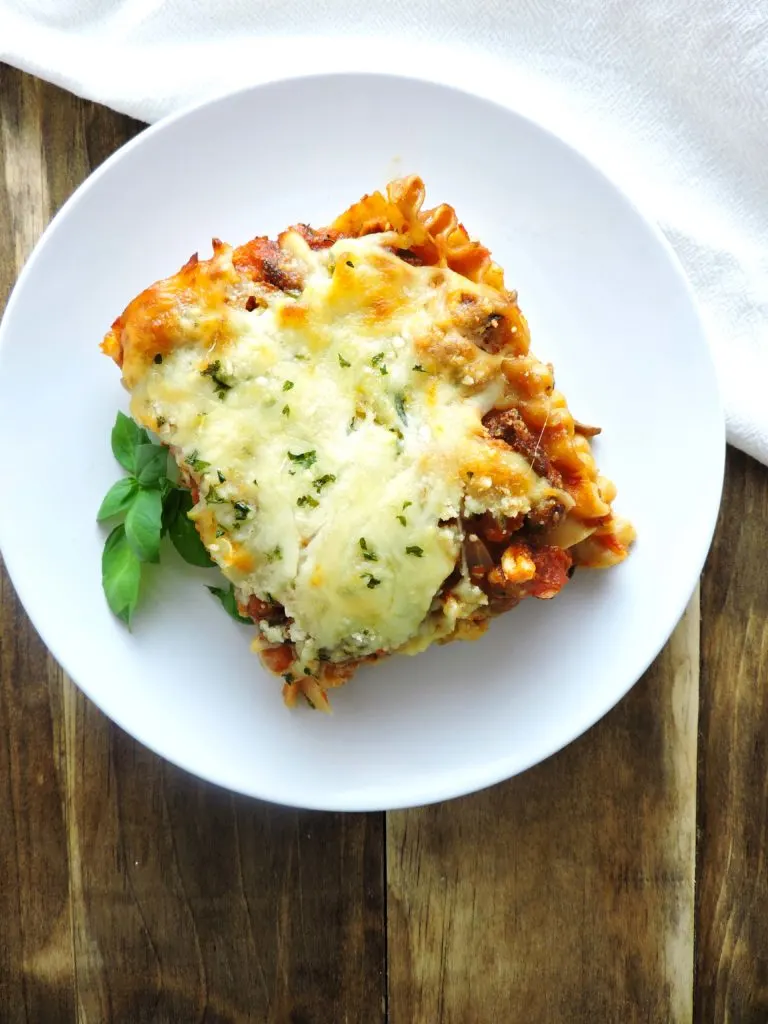 Like most of you, I have zucchini this summer that rival the size of a newborn baby. I am making zucchini muffins, zoodles, zucchini cakes, minestrone, and now this lasagna. While I love these beautiful green squash, sometimes I just need to hide them in something so there isn't any waste. Shredding the zucchini keeps the water out of this recipe, because I can use the old squeeze the life out of in a towel trick.
Sure, this sounds like work, but squeezing the life out of something is sometimes exactly what you need at the end of a hard day. So, squeeze it like it's rush hour traffic, bills you have to pay, or the mountain of laundry that's waiting. Really.. you can just take all your aggression out on this poor defenseless zucchini and the only thing that will happen is that your lasagna won't be watery.
I think in our quest to create healthy recipes, we sometimes lose the essence of the dish altogether. If you're going totally low carb, maybe this isn't the recipe for you. However for those of us that want our lasagna to look like the one mom used to make, zucchini stuffed lasagna does the trick. You get the same gooey , cheesy, piled high goodness. There is no sacrifice of flavor or texture, but you will get your vegetables.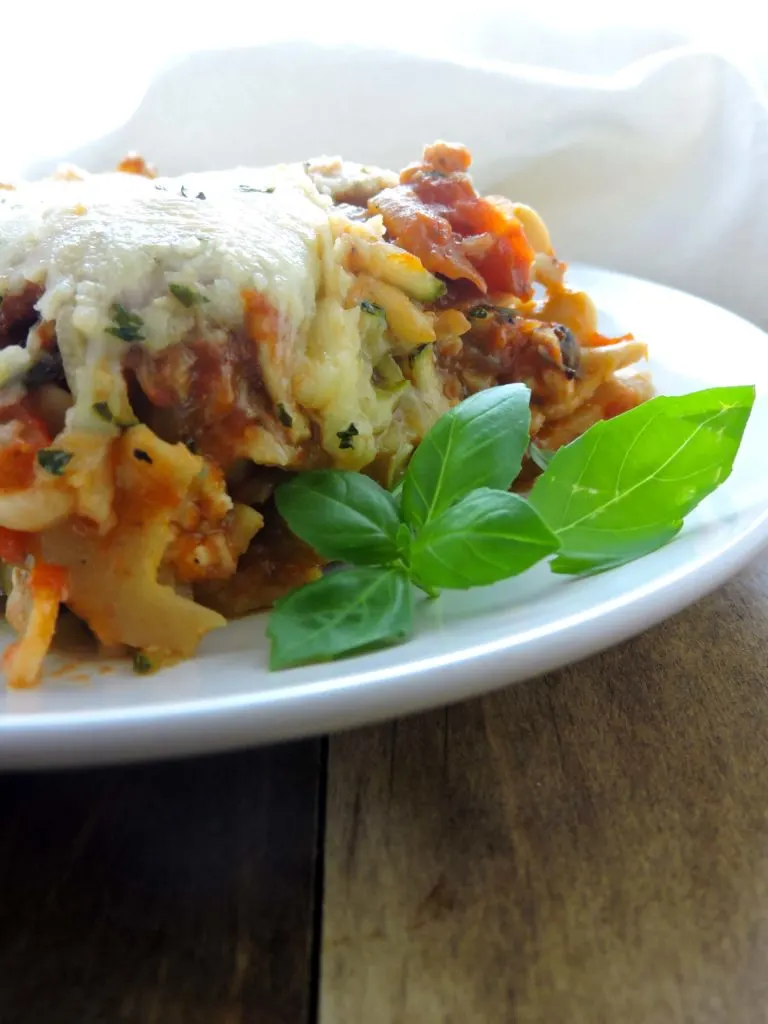 Zucchini is pretty easy to hide from those vegetable haters in the house. It doesn't have a lot of flavor, so they probably won't notice it among all of the cheese. My dog Stanley is even fooled on this one. No, we don't feed him lasagna, but when he sees that box grater come out, he thinks there's cheese. I feel bad for him and throw him a wedge of mozzarella. He sits so patiently waiting for me to throw him the very end. I need to take video of this. It doesn't matter what he's up to. When he hears the box grater leave the cabinet, here he comes.
I highly recommend my easy homemade fresh tomato marinara for this recipe. If you have one too many tomatoes, Zucchini Stuffed Lasagna can make good use of the summer garden.
Save
Save
Save
Save
Save
Save
Save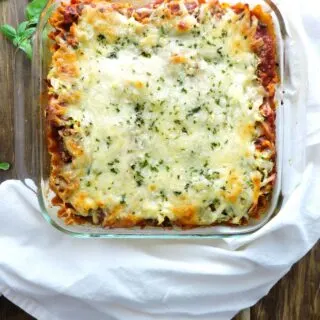 Zucchini Stuffed Lasagna
Ingredients
4

cups

Marinara

6

Whole Wheat Lasagna Noodles

2

cups

shredded zucchini

1/2

cup

Parmesan cheese, grated

1

pound

Ground turkey breast, browned

1 1/2

cups

part skim mozzarella cheese
Instructions
Preheat Oven to 400 degrees. Brown turkey breast until cooked through. Add either jarred marinara or use my homemade easy fresh tomato basil marinara. Allow the sauce to simmer about 15 minutes.

While the sauce is simmering, boil the lasagna noodles until slightly under cooked. You don't want the noodles cooked completely as they will finish cooking in the oven.

Shred the zucchini on the large side of a box grater. Place the zucchini in a clean kitchen towel or paper towels and squeeze as much of the liquid out as possible.

In an 8x8 dish put down enough sauce just to cover the bottom, add noodles (you may cut to fit and cover the bottom), then add another layer of sauce, 1/3 of the shredded zucchini, 1/3 of the shredded mozzarella and a light layer of the Parmesan. Repeat these layers two more times ending with the rest of the cheese.

Bake at 400 degrees for 20-25 minutes until the top is golden and bubbly.