I hear it all the time. I need new ideas! So tired of eating the same thing! We all get stuck in a food rut. Although part of my job is cooking, I even go through phases of food boredom. Meal prepping for the week can feel overwhelming, but it doesn't have to be. By deploying some tried and true methods you can meal prep for the week and avoid food boredom.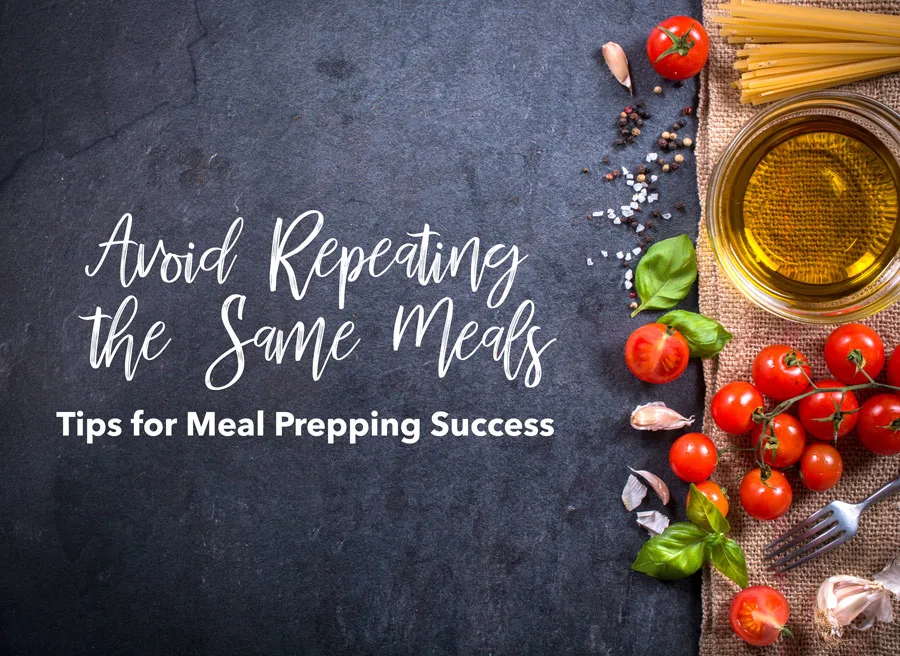 Meal Prepping for the Week- Follow the Prompts
After too many Sundays sitting with a pen and blank paper, I developed what I call "prompts" for making a meal plan. These are themes for each night of the week that help narrow down the choices. Sometimes we have too many choices and that's the very reason for the rut we're in. My food choices may be different, but here are the ones get me thinking in a specific category. You can apply your own food choices and use the same strategy.
Meat Free Monday– We almost always go vegetarian on Monday. Even if we don't eat the vegetarian meal on Monday, this helps me organize my thoughts around vegetarian meals. It narrows the focus.
Taco Tuesday– There's almost always a Mexican themed meal on our plan. Who doesn't love tacos?
Wednesday Winner Chicken Dinner- Chicken is probably the most used protein in American households. You know you're probably going to fix chicken so it's a good idea to work it into the list. I have a whole Pinterest Board dedicated to chicken for this very reason.
Thursday– I'd love a catchy rhyme here, but we usually do something with Pizza or Pasta on Thursday. It's the end of the week. I want carbs.
Friday– I usually don't cook. If I do, we usually do a fakeout takeout kind of recipe. My 5 ingredient Orange Chicken, Stir Fry or Fried Rice are favorites.
That method gets us through the week around here. I don't usually meal plan for the weekend because it's always a wild card.
Every Night Doesn't Have to be Made From Scratch
Although I always promote a whole food approach, you don't have to bake your own bread and grind your own almond butter to be healthy. The grocery stores and many brands are catching on to the whole food revolution. Because of that, there are a wide variety of already prepped vegetables, sauces and even prepared meals with respectable ingredients. Follow the 80/20 rule. Give yourself a break. Some of my favorite go to prepared items are: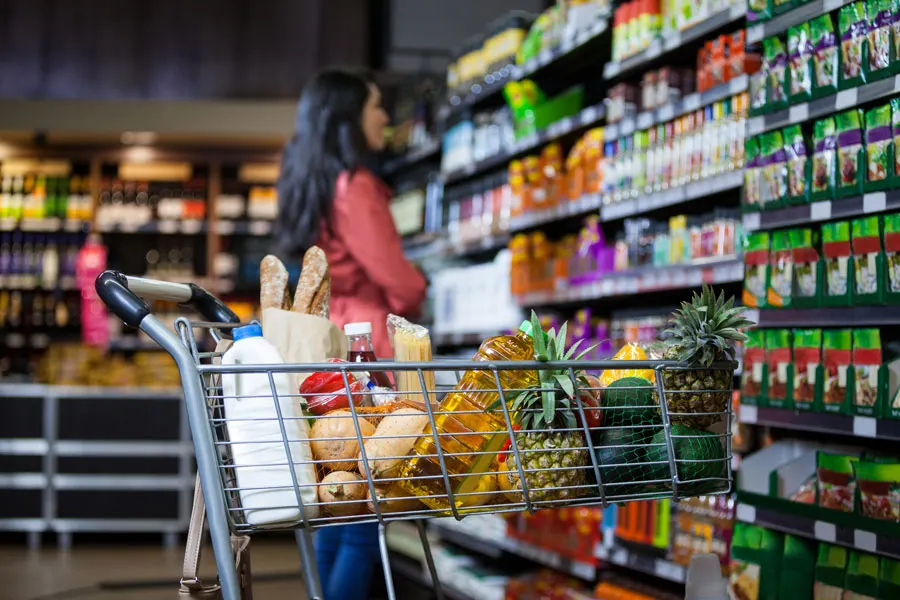 1. Frozen vegetables. Frozen vegetables are just as healthy as fresh and if you cook them right and don't over do it, they are delicious too.
2. Stir Fry Sauces– Just watch sugar and go organic if you can to keep the ingredient list clean.
3. Rotisserie Chicken– This is why my Weeknight Worthy Chicken Pot Pie is so easy. Frozen vegetables and Rotisserie Chicken.
4. Frozen Organic Pizza or Store Made Pizza– Grocery stores often have prepared pizzas and frozen pizza has come a long way. Add a salad from the salad bar and you're set.
5. The Salad Bar– Cut veggies and hey… easy way to make a salad! The salad bar at the grocery store is definitely your friend.
I hope you find these tips helpful. They really keep our menu fresh and help me avoid meal prepping for the week anxiety. Meal prepping for a week at a time saves so much time and helps answer the question "What's for dinner?" It also helps me avoid eating out so much. Save that time, calories and money for the weekends.
Hope you save this article to your Pinterest Boards for Later! Tell me your favorite tips in the comments!