I have to tell you. I really hate it when people demonize carbs. A few years ago it seemed the traditional potato got cast aside for the sweet potato. I still love regular potatoes, but today I jumped on the bandwagon and I am not sad about it. Sweet Potato Chips with Zesty Honey Mustard Sauce are the answer to those soggy sweet potato fries. You know the ones. You wanna love them so much, but they just droop over all sad like they were never meant to be dipped in anything. Not these bad boys. I'll always have room for some russets cut into fries, but when it comes to sweet potatoes, give me all the chips!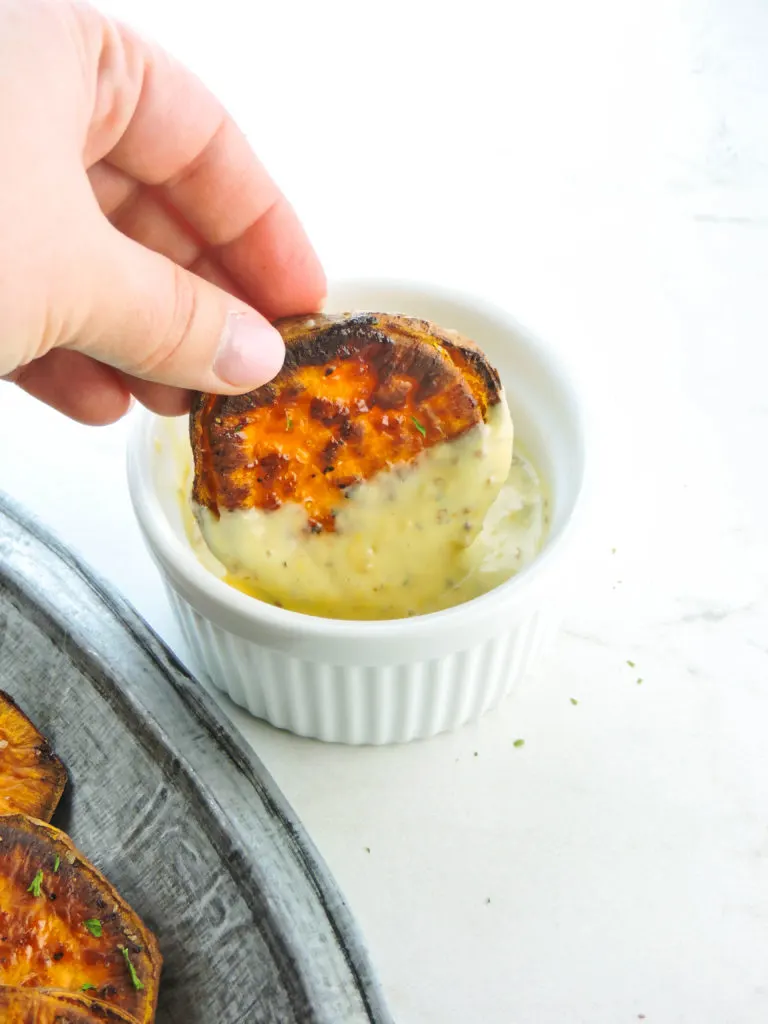 The sauce part is what I call refrigerator door magic. You just need a few things, things you probably have hanging out there all the time, and you're all set with a delicious dipping sauce. The tang of the mustard plays really well with the sweet potatoes. While I love a good dipping sauce, these are perfect on their own too.
So, yeah I wasn't so excited when regular old potato got cast away, the truth is I do love sweet potatoes. I also have a few other recipes here on the blog that use them. Like Crumble Topped Sweet Potato Casserole and Sweet Potato Waffles. I think they have their place. I am just not sure I like them replacing all the Russets and Yukon golds in my life.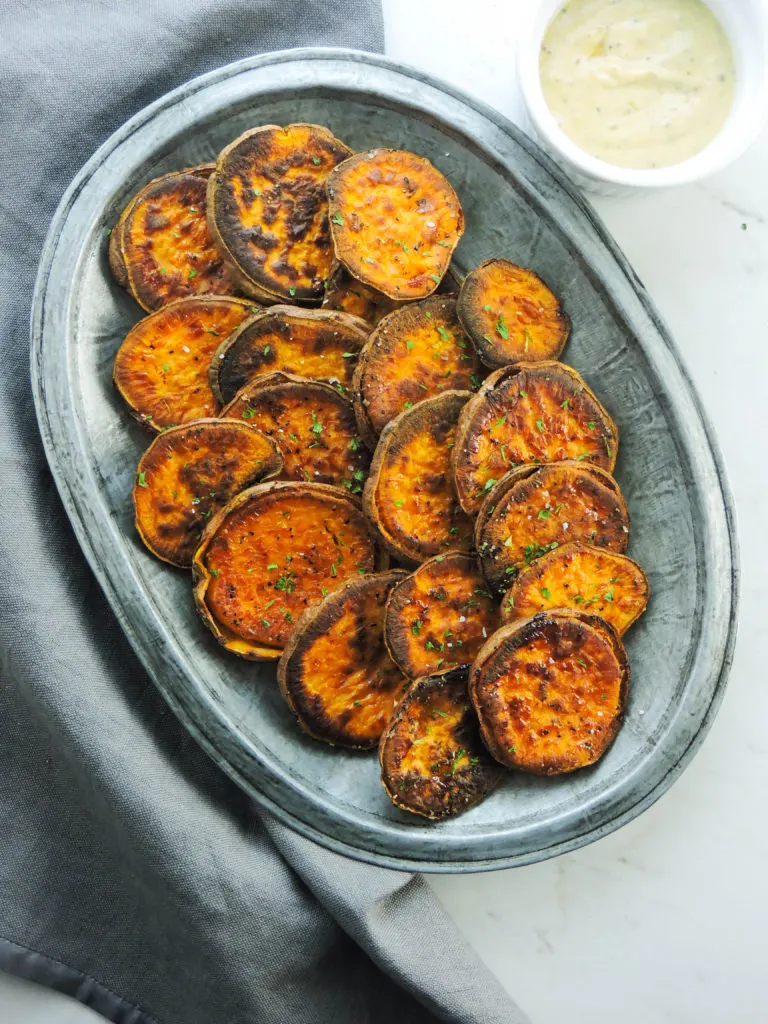 How are these Sweet Potato Chips so Crisp?
I think these work really well because the entire surface area of the sweet potato comes in contact with the pan. I can always make regular potato fries crispy from my oven. Sweet potato fries have been a special kind of challenge and I think I figured it out with this one.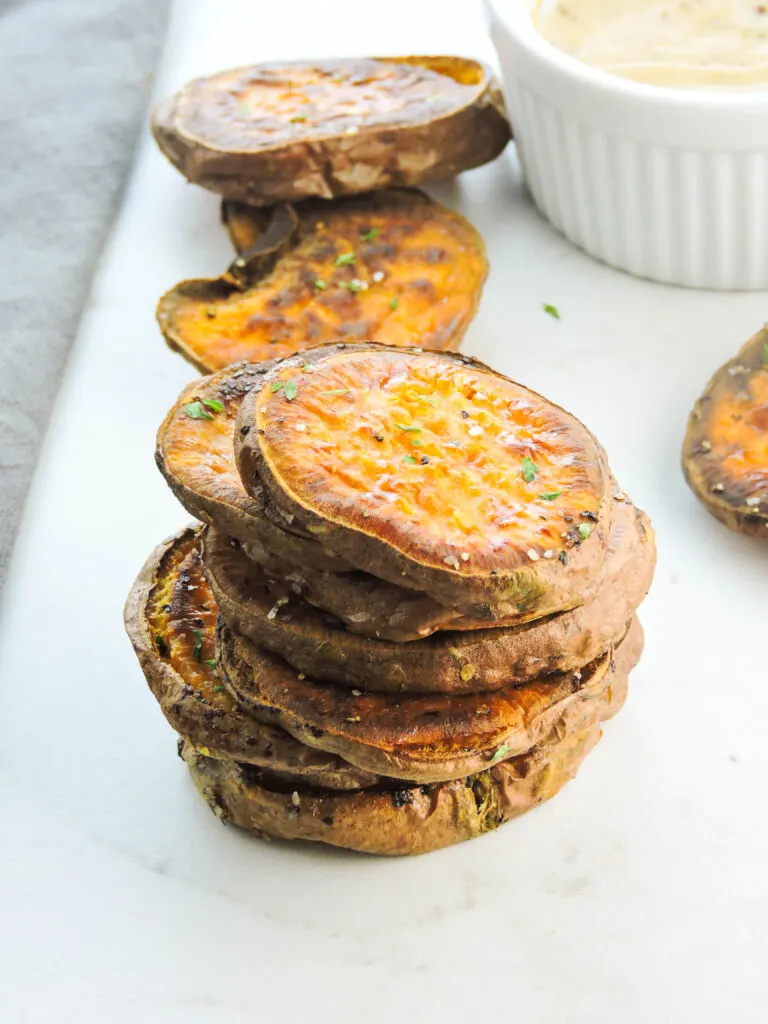 So, whip up a batch of Sweet Potato Chips with Zesty Honey Mustard Sauce and watch your family go wild. I have a feeling you won't be able to stop at just a few. That's okay though… they are pretty darn healthy. 😉
Snap a photo and tag me on Instagram at Fresh Fit Kitchen for a chance to be featured! Pin it for later!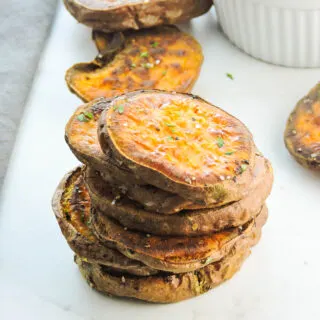 Sweet Potato Chips with Zesty Honey Mustard Sauce
Sweet Potato Chips with Zesty Honey Mustard Dipping Sauce are the perfect pairing with a sandwich or salad. Crispy, salty, and sweet. Dare you to stop at just one!
Ingredients
2

large

Sweet Potatoes

Slice into 1/4 inch disks

3

tbsp.

Avocado or Canola Oil

Kosher Salt

Black Pepper

Avocado or Olive Oil Cooking Spray

1/3

cup

Egg Free Mayo

I like JUST MAYO brand.

2

tbsp.

Dijon Mustard

1/2

tbsp.

Stone Ground Mustard

If you don't have stone ground you can use all Dijon.

2

tbsp.

honey or maple syrup

More to your tastes. For a sweeter sauce add more.
Instructions
Drizzle a large sheet tray with the avocado or canola oil.

Place the sheet tray into the oven. Set the oven to preheat at 425 degrees. You want the sheet tray in there to preheat it along with the oven and get the oil hot.

Slice your potatoes. Slice them into 1/4 inch disks. You don't want them super thin. These chips will be crisp on the outside and softer on the inside.

When the oven is preheated, remove the sheet tray. Sprinkle an even coating of salt and pepper directly on the sheet tray.

Line up the potato disks in a single layer. Spray the tops with cooking spray then sprinkle salt and pepper on top.

Bake for 20 minutes. Flip them. Then bake another 15 minutes. The potatoes should be crisp on the outside and softer on the inside. Let the 2nd side go longer if they aren't yet to that crisp stage. Remove the sheet tray from the oven and allow them to sit on there for 5-10 minutes while you make the sauce.

The honey mustard sauce is very forgiving. You can adjust to your tastes. Simply mix the eggless mayo (I like Just Mayo Brand), mustards and honey or maple syrup together. Add more honey or maple syrup if you like a sweeter sauce. Add a pinch of salt at the end if you feel it needs it. Just give it a taste.
Notes
Please note that nutrition information does not include the sauce. Mayo brands vary so you'll have to calculate based on the mayo you decide to use. The amount of sweetener you use and mayo brand will affect nutrition information.