I know. I know. You're all here she is with the tofu again. Telling me I'll love it. Telling me to just try it. You're right I am. Hear me out though. This is The Best Super Crispy Sesame Tofu. It's crispy, sticky, sweet and salty and trust me it's also addicting. You'll be a tofu believer in no time. The secret to The Best Super Crispy Sesame Tofu is in the easy cooking method and the delicious sauce. I mean… look at this… how can you not even be the least bit intrigued?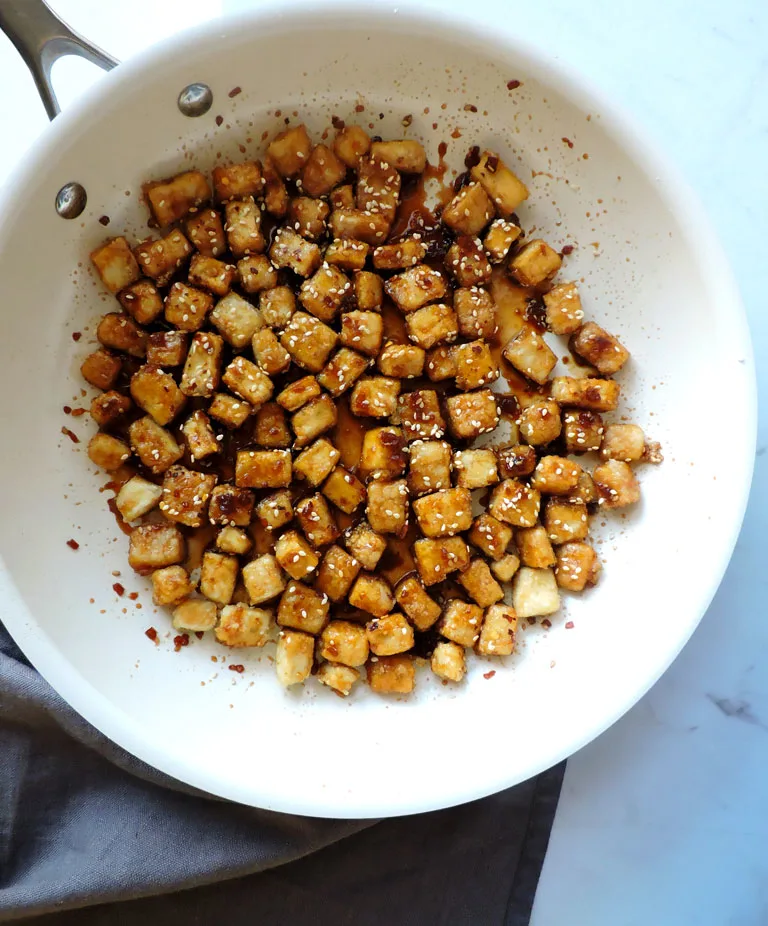 The recipe is basically the same as the tofu I use in Crispy Tofu Super Food Fried Rice. The added twist is baking it in the oven for 20 minutes. The result is perfectly firm crispy tofu that doesn't require a ton of oil or fussing. It's delicious when served with my Hibachi Style Teriyaki Vegetables and Brown Rice.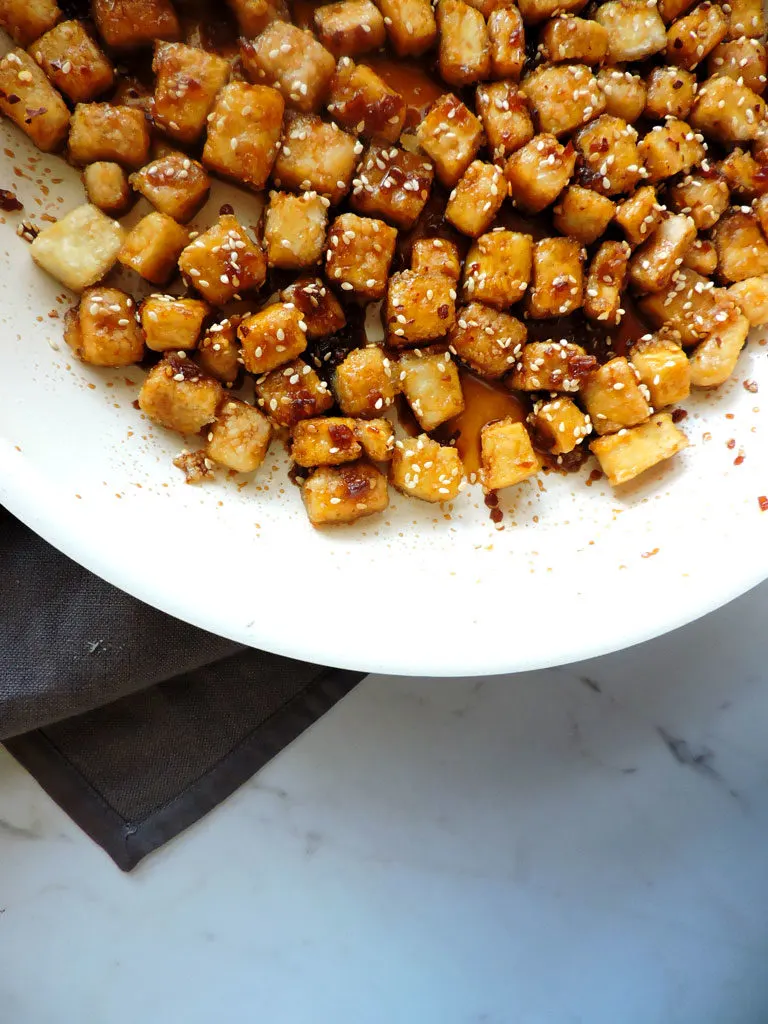 When I discuss my love of tofu, people often tell me they don't do "fake meat." Tofu is a food that is completely in it's own right. So, don't go into it believing you need it to taste like meat. Tofu is like chicken in that it will take on the flavor of whatever you put on it. I know people say they just "love chicken." Try poaching a plain chicken breast and not seasoning it. Report back and tell me how flavorful it is. While tofu doesn't taste like chicken, it does have that blank canvas quality.
I am definitely not trying to sell you on a Vegan life style. That's not how I live. However, I will tell you that we cut meat from our diet a few nights a week and the dishes we've discovered because of that are delicious. The earth , your health and your wallet will thank you.
So… come on give The Best Crispy Sesame Tofu a try and let me know how it went. I'd love to hear your thoughts.
Pin for Later!

Save
Save
Save
Save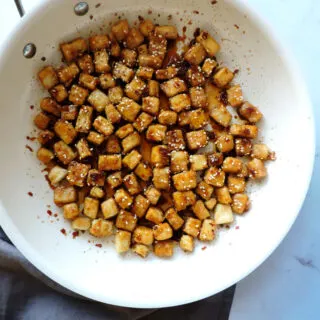 The Best Super Crispy Sesame Tofu
Fall in love with tofu with The Best Super Crispy Sesame Tofu recipe. An easy recipe for making tofu absolutely delicious.
Ingredients
1/4

cup

Low Sodium Teriyaki Sauce

organic

2

tbsp.

Low Sodium Tamari or Soy Sauce

2

tbsp.

Sesame Seeds

16

ounce

Extra Firm Tofu

Cubed and Drained

4

tbsp.

corn starch

2

tbsp.

avocado oil

You can sub in Coconut oil if you want.
Instructions
Preheat Oven to 375 degrees. Remove the tofu from the package and slice into small cubes. Place on a plate lined with paper towels. Place more paper towels on top of the tofu. Place a heavy skillet on top to help press out the liquid. Press the tofu for 10-15 minutes.

After you've pressed the tofu put it in a gallon size zip top bag. Add the corn starch to the zip top bag and shake.

Heat 2 tbsp of avocado oil in a large skillet over medium high heat. Make sure the skillet is one with a metal handle or is cast iron so you can transfer it to the oven. When the skillet is hot, add in the tofu, shaking off the excess corn starch as you add it.

Allow the tofu to brown on the first side. Flip it over and transfer to the oven for 20 minutes.

Remove the skillet from the oven and add the teriyaki and soy sauce. Toss to coat. Garnish with sesame seeds prior to serving.
Notes
Make it Gluten Free- This recipe will be gluten free so long as you use Tamari Sauce or Coconut Aminos instead of soy. Make sure the Teriyaki sauce you're using is certified gluten free.