Asian inspired foods are some of my favorite dishes. Do you go to those Hibachi style Japanese restaurants and love the vegetables? Well now you can make hibachi vegetables at home!
I always eat my vegetables and any leftovers on my husband's plate. That big dollop of herb butter they throw in there has to help, but I came pretty close to the real deal with these Hibachi Style Teriyaki Vegetables. No giant dollops of butter required!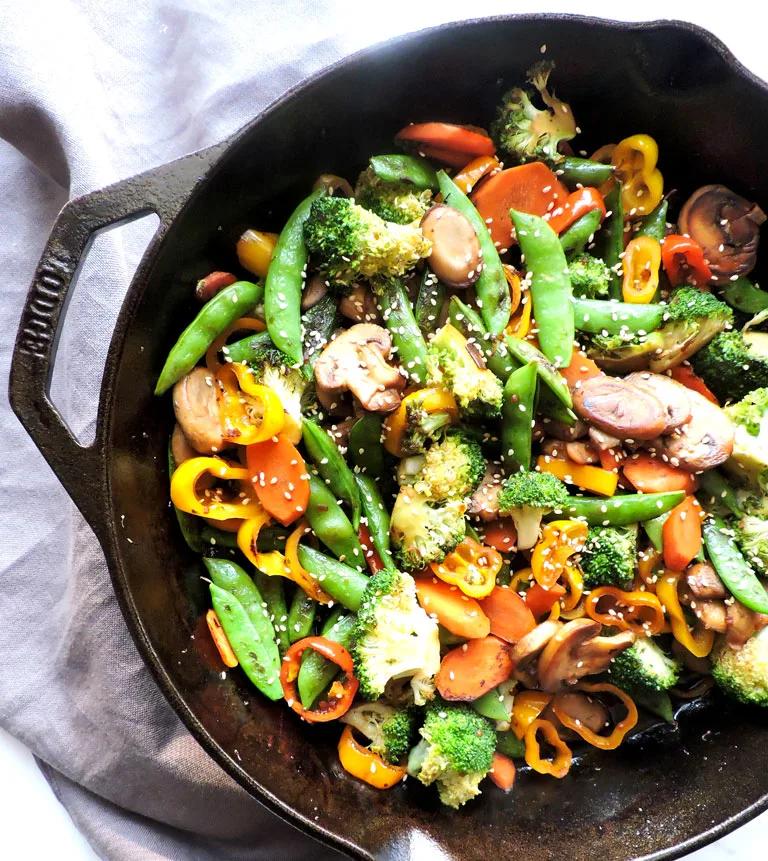 How to Make Hibachi Style Vegetables at Home
You need to make sure your pan is really hot. That's key in getting some color on the vegetables. Cast iron is perfect for this because you can get it really hot without worry. I do not recommend a non stick skillet for this because you just can't get enough heat under it without ruining your skillet.
If you have a Blackstone (those are super popular right now) this is the perfect hibachi vegetables recipe for the Blackstone!
If you have to do the stove, the cast iron skillet is really your friend when making these hibachi vegetables because it holds heat and acts a lot like those super hot flat top grills at your favorite hibachi restaurant.
Keep in mind I'm referring to restaurants like Beni Hana here. I'm sure authentic Japanese is completely different. At restaurants here it he states Hibachi grills are those flat top grills like a Blackstone. I'm only referring to this recipe as Hibachi because of that fact.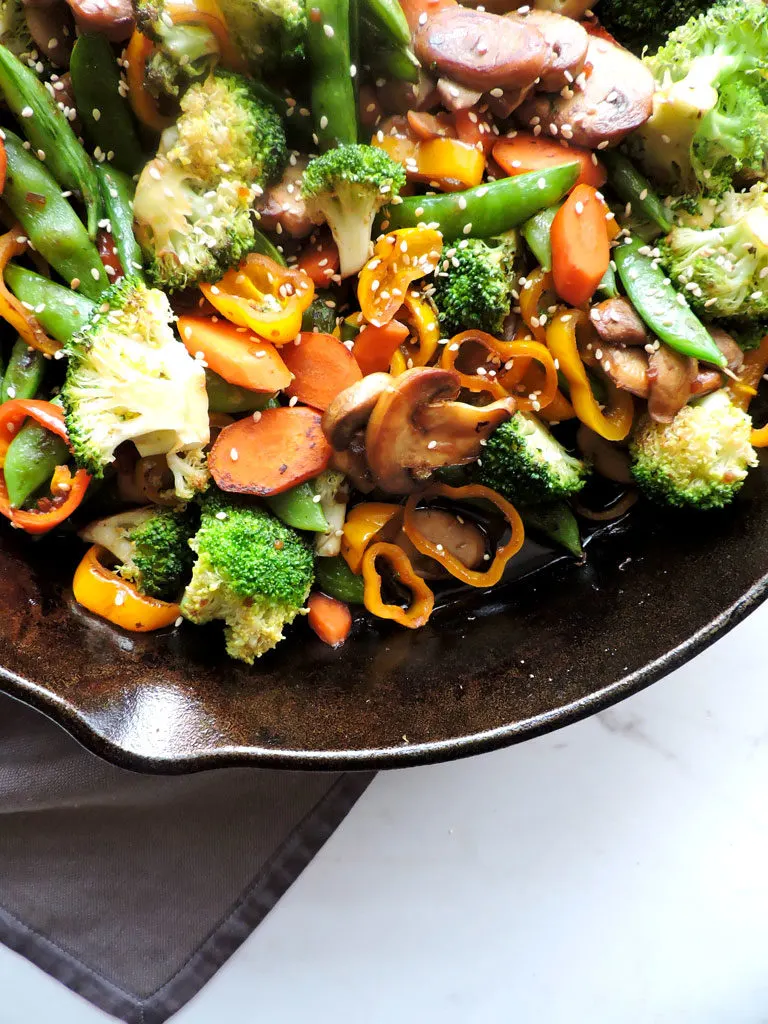 For Good Hibachi Style Vegetables DO NOT Crowd the Pan
The other key to this recipe is make sure you cook the vegetables in a single layer and in stages. Part of the magic of the Hibachi grill is the fact that you have a very hot surface where all the food makes direct contact with the heat. That's why everything that comes off that grill tastes amazing.
Since I don't have a Hibachi and you probably don't either, I recommend cooking the vegetables in stages and then bringing them all back together at the end before adding the sauce. I think shrimp, chicken, steak or salmon would all compliment these on the side. Take your pick. If you're vegetarian or vegan simply serve them over rice.
If you make these please comment below and let me know how it went! I love it when you rate and review my recipes!

Pin it for later!

Save
Save
Save
Save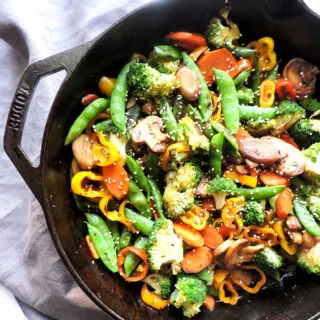 Hibachi Style Teriyaki Vegetables
Hibachi Style Teriyaki Vegetables are a take on your favorite vegetables from the Japanese restaurant. Tamari, Teriyaki and Sesame give great flavor while a variety of vegetables provide lots of nutrition.
Ingredients
1

cup

Sugar Snap Peas

1

cup

Red and Yellow Bell Peppers

Thinly Sliced

2

cups

White Mushrooms

Sliced

2

cups

Broccoli Florets

fresh

1

cup

Carrots

Thinly Sliced

3

tbsp.

Tamari or Soy Sauce

You can use Soy Sauce if you're not making this gluten free.

3

tbsp.

Teriyaki Sauce

Choose an organic one with whole ingredients.

2

tsp.

Sesame oil

Sesame Seeds

for garnish
Instructions
Make sure all of your vegetables are chopped and prepped before you begin cooking.

Heat a cast iron skillet over medium high heat. Add in 1 tbsp. of avocado, coconut or canola oil. It has to be an oil that can take heat. Do not use olive oil for this.

Add the broccoli and carrots to the hot pan. Stir fry until they are crisp tender and have just a bit of color. This will take 5-7 minutes.

Remove those and add in the mushrooms. You want to cook them on their own so they have plenty of room. When they are brown remove them from the pan and place with the broccoli and carrots.

Last you want to cook the peppers with the Sugar Snap Peas. These will take 3-4 minutes. When they are ready add all of the other vegetables back to the pan. Make sure you are stirring constantly.

Pour in the Tamari (or Soy Sauce), Teriyaki Sauce and Sesame Oil. Toss together for about one minute, Sprinkle with Sesame Seeds and serve.
Notes
This recipe is gluten free as long as you use Tamari Sauce instead of Soy Sauce.
Nutrition
Calories:
192
kcal
Carbohydrates:
12
g
Protein:
7
g
Fat:
13
g