Banana bread- I know it's been done. I've done it too! I have a Zucchini Banana Bread and a Carrot Cake Banana Bread on the blog. While both are very delicious, I needed to add one that takes the traditional route. I did not plan to post this Chocolate Chip Greek Yogurt Banana bread, but it came out so fantastically well that I whipped out the camera and decided to post it. The chocolate chips are optional, but I am telling you they are an amazing addition. I even commented how I could call this "Chocolate Chip Cookie Bread."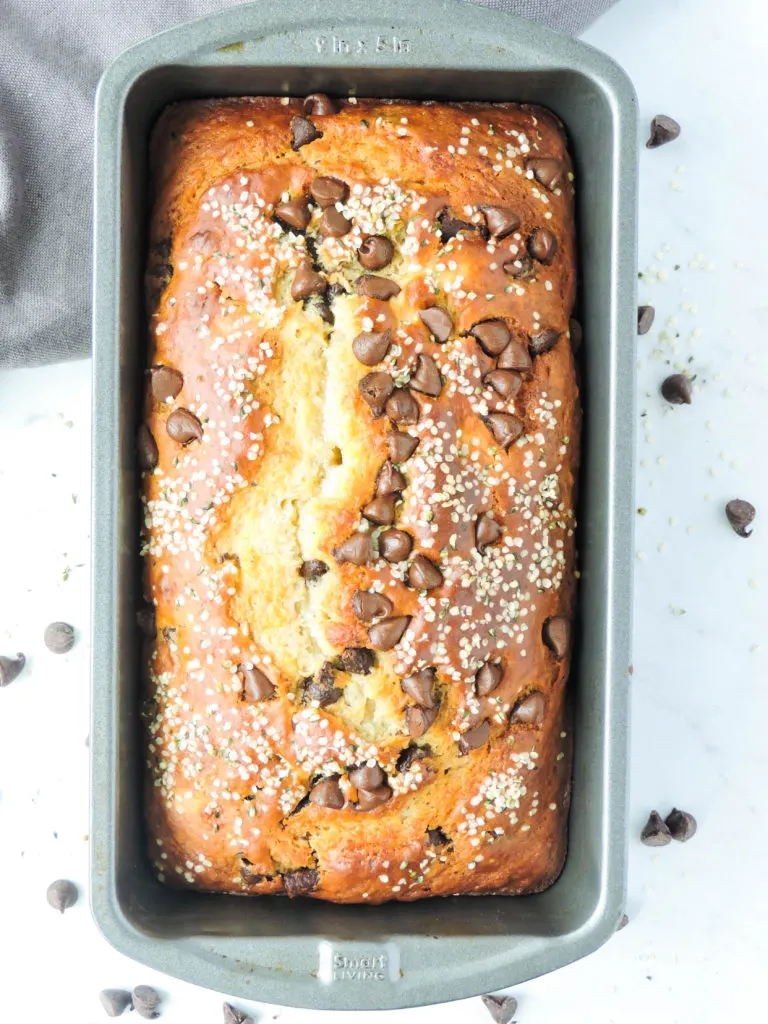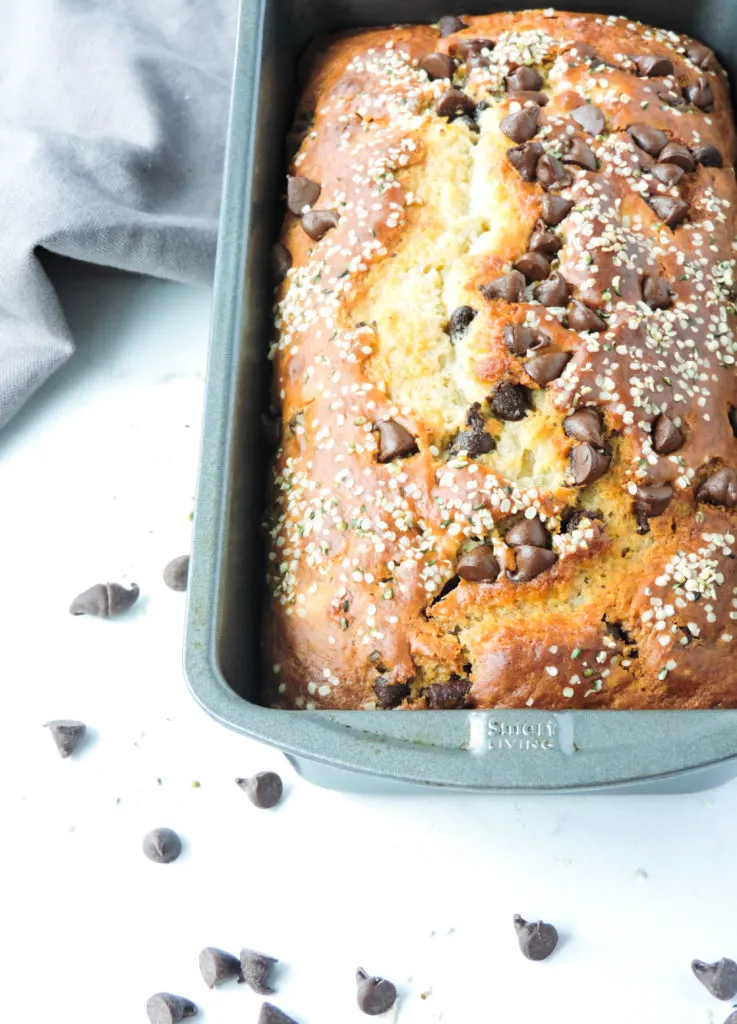 Banana Bread With Greek Yogurt
Greek yogurt is always a welcome addition to baking. When you add Greek Yogurt you add the same properties that oil provides without all the fat and calories. In a traditional banana bread recipe I'd add about 1/2 cup of oil. Some recipes call for as much as 3/4 cup. I was able to add only 1/4 cup of heart healthy grape seed oil to this banana bread because of the addition of plain nonfat Greek Yogurt.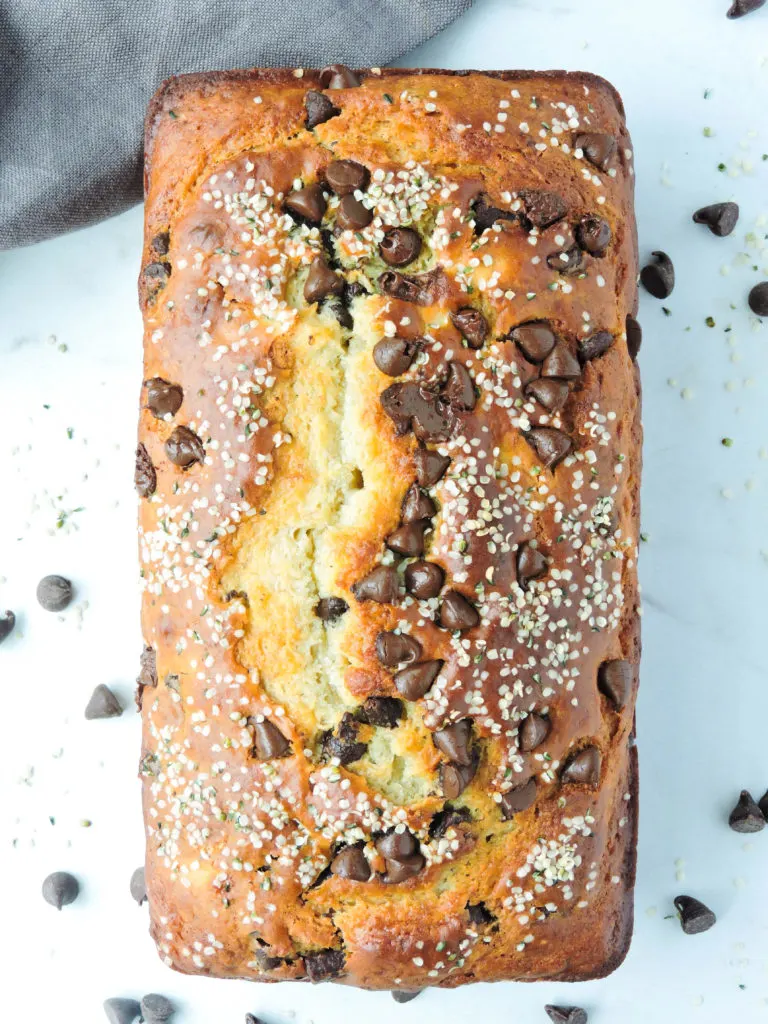 The hemp seeds on top are entirely optional, but I think they add visual interest and they are incredibly healthy. I only added them to the top here, but feel free to mix more into the batter. They are a nutrition powerhouse full of healthy fats, fatty acids and protein. It's a great way to get that nutrition into your kids without them even knowing. In my case, it's way to fool the husband into eating some super foods.
Is there such a thing as healthy sugar?
Search "healthy sugars" online and you'll find many a debate on sugar. While I use honey or maple syrup sometimes, my favorite thing to bake with is actual regular sugar. I just don't use as much. A traditional banana bread recipe I use from another site that uses 1 cup of white sugar. Only a 1/2 cup is used here and I didn't miss that other 1/2 a cup. You just won't get the golden crust, fluff, or flavor from other sugars that you do the good old fashioned kind. Calorically they are basically equal so what it really comes down to is whether you believe the hype about your body somehow knowing the difference. Truth be told, like real butter, I think our bodies were meant to process natures sugar, but in moderate amounts.
I listened to Oprah's Super Soul Conversations podcast and she had Michael Pollan on. He made a fantastic point about how when we make our own food at home, we use natural ingredients and we never add the sugar, salt or fat that is added by corporations and restaurants. So, I really do follow his philosophy of eating a little bit of everything and mostly plants.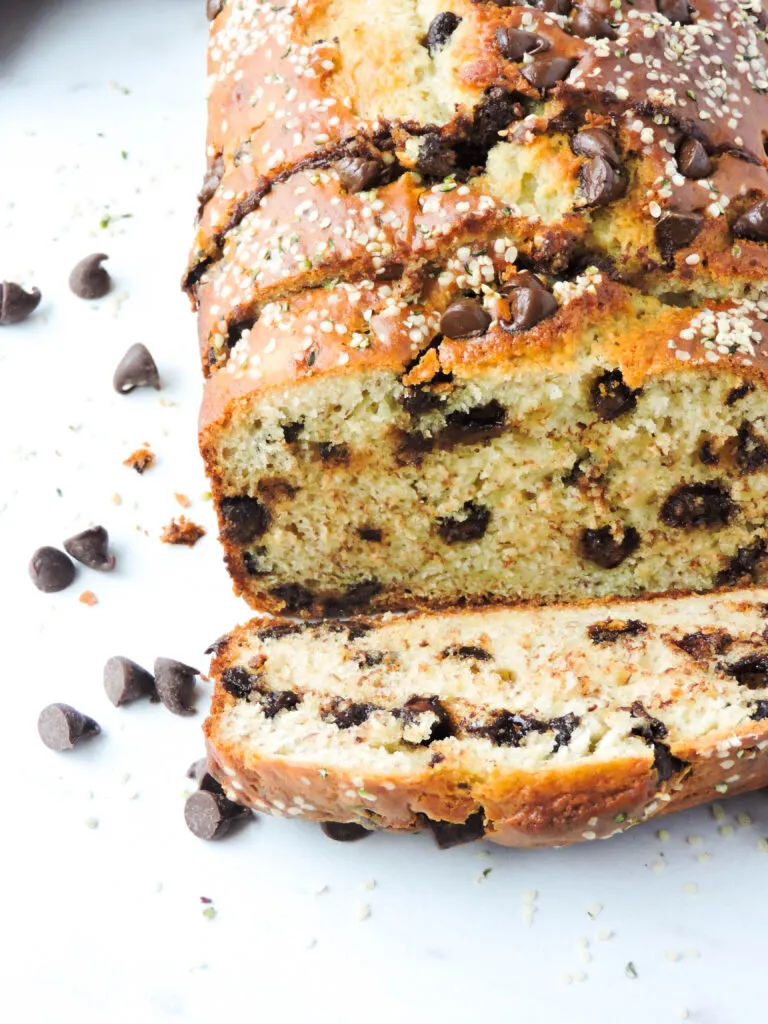 I hope you make this banana bread and if you do please tag me on Instagram @freshfitkitchen. I love to see what you're making!
PIN FOR LATER!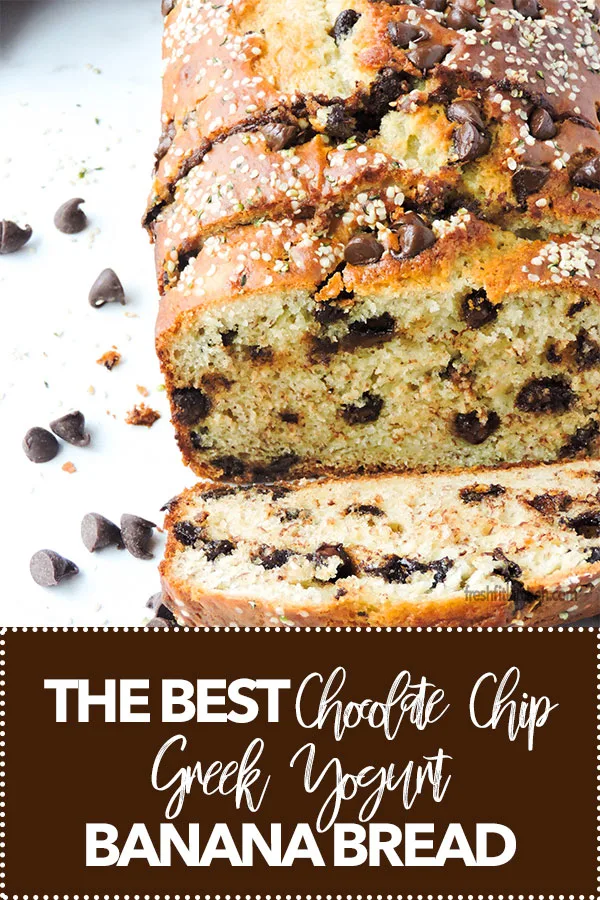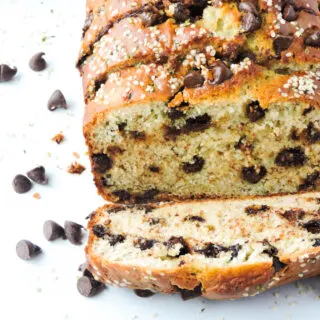 Chocolate Chip Greek Yogurt Banana Bread
Chocolate Chip Greek Yogurt Banana Bread is a healthier take on banana bread. Banana bread made with Greek yogurt means you can cut back on the oil!

Ingredients
2

large

Bananas

Make sure they are nice and ripe.

1/2

cup

Sugar

1/4

cup

Grapeseed Oil

Or other light oil such as canola or light olive oil.

1

large

Egg

2

tbsp.

Vanilla Almond Milk

6

ounces

Nonfat Greek Yogurt

1 single serving container

1

tsp.

Vanilla Extract

1/2

tsp.

Salt

2

cups

All Purpose Flour

Scoop into the cup then level it off for accurate measuring.

1.5

tsp.

Baking Powder

1/2

tsp.

Baking Soda

1

cup

Chocolate chips

Divided- mix 3/4 cup into batter and 1/4 cup reserved for the top as garnish.

1/4

cup

Hemp Seeds

Garnish on the top (optional)
Instructions
Preheat the oven to 375 degrees. Mix together the banana, sugar, oil, egg, almond milk, yogurt and vanilla extract. I use a stand mixer, but you can use a hand mixer too.


Add the flour in 1 cup at a time mixing each cup in until just combined. Fold in the salt, baking soda, baking powder and 3/4 cups of chocolate chips.


Spray a 9x5 inch loaf pan with cooking spray. Pour the batter in and sprinkle the top with hemp seeds and chocolate chips.


Bake at 375 degrees for 45-55 minutes. Make sure a toothpick inserted in the center comes out with just a few crumbs to ensure it's done. You can make these as muffins. They would bake approximately 17-20 minutes.

Notes
Serving size is 1/12th of 9x5 loaf. Nutrition info calculated using My Fitness Pal. Makes 12 muffins. Fill regular muffin tin 3/4 of the way in each cup. Nutrition covers 1 muffin or one slice of bread.
Nutrition
Calories:
328
kcal
Carbohydrates:
50
g
Protein:
6
g
Fat:
12
g