Cinnamon roll and banana bread are coming together for this delicious banana muffin recipe. It seems like every time I think I want cinnamon rolls it's 10AM on a Saturday. I want them now, not at lunch time. Cinnamon Roll Banana Muffins have solved this weekend conundrum. While they still have some sugar in them, they aren't the sugar and butter ball that cinnamon rolls are. Not a perfect choice, but definitely a better one!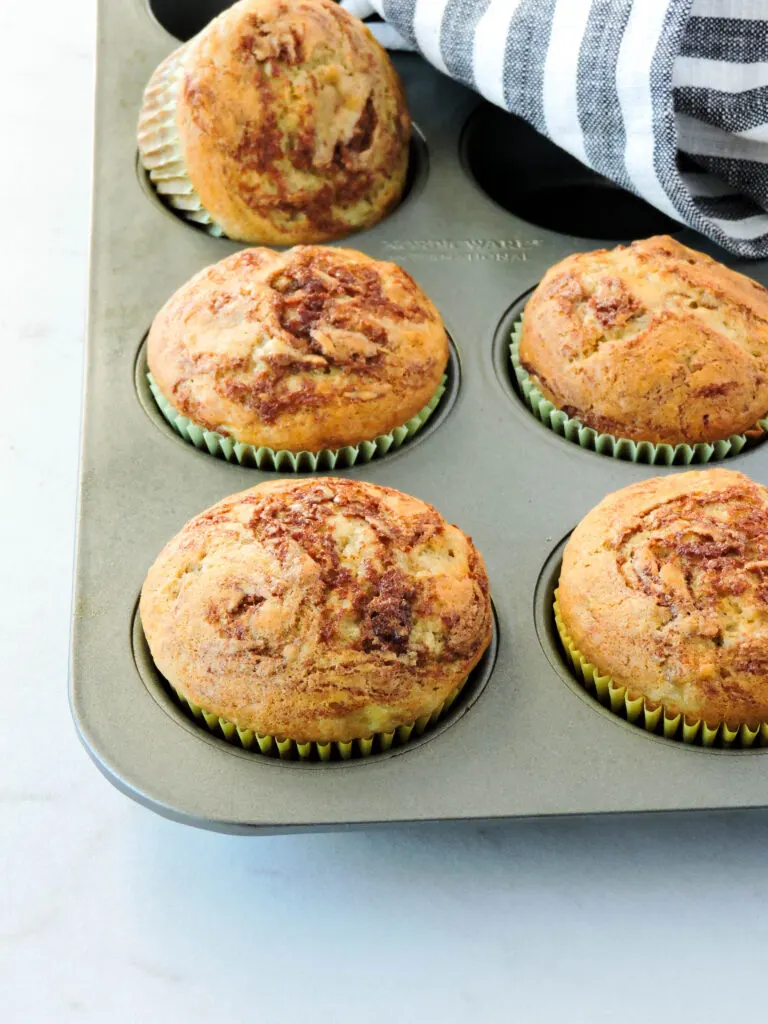 How to make cinnamon swirl for muffins
Traditionally you'd make a butter and sugar mix for the middle of a cinnamon roll. I used apple sauce here for two reasons. One it won't run everywhere and make the muffins change texture the way butter would do. Two it is far less fattening and these muffins don't need any more fat than what we get from the oil.
To make this easy cinnamon swirl for muffins you only need some unsweetened applesauce , cinnamon and brown sugar. These are things we all usually keep in our pantry. Just mix it up and swirl.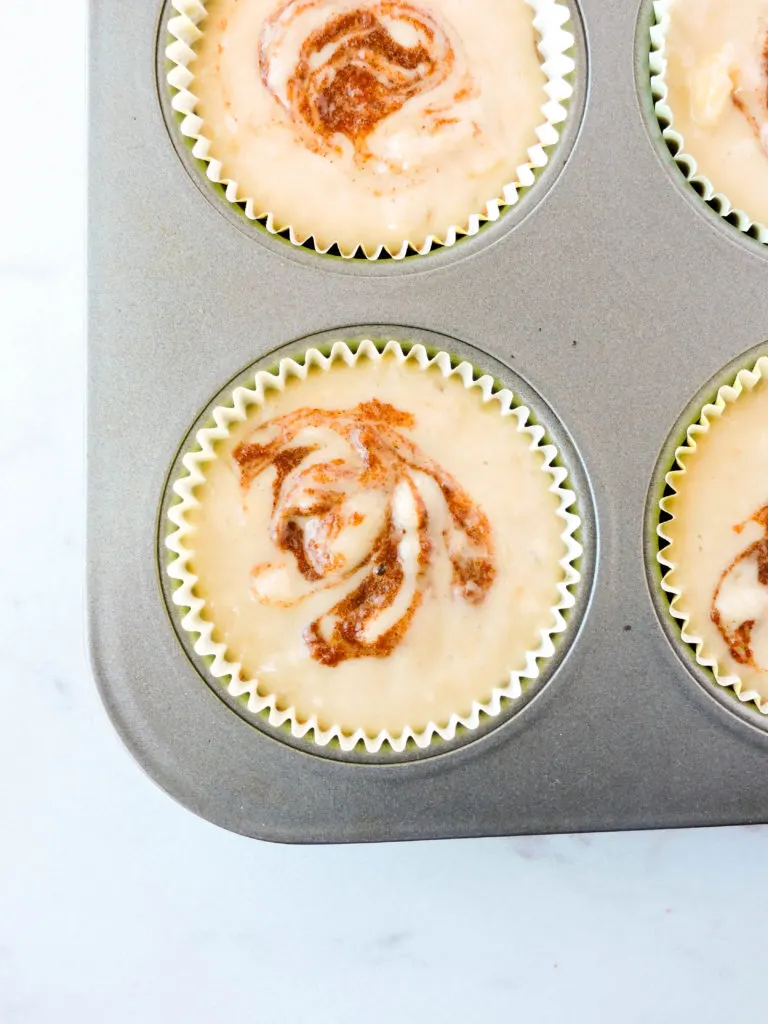 Cinnamon Roll Banana Muffins are the perfect snack or breakfast. With only 3/4 cup of sugar in the entire recipe, they are just sweet enough without having and over abundance of sugar.
Rather than use fake sugars or alternative sugars that are expensive and hard to find, I'd prefer to just use less of the real thing. The truth is the more you cut back on added sugar, the less you need it.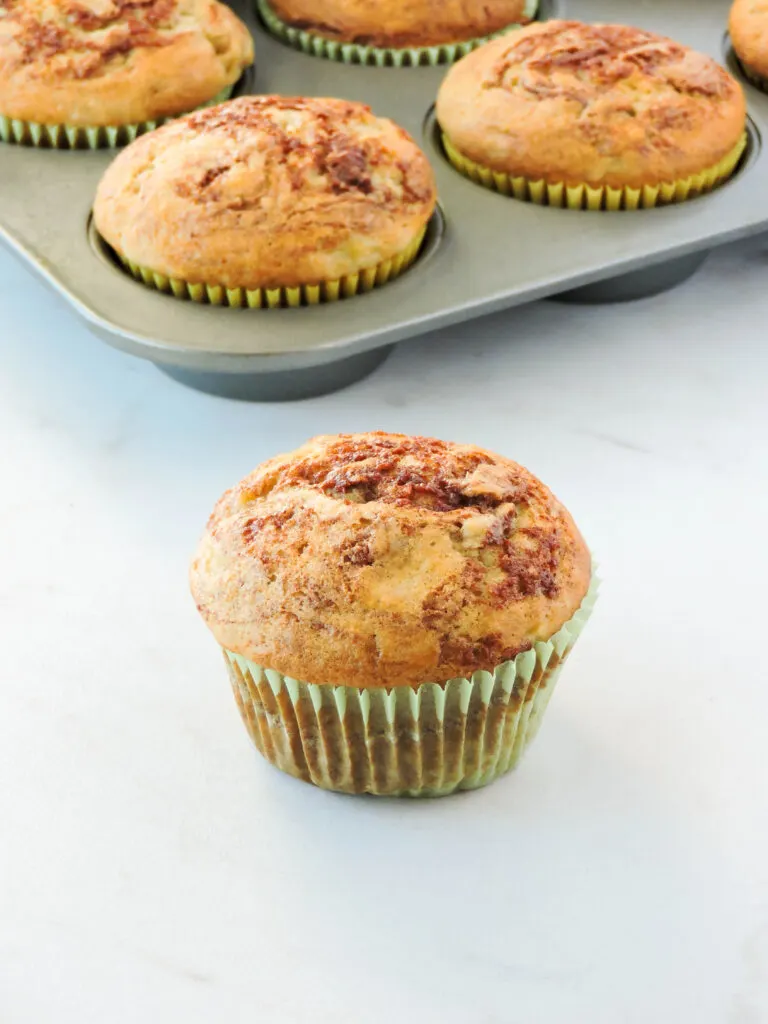 These Cinnamon Swirl Banana Muffins got a nice rise from use of a combo of baking powder and soda. Be sure to follow my directions for measuring the batter and swirling the cinnamon mixture in.
It's super important that you don't overfill or under fill your muffin cups. You want them just popped over the top of the cup like these are.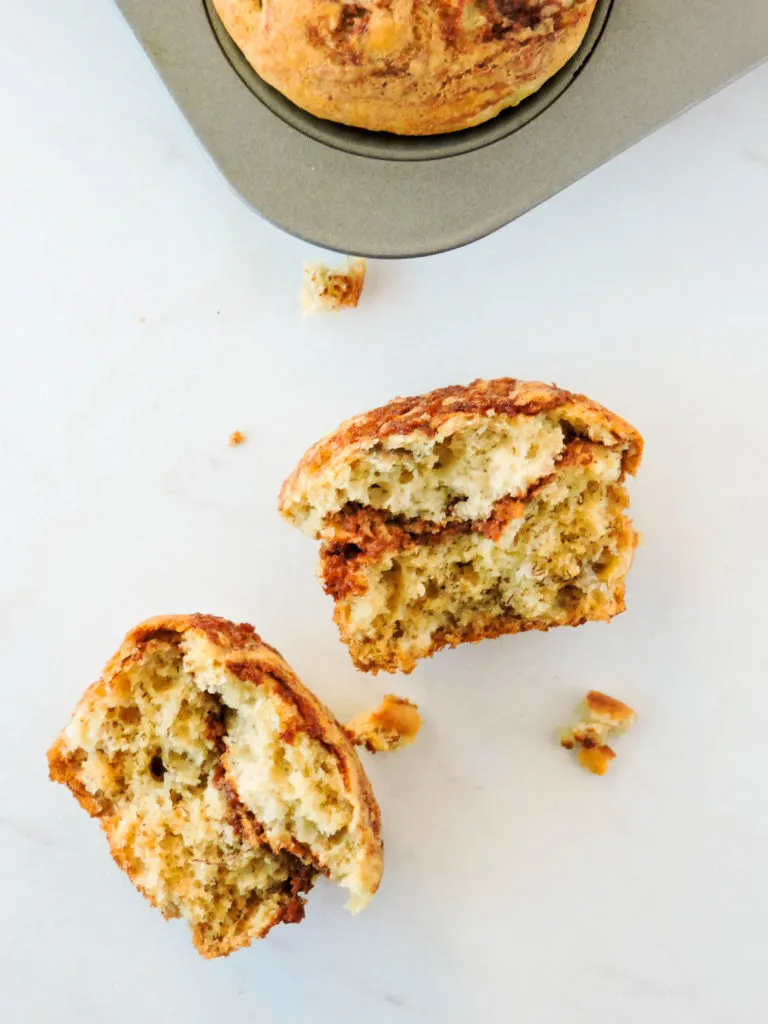 The prize is the cinnamony center! It's warm and comforting just like a cinnamon roll. I think you'll be making these for your family over and over!
If you do , please take me on Instagram at FreshFitKitchen. I love to see what you're making!
If you want to make some actual cinnamon rolls check out my EASY Overnight Cinnamon Roll recipe!
PIN FOR LATER!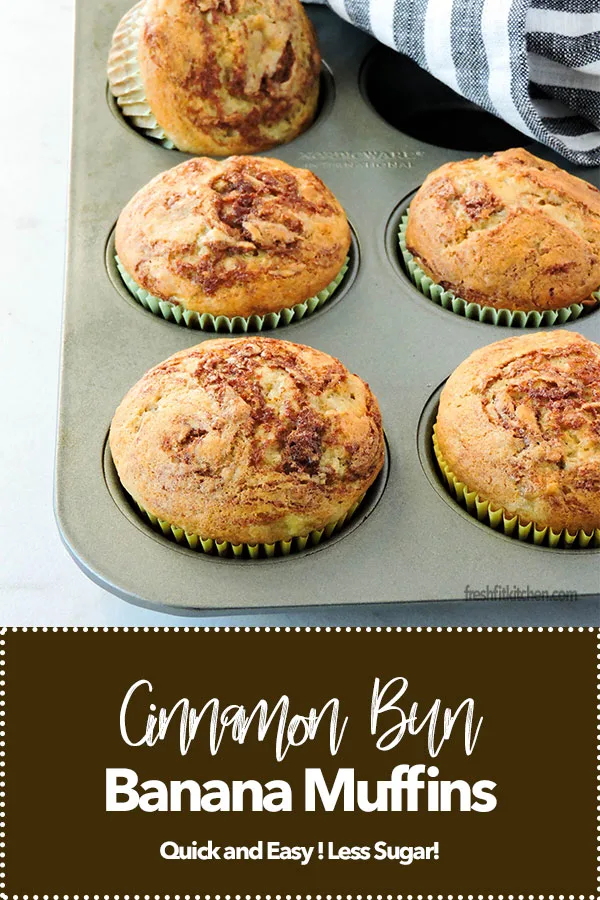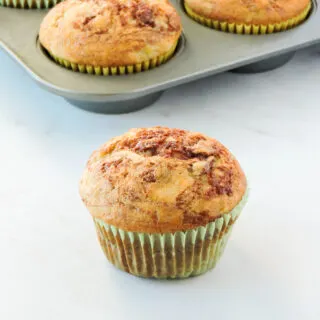 Cinnamon Roll Banana Muffins
Cinnamon Roll Banana Muffins are an easy and delicious way to enjoy cinnamon roll flavor without the extra sugar and the time it takes to make cinnamon rolls.

Ingredients
2

large

Bananas

Very ripe.

1

large

Egg

1/4

cup

White Sugar

1/4

cup

Brown Sugar

1

tsp.

Vanilla Extract

1/4

cup

Avocado Oil

1.5

cups

All Purpose Flour

1

tsp.

Baking Powder

1/2

tsp.

Baking Soda

pinch of salt
For Cinnamon Swirl
1/4

cup

Unsweetened Applesauce

1/4

cup

Brown Sugar

1

tbsp.

Cinnamon
Instructions
In a small bowl mix together the ingredients for the cinnamon swirl- Apple sauce, brown sugar and cinnamon. Set aside.


In a large bowl using a hand mixer or in the bowl of a stand mixer add egg, banana, brown sugar, white sugar, avocado oil and vanilla. Mix it all together until well combined and the banana is mashed up.


Slowly add in the flour 1/2 cup at a time and mix until just incorporated. Then add in the baking powder and baking soda.


Use muffin cups and line 8 holes of a muffin tin. Spray the cups with a little nonstick spray for good measure. Add 2 tbsp (I used a 1 tbsp. cookie scoop for this job) of batter to the muffin cup, then add 1 tsp. of cinnamon swirl mixture. Use a tooth pick to lightly swirle it through the batter a bit. Add 2 more tbsp. of batter then top it with another tsp. of cinnamon mixture. Swirl the top. Repeat with the other 8 muffin cups.


Bake at 350 degrees for 18-21 minutes. Insert a toothpick in the center and if it comes out with just a few crumbs, they are done.

Notes
I have not tried this recipe with gluten free flour. If you're going to try it, I'd recommend Bob's Red Mill 1:1. In any gluten free baking I've done, it has the best result. I have also not tested the recipe with alternate sugars.
If you don't have avocado oil, you can use vegetable , canola or grapeseed oil.
Nutrition
Calories:
223
kcal
Carbohydrates:
34
g
Protein:
3
g
Fat:
7
g