I am rather picky when it comes to macaroni and cheese. I don't like it too gloppy or too dry and I need some kind of flavor coming through besides straight cheese. This grown up macaroni and cheese or Roasted Broccoli Parmesan Pasta uses simple techniques and seasonings to make a very flavorful dish. Roasted broccoli, citrus zest and some pantry spices come together for one delicious treat.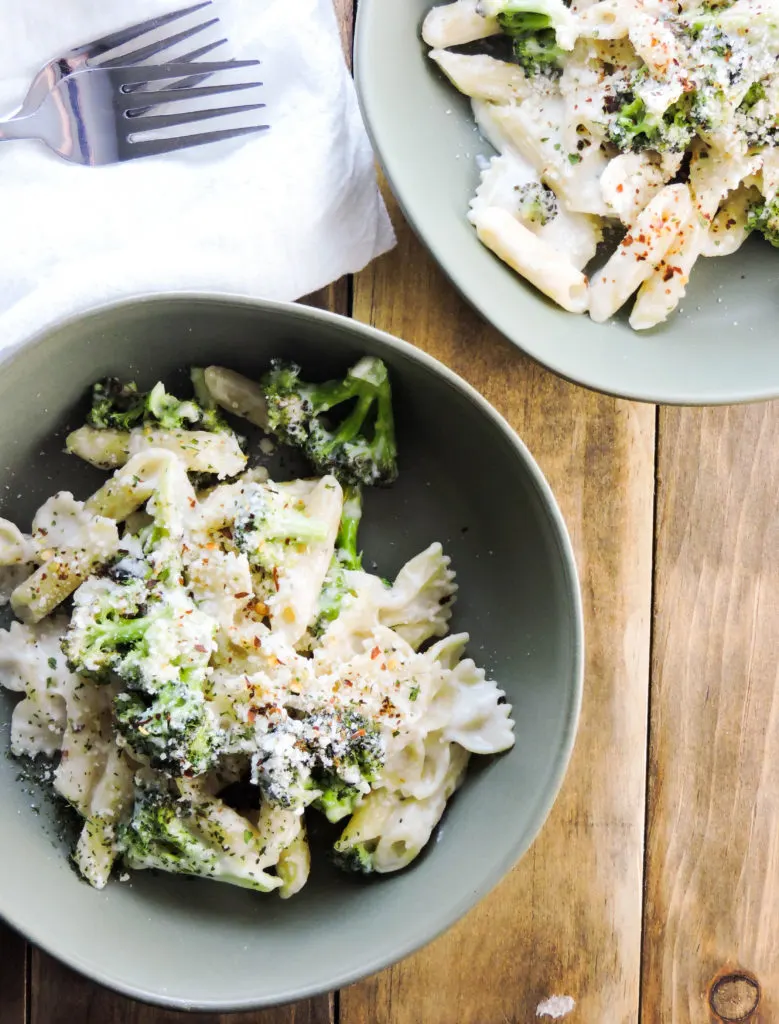 How to Make a Roux
I know people want to run the other way when they see a recipe that requires making a roux. If you master making a roux though, you'll never be afraid to make gravies or sauces again. It really is just a 1:1 ratio or flour to fat (usually butter). The key to successfully executing is to melt the butter completely, add the flour and whisk until it's a uniform mixture. Make sure you cook the flour taste out for at least 20-30 seconds and that the mixture has come together. You'll then add your liquid. For cheese sauces this is usually milk or cream and for gravies it might be stock. The key is to keep the heat around medium to low and to continuoustly whisk. This helps you avoid lumps. Another way to avoid lumps is to make sure you aren't adding ice cold liquids to your roux. Warm up the liquids or take them out of the fridge a little prior to making things so they aren't so cold. Other than that, you really can't mess it up. I highly recommend that before you reach for short cut ingredients like sodium laden cream soups, you learn to make roux. It's a skill that can be applied across all cooking.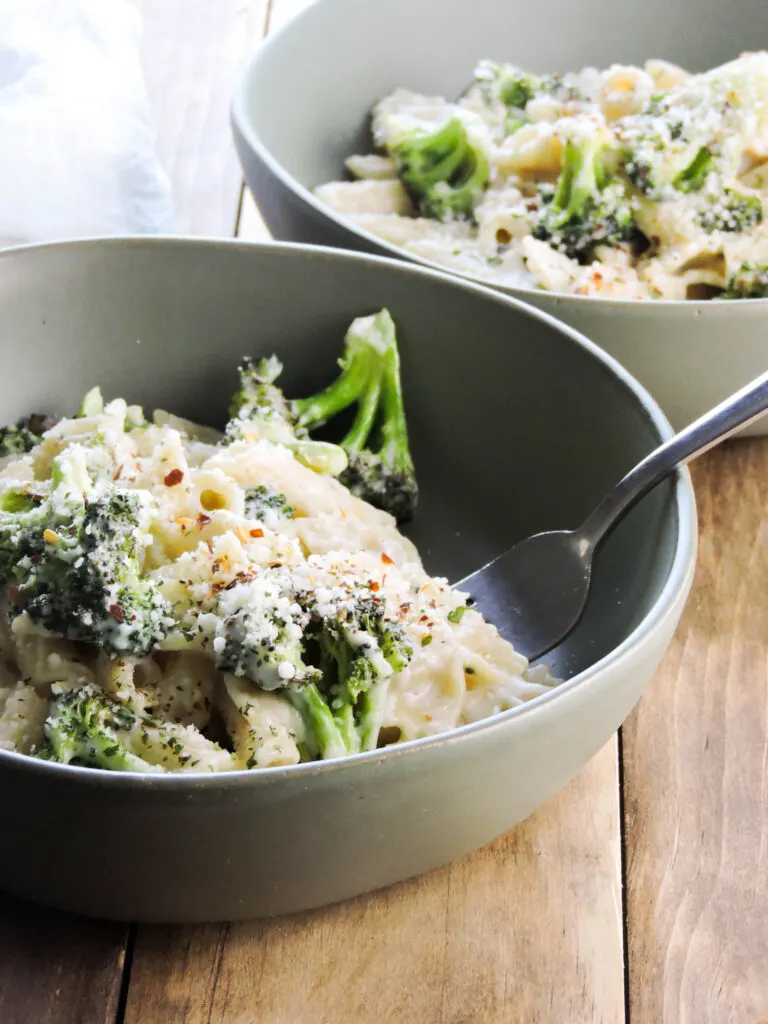 What is the right kind of Parmesan Cheese to use for cheese sauce?
It is very important when you select parmesan cheese that you use the kind that is labeled Parmesan Reggiano. This cheese has no added fillers or stabilizers. Pre-shredded cheese will always make for a gritty cheese sauce. They have things added to them to keep them from clumping. To grate my parmesan, I throw it right in the food processor then I keep it in a zip top storage bag. It's the perfect way to grate a bunch at once.
I hope you'll pin this recipe for later! If you try it- tag me on Instagram @freshfitkitchen.
If you like this recipe, you might also like Skinny Broccoli Alfredo Bake.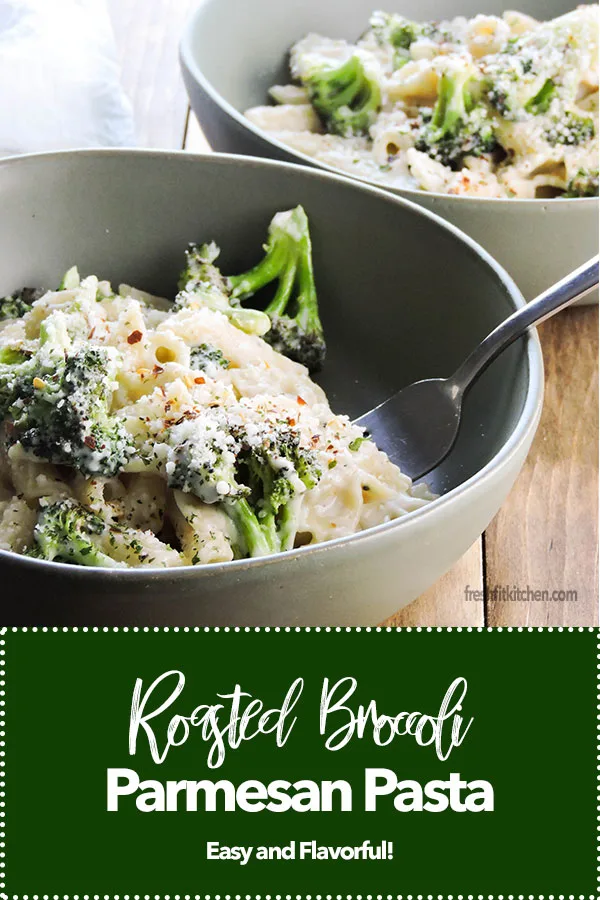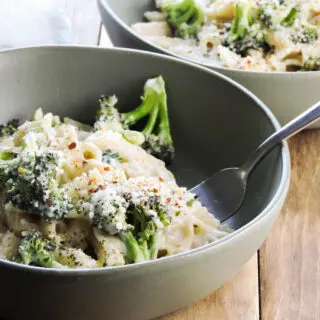 Roasted Broccoli Parmesan Pasta
Roasted Broccoli Parmesan Pasta is a grown up take on macaroni and cheese. Creamy Parmesan sauce comes together with crispy roasted broccoli. An easy meat free meal.

Ingredients
12

ounces

Penne or Bowtie Pasta

You could also use a combination.

2

cups

Broccoli

Cut into small florets

1/4

cup

Parmesan Cheese

grated
Parmesan Sauce
2

tbsp.

Unsalted Butter

2

tbsp.

Flour

1.5

cups

Whole Milk

Plus more for thinning the sauce if needed

1/2

cup

Parmesan Cheese

grated

1/2

tsp.

Black Pepper

1/2

tsp.

Garlic Powder

1/2

tsp.

Onion Powder

1

tsp.

Lemon Zest

1/2

tsp.

Crushed Red Pepper Flakes

Optional- and more for garnish.

1/4

cup

Fresh Parsley

Optional
Instructions
Preheat oven to 400 degrees. Line a baking sheet with parchment paper and toss the broccoli florets onto the sheet with salt, pepper, and a coating of avocado oil (or another high heat oil like grapeseed oil). Roast the broccoli for 20 minutes- flipping 1/2 way through.


Meanwhile bring a pot of water to a boil and cook the pasta until aldente per the instructions. Drain the pasta and return the pot to low heat. Melt the butter in the bottom of the pan and then add your flour.


Stir the butter and flour mix until it comes together and then add the milk. Cook over medium low heat while whisking constantly until the sauce thickens.


Add parmesan cheese, black pepper, garlic powder, onion powder, crushed red pepper (if using) and lemon zest. Remove from heat and stir until cheese melts.


When the broccoli comes out toss it with 1/4 cup of parmesan cheese and allow it to sit on the pan until the cheese kind of melts. Scrape the broccoli off the pan and add it to the cheese sauce along with the pasta.


Stir everything together. Serve with parsley, crushed red pepper and extra parmesan.

Notes
Whole milk is very important for this recipe because it makes things creamy. I have not tried the recipe with lower fat milks, but I wouldn't go lower than 2%. I have not tried it with plant based milks.