Chocolate. Sometimes I just need it. Ever raid the cabinets and start eating chocolate chips instead of making cookies? Come on. Don't leave me hanging. These Double Chocolate Banana Muffins are the answer to your chocolate loving prayers. Honestly, they are healthy enough for breakfast. Why not surprise the kids with a chocolate for breakfast? That would have to earn some points toward best mom ever status.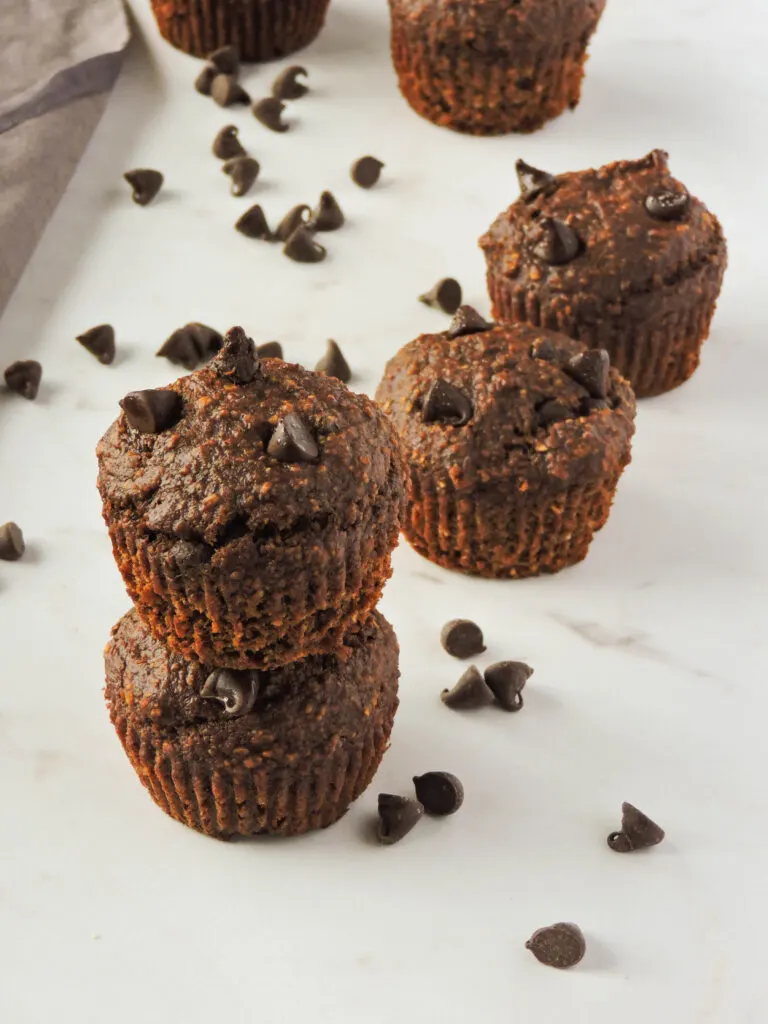 Healthy Double Chocolate Banana Muffins- No Oil
I used regular sugar in these muffins. If there isn't any oil, we leave room for a little sugar, right? Unsweetened cocoa powder has a bitter after taste and in my opinion, the only way to counter it is regular sugar. I know we have gotten into the habit of "healthier sugar" which kind of feels like an oxymoron. Fact is- sugar is sugar and most of it has 15 calories per teaspoon. I don't do fake sugars and much of the time we use honey, coconut sugar, or maple syrup. I know there is a lot of literature out there about how each processes in the body. My final verdict on all of this is that less is more even if you use the "good stuff." In this case we are using the white stuff, but far less than many muffin recipes call for. Feel free to try it with other sugars. I just can't guarantee the result.
Healthy Muffin Recipes Are My Thing
Peanut Oat Banana Muffins, Gluten Free Blueberry Muffins, Pecan Oat Pumpkin Muffins and Cranberry Orange Muffins are just a few you'll find on the blog right now. I didn't have a chocolate muffin, so I figured why not?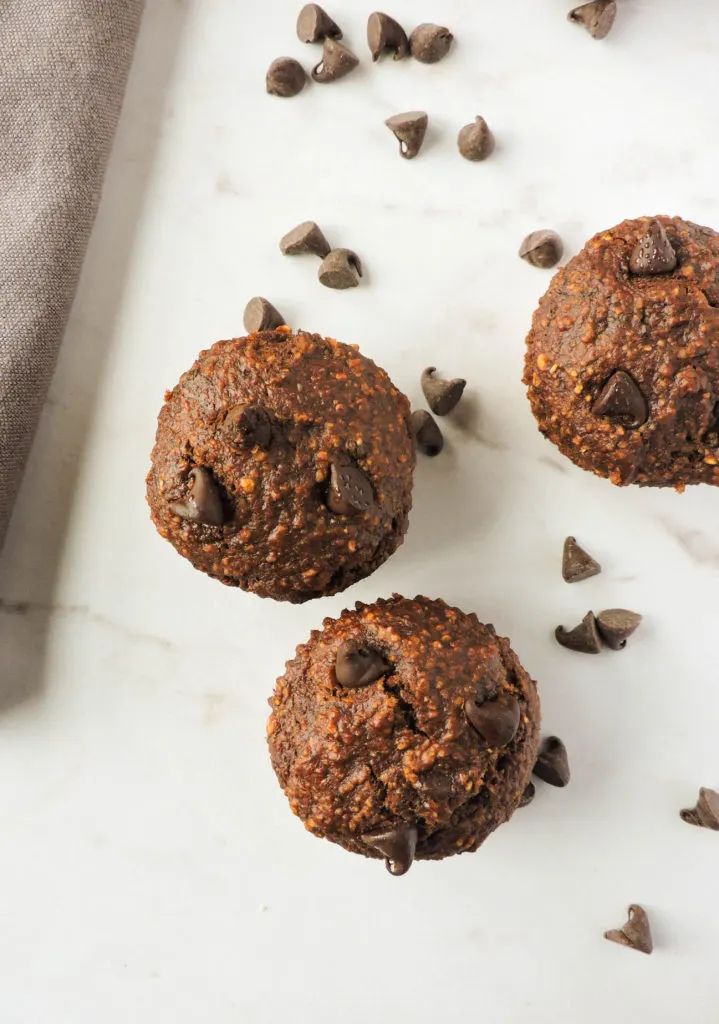 Make these muffins? Tag me on Instagram @freshfitkitchen.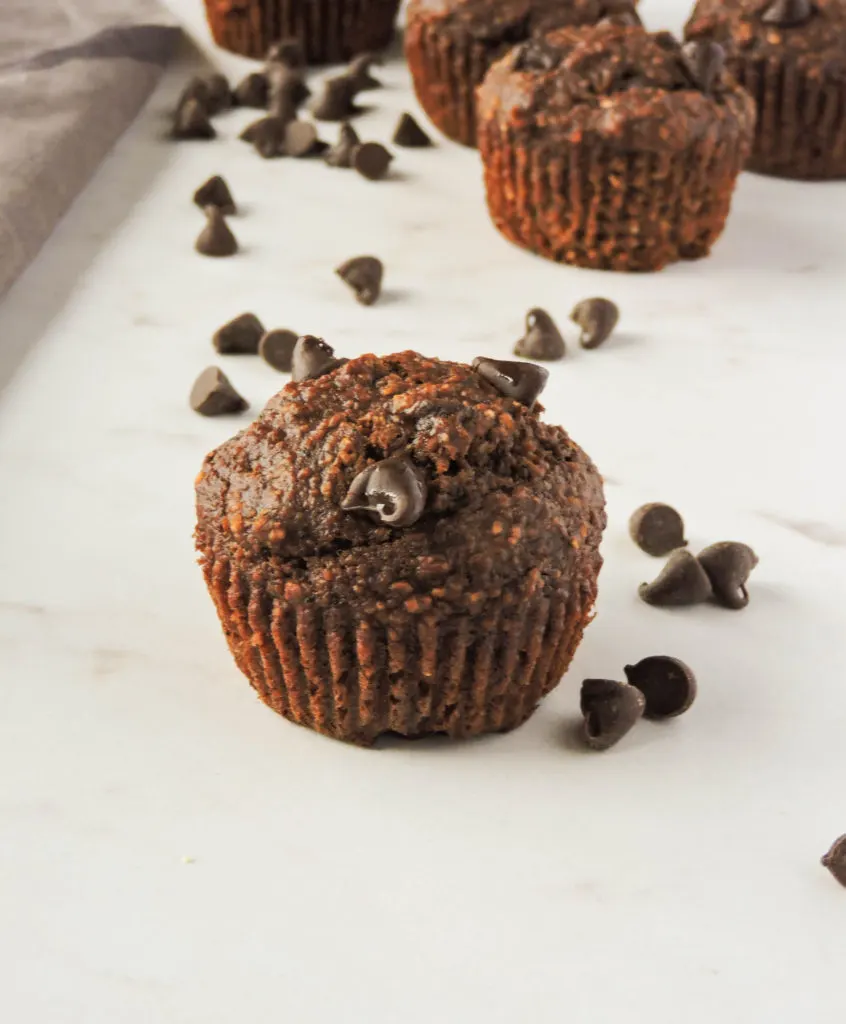 Pin for Later!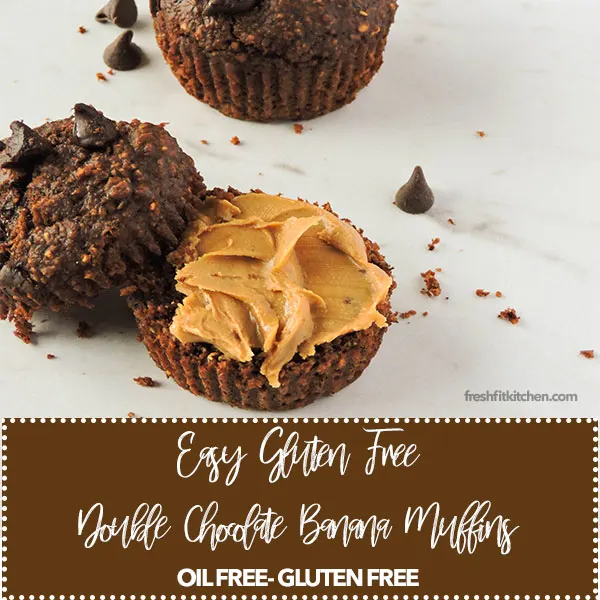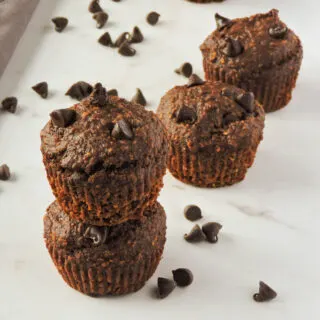 Double Chocolate Banana Muffins
Double Chocolate Banana Muffins are a gluten free chocolate muffin recipe containing no oil and less sugar than traditional recipes. A healthy double chocolate banana muffin recipe your family will love.
Ingredients
1

large

egg

2

Bananas

ripe

1/2

cup.

Sugar

1

tsp.

vanilla

1 & 3/4

cups

Oat Flour

You can pulse oats in a food processor until they resemble flour. The 1 & 3/4 cup is in flour form. Pulverize the oats then measure.

1/3

cup

Unsweetened Cocoa Powder

1/4

tsp.

salt

1/4

cup

Almond Milk

1

tsp.

Baking Soda

1

tsp.

Baking Powder

1/2

cup

Chocolate Chips

I use semi-sweet.
Instructions
Preheat oven to 350 degrees In the bowl of a stand mixer (you can also use a large bowl and a hand mixer) mix together the bananas, egg, sugar and vanilla until smooth.

Slowly add in the oat flour and the unsweetened cocoa powder. I added it in 3 batches. Add in the salt, almond milk, baking soda and baking powder. Mix until well combined, but do not over mix.

Mix in the chocolate chips. Add 9 muffin cups to a muffin pan and spray each one with a little cooking spray. Scoop the batter into the muffin cups and fill the cups 3/4 of the way.

Sprinkle 3-4 chocolate chips on top of the muffins before baking. Bake for 15-17 minutes. Watch closely. You do not want to over bake these.
Notes
It's very easy to dry out chocolate muffins. This recipe uses no added oil. Be sure to watch the muffins carefully and remove as soon as a toothpick comes out clean. Allow to cool on a wire rack before serving.