Tostadas, tacos, burritos, enchiladas or chimichangas, basically if you wrap it into some kind of tortilla , I am into it. These are the easiest sweet potato black bean tostadas because they are made of things you probably already have in your pantry. They are also entirely plant based tostadas, but I promise you they'll still appease your meat eaters.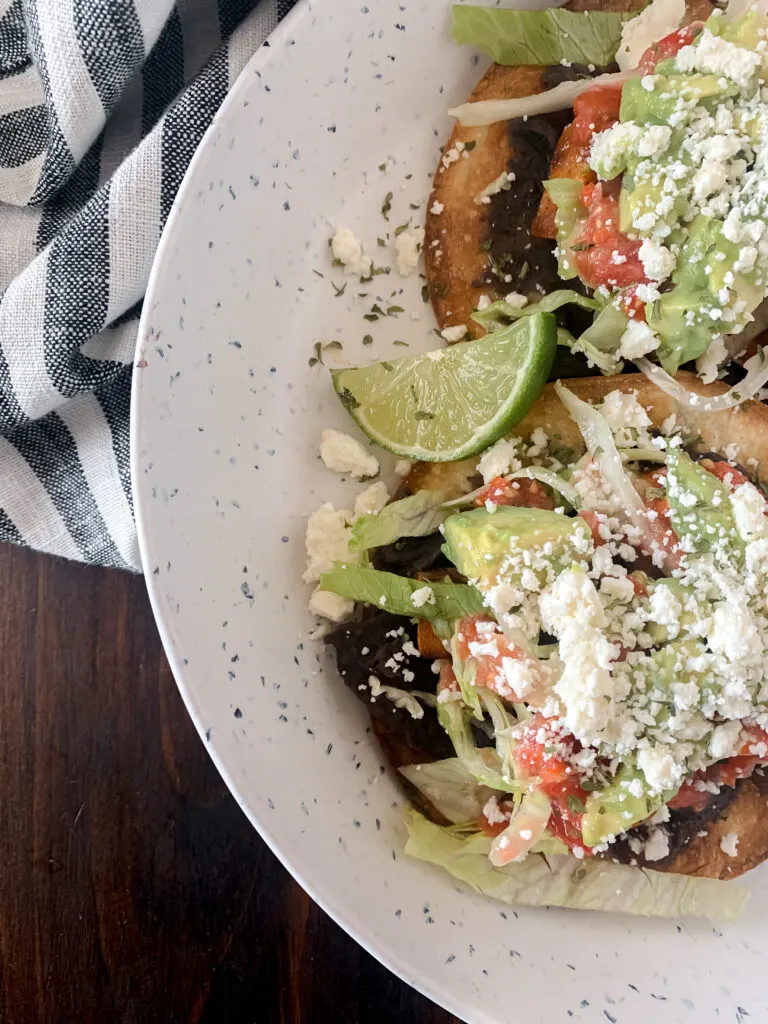 What is a Tostada? Why not a Taco?
A tostada is basically a flat taco. I tend to like tostadas because of their increase surface area for all the toppings. Tacos tend to be less filling and more tortilla. Tostadas allow you to load them up. They are also crunchy, which for me is a big bonus.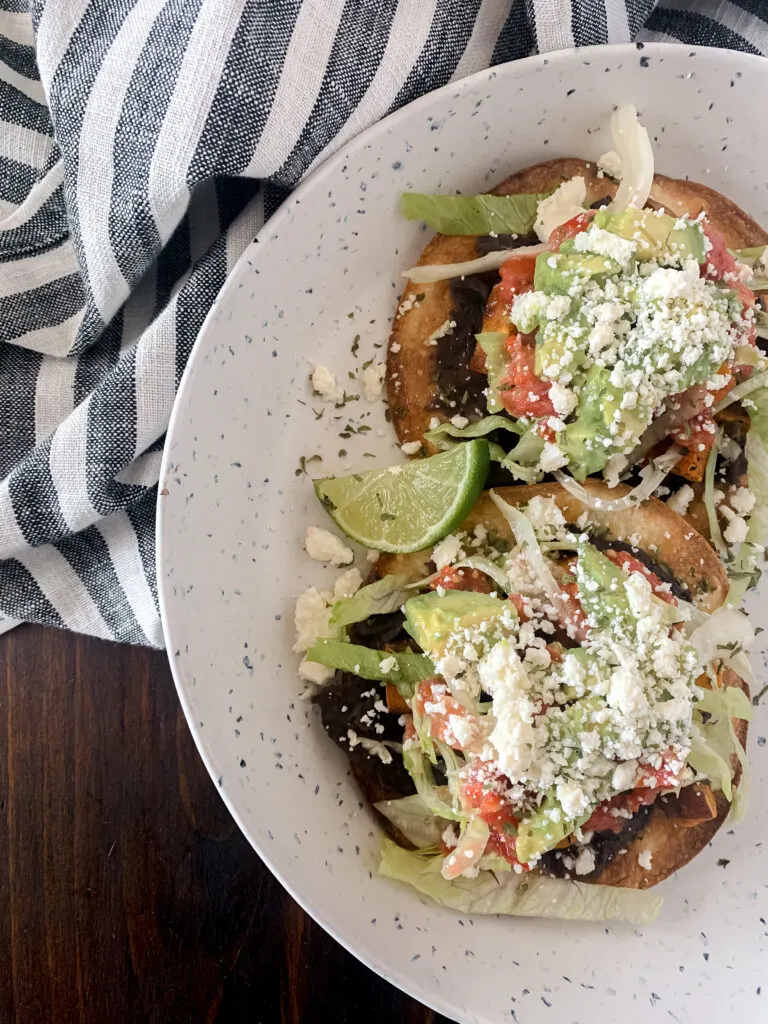 Do you Need to Fry Tostadas?
NO! You can buy ready made tostada shells in the grocery store, but they are fried and and simply not as tasty. I particularly love the Mission brand extra thin corn tortillas for my tostada shells. They are light calories and they toast up great in the air fryer or oven.
What are traditional Tostada Toppings?
Really anything you'd put on a taco, you can put on a tostada. We do chicken, beef, pork, black beans, sweet potatoes or any other plant based meat substitute. If you'd put it on a taco, it will work.
I highly recommend a "glue" as your first layer though. The refried beans help things stick to the top so everything doesn't roll off. Construction is everything when assembling your tostada.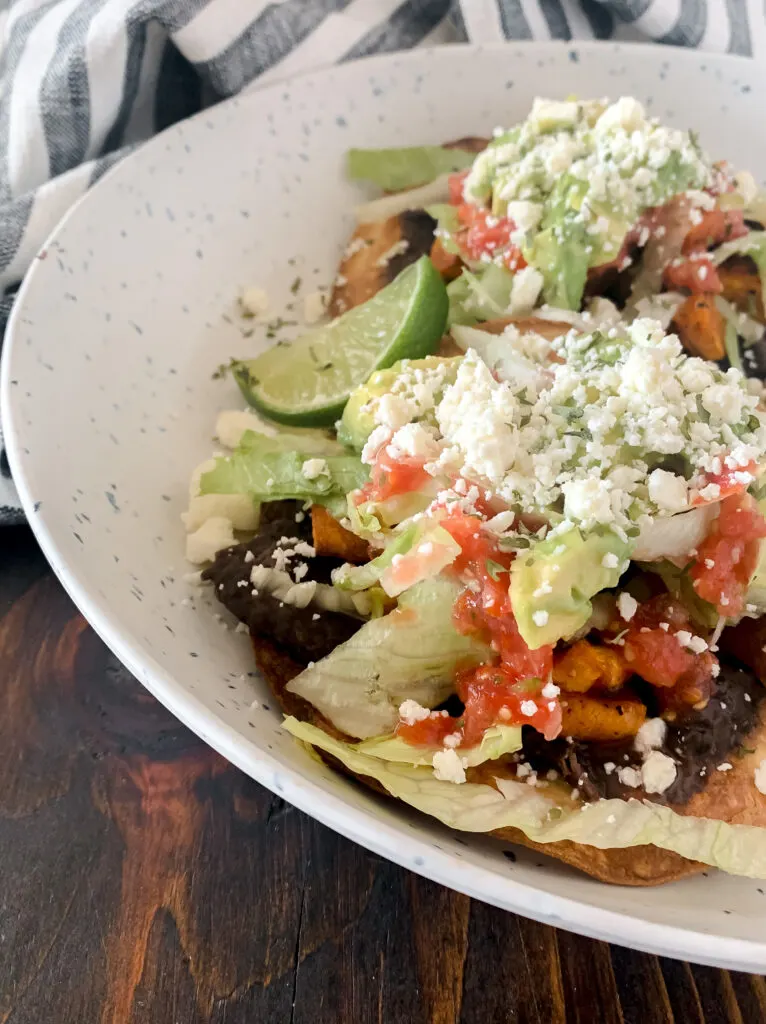 Easiest Sweet Potato Black Bean Tostadas Tips
Make sure you use some type of refried bean as the "glue" for your toppings. This will make your tostada easier to eat.
Cut your sweet potatoes into 1/2 inch cubes. You don't want large pieces rolling off of your tostada.
Use a salty crumbly cheese like cotija or queso fresco. These cheeses lend a nice saltiness that plays well with the sweet potato.
Make sure you spray the tops and bottoms of your tortillas before toasting them up. You want a nice crisp surface so your tostada can support your toppings.
Get creative, there are few rules here.
You do not have to make the refried beans from scratch, but if you do, I highly recommend this recipe by Running on Real Food.
I really hope you'll try this plant forward take on tostadas. Mexican dishes are a great way to experience new veggies because they pack such a flavor punch.
ENJOY! Comment below if you made these!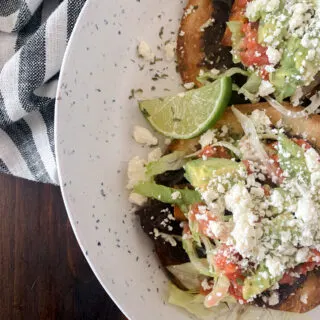 Easiest Sweet Potato Black Bean Tostadas
An easy plant based tostada recipe that is simple, flavorful and healthy!
Ingredients
2

cups

Refried Black Beans

Any refried beans will do. Canned is fine.

12

Corn Tortillas

2

large

Sweet Potatoes

Cut into 1/2 inch cubes

1

tsp.

Chili Powder

1/8

tsp.

Cayenne Pepper

1

tsp.

Salt

Salsa

Homemade or store bought

Queso Fresco

or Cotija Cheese

Avocado

cut into chunks- just enough to garnish each tostada

Shredded Iceberg Lettuce

Or Cabbage
Instructions
Preheat your oven to 400 degrees

Cut the sweet potatoes into 1/2 inch cubes. Put sweet potatoes onto a large sheet pan and spray with olive oil. Add 1 tsp. of salt, 1 tsp. chili powder and 1/8 tsp. cayenne (optional if you like it extra spicy). Roast the potatoes for 20-25 minutes or until golden. Toss them halfway through cooking.

While the sweet potatoes are cooking get your toppings ready. Shred your lettuce or cabbage, cut your avocado and get your salsa out. It's good to have the toppings prepped because everything else goes quickly. Open up your refried beans and heat them over low heat on the stove.

I like to use my airfryer to toast my tortillas. I have the Ninja Foodie Air Fryer oven. You can use your toaster oven or your regular oven if you don't have one. I air fry them at 400 degrees for 5-6 minutes. I flip them halfway through. If you use the oven, you will need closer to 7-8 minutes. Just keep and eye on them. They cook fast. Please them on a sheet tray sprayed with olive oil spray, then spray the tops. I also sprinkle on some flake salt for flavor. Toast them up until they are golden and crispy.

When your potatoes are done, your tortillas are crispy and your refried beans are heated through, you are ready to assemble.

Spread on some refried beans, then your potatoes, then lettuce, then salsa, then avocado and a heavy sprinkle of cotija or queso fresco cheese.

Optional add ons would be hot sauce, cilantro, parsley, scallions or finely diced onion.
Nutrition
Calories:
220
kcal
Carbohydrates:
34
g
Protein:
7
g
Fat:
3
g
If you liked this post, you might also like…
Please Note- Nutrition information is calculated before toppings. Toppings create a variable for each tostada. If you want to be exact, I recommend adding your toppings separately in My Fitness Pal or whatever app you like using.
I use this Air Fryer Oven by Ninja –
*affiliate link