When warmed temps hit, I like a fresh take on my meals. This strawberry kale grain bowl can be thrown together in a few minutes using ingredients you probably have on hand. The quinoa provides protein, strawberries provide freshness and the good news is the kale holds up even after being dressed. A strawberry kale grain bowl is perfect picnic food because it can handle being dressed ahead of time. My friends will tell you I have a thing for kale. On the blog you'll find, Kale Apple and Walnut Salad, Kale and Roasted Butternut Squash Salad, and Kale Caesar Pasta Salad. Give me all the Kale!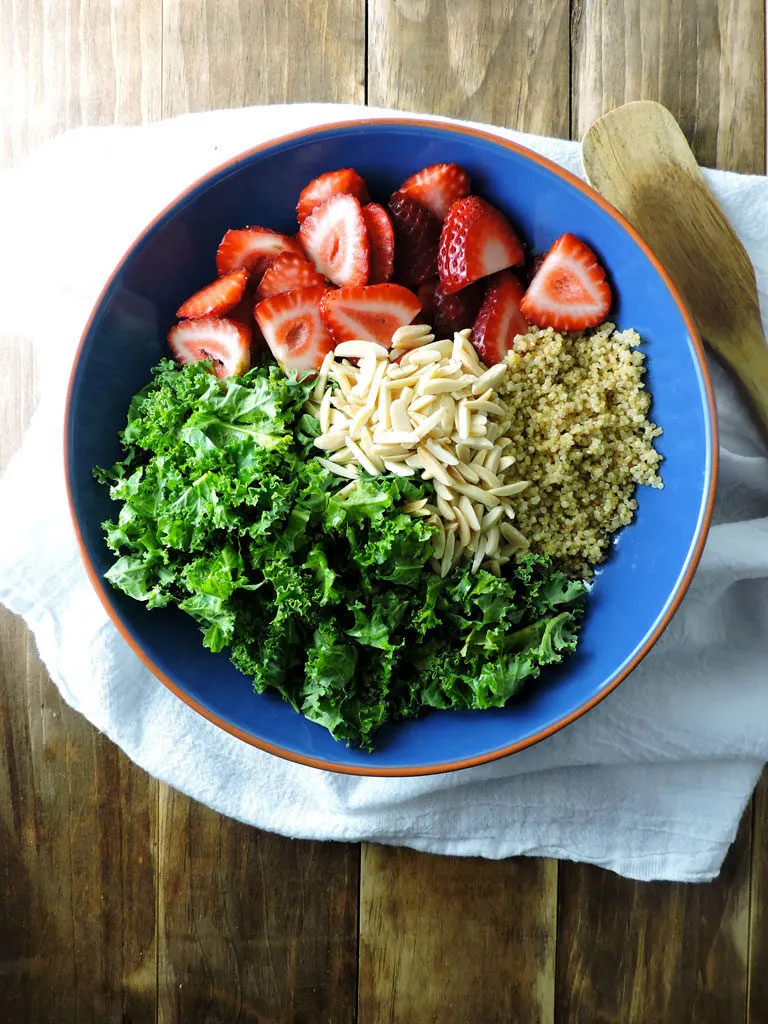 When using kale for salads, I have a few tried and true tips. The first is that you should remove the stem from the kale and massage it after chopping. Just rub the leaves between your fingers. You'll actually notice them getting darker and more tender. You'll want to lightly dress it and leave it sit for a bit, because the kale is hardy and needs to soak in the flavor.
Toasted almonds are the perfect grain free option to give your salad crunch without the need for gluten containing bread. I highly recommend you toast some and keep them in a container in your pantry. Then it's super easy to top salads.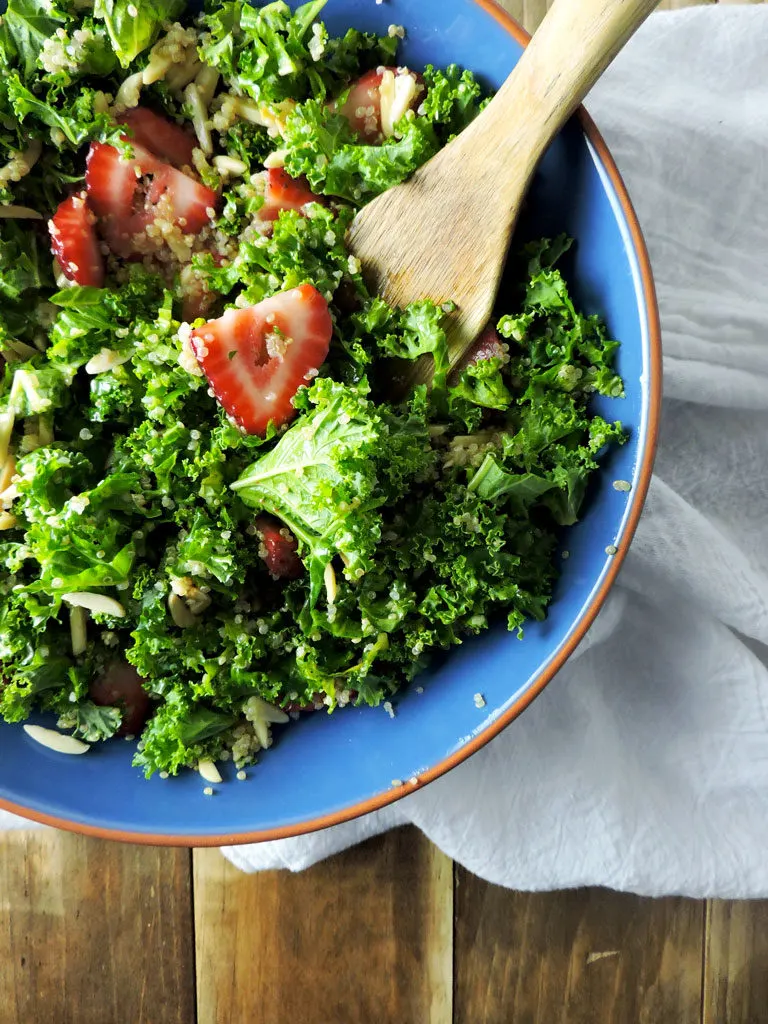 After you dress the salad toss everything together. You'll want a little of everything in each bite because all of these flavors compliment one another.
If you make this salad, please snap a photo and tag me on Instagram @freshfitkitchen.
Pin it for Later:

Save
Save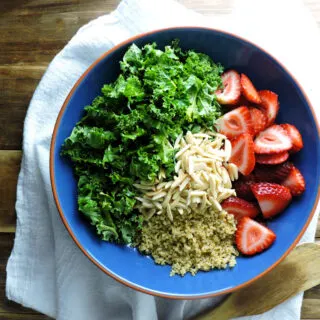 Strawberry Kale Grain Bowl
Ingredients
1

cup

Quinoa, cooked according to package instructions

1

cup

Strawberries, sliced

1/3

cup

Toasted Slivered Almonds

4

cups

Kale

4

tbsp.

Lemon Juice

1/3

cup

Extra Virgin Olive Oil

pinch of sea salt
Instructions
Prepare the quinoa. Cut the strawberries and take the kale off of the stems. It's also a good idea to massage the kale leaves for about 1 minute to tenderize them.

Toast the almonds in a dry skillet on medium heat until they start to get golden brown. Make sure to watch them because this happens rather quickly.

Arrange the kale, strawberries, cooked quinoa, and almonds in the bowl.

In a mason jar, shake the lemon juice, olive oil and pinch of sea salt.

Drizzle the dressing over top the bowl and toss. You probably won't need all of the dressing. Just keep the rest in the fridge up to one week.
Notes
This recipe is Gluten Free, Vegetarian and Vegan.