Anyone else frustrated that these winter months are filled with comfort food cravings instead of salads? I know I should be working on my summer body. Soon the chunky sweaters are gone, and we are left with the ugly truth. As I try to tread the line on eating too many carbs, I am trying to develop recipes that are comforting and healthy. This one pan healthy lasagna bake was born because I had stuff for sauce and only a few rogue noodles in the pantry. When there aren't enough noodles for the typical layered lasagna, you get creative.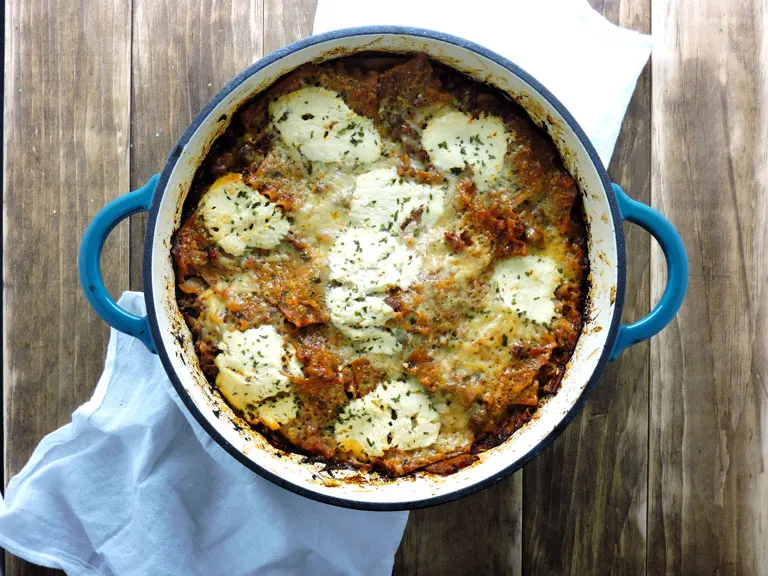 As I type this, I am eating the leftovers and I now know I spend way too much time on traditional lasagna. You do not have to boil the noodles. Apparently those "no boil" noodles, are just a marketing trick. I use regular lasagna noodles in this recipe and boiling is not required. The noodles are perfectly al'dente. The kitchen doesn't look like a war zone after making it either. Typically there are no less than 5-6 dishes dirtied making lasagna. If you have a nice shallow dutch oven like the one shown, you'll only use 1 dish! How easy is that?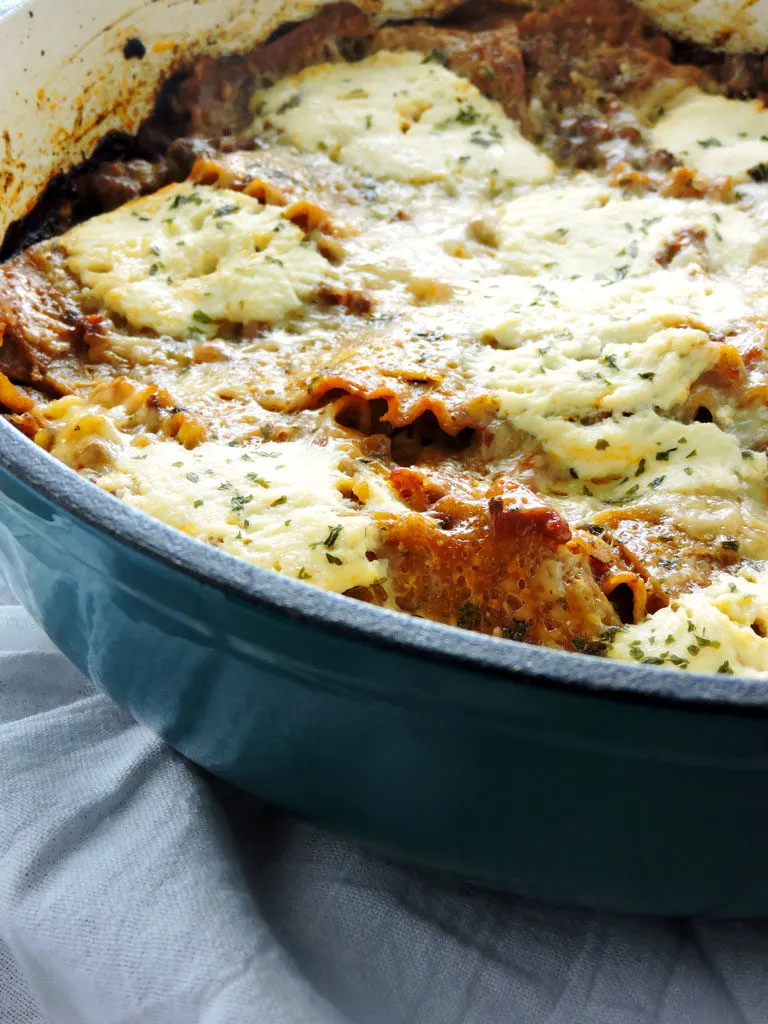 Sure, there is still some time invested, but it's all inactive cook time. You can curl up with that book and watch the snow fall while your house is filled with delicious smells. One Pan Healthy Lasagna Bake is not salad, but it is a nice diversion from overly heavy comfort food.
If you make this, please comment below and tell me how it went, or post it on instagram with the hashtag #freshfitkitchen.
Tools I used in this recipe:

Save
Save
Save
Save
Save
Save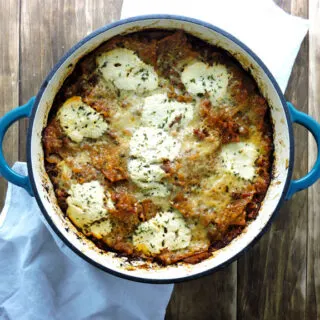 One Pan Healthy Lasagna Bake
Ingredients
1

lb.

Lean Ground Beef

28

oz.

Canned Crushed Tomatoes with Basil

14

oz.

Canned Petite Diced Tomatoes

2

tsp.

Italian Seasoning, dried

3

tsp.

garlic, minced

1/2

cup

onion, minced

1/2

cup

Red or Yellow Pepper, chopped

1

tsp.

Crushed Red Pepper

8

Whole Wheat Lasagna Noodles

Break noodles into 2-inch pieces.

1/4

cup

water

1/2

cup

part skim mozzarella cheese

1/2

cup

Parmesan cheese

1/3

cup

Part Skim Ricotta

Parsley for garnishing
Instructions
If you are using a pot that can transfer from stove top to oven, you'll only need one. If you don't have one, you will need a 13x9 dish to finish this recipe.

Brown the ground beef over medium heat. A few minutes into browning, add the onion, pepper and garlic. Add a dash of salt and pepper. Cook until the ground beef is no longer pink.

Dump in the tomatoes (diced and crushed), and the Italian seasoning. Toss together and bring to a slow boil. Then reduce the sauce to a low simmer and let it go for at least a 1/2 hour. The longer you simmer the sauce, the better.

When you're ready to bake, preheat the oven to 375 degrees. Add the broken lasagna noodles and toss it all together. Be careful as you stir not to break the lasagna noodles. You will not be boiling the noodles. Put them in there uncooked.

Add in 1/4 cup of water. A good tip here is to use the tomato can so you can get all that good tomato flavor in there. Sprinkle the mozzarella, Parmesan, and just put dollops of ricotta all over the top. Add parsley for garnish if you wish.

If you're using a dutch oven, put the lid on. If you're using a casserole, cover it very tightly with foil. Bake covered for 45 minutes. Remove the cover and bake another 10. Check the noodles for doneness. They should be perfectly al'dente.