Okay it's confession time. I am a food blogger and self proclaimed foodie and I dislike smoked barbecue food. It's not the sauce. It's typically the smoke flavor. It over powers all of the other flavors for me and I can't help but feel like I am eating the grill drippings instead of the food. For some reason my palette just doesn't respond to smoked flavors. Naturally my husband and I have different tastes in barbecue sauces and this Spicy Chipotle Honey Barbecue Chicken is the answer.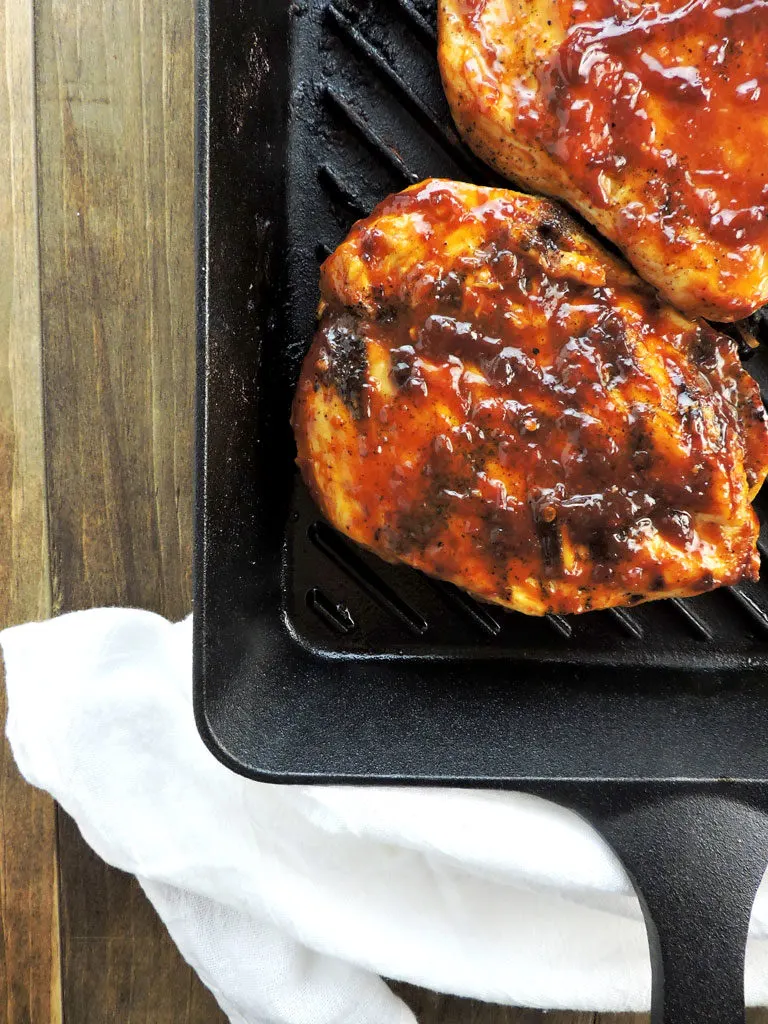 The barbecue sauce is smoky without the use of liquid smoke. Instead I used Chipotles in Adobo sauce. Between the Chipotle peppers and a little molasses, the sauce is smoky without tasting like the actual fire pit. A win!
You'll want to make sure to use one Chipotle pepper and then add more for your desired heat level. The first time I made this, I added 3 and I have to say it was knock your socks off hot. Thankfully no one has a problem with spicy food around here, so that was okay.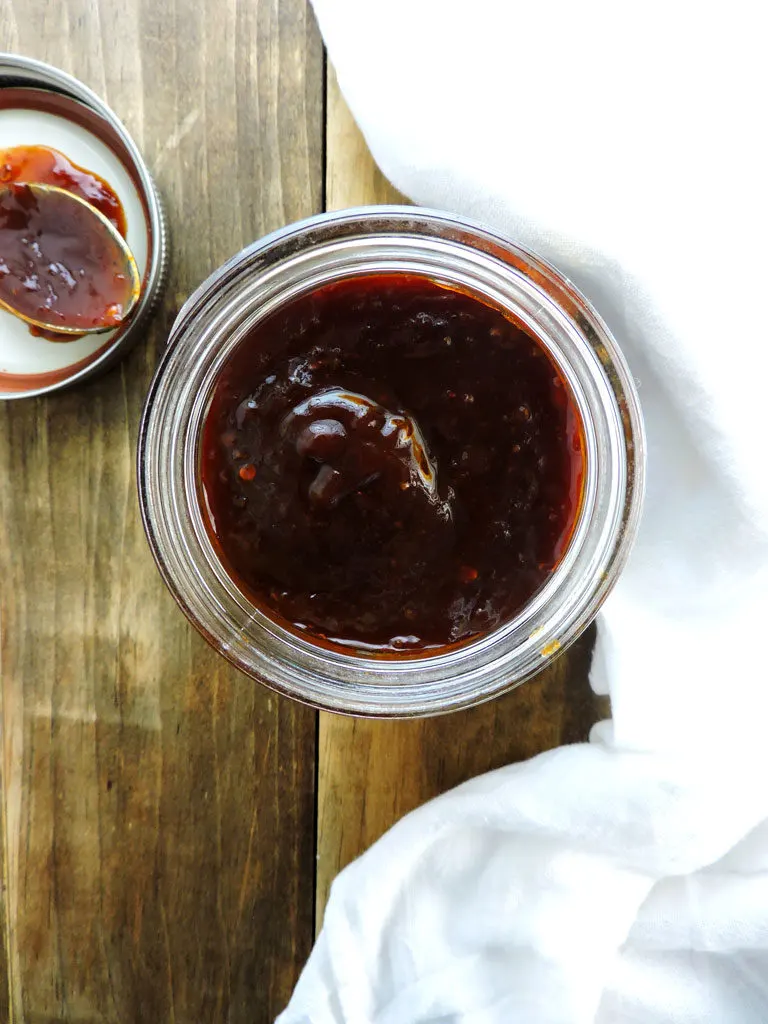 I think this sauce would be perfect as the base for a Barbecue Chicken Pizza. Make sure you check out my easy 5 Ingredient Barbecue Chicken Pizza. I think if you grilled chicken wings, it would be a hit too. Homemade barbecue sauce is really so easy. You can taste as you go and add a little of this or that to sweeten things up or spice things up. You are truly in control of your barbecue sauce destiny.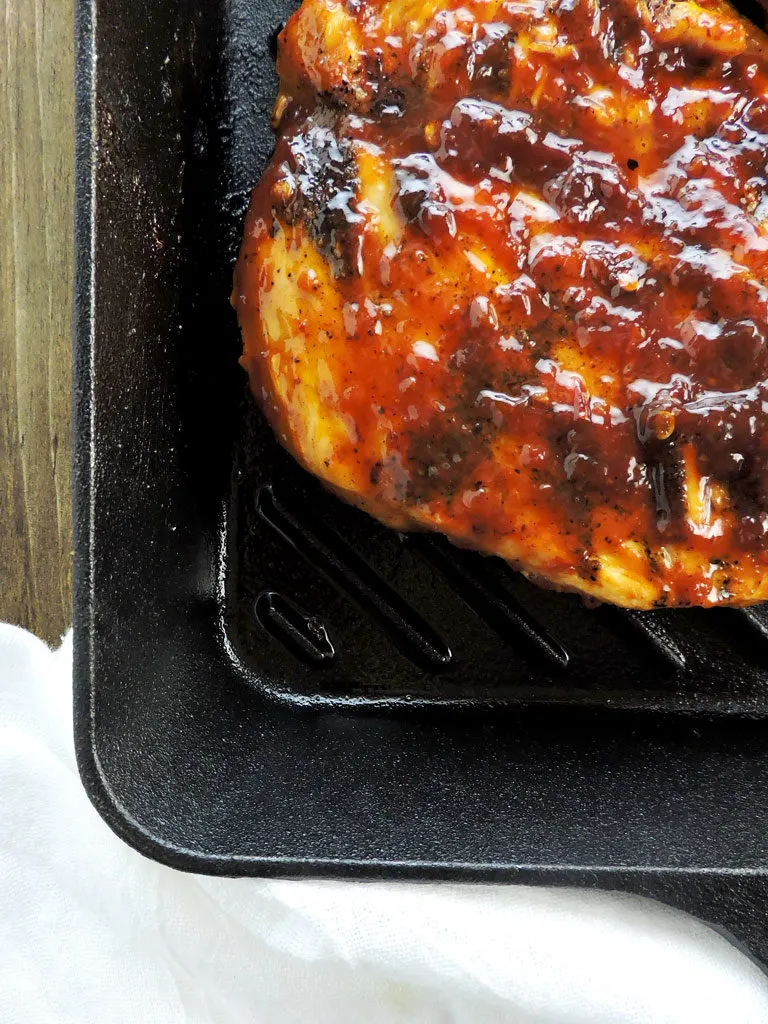 Because this sauce is so flavorful, I just brush a little on in the last 5 minutes of cooking. No need to drench it, but you can leave some out for dipping. I definitely recommend that.
Pin for Later:

Save
Save
Save
Save
Save
Save
Save
Save
Save
Save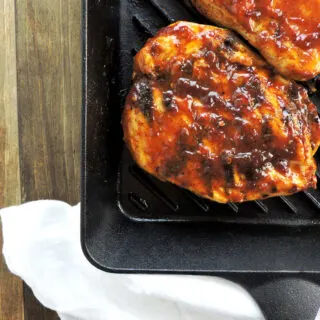 Spicy Chipotle Honey Barbecue Chicken
Spicy Chipotle Honey Barbecue Chicken has an easy homemade barbecue sauce that's perfect for your next summer picnic. Sweet and heat perfection is achieved using Chipotle in Adobo, molasses and honey.
Ingredients
4

Chicken Breasts, 4 oz. each

1/2

cup

ketchup

1

Chipotle Pepper in Adobo Sauce

You can add more to reach your desired heat level. 3 or more will be very spicy.

1/4

cup

honey

1/4

cup

Molasses

2

tbsp.

brown sugar

1

tbsp.

Dijon Mustard

1

tsp.

Apple Cider Vinegar

1/2

onion, chopped

2

cloves

garlic, minced
Instructions
For the Sauce: Saute the onions and garlic in a teaspoon of olive oil until translucent. Add in the ketchup, brown sugar, honey, molasses, Dijon Mustard, chipotle, and apple cider vinegar. Stir together for 2-3 minutes. Use an immersion blender to puree or transfer to a regular blender.

Make sure to pound the chicken breasts to even thickness. Salt and pepper both sides of the chicken. Grill on the first side for 5 minutes. Do not flip the chicken until you see it getting done around the edges. You want good grill marks.

When you're ready to flip, brush the top side of the chicken with an even layer of sauce. Allow the second side to finish cooking. This will take 4-5 minutes.

I like to use an instant read thermometer to be sure the chicken has reached 165 degrees. Allow the chicken to rest 10-15 minutes before serving.
Notes
This recipe is Gluten Free due to the homemade sauce. Glutens can be hiding in many sauces as preservatives. Be sure if you purchase sauces, to read the labels. Chipotle in Adobo are roasted jalapeno peppers in a vinegar based spicy sauce. You will typically find them on the aisle where the Mexican foods are in your grocery store. Make sure to add one pepper and then more if you want a spicier sauce.