We've all had it happen. You go home after a long day to open your fridge and declare there's nothing to eat. Now unless you're one of those people that keeps nothing but condiments in your fridge, I'm going to bet you can create a meal at any given time with a little creativity. The issue is we are all so married to those meals we make over and over. If we don't have everything needed for those we often say it's time to order pizza. In the interest of reducing food waste, I'm using what I have. This Summer Herb Chicken and Zucchini Pasta is born out of that idea.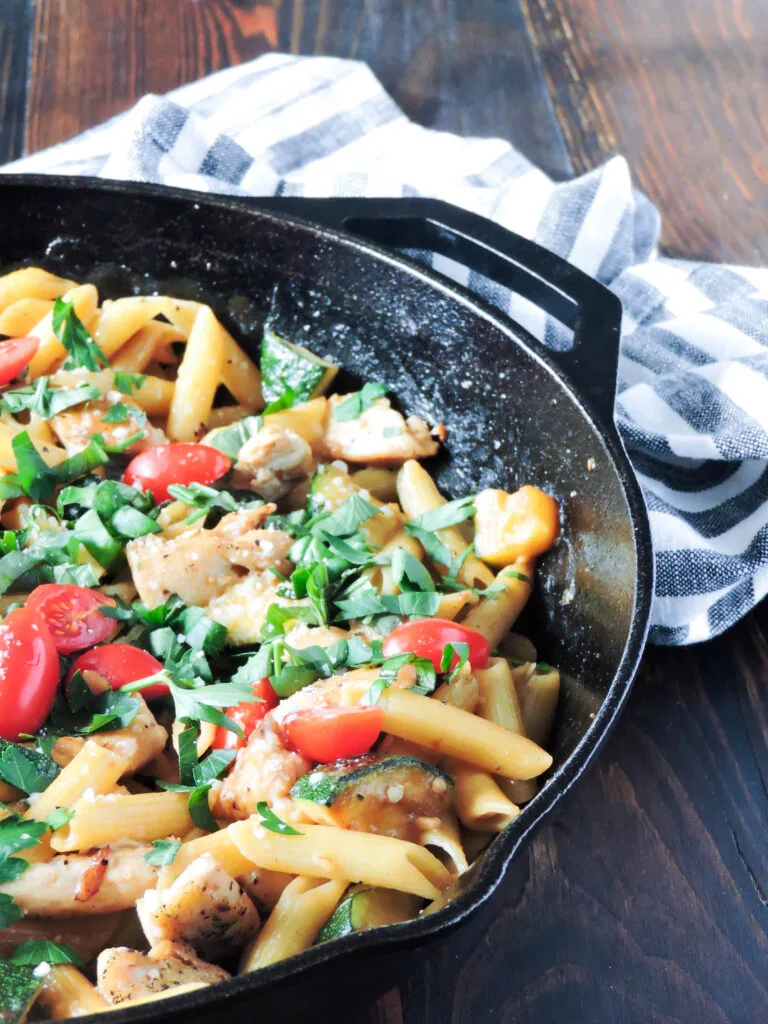 Summer Herb Chicken and Zucchini Pasta
You don't need a jar of sauce to make a pasta dish. If you have a cheese like Parmesan or Romano on hand you can easily add some of that starchy cooking water and make a light and easy "sauce." I try to always have a block of Parmesan on hand. It adds lots of flavor and it doesn't mold as easily as other cheeses. I always reserve some cooking water when I'm making pasta because my sauce can often use some loosening. It's nice and flavorful and gives pasta a creamy texture without being cream.
The next time it's time for dinner consider going to your fridge and pantry without expectations. Take a look at what's in there and imagine recipes from those ingredients. It's surprising what you can come up with. This Summer Herb Chicken and Zucchini Pasta will be an easy go to I'll make again and again. Don't have zucchini? Use asparagus or broccoli. One of the major keys to success here is being flexible with what you'll cook. you'll save on trips to the store and you won't throw so much money away on ingredients that have gone to waste.
Other Pasta Recipes You'll Love!
Grilled Chicken Pasta Primavera
Roasted Broccoli Parmesan Pasta
PIN FOR LATER!!!! If you make this comment below and let me know how it went . Tag me on Instagram in your photo of the dish @freshfitkitchen.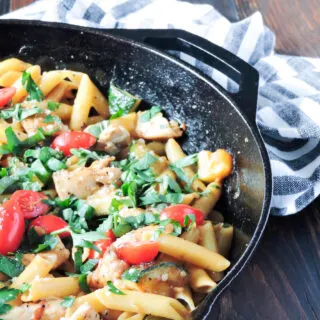 Summer Herb Chicken and Zucchini Pasta
Summer Herb Chicken and Zucchini Pasta is an easy weeknight recipe with pasta, zucchini, chicken and fresh herbs from the garden.
Ingredients
1/2

lb.

Chicken Breast

Cut into 1 inch cubes.

1

medium

Zucchini

Cut into 1 inch cubes

1

cup

Cherry Tomatoes

halved

1/2

lb.

Penne Pasta

You can use any shortcut of pasta. Bow ties would work well too.

1

tbsp.

Garlic

minced

1/2

Jalapeno

Finely Chopped- This is optional and you can replace it with crushed red pepper flakes

1/4

cup

Parsley

Finely chopped

1/4

cup

Basil

Finely chopped

1/3

cup

Parmesan cheese

1/4

cup

Reserved Pasta Cooking Water

After you cook the pasta set aside 1/4 cup of the starchy cooking water.
Instructions
Cook Pasta according to package instructions. Don't forget to set aside a 1/4 cup of the cooking water.

While you're cooking the pasta set a skillet over medium heat and drizzle in some olive oil. Salt and pepper the chicken and zucchini. Be sure to have everything chopped ahead of time as this recipe moves quickly.

Brown the chicken in the pan. When it's finished set it on a plate and then brown the zucchini. About 1/2 way through cooking the zucchini all the way through add in the garlic and jalapeno (or crushed red pepper if using). This is so the garlic and pepper won't burn.

Add in the tomatoes and stir them together. You don't want these too mushy so work quickly.

When everything is done add the chicken back in along with the cooked pasta.

Add the Parmesan Cheese and then drizzle in the 1/4 cup of pasta cooking water. Stir and allow the pasta and chicken to soak in the water. The pasta will become slightly creamy. Taste for seasoning. Add more salt if needed or crushed red pepper if you like it spicer.

Garnish with parsley and basil and extra cheese. Serve!